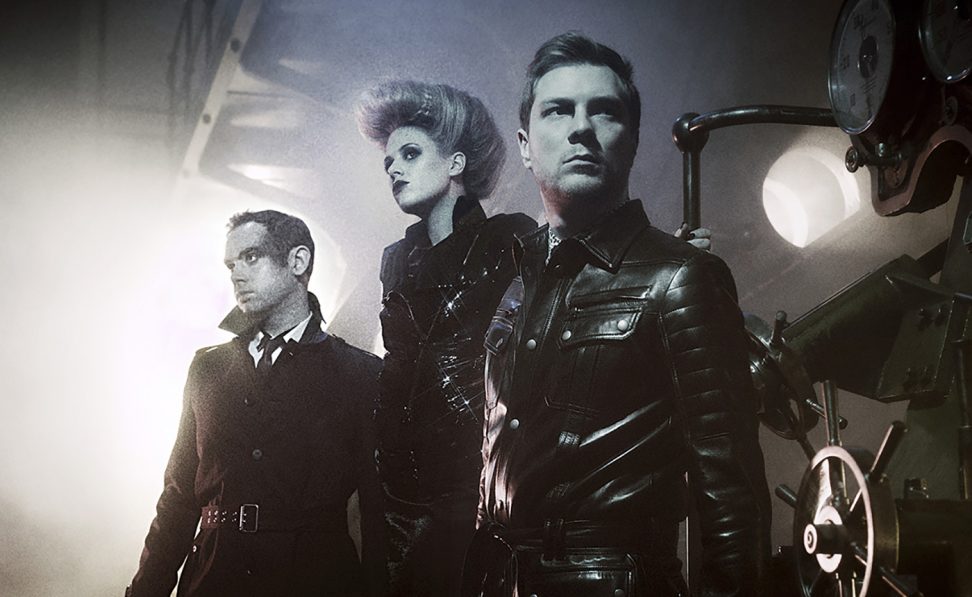 "Love will always still exist," insists NERO front-woman Alana Watson. "Far into the future, when all that remains is rubble and destruction, there'll be that shaft of light coming up through the ruins."
Grammy Award-winning, Ivor Novello-nominated trio NERO return this year with an album that celebrates that sense of love among the ruins, and cements their reputation as one of Britain's most exciting bands. It both complements 2012's Number One album 'Welcome Reality' (and attendant hits 'Me & You', 'Guilt' and the chart-topping smash 'Promises') and pushes the band's apocalyptic and frequently romantic electronic sound further than ever before. As 'Into The Past', their 2013 contribution to Baz Luhrmann's Great Gatsby soundtrack hinted, and their 2015 Coachella headline slot proved, the now fully formed three-piece are more finely tuned now than ever before.
Completed in London during the spring of 2015, 'Between II Worlds' began life three years ago in LA, in the Hollywood Hills house where Orson Welles wrote Citizen Kane. Magnificent set up single 'The Thrill' was the first song the band wrote during those sessions. "We must have rewritten it 100 times after that," smiles Dan Stephens who, alongside Joe Ray, founded NERO in 2004. "And inevitably we ended up going straight back to the first version." Adds Joe: "If you've been working on a track for that long and it still flicks your switches, you know where must be something about it."
'The Thrill' is a striking example of how far the band's songwriting has progressed but the super-stylised, bass-heavy sound is unmistakably NERO, even if the styles and influences that pepper the band's back catalogue – from classical, to rave, to drum 'n' bass, dubstep and pop – mean the Nero sound often defies categorisation. "We've always liked pop craft in terms of song structure," Dan says, "but it's a constant battle to make that work with electronic and dance elements."
It's a battle that's paid off – and as the title 'Between II Worlds' suggests, that's not the only conflict at the heart of NERO'S new music. Alana's often fragile vocals provide a brilliantly hypnotic foil to Dan and Joe's uncompromising, hard-edged production, while that production is informed by an enigmatic retro-futuristic ideology, with its nods to Ridley Scott's vision of a decrepit future in Blade Runner, that runs through the band's entire identity. And then, of course, there's that love in the ruins: the glimmer of hope in the most brutal setting.
The release of 'Between II Worlds' marks NERO stepping slightly out of the shadows, with Alana front and centre like never before. In fact 'Welcome Reality' took shape Alana was working as a midwife — a position she still held when 'Promises' hit Number One. "I had that 40+-hour-a-week job and all my days off were spent recording and gigging," she recalls. Dan feels the shift in focus is a significant step. "Not many electronic acts have just one singer, but we always wanted to go out like a band," he says, adding with a laugh: "It's especially nice as Joe and I can just blend into the background."
This progression might have seemed unimaginable to the two chaps who'd each experimented with electronic music on their own, and first met through mutual friends in north London fifteen years ago. Before long they'd become regulars at nights like Fabric's Friday night True Playaz parties, and soon the music they made together became part of those sets. In, 2010 they signed to Chase & Status' MTA label. After that things started happening quickly, though not without the occasional hitch — their first radio play came when Zane Lowe played a 45rpm dubplate at the wrong speed. "He played it at the right speed the next night," Joe laughs, "then announced that he preferred it at 33, so played it at the wrong speed again."
NERO originally materialised at a strange time — when all the producers around them were embracing new technology so wholeheartedly that their old equipment ended its days on eBay. "Dance music went digital and so did the equipment," Joe remembers. "The thing is, you might have all the newest technology, but you want the old sounds as well." Flash-forward a decade and that belief remains at the heart of Nero's setup: 'Between II Worlds' was recorded using state-of-the-art software but also gorgeous, clapped-out synth relics — Roland Jupiter 8s, Yamaha CS-80 — that malfunction if the air conditioning packs in. "The synths are like a classic car – they go wrong quite a lot," Dan smiles. "But that's what can be missing from electronic music: a feeling of being organic, that some things are variable, and that sometimes things goes a bit wrong."
That sense of the imperfect human influence, and an imperfect future built by human hands, is integral to NERO'S vision. As Dan notes: "We love that Blade Runner view of a future that's bleak, and it's raining and there's smoke, and where even modern technology seems quite retro." It was actually fans, rather than the band, who first decided that NERO'S debut album was set in a desolate future world. But it's a theme the band subsequently threw themselves into and 'Between II Worlds' continues a motif established all the way back in the band's 'Innocence' video, which was inspired by the Manga film Cyber City Oedo 808. The film was set in the year 2808 — that year was then referenced in 'Doomsday', and it's also there in the 'Me & You' video. In 2011 the band's groundbreaking collaboration with the BBC Philharmonic Orchestra was dubbed the 2808 Symphony, and when Nero first teased fans with news of 'Between II Worlds', they did so on SoundCloud with an uploaded piece of music whose length was 28:08. Single Satisfy quickly followed said piece of music, swiftly being added to the Radio 1 A List. The concept continues now with the release date of 'Between II Worlds' on 28/08. ("It doesn't work so well in America," Alana accepts.)
The strikingly visual element to Nero's music has led to numerous soundtrack requests of the last few years — Joe is only half joking when he says they're holding out for Blade Runner 2, but they did make time for Baz Luhrmann's production of The Great Gatsby. Luhrmann had originally used Nero's old song 'Departure' on the film, but that song now appears in its third (and the band promise final) iteration on 'Between II Worlds'.
Elsewhere on the album 'Two Minds' is a thunderous belter half a decade in the making (Alana wrote her part five years ago, but it wasn't until recently that Dan and Joe came up with music that matched the song), while 'It Comes And Goes' is a song Joe wrote inspired by the likes of The Streets and Burial. "It's about that feeling at the end of the night when you're leaving a rave," Joe says. "With lines like 'the night time's the hardest time and it knows all my lies' we wanted to push the limits of how poetic you could get on a dance track."
Actually, 'Between II Worlds' as a whole is a uniquely persuasive example of how totally boundless dance music can and always should be. "Musically we've always been into the idea of a journey, whether it's through an album or a DJ set," Dan explains. "On the album, 'Into The Night' and 'What Does Love Mean' are both about an escape: you don't know what they're escaping, but they're both about taking a journey. There are hints at a story with no beginning or end: just snapshots."
NERO may be enigmatic, but the snapshots scattered throughout 'Between II Worlds' build a picture of a band entering an exciting new phase. And it's a phase that celebrates intense but accessible songwriting alongside the myriad musical styles that continue to inform the NERO sound.
"People talk about genres a lot," Dan explains. "But for NERO it's never been about any genres. It's about electronic music, and it's about us."
---
Share
---
You might also like