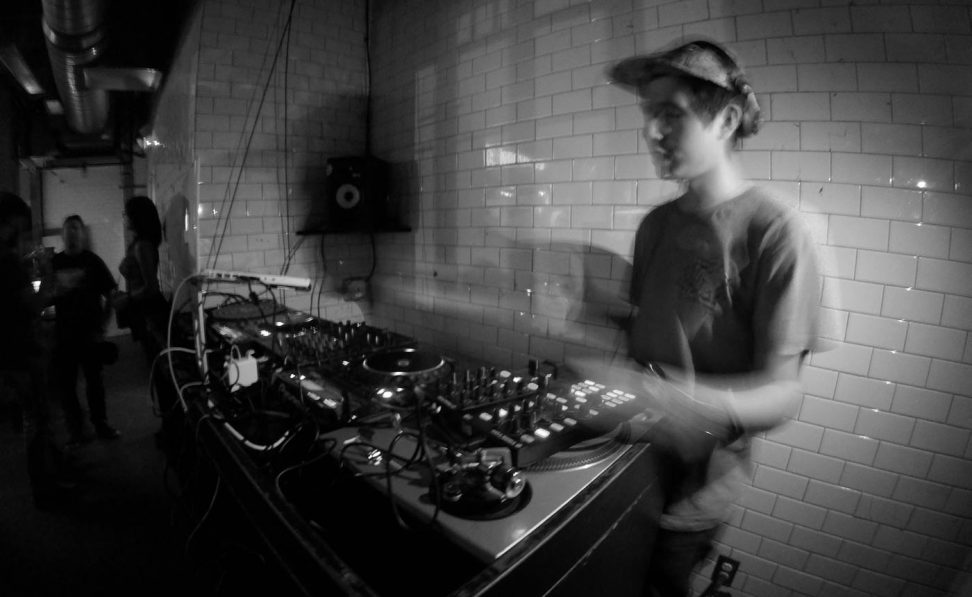 Eliazar (Charlie) Torres, better known as "Monstergetdown," was born and raised in Boyle Heights, California. In early 2008 he discovered electronic dance music and amazing artists such as Green Velvet, Surkin, deadmau5, Paco Osuna, Stimming, and Tim Green. This unique techno/tech house producer stumbled upon Ableton Live 8 Suite in the spring of 2010 and later that year began to produce a blend of electro/tech house music. Shortly after, Monstergetdown was born.
2011 and '12 were spent putting much time into producing prominent tracks and perfecting his performance skills. He was chosen as one of the winners for the Discovery Project: Nocturnal Wonderland this year, which is one of his biggest accomplishments yet, but he is not stopping there. He recently signed one of his latest tracks, "This Place," to Gualan Records which is going to be released later this year. His live sets are full of big fat ass basslines that have the crowd wanting more. Even with two years of producing, his sound seems only to progress more and more each day. Keep an eye out for this productive tech house producer and his vibrant dj sets. There is no stopping him. MGD
//
I'm Charlie (Monstergetdown). I started producing that sound of mine in 2010 and since then have accomplished a good amount of things in the three years thus far. Played some dope shows met some cool people, but it's just begun. Also got upcoming release on System Recordings "The Underground" EP out in September really excited about it you should be too!
Interview
---
Home Town: Boyle Heights, CA
Currently Living: Boyle Heights, CA
Origin Of Name: It came from one of my favorite bands I Monster. I was trying to name a track I made when I just started producing, and I said to myself damn this song gets down, put one and one together and I ended up with Monstergetdown.
Weapon of Choice: Always different
Source of Power: Life
Was there one particular moment in the recording or mixing process for your Discovery Project entry that made you feel like you were creating something pretty damn special?
I don't know really. When I saw the contest I knew I had to enter…I had a feeling in my gut that I would have a chance at winning, if I just did my thing…and I did.
Are there any dots to connect with where/how you grew up to your musical output?
A variety of music was played in the household: hip-hop, rock and roll, Spanish music, classic music, disco, oldies, dance and house music.
What do your parents think of what you are doing?
That it is just a hobby, ha-ha.
What's the strangest part of your job?
That I can create, and make those around me dance.
What's the biggest misconception about being a DJ?
Really anyone can do it, but producing on the other hand is actually harder than it may seem.
Tell me about your most memorable night out.
Watching deadmau5 live at TAO 08-09. I threw a bracelet I made for him at him and it hit his face pretty hard, ha-ha.
Do you have any memorable moments from past EDC's or any other Insomniac party?
EDC 2008 was my first massive rave and was so insane. Joaquin Bamaca, Moby and Benny B killed it.
How does what you do for a living affect you on a day-to-day basis?
Doesn't really effect me or anyone at all I think, I love it and everyone does too.
What is your ultimate career dream?
Release on my favorite labels and become friends with all my favorite producers.
Are you impulsive with your work or do you have a sketch in mind before you start?
Just go in and see what happens. Once I have a solid foundation I sculpt it out from there. I like to take my time when I work on music.
What's the most important piece of gear in your studio?
Most definitely my laptop, has my DAW (Ableton Live 9 Suite), and plugins and samples I use.
What sound or noise do you love?
Funky groovy sub bass.
What should everyone just shut the fuck up about?
Daft Punk "Get Lucky" and all that other top 100 slip slop.
What gets you excited when you think about the future of electronic music and club culture?
The underground.
When you look at electronic music and the surrounding culture, what worries you about the future?
Top 100.
What are your weaknesses?
I'm a little more to myself.
How would you describe your sound to a deaf person?
Groovy, funky—they'd feel the bassline.
Is success physical or internal?
Most definitely internal, all I know is it feels great to have accomplished some of my goals that I have set for myself.
What do you remember about your first DJ gig?
Lots of people, and cameras, a Funktion One Soundsystem on a fucking boat at a rave.
What's the hardest professional lesson you've learned thus far?
Doors open and close.
Do you have a favorite all-time mixed CD or series?
Maybe this Dubfire 2007 compilation CD my dad gave me.
What advice would you offer someone thinking about entering the Discovery Project competition?
Be original. Believe in yourself, anything is possible.
Live from Escape From Wonderland:
Winning Track:
---
Share
---
You might also like