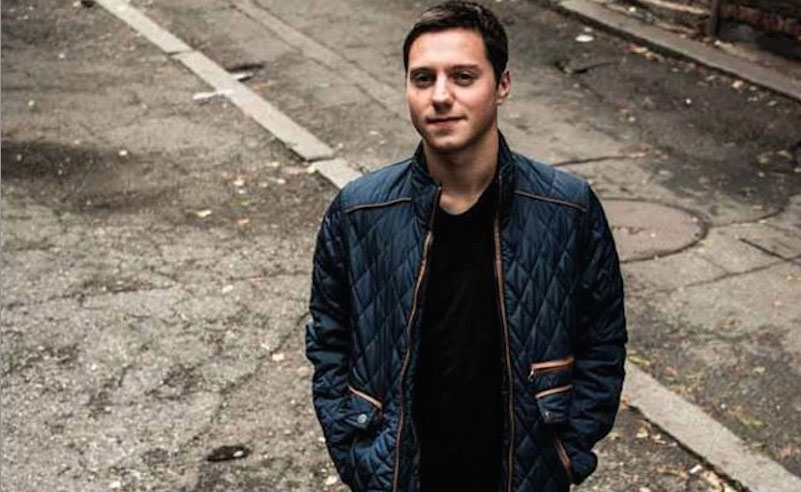 Matt Altman is an emerging DJ/Producer from Philadelphia, specializing in the deeper sounds of trance and techno. He currently attends Berklee College of Music in Boston and has been playing music for 15 years. Starting out as a drummer, he has won some awards as well including and award for "Outstanding Performance" for Downbeat Magazine, performing with the Settlement Scholarship Ensemble. At the age of 19, Matt has managed to open for renowned trance DJs Arnej, Monoverse, among others. He also has been featured as part of two trance showcases at Pacha in New York City, and his show "Trance In Philly" has been picked up and airs every Wednesday on the Digitally Imported Radio's DJ Mixes channel (di.fm/djmixes)- following heavyweight Mark Sherry's "Outburst Radio". The show has gained attention from the likes of Simon Patterson, Sied Van Riel, Thomas Datt, Arnej and many prominent artists in the dance music community. He has also recently signed an original track with Its Not A Label records titled "Psycho".
—
Hometown: Philadelphia, PA
Currently living: Boston, MA
Origin of name: I love my given name and the way it rolls off the tongue, so I stuck with Matt Altman.
Weapon of choice: Drumsticks that double as nunchucks.
Source of power: My influences differ greatly, spanning from Solarstone and Chris Liebing to Wayne Shorter and Neil Peart. I started out listening to electronic music as a trance head, and Solarstone has influenced me in the sense of his melodic creativity and knack for creating music with pure, raw emotion. Chris Liebing's DJing and production constantly blow my mind, and [he] is the main reason I decided to start producing and DJing techno. Wayne Shorter and Neil Peart have influenced me immensely as overall musicians, and I try to learn from their creativity and pure musical talent by applying it to my own music.
What advice would you offer someone thinking about entering the Discovery Project competition?
Do something different. Showcase your creativity and what makes you unique as an artist and a DJ. Don't do what everyone else is doing. Stand out. Go with your gut. Do not be afraid to experiment and push boundaries, because you never know what could happen or where your bravery will take you.
Was there one particular moment in the recording or mixing process for your Discovery Project entry that made you feel like you were creating something pretty damn special?
I think it was when I started to go toward the darker and deeper techno that I chose to mix. I feel like a lot of people stay away from this type of techno, but it speaks deeply to me, and it was important to incorporate it into my mix. I really felt that I was doing something different from what other people were doing and submitting.
Are there any dots to connect between where/how you grew up and your musical output—from people freestyling on the street corner to a grand piano forced down your throat?
When I was about three years old, I started banging on my mom's pots and pans when she was making dinner. Soon enough, my parents decided to buy my first toy drum set, which I became obsessed with. They noticed that I was doing something special and, not long after, decided to get me a real drum kit. When I was four I started taking drum lessons, and from then on music consumed and became my life.
What do your parents think of what you are doing?
My parents have been unbelievably supportive of me, and they are so proud of what I'm doing with music. They have been there every step of the way, and despite not being musicians themselves, I believe my love and appreciation for music came from them.
What's the biggest misconception about being a DJ? What would people be surprised to find out about the profession?
There are many DJs out there that are phenomenal performers, but not good producers. I think that a lot of people who listen to electronic music think that if you DJ, you also produce your own music. This is not always true, and I think it is important for listeners to understand the difference so they can better appreciate to what and to whom they are listening.
Tell me about your most memorable night out, as an artist or as a fan.
Seeing Chris Liebing for the first time at Hyte Park in New York City in July 2014 was a turning point for me, as both a fan and artist. I fell in love with the raw, dark and experimental sounds of techno that I had never heard before. This is when I decided to start producing techno and DJ more techno than trance.
Do you have any memorable moments from past EDCs or any other Insomniac party?
Unfortunately, I have never had the opportunity to attend an Insomniac party; however, I have tuned into several EDC livestreams. I especially loved watching the livestream of EDC Las Vegas 2014—specifically Simon Patterson. Watching him live was so inspiring and made me want to go to EDC as soon as possible so I could experience the atmosphere, amazing production and talent that the festival has to offer.
How does what you do for a living affect you on a day-to-day basis? How, if at all, does it affect your friends and family?
To put it into perspective, I'm currently a student at Berklee College of Music in Boston. For anyone who has spent their entire life around or playing music, you know this is the place to be.
As far as how music has affected my social life, I'm always listening to electronic music. Sometimes if I'm at a party or riding in the car with friends, I'll put on a set I like, and someone will turn it off immediately. Some of my peers do not understand how I can like the type of music I do because, as they say, "It has no words." Music is so much more than just about whether or not it has words; it is about how the piece of music makes you feel. An instrumental can have just as serious of an impact on a person as a song with words.
Alternately, I have made several close friends within this scene, and they understand this concept especially well. It makes an experience that much more special when I'm out with those friends and we hear a track none of us has heard before, and we all freak out because we are impacted the same way.
What is your ultimate career dream (e.g., get on Oprah)?
My ultimate career dream would probably be… to get on Oprah [laughs]. In all honesty, though, my goal is to make and play music for people who share the same passion for the type of music I love. Also, if I can expose my music to people who have yet to gain an appreciation for what my world revolves around, I'll feel like I've accomplished something. I think it comes down to making myself, and as many others as possible, happy through the medium of sound.
Are you impulsive with your work (in the studio and/or DJing), or do you have a sketch in mind before you start?
In terms of DJing, I know what track I am going to start with, and that's about it. I usually let the crowd and the settings, as well as my mood, dictate the rest of the journey. In terms of production, I just let my creativity flow, and I feed off of different ideas that come to me and emotions I'm feeling at the time, so that's always changing. I am also constantly looking for inspiration from different artists or tracks that could push me in a certain direction with my own music.
How, if at all, does listening to music figure into your creative process? What's the last song you heard that made you drop what you were doing and go into the studio?
I often draw from my knowledge of my instrument, the drums, to help me develop and create a groove. A strong groove is one of the most important aspects of being a good drummer, and it also aids in creating a very hypnotic techno track.
The last track I heard that made me want to drop everything and start producing was Tommy Four Seven's remix of "Spectre" by Eomac. The raw energy and darkness from that track made me immediately sit down at my computer, throw on Ableton, and work on the track that I just recently finished. I listen to a lot of very experimental and dark techno that inspires me to sit down and work on new tracks and create something along those lines, but also to create something that is my own.
How important is it for you to experiment and take on the risk of failure?
It is very important to me to take risks in my craft. I'll try out a bunch of different ideas and different things, and experiment on various sounds and samples, before I find something that I'm satisfied with. I could finish an entire track, not touch it for a couple of days, then come back to it and change the kick, the hi-hats and the bass, which will turn it into a completely different track.
Failure to me means literally making a mistake that leads to discovery. Once you fail, you can go back and analyze why you failed and how you can turn that failure into something special.
Do you have a list of people—from musicians to lighting and visual artists—that you'd like to collaborate with in the future?
In regards to trance, I would love to collaborate with Monoverse and Mike Squillo, both of whom are local New York City DJs and unbelievably talented artists. As far as techno collaborations, my dream would be to work with Tommy Four Seven and Chris Liebing.
If we pressed shuffle on your iPod while you went to the bathroom, what would you be embarrassed to come back to us listening to?
Bon Iver, but they are amazing, so why would I be embarrassed?
What sound or noise do you love?
I am a huge fan of hard-hitting kicks, and I think that comes from being in a ska band for almost three years in high school. All the drumming in ska is very loud and very heavy, and I try to incorporate that into my music. When I hear a really hard-hitting kick, I go crazy… literally, I freak out.
What should everyone just shut the fuck up about?
People, including myself, need to stop focusing on what they hate and instead focus on what they love about electronic music; positivity always breeds positivity. I would also encourage people to stop being music snobs. Just because someone listens to a type of music you don't necessarily like doesn't mean that it sucks or that it is bad. It obviously makes someone happy, which, in my opinion, is why there are so many genres and subgenres of electronic music. They exist so that there is something for anyone.
What gets you excited when you think about the future of electronic music and club culture?
I think that the underground is on the rise again, especially with trance and techno. This is very exciting for me because I love the darker, deeper and heavier sounds in these styles of music, and they're synonymous with what I focus on playing and producing. I think it's a very exciting time for the underground, and I cannot wait to see what the future brings.
When you look at electronic music and the surrounding culture, what worries you about the future? What do you wish would change or that you could change?
I think that hopping on the bandwagon just because your friends are listening to a specific type of music needs to occur less. People need to discover what genres of electronic music really speak to them and what they love, versus what everyone else is doing just because it might look like the cool thing to do. Not allowing yourself to explore can cause narrow-mindedness and only hinders personal growth.
What are your weaknesses?
Working through writer's block when I'm in the studio is one of my biggest challenges. There is so much stuff that goes through my head every day, and sometimes it gets to the point where I can't focus on a specific idea and roll with it, so I get stuck. Once I start working on a track, I don't want to stop, and sometimes I need to just take a break if I can't get anything substantial done. I need to learn to not always try and force an idea out, but instead to let it grow naturally into something very special.
Do you have a secret passion?
I love to ski.
How would you describe your sound to a deaf person?
My sound is dark, and it's experimental and to some extent underground. It makes you dance very, very hard. It is hypnotic, and it is easy to get locked into the groove.
What do you remember about your first DJ gig?
My first DJ gig was at a friend's high school senior project party in 2012, where I played in the basement of a frozen yogurt shop. Using one really crappy speaker, I played hard and uplifting 140 trance for three hours straight, and no one had any idea what they were listening to except for me. I remember dropping Will Atkinson's remix of "Ride the Wave" by John O'Callaghan and Giuseppe Ottaviani, and everyone just kind of stood there as I went absolutely crazy behind the decks. I also managed to blow out the speaker in the process.
What's the hardest professional lesson you've learned thus far? How did it make your life easier—or more difficult?
The hardest professional lesson that I had to learn in this industry is that you must be very careful with whom you put your trust in. For example, I like people. I enjoy being around them, and it is easy to share my life and my passions with others, but sometimes being too open and opinionated can come back to haunt you. It's been difficult to manage relationships, but learning to be discrete has also helped me choose my friends and professional acquaintances wisely.
Do you have a favorite all-time mixed CD or series?
I have a couple; one of them is Juju by Wane Shorter (my favorite jazz musician), whose level of creativity I try to draw from when I produce my own music. In terms of electronic music, my favorite album is Sirens of the Sea by Above & Beyond's Oceanlab project. Sirens of the Sea is inarguably the album that hooked me on trance.
Discovery Project: EDC New York 2015 by Matt Altman on Mixcloud
---
Share
---
You might also like