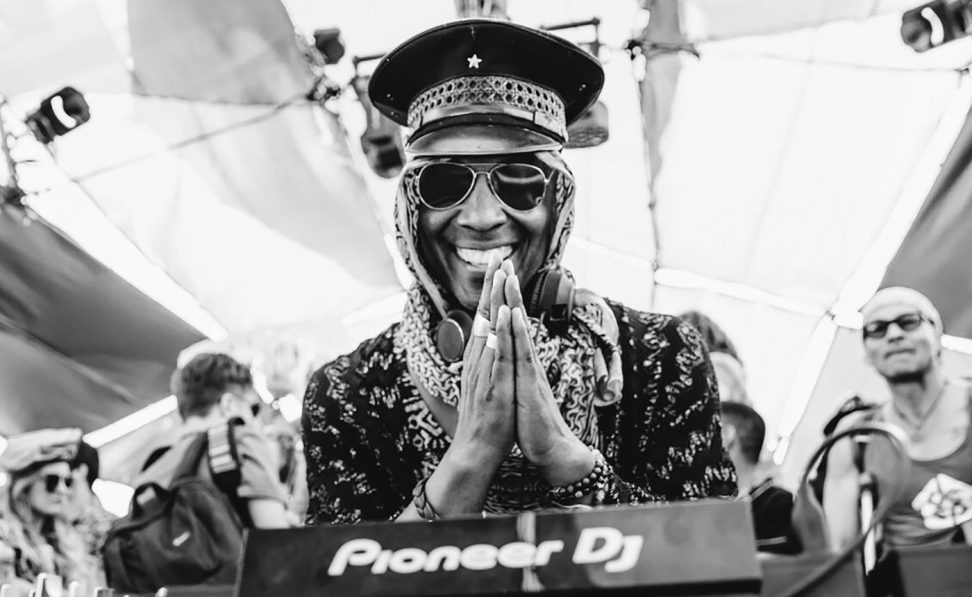 Origin: United States
Sonic love travels in many dimensions – through visceral pathways of the senses, as a uniting force on dance floors everywhere, and within movements unifying souls, states and nations. And as sonic love relates to house music, Marques Wyatt is a seminal pioneer. He's one of the few house music DJs who has managed to avoid the mantle of anonymity associated with the genre: he's a cornerstone of the Los Angeles club scene, but regularly tours the width and breadth of the states, as well as other continents. He has played at just about every major electronic conference and festival, and is one of the most respected DJs and promoters on the West Coast.
Marques' proclivity for music was birthed from his upbringing in the beachy enclave of Santa Monica. Musical influences abounded, as his father introduced him to jazz, his eldest brother was in a psychedelic funk band and his other siblings kept the house filled with sounds of iconic groups like Earth, Wind & Fire and Stevie Wonder. As an avid skateboarder, Marques was also turned on to the soundtrack of the Southern California skating culture such as Led Zeppelin, Aerosmith and The Who.
With an insatiable palate for music and adventure, Marques ventured into the world of Hollywood nightclubs at venues like "The Odyssey", where the sound of New York clubs and '80s music permeated the airwaves. He began collecting vinyl, and around the age of 18, serendipitously began DJing as a hobby via an intuitive nudge of a close DJ friend. He showed Marques his way around the decks and inevitably invited Marques to play a party with him, where he received a rare applause, and at that time grabbed Marques by the shoulders and said, "You have it". As he never planned to be a DJ, Marques claims that the music chose him. After a 1985 trip to New York to visit friends at NYU and sample a taste of the Big Apple's vibrant nightlife, his suspicions were confirmed: there was a greater world of music beyond. Inspired by the mixed crowd, various genres and electricity of Danceteria and the music of Larry Levan at Paradise Garage, and eventually befriending Frankie Knuckles (RIP) at The World, Marques returned to Los Angeles filled with inspiration, a vision and mission. He began playing and promoting his own events, in an effort to fill the city's musical void.
During the late 1980s, when house music was rarely heard outside of Chicago, New York and gay clubs in LA, Marques introduced the genre to a more diverse Southern California audience via legendary parties like BBC, MAC's Garage and Does Your Mama Know. Marques traversed the California coast as the rave scene mounted, playing at his Love residency in San Francisco, where he could stay true to his signature sound. Also during this period, always true to his inner visionary, Marques continued ventures into uncharted territory by introducing Los Angeles to acid jazz through Brass, his unforgettable weekly event debuting live performances of high-profile acts such as Jamiroquai, Digable Planets and the Brand New Heavies, who he also deejayed with on tour dates.
In 1993, Marques hosted Louie Vega at his Prague night. Louie then invited Marques to New York to play the opening set in the main room at Sound Factory Bar. The landmark event cemented Marques' popularity in New York, and he was regularly invited back to play Sound Factory Bar and Giant Step. In the ensuing years, his prowess as a talented DJ led to an invitation by Louie Vega to play the high profile Masters at Work party in Miami at WMC in 1996. Marques now refers to this as his "coming out party," as the performance put him on the radar both domestically and internationally.
Marques' keen sixth sense for creating epic parties culminated in his weekly house institution, DEEP, now going strong in its eighteenth year in Los Angeles. He has introduced Los Angeles to a veritable who's who of house music, from the legendary Frankie Knuckles (RIP) to the Martinez Brothers. Marques has provided the gateway to house for thousands of people through DEEP, and events are now held coast to coast at Mighty and Public Works in San Francisco and Cielo in New York. Marques is also committed to merging his love of music and yoga via DEEP Exhale.
Marques traveled the world to play events as diverse as Burning Man, Miami's Winter Music Conference, the BPM Conference in Mexico, Pacha in Ibiza, and London's Ministry of Sound. Yet any native Angeleno will tell you that he always put his City of Angels first, with an unwavering commitment to its community and growth. As a result, he gets a lot of love there—a rarity, as it's not unusual for a DJ to feel more appreciated while on the road. Marques' sets are known to turn huge dance floors into an intimate ritual. He recently played landmark events at LA's Grand Park and KCRW's "Made in LA" Series at Hammer Museum, and was also voted Best DJ of 2014 by LA Weekly.
Marques has channeled his gifts in the studio, releasing tracks and remixes on revered labels such as Om, Strictly Rhythm, King Street, Nervous and Yoshitoshi. While he took a break from production, he has now ended the hiatus. He explains, "Over the past couple of years, I've been focused on making sure DEEP's foundation is steady, and musically taking in a lot, as there are so many genres to draw inspiration from. I make music when my soul has something to express. I'd never want to force the creative process, because I know what that sounds like." Ahead of Marques' re-entry into the studio, he welcomes the forthcoming release of Soul Clap's remix of his dance floor anthem "For Those Who Like to Get Down" on Om Records.
Marques continues to spread his brand of aural love in Los Angeles, and through touring the width and breadth of the United States and other continents. He globe-trots everywhere from Los Angeles to New York, Shanghai to Barcelona, and Tel Aviv to Dubai with the mission to bring musical unity, love and celebration of life to all souls in his pathway.
---
Share
---
You might also like