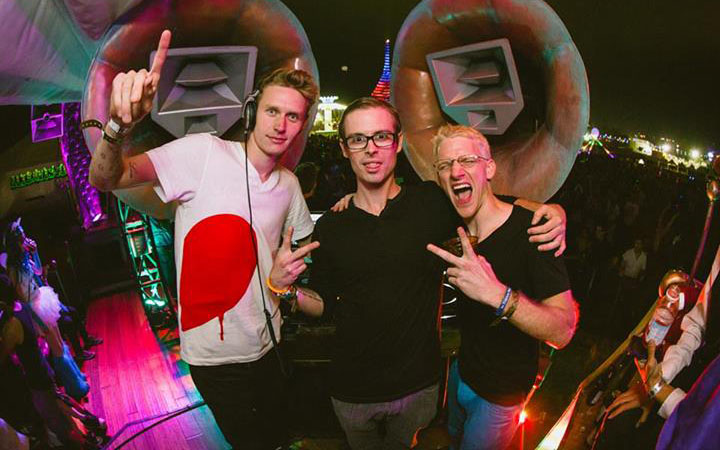 Brian: Coming from a not so fortunate upbringing, music was something that played a vital role in the structure of my life. Music helped build my character and values growing up. Being apart of the metalcore scene, just like the rave scene it was and still is given a bad rep from the mainstream media, but to be honest they couldn't be more wrong. A band like Hatebreed is not be to judged by cover or name-hands down this was the most influential band that impacted my life and taught me to stand up for what I believe in, to never give up, and to live for something or die for nothing. This lead me to join the military, to make something of cards that were dealt to me, which ultimately lead me here. But that helped build my heart but not fill it, that's where dance music comes in. Dance music helped me fill my heart and open my mind. The scene being so welcoming and open minded is something I was not use to. EDM drove me to want to learn how to dance. The many genres of EDM bring you through their own unique emotional ride, where you can express yourself through many different styles of dancing. My relationship with music is the definition of true love. I learn how to love something so much that it showed me what love meant on a whole other level, which allowed me to love the people and things in my life even more. Cody: Umm…Not sure how to follow that but, umm, if it was legal, I would marry music if I could.
Interview
---
Hometown: Memphis, TN
Currently Living: San Diego, CA
Origin of Name: "Music All Day Everyday." We listen to music all day everyday. Music has always been there every step of our days; it's a major part of our lives.
Weapon of Choice: One mind, any weapon.
Source of Power:
Brian: Hatebreed, Throwdown, Headhunterz, Trance Generators, Zatox, Killswitch Engage;
Cody: Pink Floyd!!!;
Both: Armin Van Buuren, Above & Beyond, Andrew Rayel, Markus Schulz, Dash Berlin, Cosmic Gate, W&W, Showtek, Eminem, Linkin Park. The list can go on and on…
Are there any dots to connect with where/how you grew up to your musical output?
Honestly, none. We both had no musical education experience growing up. Once we were introduced to dance music and decided we wanted to create our own is when we started making dots to connect.
What's the strangest part of your job?
Balancing our busy military careers, multiple deployments, and finding time to pursue a dream that requires a great amount of time and work. Seeing it get to this level is really mind blowing. "Pursuit of happiness."
What is the biggest misconception about being a DJ?
It's not all fun and games, there is a lot of hard work and long nights put into it.
What is your ultimate career dream?
To play at A State of Trance!
Are you impulsive with your work or do you have a sketch in mind before you start?
Both, some days you're on and some days you can't even make a paper plane.
How, if at all, does listening to music figure into your creative process?
You have to understand how to be a good follower in order to be a great leader. So we believe in being good listeners to inspire us to become great producers. There are a lot of unbelievably talented artists out there that you can gain a great amount of knowledge from just by listening to their music.
If we pressed Shuffle on your iPod while you went to the bathroom, what would you be embarrassed to come back to us listening to?
There are some tracks on our iPods that would embarrass people just for being in the room while they're on. But we're not ones to get embarrassed by music we love.
What should everyone just shut the fuck up about?
Stop highlight the problems in the scene and work on coming up with solutions to make it better.
What gets you excited when you think about the future of electronic music and club culture?
The fact that we get to be a part of it.
When you look at electronic music and the surrounding culture, what worries you about the future?
It's commercializing; people are starting to forget the foundation that the scene was built upon and we need to work towards reeducating, not only for safety but for the overall experience.
How would you describe your sound to a deaf person?
Show them a heart.
Tell me about your most memorable night out as an artist or as a fan.
When Cosmic Gate premiered their Wake Your Mind album with Emma Hewitt at Nocturnal 2011. It was such an emotional set.
Do you have a favorite all-time mixed CD or series?
Backstreet Boys Millennium…JK
Brian: All That Remains The Fall of Ideals
Cody: Armin Van Buuren's Universal Religion…can't pick just one.
Winning Mix:
Winning Track:
Bonus Track:
Follow M.A.D.E Facebook | Twitter | Soundcloud | YouTube
—
bassCASE Bio:
bassCASE, the mastermind behind the intriguing music productions of bassCASE; was born and raised in San Diego, CA. His musical influences were generated from early Rock & Roll, and his thematic roots come from an old school hip-hop background. His love for Electronic Dance Music evolved at the age of 16, when Southern California's 'Underground' and 'Massive Festival' scene began to marry. Upon stumbling across dance music, his passion fell deeper than the lights and unity of people- his passion for production became his driving force, and his career. bassCASE worked with various production and lighting companies both inside and beyond music festivals, and smaller parties. Sound design became bassCASE's ultimate ambition, and he pursued a lucrative career in audio engineering. His dream is to not only be a part of the overall music production side of things but, also to one day have his own company engineering music equipment for electronic music producers around the world. Today, bassCASE has proved himself as a sound engineer, a producer, DJ, and all around savvy dance music individual.
Follow bassCASE Facebook | Soundcloud
---
Share
---
You might also like