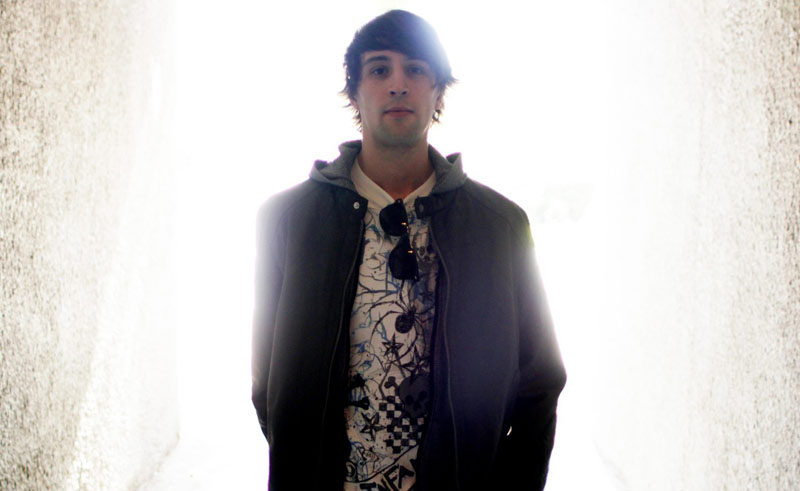 KhemehK (Nick Whelan) is a Producer & DJ currently out of Los Angeles, CA. A graduate & mentor of Icon Collective Production School, he has honed his diverse musical tastes into a sound that is rich and full in texture and emotion, with his drums and bass-lines bringing a balanced, intense energy.
//
I could write an essay on my life and my relationship with music. But I won't bore you…so I'll summarize with this: I was born and raised (by freaking awesome parents that gave me every opportunity they could afford) in preparation for a great college and career. Everything I did was to build a resume…every club, sport, leadership camp, you name it. I loved music, but I got it in my head at sometime in my childhood that I wasn't cut out for it. While attending ASU, I had a bit of coming-to-terms with myself and decided to jump off the cliff and try. If I didn't try, I knew I'd regret it for the rest of my life. Music does that for me…when I'm not sure it's that touch of confidence. When I'm hurt, it heals. When I'm anxious, it calms. When I'm lazy, it fills me with energy and purpose. I am incomplete without it in every way.
Interview
---
Home Town: Scottsdale, AZ
Currently Living: North Hollywood, CA
Origin of Name: I came up with KhemehK through a variety of concepts. I've always been in love with music, and my tastes have gone from classical, funk, jazz, hip-hop, rock, and then into nearly every sub-genre of electronic music. My tastes are eclectic, and I hope to combine or fuse those inspirations into my own music. So then this idea of combining elements, almost like a science experiment, came about. Chemical to KhemehK…I really appreciate the idea of symmetry and balance, and a palindrome was a nice way to pull in that idea as well.
Weapon of Choice: Red Bull or coffee and Ableton
Source of Power: My family and my friends, for sure! Musical inspirations come and go, but I'm lucky to have the love and support of my family…and my friends are some of the most talented, charismatic people I've ever met…they keep me sharp.
What do your parents think of what you are doing?
My parents are hands-down my biggest fans and supporters. I can't, however say they completely understand it or where it's all going…but they've always had complete faith in me and have given me the confidence and life experiences to tackle anything I set out to accomplish. I just want to say I love them!
Are you impulsive with your work or do you have a sketch in mind before you start?
I'd have to say it's a 50/50 thing. Sometimes, I have a few references and sources of inspiration that help me lay a blueprint of what I'm going for. Often, and more recently, I start with a blank slate and fiddle with things until I experience what I call the "domino" effect. Once I hit that, I can immediately hear where to take the track and how it should progress. It's as if I've just heard the whole song in my head and now I need to attempt to retain that idea as I work to re-create all the pieces. With DJing, I want to get to a point with my music and career that I'll have a fully integrated visual setup where I'm telling a visual story that compliments my music. I want it to be immersive and very much reacting to the music…choreographed if you will.
Do you have a list of people you'd like to collaborate with in the future?
Off my head and in no particular order: Xilent, Culprate, Skrillex, Noisia, Nero, Butch Clancy, Au5, Seven Lions, Millions Like Us, Skism, and Far Too Loud; and that's just in the bass-music realm. I am working on many genres and hope to make music for everything from trailers and scoring, video games, to club and dance. All of these producers, in my opinion, have an incredible sense of sound-design, flow and arrangement, and musicality. I enjoy very intelligent production, and it is extremely pleasing to my brain when the production value is very high but they've still retained a digestible and clear face to the track. That is to say, the complexity and details serve to compliment the song at its core, not hide it. Very tricky balance to have and it is something I strive for continuously.
What should everyone just shut the fuck up about?
The Internet has become the shinning example of a double-edged sword. We've been blessed with instant connectivity and the dissemination of ideas and art happens at viral speeds. With everything good that has come of it, I think the most frustrating bit is that it has given absolutely everyone a soapbox of sorts. I don't particularly enjoy certain genres of music, such as country, or opera. I don't particularly like certain sub-genres of EDM either. However, I don't spend my time posting comments on the dozens of social media outlets telling people why I dislike it or why such and such is better. Stop with the hate and the bashing and the know-it-all attitude. Listen to and support what art/music you love. Please, don't spend a millisecond of time or energy on expressing what doesn't suit your fancy unless you're some sort of paid critic. Genres are not ruined. "Scenes" are not ruined. Everything just evolves and grows, so stop complaining and embrace it. Love it.
What gets you excited when you think about the future of electronic music and club culture?
On the positive side, there is so much to be excited for and the future looks very bright. I think genres are going to continue to blend into each other…the production/engineering bar is constantly being pushed to new levels. Creative and visual shows are becoming more and more common, and more artists are investing into creating truly unique experiences for their fans, and I'm so excited to see how it will continue to grow. I think the model of a guy on stage; everybody facing him and a big LED panel is only going to go so far. Insomniac did a phenomenal job this year with EDC and pushed into more daring and creative stage environments. Yes, oversaturation is inevitable. But if some "mainstream" song was heard on a the radio by a kid who otherwise wouldn't have been exposed to such sounds, and he falls so in love with it and begins producing…what's to say he doesn't become the next pioneer? That alone makes it worth it.
What advice would you offer someone thinking about entering the Discovery Project competition?
I would say first, is learn your craft and don't be afraid to ask a lot of questions. Learn how to accept and digest criticism, and don't make something you think the Discovery panel or the audience would want to hear. I made a mistake on the due date for Discovery and was rushed to start/finish my track in the span of three days (while working as well). I had no time to second-guess myself, only had time to create and move on. It's one of my tracks that I'm happiest with and is certainly the quickest I've completed. Do you and don't be afraid to break the mold.
Soundcloud:
Winning Mix:
Track with fellow Discovery Winner, Kayzo:
---
Share
---
You might also like