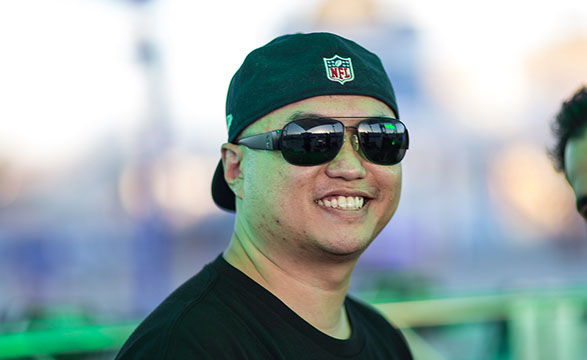 Music is a big part of my life. As the co-founder of Funk'n Deep Records, I am constantly listening to new music demos and promotions. Music isn't just a hobby, it's my religion, my passion, and a big part of how I express myself. I'm a big fan of underground house and techno music. I was one of the creators of the Funk'n Deep House and Techno Facebook group which now has over 22,000 members who share the same interests and post the latest underground dance music. Our label is rapidly growing as well, releasing music from well known house and techno artists around the world such as Jaceo, Andrea Roma, Ant Brooks, Matt Sassari, Mr. Bizz, Elay Lazutkin, D-Unity and more.
Home Town: San Jose, CA
Currently Living: Scottsdale, AZ
Origin Of Name: Well there are a ton of cactuses here in Arizona where I currently reside. I just changed the spelling.
Weapon of Choice: Funk'n Deep Records
Source of Power: My influences: Adam Beyer, Dubfire, Eats Everything, Loco Dice and Richie Hawtin.
What advice would you offer someone thinking about entering the Discovery Project competition?
It was an amazing experience. I entered because I was hoping to get my music heard and did not have any expectations to win. I've been truly blessed to be chosen by Insomniac as top 3 for the Discovery Project. It was a dream come true to play at a festival as massive as EDC and great opportunity for me to meet a ton of musicians who I admired. If you are thinking about entering next year…stop thinking and just do it!!
Was there one particular moment in the recording or mixing process for your Discovery Project entry that made you feel like you were creating something pretty damn special?
This is my passion, so I enjoy every time I get an opportunity to create music. The moment came when I was finished with the mix. At that point I couldn't wait to share it with friends.
Are there any dots to connect with where and how you grew up to your musical output?
I grew up in the Bay Area and had many influences from various music genres due to the area being so diverse. I was a big fan of hip hop and alternative rock back in the 90's and early 2000's. I've always been a fan of electronic music. I grew up listening to artists like The Prodigy, The Crystal Method, Daft Punk, DJ Dan, Donald Glaude and Armand Van Helden. I was one of them Oakland ravers at 2nd and Jackson and 85th and Baldwin back in the day before they shut down the scene.
What do your parents think of what you are doing?
They think I spend too much time on it, but they also support everything I do. I'm blessed to have them as my parents.
What's the strangest part of your job? What makes you shake your head in wonderment about being a DJ and producer?
I wouldn't consider it an actual job, but I enjoy every chance I get to play and see a crowd just get down and groove to my music.
What's the biggest misconception about being a DJ? Or, what would people be surprised to find out about the profession?
It's not as easy as it seems. With today's technology, anyone can be a DJ so there's a lot more competition. In my opinion, the only way to be successful as a DJ is if you are also a producer creating your own music.
Tell me about your most memorable night out as an artist or as a fan.
EDC Las Vegas 2014 was definitely my most memorable night as an artist and fan. The feeling and rush I had was incredible. It was also amazing to be on the neonGARDEN stage while Dubfire, Loco Dice and Eats Everything was playing. I'm a huge fan of their music and labels.
How does what you do for a living affect you on a day-today basis?
I am a director of sales for a technology company during the day and also run a record label. I also just became a new dad, so I don't get to spend as much time as I would like on music. I usually spend a few hours on music during the weekends, but my family always comes first for me.
What is your ultimate career dream?
To actually do this for a living and have an opportunity to tour the world and play my music at the biggest events around the world. It would also be nice to be a guest on Oprah.
Are you impulsive with your work or do you have a sketch in mind before you start?
It just depends on the day I guess. Some days everything seems to flow and I'll start three or four projects and some days I get stuck on one.
How, if at all, does listening to music figure into your creative process?
I hear amazing tracks everyday as a label boss and I get many ideas from my fellow artists on Funk'n Deep Records.
What's the most important piece of gear in your studio?
My computer with Ableton Suite because I can't make any music without it.
How important is it for you to experiment and take on the risk of failure?
It seems I've already experienced it here in my hometown as 99% of the bars and clubs there cater to commercial music. This is why I'm looking to relocate to Southern California by 2015.
Do you have a list of people you'd like to collaborate with?
I'd love to collaborate with artists on my favorite labels like Sci+Tec, Suara, Drumcode and Dirtybird.
What sound or noise do you love?
Dark sounds.
What should everyone just shut the fuck up about?
Steve Aoki and his cakes, I couldn't care less about his cakes.
What gets you excited when you think about the future of electronic music and club culture?
I feel techno is finally making its way here to the States and I'm excited to contribute more the underground scene out here.
What are your weaknesses?
I'm too nice.
How would you describe your sound to a deaf person?
Deep, dark and groovy.
Is success physical or internal?
It's a little of both. It makes you feel good inside, but it's also feels good to share your success once in a while amongst friends.
What do you remember about your first DJ gig?
How unorganized it was dealing with unorganized and unprofessional rookies.
What's the hardest professional lesson you've learned thus far?
It's tough living this lifestyle when there is so much competition out there. Lots of people who pretend to be your friend who want benefit from you and are nowhere to be found if they can't. There isn't a ton of real people out there nowadays, especially in this business and in the city I live in.
Do you have a favorite all-time mixed CD or series?
I used to buy a ton of the mixed CDs from Global Underground and Ministry of Sound way back.
EDC Las Vegas Set:
---
Share
---
You might also like