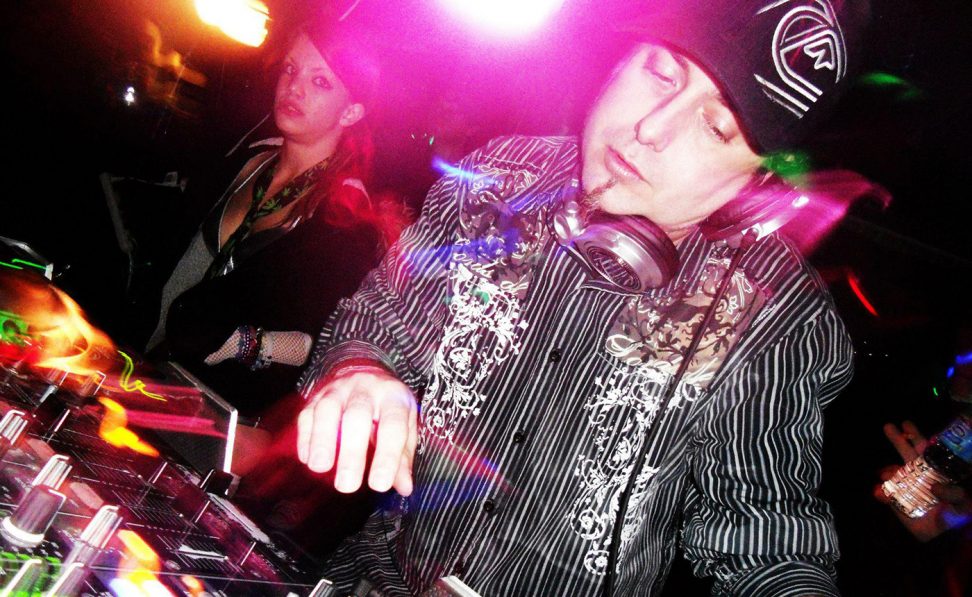 Origin: None
Veteran scenester Jason Splat has touched many facets of underground dance music culture- first as a fan- then as DJ, Promoter, Producer and Graphic Designer. He got his start in the heyday of the '90s Los Angeles rave scene, where he fell in love with the intense music and vibrant culture. 'Splat' was originally the name of the Necklace & T-shirt line that he produced with his Pops back then, doing mail-orders and setting up vending booths at events. As the years went by, his creative focus shifted to DJing and designing event flyers.
Jason honed his audiovisual skills by throwing his own Selekta drum n bass events and teaming up with now legendary upstart, Addicted Events. Addicted did over 30 events in 8 years spanning from the late '90s to the mid 2000s, and Jason was the resident DJ and graphic designer for them all. 'Smurfy, So Addicted' and 'Care A Lot' were some of the recurring annual events. At a time when large-scale electronic events went into hibernation, Addicted Events kept the culture alive. Jason did his part to push the culture along musically and visually during this time.Their annual New Years eve event '1-Up' slowly built up a following to over a thousand people in 2006. Jason's DJ set from that event is legendary.
Over the next 15 years, Jason also DJ'ed and/or designed for many other larger scale LA event companies such as: Insomniac, B3 productions, Fresh Ent., Motive, Krave and Magic Ent. (creators of the Kandy and Kosmic festivals). By the late 2000s, these crews had steadliy built up the production value of their events, which were now attracting over 10,000 people at times, spawning the term 'mini-massive'. Jason Splat was there to DJ and design flyers for this expansive new influx of party people. Jason was also designing for indie record labels Hypnotic, Cleopatra, Life music and Bassex records. During the mid 2000s Jason had some success in the Hollywood club scene spinning for clubs such as The Arena and Spundae under the moniker Jason Dey.
Jason created Phunked Up Records in 2000. Together with then-DJ partner Danny Cosmo, the duo produced as 'Monkey Business' with the engineering prowess of legendary LA DJ Eli Star. Phunked Up Records produced over 30 tracks on 9 vinyl EP releases to date. The multi-genre label features tracks by underground artists Angel Alanis (Chicago), Josh the Funky 1 (Chicago), Chris Anderson (Texas), The Floorfillerz, DJ Vitamin D (Denver), R.A.W. (LA, Jungle) and ESP Woody McBride (East coast) and more. Jason also wrote remixes with DJ Rowe Morehouse as 'Jason Dey vs. The New Humans'. The label had success in licensing tracks to a Showtime cable TV series.
Jason rode this wave of culture until the bubble burst in 2009, when tragedy struck the Colosseum during an Insominac event. The L.A. media turned an accidental death into a high-profile promoter witch hunt, and all the events to follow were being shut down. All of Jason's 16+ year LA event business dried up in a couple months. Even the mighty Insomniac events was forced to leave LA.
Enter into the picture a lovely lady by the name of Julia aka DJ Daemia. In 2009, Jason and Julia had met via a chance encounter at a club, and embarked on a blossoming love affair that was united by underground bass. Before the bubble burst, they were headlining events across the country as JS2. She even helped with the influx of Jason's design work. Now that the events were drying up, the two made a bold move to get married and relocate their creative energies to San Diego, a city Julia had some success in as a DJ and promoter years ago.
This is where we currently find Jason, in San Diego doing freelance design and helping his wife DJ Daemia produce her 'In Da Hoody' underground Drum n bass events. They are up to their 6th installment coming August 20th 2016.
In the 90's, Jason Splat was one of the first DJs to pioneer the UK sound of Speed garage on the west coast. He now attempts to do it again with a blossming style called Bass House. With a 20 year collection of tunes, One can find Jason spinning anything from Drum N Bass to Breaks to Techno. He constantly donates his creative audiovisual skills to internet radio shows, charity events and outdoor park parties. His dedication to the underground can be experienced on every dancefloor he perfoms to and connects with.
---
Share
---
You might also like