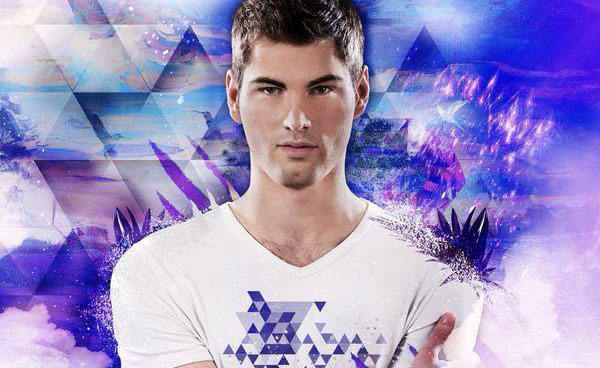 Sean Layton, also known as DJ/Producer, Illustrated, was influenced as a child to commit himself to a life in music. To this day, he strives for excellence and expresses his strong passion for his music by endlessly developing his product, performance, and unique style in the hopes of gaining a musical relationship with the world. After countless projects and collaborations in a variety of genres, Sean Layton's drive for music fell into the electronic realm. Then, in 2012, Sean moved from Texas to Los Angeles, CA to continue his pursuit with electronic music and to take Illustrated to the next level. In April of 2012, Illustrated released his debut EP "Mental Drug" via Solar Sound Records. Later, the single, "Mental Drug" was featured on the hit Xbox game "Saints Row 4". That following May, the label teamed up with Soundtrack Loops and one of the largest music production software companies, Image Line (FL Studio), and organized a world wide remix competition for his single "Subtle Hints". The track was later placed on the CW Channel in a commercial for the new TV Series, "Beauty And The Beast". Sean was one of three artists selected out of hundreds to compete in an artist showcase, organized by Five of Five Music Entertainment, a record label based out of California State University, Northridge. He was chosen as the "Artist of The Year" where he was provided with all the elements that a record label provides, such as Artist Management, Marketing, Production, and Event Management. Upon completion of Sean's EP "Define Me", Five of Five released the single "Tidal Wave". From the start, Illustrated received much acclaim and praise from popular music blogs and YouTube channels, fans, and his peers in the Electronic Dance Music community. Illustrated is said to be a "virtuoso" when it comes to combining gorgeous melodies and hard-hitting intensity in his music. Illustrated's strive to influence varies immensely throughout many genres. He has created a natural flow when developing songs, in which they are highlighted by the combination of melody, sophisticated beats, and dream-like textures.
//
Music to me has always been my outlet for expression, a way to escape, or just something to listen to get my mind off something. It's always been something that has come really naturally to me, and the one thing that felt right to pursue. It's constantly going on inside my head, and I go crazy if I am not creating something.
When I am writing I am always searching for the best possible melody for a track. Whether it's a vocal hook or a synth lead, at the end of the day, a great melody is the most important thing to me. Once I have that in place I can usually build a track with ease.
Hometown: Corpus Christi, Texas
Currently Living: Beverly Hills, California
Origin Of Name: In my old BlackBerry phone I had an area where I would write random ideas, lyrics and notes to myself. One day I was going through them and at some point I had written down "ILLUSTRATED (Song/Band name)." I needed a name for this project, and it just felt right.
Weapon of Choice: I wouldn't choose a weapon, I would choose to have the ability to be able to teleport.
Source of Power: Every morning I do daily visualizations and positive affirmations. I started doing this about three years ago, and I have found it to be incredibly powerful and transformative in my life.
What advice would you offer someone thinking about entering the Discovery Project competition?
Don't at all get discouraged if you entered and haven't won yet. Keep trying and honing your craft. Stay focused and the rest will follow.
Was there one particular moment in the recording or mixing process for your Discovery Project entry that made you feel like you were creating something pretty damn special?
Going into it my main concern was incorporating all the genres that I love to play and also having a mix that represents what it would be like to see me live. I love playing electro, melodic dubstep, trap and progressive house. So I chose some recent favorites that I thought sounded great together, and also made sure to showcase some of my own tracks.
Are there any dots to connect with where and how you grew up to your musical output?
Growing up my parents were always playing The Beatles, Tears For Fears and dozens of other classic rock and 80's bands around the house. Music didn't really find me until around the fourth grade when I started skating and a friend at school introduced me to the band Korn. From that point on I was hooked on rock music and the culture that came along with it. That lasted a few years and then I found punk. Discovering bands like Nofx, Mxpx, Blink, Lagwagon, The Offspring, Pennywise and Greenday made me want to play music. It was my first real epiphany in life. Something just clicked and I knew I was supposed to do something in the music world. I loved the idea of a group of friends traveling around the world playing music. So from then on I played music with anyone who would jam with me and played in countless bands all the way up until 2011. Around that time the band I was in was falling apart and I had recently discovered electronic music. I went to EDC Dallas in 2011 and that was what made me want to make the switch. It's been the strangest yet most natural transition for me and I have been on this path ever since.
What do your parents think of what you are doing?
They couldn't be more supportive.
What's the strangest part of your job? What makes you shake your head in wonderment about being a DJ and producer?
I think the biggest trip for me is that never once did I think I would be doing this. I always played in bands and wanted to be successful in a rock band. If you would have told me when I was 17 that I would be doing this instead I would have been very confused.
I have a vivid memory of a time back in high school when a friend gave me a demo of Fruity Loops. I messed around with it for a week or so, but then just kind of forgot about it. I think that was the first time the universe was trying to get my attention to head in this direction, but I didn't listen.
Tell me about your most memorable night out as an artist or as a fan.
This year I won the Cal State Northridge Artist Of The Year award which landed me a record deal with their student-run label. It was a great experience and led me to have the team I have behind me now.
Do you have any memorable moments from past EDC's or any other Insomniac party?
Absolutely. EDC Dallas, in 2011, is what made me want to switch gears from playing in a band to pursuing electronic music. I was at a cross roads in my life musically, and was unsure on what I wanted to do anymore. I knew I didn't want to quit making music but I also knew that I couldn't be in a band anymore. Electronic music had everything I was looking for and it just felt right. It was another one of those situations of stepping into the unknown and not having any idea how it was going to pan out but just following what my gut was telling me to do.
How does what you do for a living affect you on a day-today basis? How, if at all, does it affect your friends and family?
It keeps me working hard, and staying focused. My whole schedule is based around what I am doing with ILLUSTRATED. Every decision I make I ask myself, "How does this affect what I am trying to achieve?" My biggest goal has always been to live a life that revolves around doing what I love, that's really important to me.
As for how it affects my friends and family they are all really supportive and know that I have always been this type of person to just kind of wonder off and do their own thing. With that being said I do miss them and wish I saw them more. They are back in Texas, and I am out here in LA. It makes me more appreciative of the time I do have with them though, that's for sure.
Are you impulsive with your work or do you have a sketch in mind before you start?
Both. A lot of rough ideas stem from a progression I write on guitar first or I will have a melody in my head that I will then transfer into the computer. Other times I will just sit down and start making a beat until it turns into something. I usually have a couple of songs going on at the same time so I bounce back and forth between the two. I find this works best for me as it allows me to listen to each track objectively.
How important is it for you to experiment and take on the risk of failure?
Very important. I've always been someone that has done things purely out of just wanting to see how far I can take something, or what the outcome would turn out to be. I am big on following your intuition, and believe we all have some sort of mission to fulfill. The first step, which is putting yourself out there, is the hardest part. The vulnerability that comes with that can be terrifying at times, but it's the resistance we feel towards something that tells us it is the thing we need to do most.
What sound or noise do you love?
Bells, pads and tons of delays. I use a lot of them.
What should everyone just shut the fuck up about?
What equipment someone DJs on. A good show is a good show to me. I could care less how someone chooses to play their songs.
What gets you excited when you think about the future of electronic music and club culture?
I love the idea of traveling the world playing music and meeting like-minded people. This scene is filled with forward thinkers and being a DJ allows you to go from place to place with ease and chill with cool people.
Do you have a secret passion?
Yeah, I am very interested in understanding how the human mind works, why we are here and anything that has to do with the "unknown". When I'm not making music I'm reading books on these types of things.
Is success physical or internal? What does it mean to you?
Success to me is accomplishing anything you said you would do. If you can wake up every day and know you are owning up to the promises you made to yourself then you are living a successful life.
What's the hardest professional lesson you've learned thus far?
I've learned to just let things happen and not get caught up in any potential opportunity, or to be let down by something that did or didn't happen. When you truly let go of the desire for anything, and just let it come to you, then things manifest much quicker for you.
---
Share
---
You might also like