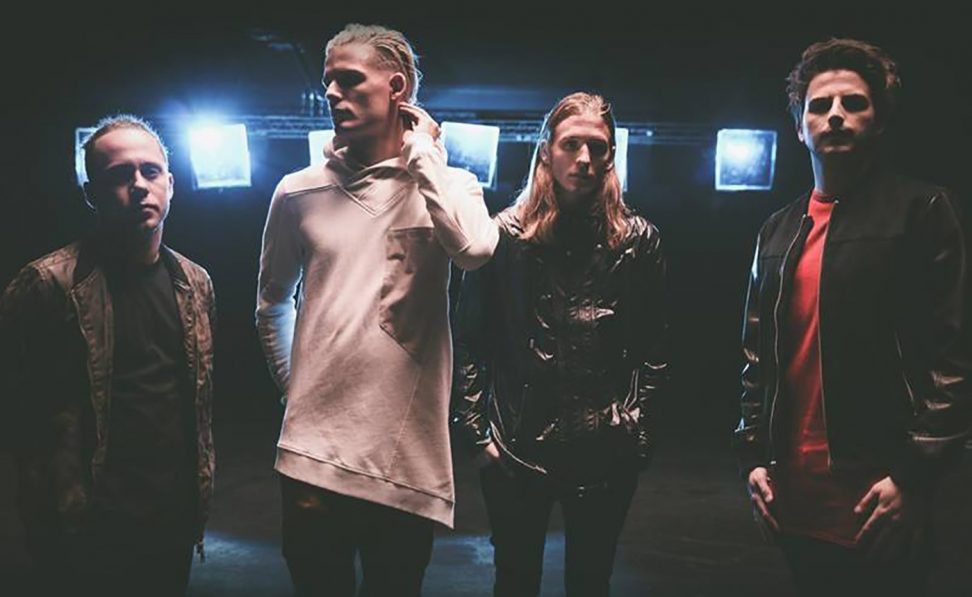 Origin: United States
I See Stars perfect a push-and-pull between sweeping hard rock, metallic energy, and electronic dance music on their fifth full-length album, Treehouse [Sumerian Records]. In order to achieve that often illusory balance, the Warren, MI quartet—Devin Oliver [clean & unclean vocals], Brent Allen [lead, rhythm guitar], Jeff Valentine [bass], and Andrew Oliver [vocals, keys, synths, programming, drums]—rebuilt their very foundation, creatively and personally.
"This is the most time we've had to create an album since 3D," Devin admits. "We actually had time to reflect on our past, but most importantly what we want to become. Beyond the music, it felt like an evolution for us emotionally. We finally feel like the band we were meant to be. If you strip it down, it's not just drums, guitar, bass, vocals, and minor production. The electronic aspects could be their own songs, and we aim to blend everything as seamlessly as possible."
This methodical and meticulous approach has defined the band since day one. Their musical hybrid started to turn heads on the one-two punch of 3-D [2009] and The End of the World Party [2011]. Digital Renegade [2012] would vault them to national prominence, going Top 10 on Billboard's Alternative Albums Chart and Top 20 on the Rock Albums Chart. In addition to boasting features from platinum-certified The Voice winner Cassadee Pope and Danny Worsnop (ex-Asking Alexandria, We Are Harlot), it cemented I See Stars as a fan favorite on tour, sharing bills with everyone from Of Mice & Men and Attila to Breathe Carolina and Black Veil Brides as well as hitting The Vans Warped Tour. Along the way, they'd grace the stage at Jimmy Kimmel LIVE! and earn acclaim from Alternative Press, Revolver, Ultimate Guitar and more. New Demons [2013] solidified their status as headliners, while the music continued to naturally evolve.
2015 saw a change occur within the group; the band parted ways with members Jimmy Gregerson [guitar] and Zach Johnson [unclean vocals, keys] amicably. Confronted with sole vocal responsibilities for the first time, Devin rose to the occasion.
"We went into making this record mindfully," he admits. "It's important to deliver the live performance as close to the album as possible. I wanted to step up. I had no idea what a challenge it would be; it was like learning a different language."
Releasing the acoustic album Phases and its subsequent tour would offer new perspective for the boys. Devin started dissecting ideas for what would become Treehouse, while diligently pushing to expand his range on the road. The group's diehard audience would immediately prove receptive to his new role handling both styles.
"We've had so many changes, and it's an important time," he goes on. "When we got back on stage, I had no idea what to expect, but our fans came out and showed love when we needed it the most. We wanted to give them what they deserve, which is the best record possible."
In order to achieve that vision, the musicians took a different route. To record Treehouse, they enlisted a cadre of producers including Erik Ron [Panic! at the Disco, Saosin], Nick Scott [Asking Alexandria, Chunk! No, Captain Chunk!], and Taylor Larson [Periphery, Veil of Maya] as well a mixing by David Bendeth [Paramore, Breaking Benjamin]. They would also track the bulk of material in Los Angeles—another first—and the rest in Detroit.
I See Stars introduced the album with the skittering stomp and smash of "Mobbin' Out." Tempering an edgy groove with an undeniable hook, it's an irresistible and insurgent anthem.
"The song was about some of the recent struggles in the past few years," he says.
The shimmering "Calm Snow" begins the record with an entrancing cinematic crescendo juxtaposing keys and striking vocals. Elsewhere, "Everyone's Safe in the Treehouse," mixed by Bendeth, showcases the marked progression as each element shines and culminates on an arena-size chant.
"Lyrically, this one discusses family issues," continues Devin. "The past year has been really hard. I realized I'm on my own, and it's do or die with this band. It's my life."
It's that honesty which will continue to resonate the loudest among listeners and why I See Stars shine. "This is the most honest we could be," Devin leaves off. "That's what I want people to see."
---
Share
---
You might also like