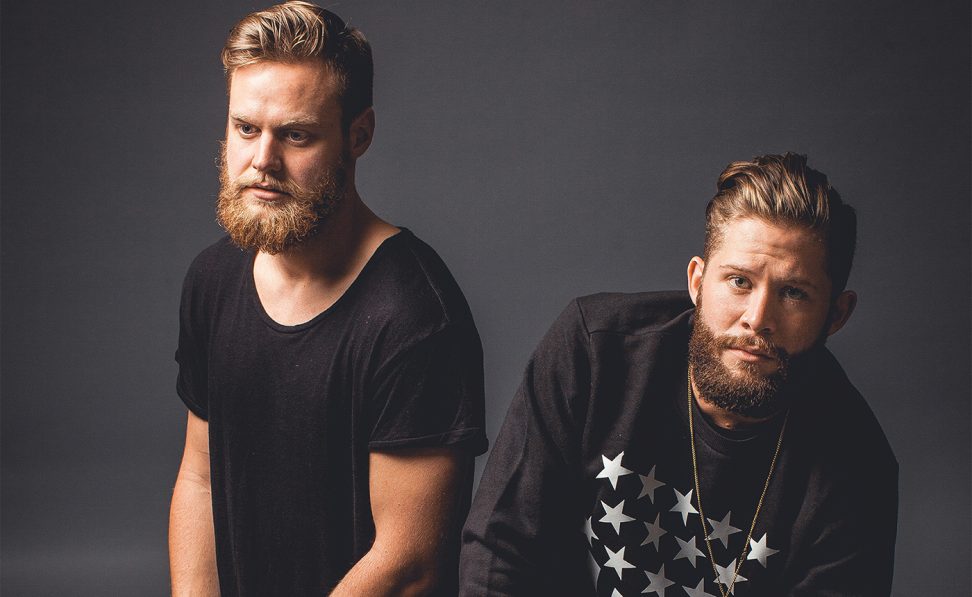 Discovery Project Winner, Beyond Wonderland SoCal 2015
Music continues to play an important role in both our lives. From an early age, we both began using it as our primary form of self-expression. Music has the ability to bring feelings and a sense of relevance to everyday life; it is also the easiest way for us to have fun. We enjoy nothing more than hearing or creating something that seriously grooves. We are completely content spending the weekend checking out local shows or locking ourselves in the studio and throwing around new ideas.
//
Hometown:
Ethan: Seattle, WA
Alex: South Brunswick, NJ
Currently Living: Newport Beach, CA
Origin of Name:
Ethan: Alex and I were drunk in a crowded dive bar, and I thought I heard Alex suggest that we name our project "The Grid," in reference to the vast digital frontier that Kevin Flynn builds in the 1982 science-fiction movie Tron.
Alex: But after a couple of days, we noticed that he was calling us GRID, and I was calling us GRYN. We decided to go with the latter.
Weapon of Choice:
Ethan: As far as production goes, we use a mix of Ableton Live 9 for our synths and drums, and Logic X for our vocal tracking.
Alex: For our live performance, we're down with pretty much anything, from DJing on CDJs to sampling with Akai performance controllers. Right now, we're loving our Nexus gear.
Source of Power:
Ethan: I draw a lot of influence from the music my parents would play around the house: Springsteen, Zeppelin, Stones, that kind of stuff.
Alex: My influence has a wide range—really anything with great percussion. So many things influence our instrumentation. For me, a lot of it comes from the percussion and wind ensembles I played in growing up.
What advice would you offer someone thinking about entering the Discovery Project competition?
Ethan: I feel like the most important part of entering the Discovery Project competition is to stay original. The electronic music world is in need of change, so having your own unique sound will get you so much farther in this industry.
Are there any dots to connect with where/how you grew up to your musical output—from people freestyling on the street corner to a grand piano forced down your throat by your mom?
Ethan: Both of us started our musical training at very young ages.
Alex: I started on a snare drum when I was seven years old and have continued as a percussionist throughout the rest of my life.
Ethan: I started playing guitar when I was eight years old and have since expanded into a pianist, percussionist and vocalist. Electronic music was introduced into both of our lives in the late '90s, with albums like Fatboy Slim's You've Come a Long Way, Baby and Tiësto's Elements of Life.
Alex: After that, we just wanted to create music that made people dance.
What is your ultimate career dream (e.g., get on Oprah)?
Ethan: Probably to play at any of the venues I used to dream about playing as a kid: the Gorge, Red Rocks, and those types of places.
Alex: Also, the festivals we grew up going to, like Coachella, Sasquatch, or any of the Insomniac events.
Are you impulsive with your work (in the studio and/or DJing), or do you have a sketch in mind before you start?
Alex: In the studio, we're 100 percent impulsive. We try the weirdest stuff—like stuff we think of while we're in the car or at dinner or something.
Ethan: Some of it works, and that's rad. A lot of it doesn't work, though.
Alex: In terms of DJing, we have a general idea of what we want to play. But it's always fun when we get the chance to improvise and play off the cuff.
How important is it for you to experiment and take on the risk of failure?
Ethan: It's always important to take risks. It's the only way to get anywhere in life.
Alex: Got to risk it for the biscuit.
If we pressed shuffle on your iPod while you went to the bathroom, what would you be embarrassed to come back to us listening to?
Alex: Nothing. Everything on that iPod is gold. Everything on your iPod is gold.
Ethan: Give us some Kendrick Lamar, Avenged Sevenfold, N Sync, whatever—honestly anything. We'll both vibe it.
What should everyone just shut the fuck up about?
Ethan: Everyone should shut the fuck up about genres. Who gives a fuck?
Alex: Play what you like, and make what you think sounds dope. Who cares if it falls into the hip-hop or house or pop genres? We're hoping to put out a couple of post-future-tech-bass-trip-funk-tropical house tracks soon. And that should be okay.
How would you describe your sound to a deaf person?
Alex: You know, the music you hear in your head when you're posted outside a 7-Eleven, sipping Slurpees with your squad.
Ethan: Like you're really badass, but you're okay with acting giddy for a quick second.
---
Share
---
You might also like