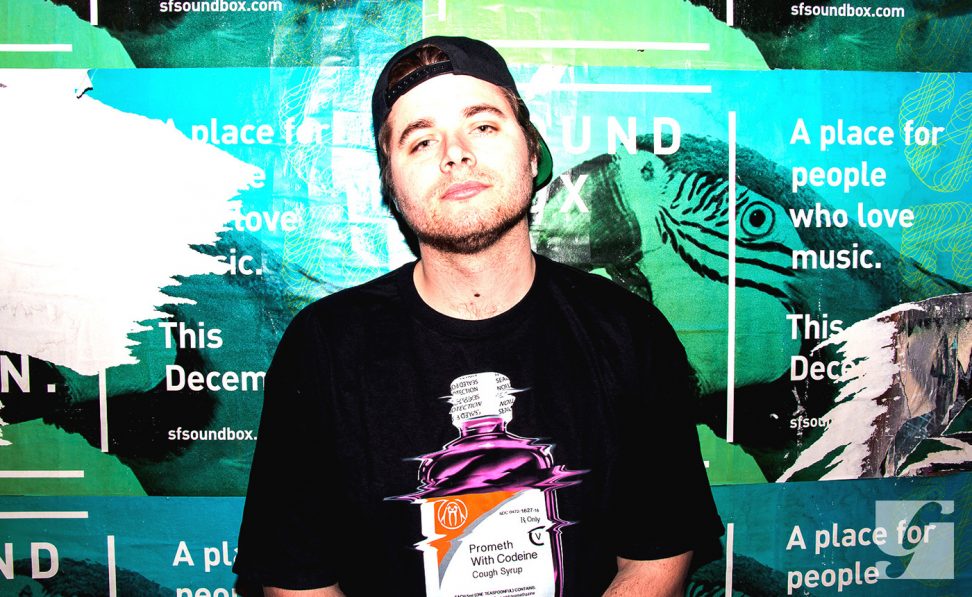 Winning Discovery Project: Beyond Wonderland 2015 was a big moment for this young artist's career. It gave him a taste of what hard work and determination can bring when following a dream, and he certainly hasn't stopped there. Grensta's tracks have since been featured on EDMSauce, YourEDM, TheDJList, Insomniac, Magnetic Magazine, and Ghetto House Movement to name a few.
//
Discovery Project Winner, Beyond Wonderland SoCal 2015
I grew up in the San Francisco Bay Area and music has always been an outlet for me. From starting to DJ five years ago to first flirting with Ableton, my love for music goes much deeper than just spinning and producing dance music. I've played classical instruments, grew up on my dad's vinyl collection, helped out at my college radio station, worked at Guitar Center, and even interned at Om Records. Although I don't work in the industry at this moment, I know I will be back in it, one way or another. I love everything about music because it's a constant challenge, and I feel lucky to have grown up in the Bay Area. There is a lot of culture and inspiration just walking down the streets of San Francisco. I am really starting to understand the basic culture of the neighborhoods like the Mission, Soma, Fillmore, Tenderloin and Haight. Music teaches you to have an open mind and to indulge in its story that never ends.
//
Hometown: Half Moon Bay, California
Currently Living: On the move in the Bay Area
Origin of Name: Grensta is a play off my last name, Grennan. I played sports my entire life, and my teammates made random nicknames of Grennan all the time. I suppose Grensta is a combination of all those nicknames, with a rudeboy twist!
Weapon of Choice: Gems I've picked up from digging in the discount bins at Amoeba. I have found some amazing dollar CDs and vinyl packed with songs our generation hasn't necessarily indulged in. Sometimes I sneak in tracks that are 15 years old into my sets. Those are my secret weapons because it's awesome to see people dance to tracks that have maintained their groove for over a decade.
Source of Power: My friends who write music are a big inspiration to me. Constant progression, feedback, new ideas are huge sources of power to any artist, and I am lucky to consider myself surrounded by very talented friends.
What advice would you offer someone thinking about entering the Discovery Project competition?
If you're considering entering the Discovery Project, just do it. Don't ever hold yourself back. The moment you tell yourself that you can't, you won't. There are so many things that you can do. It is what we can do, not what we can't do. I watched four of my friends win the Discovery Project before giving it a go because I told myself I can't do it or I'm not good enough. Put time into it, read the directions twice, and give it all you got!
What's the most important piece of gear in your studio, and why?
I love all my stuff, and I took full advantage of working at Guitar Center to build a sick little collection. It's hard to narrow what I like the most, because I can't stop adding to the collection. I know I have a problem. I have drum machines, hardware synths, a vinyl turntable, MIDI controllers—stuff I can twist and turn to compose everything in Ableton 9 and mix in Logic X. Everything has its place in my studio, and jamming and live recording audio into Ableton is key. Honestly, the UAD Apollo ties everything together, and it was so worth the investment. The plugins are next-level and pure. What is really cool is sending MIDI info from Ableton to my analog synths and feeding that audio back through the UA preamps. I can get lost in twisting knobs and making weird sounds and just record a loop into my computer for 10 minutes, then go back in and arrange it and chop it up however I want. The audio is super warm, and you can do whatever you want to it in Ableton with those UAD plugins.
If we pressed shuffle on your iPod while you went to the bathroom, what would you be embarrassed to come back to us listening to?
Bono, and the U2 album that magically appeared on everybody's iPhone. You would think somebody who nerds out on a computer all day would figure out how to get rid of it, but I haven't, and it's still there. If you hit shuffle, don't judge me!
What should everyone just shut the fuck up about?
The Kardashians. They are the reason we don't have nice things.
What do your parents think of what you are doing?
My parents are very supportive of what I do with music, and they love to see me putting time into this passion. They know it's much more than just a hobby for me, and they give me tons of feedback when I play my music to them. What they largely dislike is me spending my hard-earned cash on studio equipment. They always want to look out for what's best for me.
How does what you do for a living affect you on a day-to-day basis? How, if at all, does it affect your friends and family?
I spend a lot of time on music every day of every week. Aside from working 40+ hours a week at my job, I also log an additional 17.5 hours or so on music during the Mon-Fri schedule and pack more time in on the weekends. My parents and girlfriend tend to pull me away from the computer on weekends, and it's a good thing they do, because you need to take a break and enjoy life. There is no point in just staring at a computer screen every moment of every day. I wouldn't say what I do negatively affects me. It's a passion, and it keeps me sane while I work a full-time job!
Do you have a favorite all-time mix CD or series?
It has to be a three-way tie between "The Breakbeat Experience," "People Under the Stairs: The Om Years" and Mark Farina's "Mushroom Jazz." All are classics in my book and were at one point those CDs that lived in the car CD player. You know the one you never take out and it plays every time you go ANYWHERE? Damn, I love those beats!
---
Share
---
You might also like