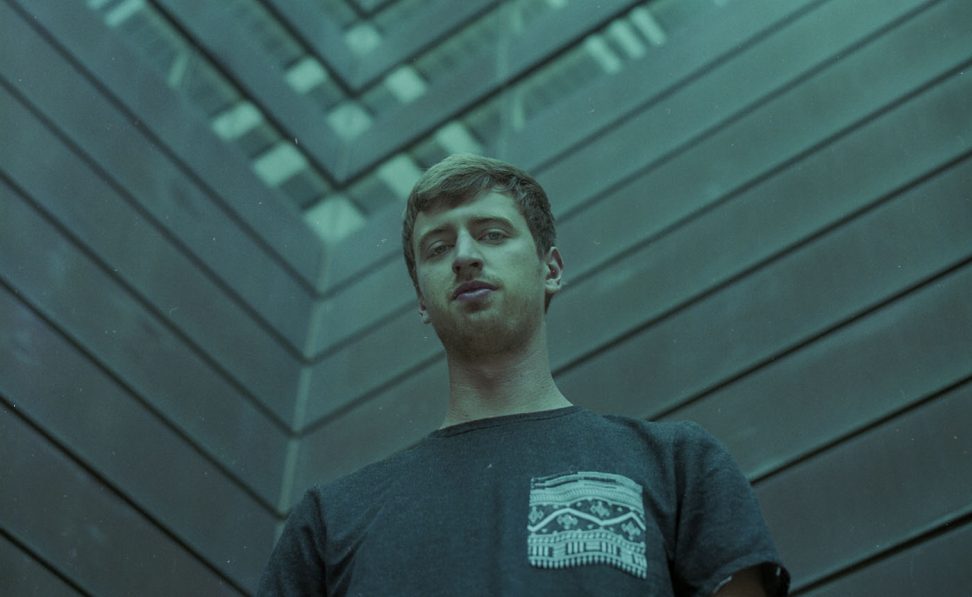 Hometown: Traverse City, MI
Currently living: Lansing, MI
Origin of name: GeoVybe actually stands for Geometric Vibrations, which was inspired by cymatics, the study of visible sound and co-vibration. It fascinated me to actually see sound vibrations producing these incredible geometric patterns, so much that I decided to make a name out of it.
Weapon of choice: Fender Telecaster.
Source of power: Electronic, classic rock, hip-hop, soul and funk.
What advice would you offer someone thinking about entering the Discovery Project competition?
Just do it. What do you have to lose?
Blurb yourself:
Music has always been a way for me to escape and unwind. I'm drawn to creativity, and as a composer it's something that I put the most time into, yet it never feels like work. As a listener, I think of it as a tool to endless discovery, unity, culture and inspiration. Spread the love, and keep the creativity alive.
Are there any dots that connect where/how you grew up with your musical output?
I was fortunate to live in a household that always encouraged music and creativity. My dad is a drummer who's been playing since he was 10 years old, and my mom grew up playing the clarinet. Both of them had awesome taste in music and exposed me to a variety of different genres that have influenced the music I make today. I've always had some sort of involvement in music and art. Throughout my childhood, my parents were part of an African drum group. I can remember going with them to practices and learning how to play different rhythms on a variety of African instruments.
Growing up, I went through phases of playing different instruments, but around sixth grade, I picked up the guitar and stuck with it ever since. I listened to nearly everything, but in high school, hip-hop and EDM really sparked my fascination with producing. I live for creation. Finding out I could compose and put together every element of a song on my own pushed that fascination even more. I think one of my biggest influences came when I got to college: I met GRiZ during my freshman year at Michigan State University in 2011 and was very fortunate to see his growth as an artist. His success over the years was, and still is, a huge inspiration to me.
What's the strangest part of your job? What makes you shake your head in wonderment about being a DJ and producer?
I think the strangest part about my job is realizing the amount of influence you can have on an individual or group of people. It's a really amazing feeling, especially when I hear from people how my music has had an impact on them. It's strange, because in the end, I'm just a weirdo doing what I am passionate about.
What is your ultimate career dream?
My ultimate career dream would be to compose a soundtrack for a major film.
Are you impulsive with your work (in the studio and/or DJing), or do you have a sketch in mind before you start?
When I get into the studio, I'll sometimes have an initial idea that I can work off of, but a lot of the time I'll just sit down without any plan in mind. I love working from scratch, and a lot of my ideas come from just picking up my guitar or sitting down at my keyboard and playing around with new sounds, chords and/or scales. I also generate a lot of ideas by listening to records from my vinyl collection and sampling. I'll load a bunch of samples into my drum pads and go crazy until I find something that works, or I'll just sit down and design a new sound that could potentially spark an idea.
How important is it for you to experiment and take on the risk of failure?
I think experimenting and taking risks is what creativity is all about. We're human beings. We're meant to fail, because failure enables us to learn how to succeed. I have stacks of unfinished projects that I threw to the side, because what I was doing didn't really work at the time. These projects are just practice. They allow me to experiment and take risks so I can apply what I've learned to newer projects.
How would you describe your sound to a deaf person?
I would learn how to sign, "Euphoric, funky alien farts."
---
Share
---
You might also like