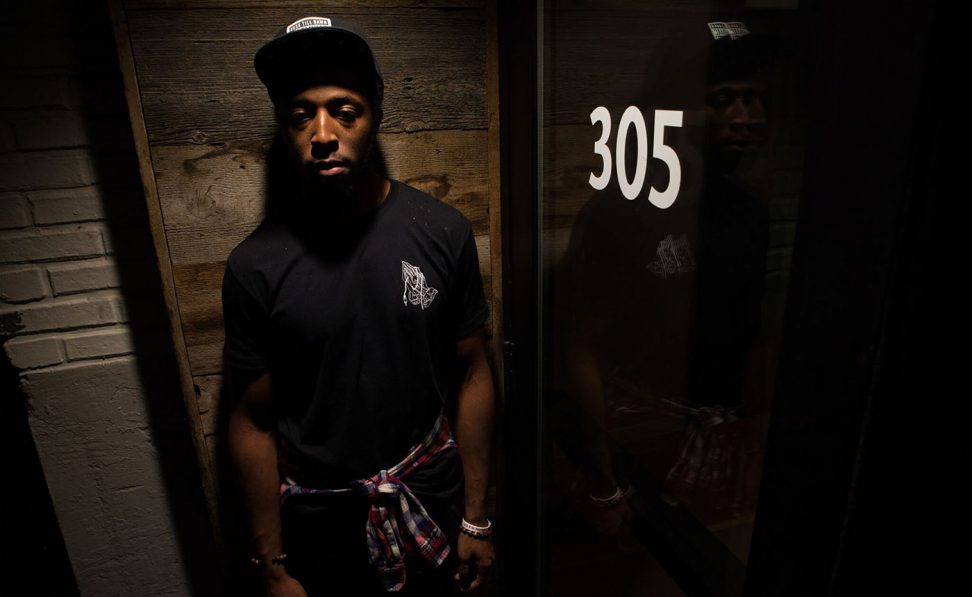 My name is Antuane Walker. I enjoy sushi, Naruto, One-Punch Man, and Game of Thrones. I also really suck at sports. I was a band geek for three years and played the trombone. I have been DJing for four years and producing for two. I got into music as a way to deal with depression and anxiety. Doing music-related activities was the only way that I felt normal for the longest time. I grew up on hip-hop but got into electronic music after attending my first rave in 2008. One song I can thank for my passion for electronic music is "I Remember" by deadmau5 & Kaskade. Every time I listen to that song, it reminds me of why I love the music that I do.
//
Hometown: Hill Air Force Base, UT
Currently Living: Seattle, WA
Origin of Name: I used to go by the name Tronik. After a while, I kind of grew out the name and wanted something different. At the time, I was working at a call center, and every day felt like I just wanted freedom from working a day job that I did not like. After doing a little bit of research, I found that the name Francis gave meaning to the word "free." I decided to roll with the name and add my middle name, Derelle. I changed the "c" in Francis to an "s" so I didn't get too confused with Dillon Francis, lol.
Weapon of Choice: Ableton and Monster Energy Drinks.
Source of Power: Kanye West, Skrillex, RL Grime, R&B, and anime.
What advice would you offer someone thinking about entering the Discovery Project competition?
Make it personal. Enter with a song and mix that honestly displays your style and shows the talent that you have to offer. Also, don't give up if you lose. This is my fourth time entering. I admit, just like everything else, it does suck; but keep on pushing and perfecting your craft. You will get it down eventually.
Was there one particular moment in the recording or mixing process for your Discovery Project entry that made you feel like you were creating something pretty damn special?
Yes, the moment when I was rushing to find people to pick up my shifts at work because I couldn't stop working on the song. I am pretty sure I spent more hours on this song than any other project I have ever made. I really wanted to put a lot of detail in it to make it unique. In return, I missed out on a lot of money at work—so worth it, though.
Do you have any memorable moments from past EDCs or any other Insomniac party?
At EDC [Vegas] 2014, I was walking to Diplo's set from kineticFIELD. As I reached his set, he was playing "Freak" by Deorro, Steve Aoki, and himself. I remember walking over the stairs and seeing the thousands of people dancing, everyone happy. That moment forever changed me. If I ever lack motivation, I just replay that in my head 1,000 times.
What is your ultimate career dream?
I just want to be able to roll out of bed in my underwear, turn on my laptop, open Ableton, and say I am at work.
What's the most important piece of gear in your studio?
My iPod headphones. I literally do all of my mixing and mastering on them.
If we pressed shuffle on your iPod while you went to the bathroom, what would you be embarrassed to come back to us listening to?
Either 'NSYNC or Backstreet Boys. I still have both bands on my phone, because I will forever be stuck in the '90s. Justin Timberlake is a legend—just saying.
What should everyone just shut the fuck up about?
Genres dying. How can a genre die, anyway? There will always be people who listen to that genre; therefore it is still alive. Just because it's not as popular as other types of music does not make it dead. We are only killing the love for music with the negativity.
Do you have a secret passion?
Final Fantasy. I think Final Fantasy 9 is one of the best things to ever happen to me.
Do you have a favorite all-time mix CD or series?
It's a tie between Lupe Fiasco's Food & Liquor and Kid Cudi's Man on the Moon 2. These are some of the only albums I can listen to till this day and vibe with every song, start to finish.
---
Share
---
You might also like