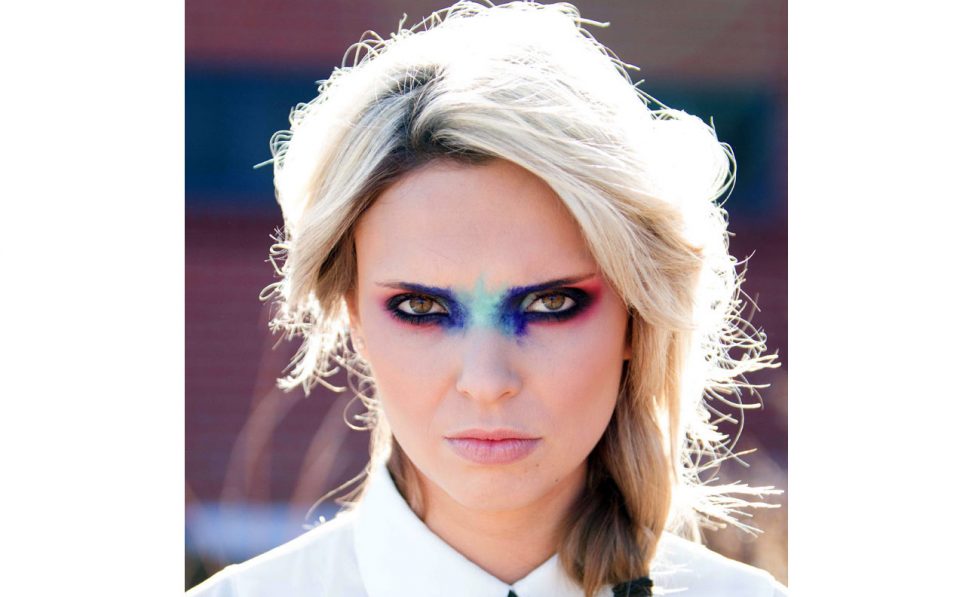 The sweet and sensational femmeBOT, also known as Sarah Eschner, has been cultivating creative talents all her life. After becoming versed in piano, violin, and voice, she continues to delight in various artistic mediums including modeling, painting, writing, and music production. The ability to use music as a vessel for artistic expression drives femmeBOT to reach her full potential every day. Several years of hard work and dedication behind the scenes have led to her first release, which was subsequently a winning entry for the Insomniac Discovery Project. With a 4-track EP set to release this summer, you can expect big things from this fresh new artist.
//
I do what I believe many others do as well…lean on music for comfort and clarity. At times when I've felt alone or lost, happy or hopeful, a perfect song will help me identify with myself and find strength. Music doesn't judge and it doesn't let down. It has been at the heart of so many spectacular memories, always reminding me of friends, loved ones, and how lucky I am to have found something bigger than me with so much meaning.
Interview
---
Home Town: Denver, CO
Currently Living: Denver, CO
Origin Of Name: A friend mentioned the name to me in a joking manner, comparing me to the "Fembots" in Austin Powers. He said, "They are sweet on the outside, dangerous on the inside." After a while the nickname just stuck and I grew to love it.
Weapon of Choice: Laughter! It opens people up.
Source of Power: My obsession with EDM started in the drum and bass arena, led by Pendulum. I felt like they knew me, and every song could perfectly pair with my emotions or ever-changing life events. They went though many transitions and I loved each one, all the way to their new project, Knife Party. It is very profound to me when an artist pours their soul into their work; when I see that, it becomes my source of power and admiration.
Was there one particular moment in the recording or mixing process for your Discovery Project entry that made you feel like you were creating something pretty damn special?
Honestly by the time I finish mixing any track down I pretty much can't stand it. It takes a few weeks for me to come back around and appreciate the work I did.
Are there any dots to connect with where/how you grew up to your musical output? A grand piano being forced down your throat by your Mom, perhaps?
It's funny to see the "grand piano forced down your throat by your Mom," because yes that's pretty much where it all started. My parents had a rule for my younger sister and I, which was that we always had to be learning to play one instrument and one sport. I started with piano for a few years then moved to violin. A beautiful violin or piano riff can still bring me to tears faster than any other instrument, but voice was something I wanted to pursue on my own. I sang professionally for several years and thought I was fantastic, although I have been told I couldn't win an American Idol contest. Probably true…but I love it, and that's what matters.
What do your parents think of what you are doing?
They are thrilled. I come from an incredibly artistic family and they appreciate every minute of it.
What's the strangest part of your job, what makes you shake your head in wonderment about being a DJ and producer?
The endless possibilities and how huge the EDM scene has become.
What's the biggest misconception about being a DJ?
That "electronic music artists aren't real musicians." That is complete bull. Not only do we make every part of the song from drums to FX, but it is also done on a program that is equally as complex as any instrument. EDM producers are truly talented!
How does what you do for a living affect you on a day-to-day basis?
Right now I am at a point where I have this passion, but I still need to pay the bills. I work a full-time job in addition to being a producer. It doesn't really negatively affect my friends and family, but it certainly keeps me busy.
What is your ultimate career dream?
Altruism is at the core of everything I do. I want to help others, and I know one of the easiest ways to do so is to find a voice. Of course, playing main stage EDC wouldn't be too bad either.
Are you impulsive with your work or do you have a sketch in mind before you start?
Nothing turns out the way I have outlined in my mind, but that's what makes it interesting. I can sit down on Ableton thinking I have a perfect idea or sound to create, then two exciting and frustrating weeks later it has turned into something completely different, and hopefully better, than the original thought.
How, if at all, does listening to music figure into your creative process?
Listening to music can make me feel very innovative, or highly incompetent. Sometimes I hear a song that triggers a creative process and I have to get into the studio. Sometimes I hear a song and it's just too good that I realize how much I still need to learn. The last song that made me run to the studio was Dillon Francis' "Falling Up."
What's the most important piece of gear in your studio?
I'd say it's a tie between my laptop and headphones. Can't do much without either.
How important is it for you to experiment and take on the risk of failure?
Very important—I think some of the greatest masterpieces come from experimentation. If you put your heart into something and take a risk, you can't fail because you did what you believe in.
Do you have a list of people you'd like to collaborate with?
Krewella. Plain and simple. They are some of the most inspirational artists out there to me right now.
If we pressed Shuffle on your iPod while you went to the bathroom, what would you be embarrassed to come back to us listening to?
Probably Britney Spears' "Piece of Me."
What sound or noise do you love?
Grimy dirty grungy bass.
What should everyone just shut the fuck up about?
Your famous friends…they don't seem to know you as well as you think.
What gets you excited when you think about the future of electronic music and club culture?
The outlets are available to share my music. It is amazing to be able to look at the top 10 tracks of every genre on Beatport and see five new artists you've never heard of.
When you look at electronic music and the surrounding culture, what worries you about the future?
It would be nice to diminish the stereotypes surrounding EDM and drugs. The scene is so much better than that.
What are your weaknesses?
Shiny things and macaroons.
Do you have a secret passion?
I have a second passion for fashion. I love the crazy gear…goggles, hot dog shirt, polka dot wig…the more ridiculous the better.
How would you describe your sound to a deaf person?
I would drive through the mountains at night, have them stand up through the sunroof, stick their arms out to the side and look up at the stars.
Is success physical or internal, what does it mean to you?
Success is both for me, but I think it is different for everyone. My internal goals are to reach my highest potential.
What do you remember about your first DJ gig?
I was incredibly nervous, heading to a new Denver club. Luckily a lot of my friends came out to support me and I had a blast…it only solidified that it was what I wanted to do.
What's the hardest professional lesson you've learned thus far?
I've seen artists who I admire play shows, post songs, etc., and I always think about the positive things happening in their lives. I have more recently come to realize that with recognition comes negative attention. It hasn't made my life easier or more difficult, but I am better prepared to shrug off the negative, because haters always gonna hate.
Tell me about your most memorable night out.
Is it cliché if I say playing EDC New York? One word, fireworks!
What advice would you offer someone thinking about entering the Discovery Project competition?
Believe in yourself! Whether you are selected as a winner or not, your contribution is valuable. Let this incredible opportunity serve as motivation to achieve your dreams.
Winning Track:
Winning Mix:
---
Share
---
You might also like