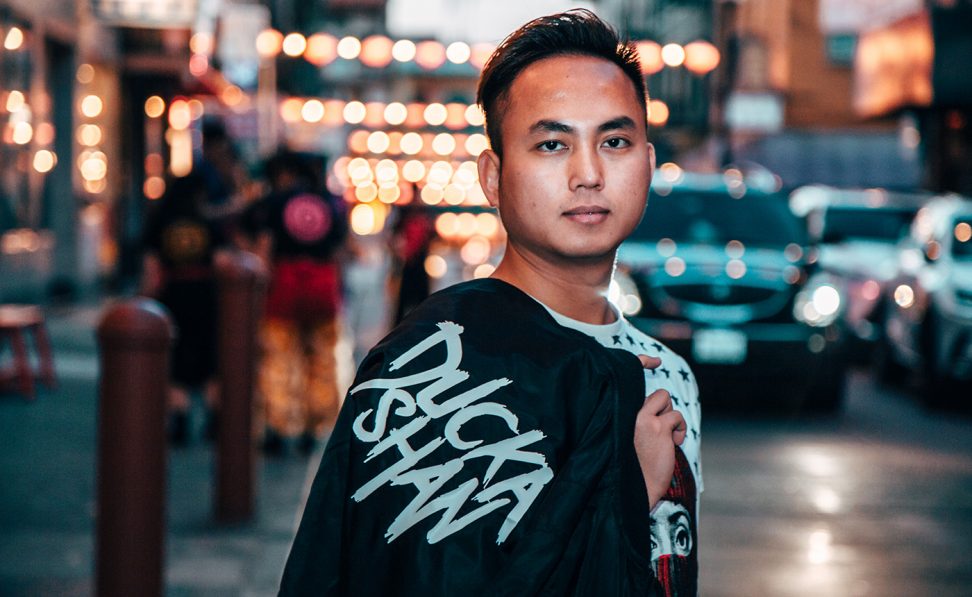 Origin: United States
Hailing from a musical family, Ducka Shan sought to follow the craft of his bloodline, learning the piano in his early years, before becoming seduced by the four-to-the-floor bliss of techno at age 15. Ducka Shan has earned praises from top talent and curators across the globe for major hits on Sirup, Pyro Records, Lowly, and Strange Fruits. In the past few years, Ducka Shan toured internationally in countries such as Vietnam, Spain, Ibiza, and many more.
His "Rocking Steady EP" reached #53 on top 100 Beatport Electro House Chart and #3 on Beatport July Best New
Electro House Chart as well as his "KSHMR & Felix Snow ft. Madi – Touch" hit #10 on Spinnin' Records Talent
Pool. Also, "Somebody" together with producers "Beauz" from LA and Rebecca – singer from New York hit 1 million
plays on Spotify and went viral in Spain, Netherlands, Germany, France, Mexico and more.
Ducka Shan have received radio support from the industry's biggest names including Hardwell, Showtek, Don
Diablo, Vinai, FireBeatz, and Alan Walker! He has shared stages with established performers Thomas Gold,
Andrew Rayel, Darude, Kura, to name a few.
With a unique story and style, Ducka Shan will move into the world of future house and dance music with full-force in 2019.
//
Hometown: San Francisco, CA
Currently Living: San Jose, CA
Origin of Name: My real name is Duc, so people call me Duck—and to make it simple, I came up with Ducka. As for "Shan," it means dignity/pride in Hindu, like a warrior. That's how I came up with Ducka Shan, which means Duck Warrior.
Weapon of Choice: Gatorade. It keeps me up all day and night to work on music.
Source of Power: Don Diablo, Laidback Luke, Tiësto, and Yellow Claw. Good food, too!
What advice would you offer someone thinking about entering the Discovery Project competition?
Just be yourself. Focus on your original productions. Also, you should have an artist brand and a clear, serious vision about your music career.
Was there one particular moment in the recording or mixing process for your Discovery Project entry that made you feel like you were creating something pretty damn special?
Absolutely! Discovery Project has always been my favorite competition. I wanted to share my unique style and allow people to feel the music within their hearts.
Are there any dots to connect between where/how you grew up and your musical output?
My dad was a drummer in a band back in the '70s. He taught me a lot about music and life experiences. My mom got me a personal piano teacher when I turned 13. At the time, I was a lazy kid. I would hide in the bathroom or closet and made excuses every other time the teacher would come, so I could skip the piano lesson.
Tell us about your most memorable night out as an artist or as a fan.
The most memorable night was my first rave, at Cow Palace 2008. The whole rave scene was breathtaking; everything was so new to me, such as light shows, the vibe, people dressed in rave outfits, loud music, and everyone jumping and dancing. I remember Tiësto, Ferry Corsten, and Markus Schulz were playing at the time. The show ended early, due to the power going out, so everyone went to the parking lot and partied until 3am. It was from that moment I became a huge fan of the scene.
How, if at all, does listening to music factor into your creative process? What's the last song you heard that made you drop what you were doing and go into the studio?
I listen to radio shows from a lot of artists from indie pop, house, big room, hardstyle, trap, and dubstep. Every genre has their style, and it helps to listen and feel inspired by them before working on a new project. I heard Faux's "No Mercy" on a radio show while I was driving, and I was so inspired. That same day, I drove back home to my studio and created an original inspired from that track.
What gets you excited when you think about the future of electronic music and club culture?
I believe that electronic music and club culture will be even bigger and better in the future, with holograms, higher-tech lasers, and live effects. I can also imagine people being able to attend live events using virtual reality technology, and people across the globe can party without their live presence.
What do you remember about your first DJ gig?
My very first gig was at an underground party in Redwood City, CA, back in 2009. There were three rooms with different genres: trance, electro house, and dubstep. It was my first DJ experience and at an underground party.
---
Share
---
You might also like