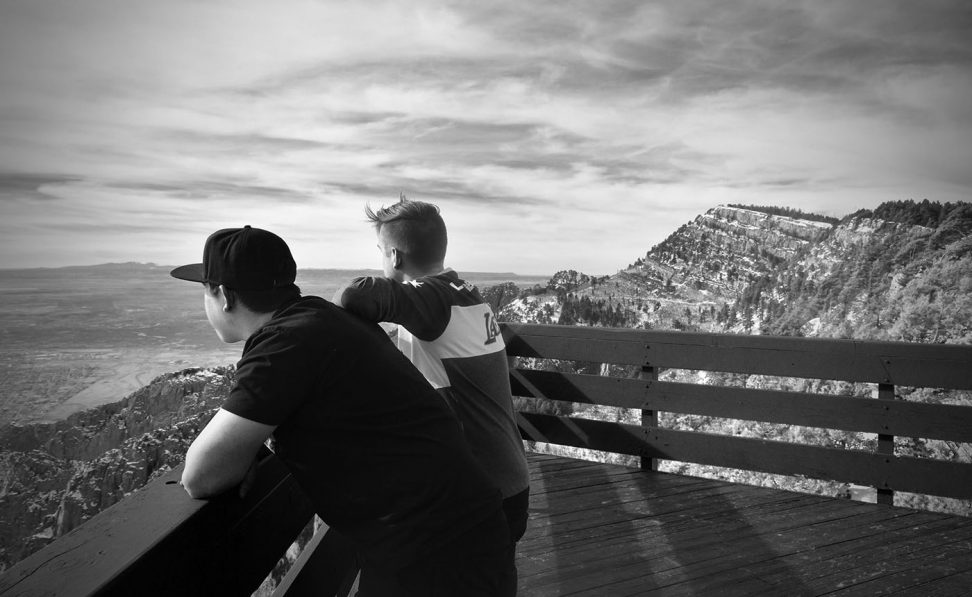 The Colorado meets New Jersey duo DIV/IDE (previously known as Baewatch).
//
Hometown:
Anthony: Firestone, CO
Jayson: Bayville, NJ
Currently living:
Anthony: Firestone, CO
Jayson: Bayville, NJ
Origin of name:
Anthony: I just rolled with the idea of Baewatch.
Jayson: I always liked artist names that had double meanings, and I was sitting with a creative friend, trying to think of something along these lines. At the time, the phrase "bae" was slowly becoming popular, and out of nowhere he said "Baewatch." So we decided to go with that.
Weapon of choice:
Anthony: Ableton Live, because it's limitless—just like my ideas.
Jayson: Anything made by Native Instruments; their hardware and software are phenomenal.
Source of power:
Anthony: My influence from electronic dance music all started when I decided to go to the club for the first time in 2008 and watch my cousin DJ to packed clubs in Hollywood. From there on, I began producing dance music and started building my little home studio, which I still produce in.
Jayson: My family has influenced me heavily since I was a child, always taking me to my music lessons and making sure I stuck with it. Now not only them, but also my friends, are always supporting me and keeping me very motivated.
What advice would you offer someone thinking about entering the Discovery Project competition?
Anthony: Never give up about something you truly want in life—whether it's music, sports or anything else. Keep on putting in work, and do not give up. It's either all or nothing, and the rewards will be very satisfying. As a duo, we submitted last year to try and play EDC NY, and now we are playing one of the biggest festivals in the country. Don't give up.
Jayson: Don't give up or feel down if you don't win. I've been entering the Discovery Project for the past three years. Just keep working harder and practice more, because the more time you put into pursuing your passion, the better outcome you will get.
Blurb yourself:
Anthony: I don't always do this whole producer DJ thing 24/7. In my spare time, I am working on my car or looking for car parts; I'm a huge gear head. I started producing when I was 17 and a sophomore in high school. I did this after I decided to stop playing sports, and it was actually one of the toughest points in my life. I turned to music to express myself, and I fell in love with it. I began making hip-hop, and EDM found its way to me in the most amazing way. Now, here I am performing music with a friend I had never met up until this point.
Jayson: My friendship with music goes back as far as I can remember, so you could say it feels super natural to me. In elementary school I started off playing the saxophone, then began to learn drums because my uncle was a drummer, and I thought that was cool. I stuck with the drums and played in metal and pop punk bands throughout my high school years. After high school, I started to be really intrigued by EDM and the community surrounded by it. I knew how great my love and passion for music was, so I thought to myself, "Hey, why not give this a shot." Last year, I met Anthony via SoundCloud from your typical "Wanna collab, bro?" message. We naturally clicked and really saw the benefit of what we could make when we put our heads together, so we joined forces and created Baewatch.
Tell me about your most memorable night out as an artist or as a fan.
Anthony: Watching Bassnectar for the first time and watching the whole thing beginning to end—best show I have ever been to in my entire life.
Jayson: My most memorable night out was during Miami Music Week this year. Mar, aka Astronomar, took me around with him to his events and to some really dope after-parties. I made a ton of great friends from it, and it really meant a lot to me because it opened up my eyes to a whole different side of the scene that I was never able to see from a fan perspective.
How does what you do for a living affect you on a day-to-day basis? How, if at all, does it affect your friends and family?
Anthony: I work all day in a call center and try to get as much inspiration from experiences of others, and I come home and put in even more hours honing my craft as a producer and creating things that might not even make it out to anyone's ears. My family realizes it's what I want to do, and they support it 100 percent. My friends love it and can't wait to hear the next tune we put out
Jayson: Almost every free second I have, I put into perusing my passion of music. I can't even count the amount of nights I've stayed home from going out with friends and stuff, just so I could finish a song or watch YouTube tutorials to expand my knowledge. My family understands what I do because they see and hear how devoted I am 24/7.
What is your ultimate career dream?
Anthony: Tour the world and see everything there is to see.
Jayson: To be able to tour the world, meet awesome people, and support my family and myself financially from doing what I love.
What should everyone just shut the fuck up about?
Anthony: Music is music; if you do not like it, then shut the fuck up.
Jayson: Something that really bothers me about this scene is seeing kids post about how much a certain artist sucks or something because they decided to change up their sound or genre for a certain release. Music is limitless; I completely back the idea of making everything and anything you desire at the time.
Do you have a secret passion?
Anthony: Cars. Fast cars.
Jayson: Coffee. I drink it all day. It's the secret to writing any hit.
Is success physical or internal? What does it mean to you?
Anthony: It's both physical and internal. You have to physically put in the work to get where you want to be, and you also have to be prepared for the sacrifices internally to get where you want.
Jayson: It's honestly a lot of both. The internal side comes with all the mental drive and how much you can put your mind into it without letting yourself get to the point of saying, "I give up." The physical side comes with pushing your music to your fans and getting it into the hands of the right people. No matter how good your music is, no one will ever hear it if you don't know how to successfully push it.
Do you have a favorite all-time mixed CD or series?
Anthony: Tupac: Better Dayz album
Jayson: Blink-182: Take off Your Pants and Jacket
Do you have something you'd like to get off your chest that we didn't ask you about?
Both: We created Baewatch a year ago just so we could enter in the Discovery Project; and now a year later, we won and are playing EDC Las Vegas!
Discovery Project: Las Vegas 2015 by Baewatch on Mixcloud
---
Share
---
You might also like