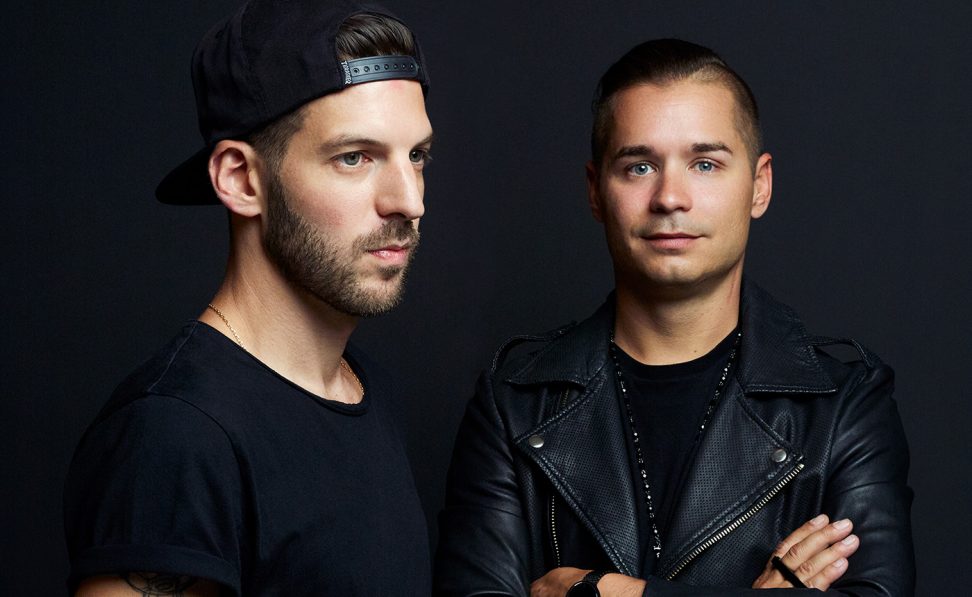 Origin: France
Parisian electronic duo Dirtyphonics (Charly Barranger and Julien 'Pitchin' Corrales) have stood the test of time due to their boundless musical panache, their ability to not be pigeonholed into one genre and their willingness to challenge conventional composition standards.
Bursting onto the scene in 2008 with a ferocious sound touching on dubstep, electro, and drum 'n' bass, Dirtyphonics quickly built a reputation as voracious workhorses, crafting rip-roaring re-works for Skrillex, Linkin Park, Marilyn Manson, Nero, Diplo & Zeds Dead, The Crystal Method, Kaskade and many more. After dropping their heavy-hitting remix of The Bloody Beetroots and Steve Aoki's timeless electro jam "Warp 1.9," they went on to join Aoki's Dim Mak Records, continuing their sonic assault under the umbrella of one of dance music's most prominent record labels. At Dim Mak Dirtyphonics unleashed their debut full-length album "Irreverence", garnering critical acclaim for its fusion of electronic elements with a myriad of genres including neo-metal and drumstep, with Consequence of Sound asserting, "Dirtyphonics are proving worthy challengers for the pinnacle of the French electronic pyramid. "

Fast-forward to 2016, when the globetrotting duo embarked on their colossal and aptly-titled "Neckbreaker" tour. They also kept their feet on the gas pedal in the studio, staying true to form with frenetic remixes of Skrillex and Alvin Risk's "Try It Out" and The Chainsmokers' chart-topping megahit "Closer (feat. Halsey)." In a bass-heavy blur of genre-bending ululations, Dirtyphonics then barreled into 2017 with their Night Ride EP on Borgore's Buygore imprint. The Night Ride project flaunts the signature sharp Dirtyphonics sound ("Night Ride" and "Beat Dem Up") in addition to a more melodic, poignant style ("Lost In Your Love" featuring celebrated English musician Example), reinforcing their status as bass music favorites while calling attention to their position as global tastemakers.
2017 also saw them make a big splash on renowned dance imprint Monstercat with the huge collaboration with dubstep demigod Bassnectar on the explosive jungle-inspired banger "Watch Out" featuring Ragga Twins. as well as their hit "Got Your Love" with blossoming dubstep duo RIOT. More inspired than ever, Dirtyphonics lost no time and got back in the studio to write the now famous "Vantablack EP", a metal infused / bass heavy body of work that resonates with their metal origins in collaboration with guitar prodigy Sullivan King.
In 2018, the duo played the legendary Coachella for the second time, headlined Rampage and played countless festivals such as EDC China, Lost Lands, Dreambeach, Arenal Sound and many more.
Energized by the movement they created Dirtyphonics have just released their new single "Rise From the Dead" on Disciple records and have announced their brand new Liive show starting with a headline slot at Rampage Open Air festival to celebrate 10 years on the road! More than ever Dirtyphonics is THE duo to watch in 2019.
---
Share
---
You might also like