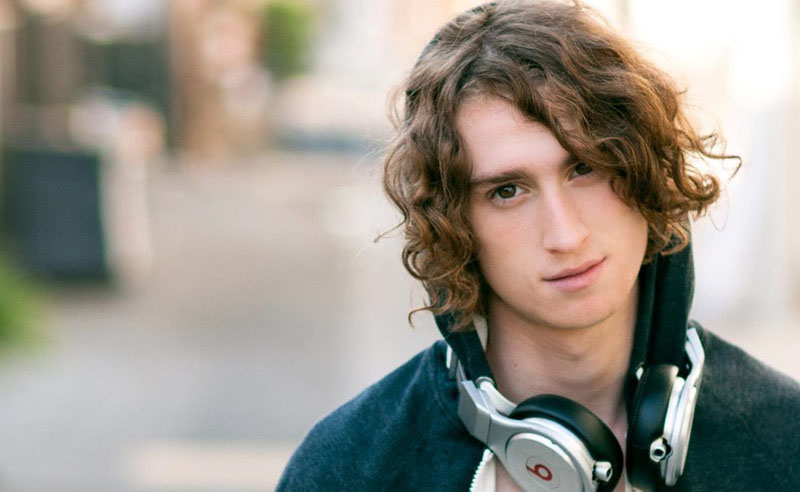 Though I started my acting career at the age of one, performing in TV shows and tons of commercials, I didn't find my true passion until I was twelve years old and discovered the drums. At first I played in a few rock bands and played in venues all around Los Angeles. When I was sixteen my band was noticed by a producer and we got the chance to record at Capitol records. But I was still looking for an outlet to have more creative input and control, which led me to discover the art of producing. I was then able to use all my musical knowledge (jazz, rock, classical, Latin and heavy metal) to create my own original style, which is always growing and evolving. I have a very personal love affair with music. Everyday I try to incorporate all my current emotions and experiences into my work. I believe if a musician doesn't use their whole self in their work, taking inspiration from the good times and the bad, they can never truly create a piece of art. I can't even imagine being able to deal with all of my internal feelings without a musical outlet. I can't go a day without recording a melody or coming up with a rhythm. I feel so fortunate to have the chance to make music on a regular basis – an opportunity that not everyone is blessed to have. That's why I feel a type of obligation to share it with others. When people listen to music, whether they're at home or in a crowd, I believe they are looking for something or searching for answers. My hope is that my music will help them find what they are looking for.
Interview
---
Home Town: Los Angeles, CA
Currently Living: Los Angeles, CA
Origin Of Name: Named after King David
Weapon of Choice: Drum Sticks
Source of Power: The universal creative mind
Was there one particular moment in the recording or mixing process for your Discovery Project entry that made you feel like you were creating something pretty damn special?
When I'm working on a particular piece of music it is the piece of music in my life—my child, so to speak. Then when I move on to a new piece, the old one takes a back seat. The Discovery Project forced me to revisit all my "children." Putting the best of my original tracks (at the time) together inspired me to look at my music in a whole new way. That's when I got the idea to use my tracks in an order that would tell a story. This is something I've been working on ever since.
What do your parents think of what you are doing?
My parents are both performers and support me 100%.
Do you have any memorable moments from past EDC's or any other Insomniac party?
My first EDC was in 2011 and it just so happened to be on the same day of my high school graduation. So all my friends, right after the ceremony, got in a car and drove all the way to Vegas for the festival, not knowing what was to come. To make a long story short, I had the one of the best weekends of my life and walked away from the event craving more. I couldn't stop thinking about all the amazing sounds, people and atmosphere. I knew right then and there I wouldn't stop until I was on those stages and made a vow to myself to do everything in my power to be a performer at an Insomniac event. After a year of rigorous work producing everyday for hours and teaching myself everything a DJ/producer needs to know, that dream became a reality.
What is your ultimate career dream?
I'd like to be able to share my music with a global audience—and travel around the world performing. I'd also like to raise money doing charity work, and help people discover their passions in life. Bottom line, I'd like to somehow make a difference on this planet using my passions and talents.
Are you impulsive with your work or do you have a sketch in mind before you start?
I try to let the music flow right out of me. Creativity is a purge and edit process. First you have to just get it out. Sometimes I'll have a rough afternoon and I'll sit down for six hours and let out all my frustration. After, I'll feel 10-times better and I'll have the bulk of a track started. Other times I'll hear a song on the radio, or even a sound walking down the street, and it will trigger me to rush back home to work. Once I've got something recorded I go back and edit and refine. You have to be willing to judge yourself honestly and not get too attached to what you've done. There's always room for improvement. I love what I do so I don't really think of it as work anyway.
How, if at all, does listening to music figure into your creative process?
I think listening to other genres is one of the most important things when it comes to making music. Whenever I feel a bit of writer's block I always go back to classics like "Cold Sweat" by James Brown or "When the Levee Breaks" by Led Zeppelin. Big band and Cuban slash Afro Cuban songs from the '40s also get me really inspired, as well as Bach, Beethoven and Mozart.
How important is it for you to experiment and take on the risk of failure?
If I didn't take on the risk of failure and experiment, I think I would be dishonoring the life that I have been given. Both my grandparents were holocaust survivors whose family's were all taken out of their homes and murdered. They were enslaved and imprisoned but they risked everything and managed to escape. If they hadn't taken chances I wouldn't be alive today. This is why what I do is so important. I owe it to them and to myself to do everything in my power to succeed. I have the gift of waking up every morning, doing what I was meant to do on this planet, thanks to them.
Do you have a list of people you'd like to collaborate with in the future?
I would love to collaborate with talented filmmakers, instrumentalists and dancers in order to create a more visually stimulating experience on stage that tells a story.
What gets you excited when you think about the future of electronic music and club culture?
That it's only just begun! I think there is so much more that festivals and DJs could do both visually and musically. Personally, story telling with the music itself is an aspect that I'm starting to use in my own sets. I hope to one day create 45-minute to 90-minute pieces that take the listener on a musical journey that can be played at any major festival. On stage I would want to incorporate visual story telling as well as auditory.
When you look at electronic music and the surrounding culture, what worries you about the future?
There are many things about the electronic music scene that cause people concern, but I don't worry about it and I don't judge it. I am in it to express myself and offer my art. That being said, I think there should be more variety in DJ sets, more dynamic visuals, more quality over quantity. I think audiences need to be educated to be more discerning and that can only be done by surprising them with something they have never heard or seen before. Only then will they start to question the status quo and raise their expectations.
What are your weaknesses?
Often it is hard for me to walk away from my computer and deal with the details of life. I'm a marathon man and lots of times it's hard for me to stop making music to take care of "other stuff."
Do you have a secret passion?
There is nothing secret about my passions. If I kept them secret, I would explode. If someone keeps their passions a secret, then it's not really their passion.
How would you describe your sound to a deaf person?
My music is a tonal picture of my raw emotions. Then I would take that person next to the sub so they could feel it.
Is success physical or internal?
I think success must be internal first. You must see yourself as successful in your mind before it can happen in the physical world. I think my definition of success is very different than most. Some people will say success is about money or fame but really it's about facing each challenge head-on and overcoming it. It's like what Michael Jordan once said, "I've failed over and over and over again in my life and that is why I succeed." I do want to make a living with my art, but more importantly, I want to create my art.
What's the hardest professional lesson you've learned thus far?
When I was 16, I had the opportunity to record with my band at Capitol Records. After about six hours of recording drum tracks, the entire session was lost and there was no way of getting it back. With several producers in the room and other important executives I had to happily redo all the takes that I just spent countless hours on. It was rigorous and pretty annoying for me but I knew that I had to perform at the top of my game under the most pressure I had ever been under. After another five hours, the tracks actually ended up being better than they had originally been. It was definitely the most intense recording session I've ever had to do but it taught me how to maintain professionalism under tight situations and to stay on my toes at a young age.
What advice would you offer someone thinking about entering the Discovery Project competition?
Strive only for excellence. A submission to the Discovery Project must be an expression of the artist that is uniquely theirs.
Winning Track:
Winning Mix:
"War"
---
Share
---
You might also like