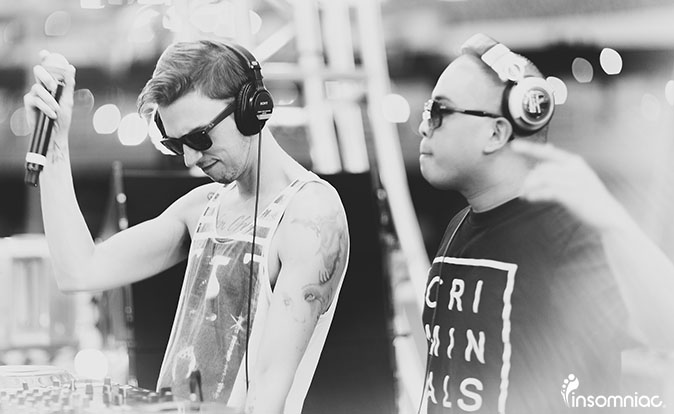 AVE: I've been doing music my whole life. I've played in numerous bands and have done about a thousand shows. About seven years ago I got interested in producing. I opened a couple of credit cards, walked into Guitar Center and maxed them out on gear. I taught myself and now I'm here. I've always kind of known that music was it for me. It was either make it as a musician or die trying.
EFX: I started music in the fifth grade. I played trombone all the way through twelfth grade and I was really into ska and punk music. I eventually picked up the bass guitar and like AVE, started a band and have played about a thousand shows all over Los Angeles. I started DJing when I graduated high school and was hooked. I started doing local clubs then Vegas clubs. I realized I needed to take it to the next level so I started producing about two years ago. I met AVE online through a Beatport remix competition and we talked here and there, but it wasn't until the week the 2014 Discovery Project opened that AVE hit me up to collab. I let him know about the Discovery Project and we both decided we were going to win this thing. The rest was history.
Home Town: Los Angeles
Currently Living: AVE: Los Angeles, EFX: Las Vegas
Origin Of Name: AVE: Wesley AVEry, EFX: Ernee FeliX
Source of Power: Tacos and Redbulls
What advice would you offer someone thinking about entering the Discovery Project competition?
Just do it! We literally decided to come together as a group when the contest started, entered and won.
Was there one particular moment in the recording or mixing process for your Discovery Project entry that made you feel like you were creating something pretty damn special?
AVE sent me a project he was working on with Sophia Z. As soon as I heard it, I (EFX) told AVE this is it! This is the track that is going to win this competition. So I did my thing with the track, sent it back to AVE and that was that.
What is your ultimate career dream?
AVE: The ultimate dream is playing our tracks to 100k+ friends and fans. I've always wanted to see 100k people jumping and going insane over our music. That will be the day when we know we've done all we can and made it. Then maybe I can finally afford to buy a samurai sword.
EFX: The dream for me is to see the masses move to what we have created, and to know that I can take care of my family and friends with my passion and hard work. Oh, and get a pet giraffe.
Are you impulsive with your work or do you have a sketch in mind before you start?
We start by just letting the music flow. We try not to over think things, granted we put close to 100 hours into every song before it's finished. We try to feel the vibe as opposed to mapping it out and planning everything. The best moments always happen by accident. That's the beauty of being two people with two different takes on everything.
What's the most important piece of gear in your studio and why?
Vanilla candles from Target. They set the mood! But really, we don't know if we could choose one single thing. So much gear and software goes into what we do. If we had to pick, probably the piano. Everything starts with the piano and improvisation.
How important is it for you to experiment and take on the risk of failure?
We fail everyday in the studio. It's a learning process and as cliché as it sounds, failure really is the best teacher. We've both failed so much that winning feels so good. We always expect the worst, but hope for the best.
Do you have a list of people you'd like to collaborate with in the future?
AVE: I'd like to collaborate with anyone whose not afraid to take a risk. Honestly I'd write with a Polish accordionist as long as the vibe was there. Music is all about vibe and originality. That's when the best songs are made.
EFX: I've been a huge fan of Gwen Stefani and No Doubt since I could remember. I'd love to get her on a track and just vibe out. Adele and Corinne Bailey Rae are also amazing. You can put their voice and style on anything from a hip hop hook to jazz to progressive house and it would be a hit.
What do you remember about your first DJ gig?
AVE: Ask Miley Cyrus. Her party was my first DJ gig about a year ago. I dropped "Express Yourself" multiple times and well, now look at her.
EFX: My first club gig was at a club called Friction in Orange County in 2006 or 2007, that's where it all started for me. I was so nervous I was shaking! I was the opening DJ and my first song was "Yeah!" by Usher and Lil Jon. This is when the song first came out so it was hot. Needless to say, I was booted after that.
Winning Track:
Winning Mix:
EDC Las Vegas Set:
---
Share
---
You might also like