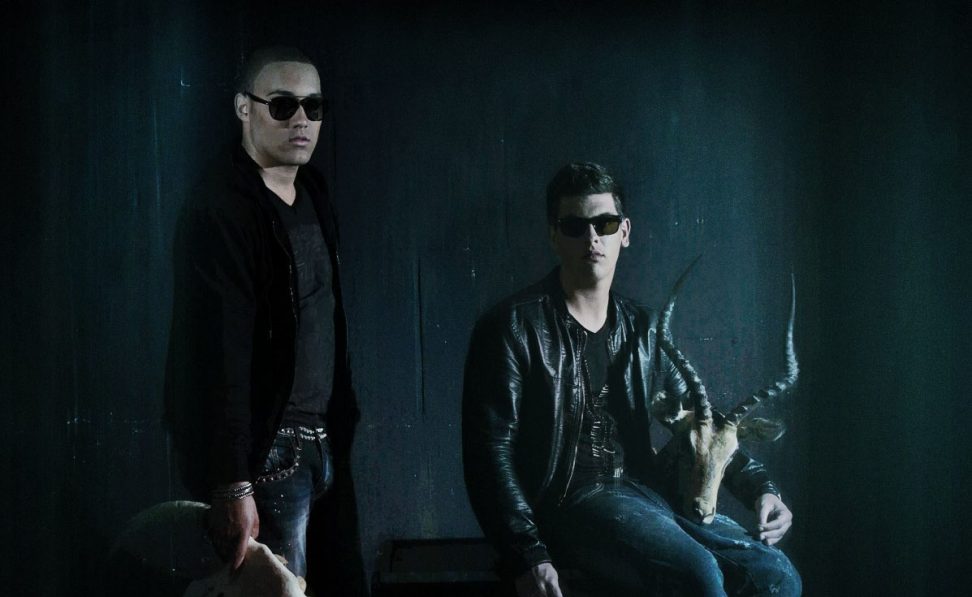 Two passionate music lovers, one ambition and non-stop perseverance and dedication are just a few key ingredients that construct one of the fastest rising acts in the hardstyle scene, Audiotricz.
The two masterminds behind the act, Leon Benschop and Kenneth Kroes, grew up with a strong friendship and also a shared passion for listening to and producing music. With both boys having a solid background in sound design within other genres of electronic dance music, their sole focus shifted to hardstyle, which has seen them embarking on an exciting and memorable journey to the top.
The Audiotricz story started at the beginning of 2013, when they released their first two tracks, "It Could Be" and "We Are as One" on IHDS (International Hard Dance Sessions). Soon after their first release, their career kicked off at lightning-bolt pace as Scantraxx Recordz saw potential in their uplifting and energetic sound, leading them to sign Audiotricz to the label.
Soon after signing to Scantraxx, Audiotricz experienced an incredible breakthrough that would cement their name into the scene forever: their heart-melting remix with Atmozfears for "Sparks" by Fedde Le Grand and Nicky Romero. The impact that this evergreen track had on the scene was incredible; it gained immense support worldwide and has also been recognised as a modern classic. Days and nights of hard work in the studio really paid off, allowing Audiotricz to find a strong signature sound early on in their career and gain support from pioneering names such as Brennan Heart, Noisecontrollers, Headhunterz, W&W and many more.
The remainder of 2013 and during 2014, a plethora of astounding new music flowed with some chart-topping hits such as "Infinite," "Ready for the Weekend," "Raise Your Hands" with Atmozfears, "Ghettoblaster" with TNT, and "Momentum" with John Harris. Their addictive melodies, combined with huge atmospheres and positive vibes, constitute the perfect combination to fire up any party! Speaking of parties, 2014 was yet another huge year for Audiotricz, their schedules packed to the brim with performances at Intents Festival, WiSH Outdoor, Beat the Bridge, Mysteryland Chile, Noisecontrollers All Around tour, and many more.
With already a handful of memorable experiences and an exponentially growing fanbase, Audiotricz kept persistent with releasing hits and bringing their 100% energy to every performance, which evidently led them to reach some incredible heights in 2015. The year kicked off with a bang and a long flight to Australia, where the guys performed for the first time in Sydney and Melbourne as a part of the Noisecontrollers All Around tour.
In February 2015, as a part of Team Blue (alongside Code Black, Toneshifterz and Bass Modulators), Audiotricz had the honour to perform in front of over 25,000 hardstyle lovers packed into the GelreDome for one of the most prestigious indoor events, Hard Bass. It was a dream come true for Kenneth and Leon and a symbol of how far they had come and how they had established themselves as a highly respected act.
More memorable performances were experienced at Basscon: Resurgence, EDC Las Vegas, Rebirth Festival, Intents Festival and most recently, WiSH Outdoor, in which they had the honourable task to create the anthem "United as One."
Release-wise, chart-topping hits such as "Reawakening" with Atmozfears and "A Broken Story" took the scene by storm, keeping the Audiotricz name solidly cemented in the scene. The duo also had the opportunity to officially release two of their remixes—"Ready for the Weekend" by R3hab and NERVO, and "Soundwave" by R3hab and Trevor Guthrie—on Spinnin' Records. Their collaboration with Wildstylez, "Turn the Music Up," was released on Mainstage Music, which proved that their versatility expanded beyond hardstyle's boundaries. Another regular addition to Audiotricz's schedule is their newly established Infinite podcast, which began in March; with airings already on Dutch radio station SLAM FM, it's safe to say that the podcast is already a huge success!
With a performance schedule that's packed to the brim, a recognisable signature sound, and a vast selection of releases up their sleeves, the future is set to be huge for Audiotricz, who are dedicated to carry on their "infinite" journey…
---
Share
---
You might also like