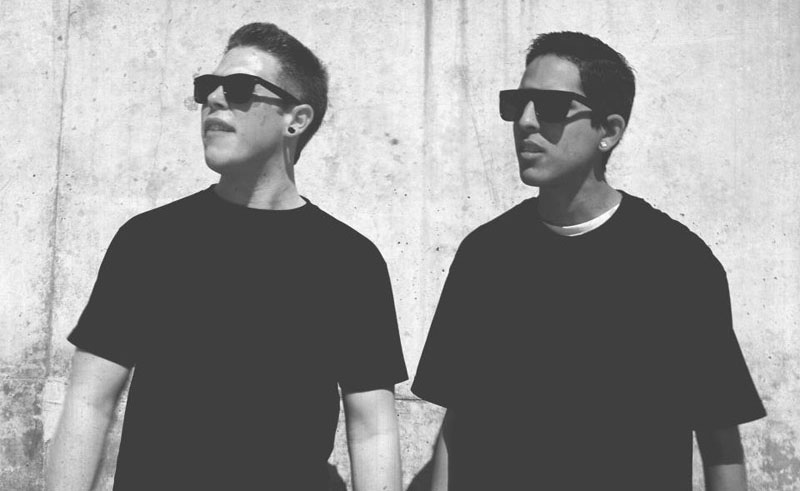 American born producers Taylor Troops & Marc Rodriguez's passions for house music sparked the beginning of Audio Rock. Starting back in 2010, the two attended numerous nightclubs and festivals around their hometown of Chino Hills. During this time they both discovered their love for electronic music, the culture surrounding it, and most importantly the people. It was astounding to realize what's possible to do a crowd with your music…the energy, the excitement, and the emotion created from someone's very own musical creations was what brought these two friends together to embark on their venture.
Audio Rock triumphantly landed their first official release in 2012 with Miles Away, while still under the name of Audio Sonic, on R.I.O.T. Records. Soon after followed by their second, Method, on Recovery House the same year. The duo also entered and won a remix contest for Wolfgang Devis' track titled Funerailles.
2013 has proven to be a great year for the duo as they've had the opportunity to work with many great new friends such as DJ Mizzfizz. Together they released their collaboration titled Avalanche on BassMonster Records earlier in the year. They also had the opportunity to make a remix of Guillaume B.'s track Bounce, which was the first official release signed to ZENTA Records, and have more original works yet to be released this year! Along with these successes, Audio Rock has enjoyed playing at various events such as Belasco in Los Angeles, REHAB at Dim Mak Studios, and even Nocturnal Wonderland 2013 (Discovery Project Winners).
Audio Rock's love for producing has led them to some inspiring accomplishments but this is just the beginning for them, because these two have the drive and determination to continue growing and make a meaningful impact on the dance music scene. With no plans of slowing down soon, Marc and Taylor wish live out their dream by furthering their music careers and reaching out to people across the world by releasing original tracks, remixes, and mash-ups that will definitely rock the crowd!
//
We are two guys that started out as friends in the city of Chino Hills who got the idea to form a group together after experiencing Electric Daisy Carnival 2010 in the Los Angeles Coliseum. The aura enveloping the entire event was the spark that made us decide to go from consumers to creators. We had always enjoyed listening to the music, but the feeling we experienced there changed the direction of our lives forever. The two of us decided we wanted to be up on the big stage with thousands of fans dancing to our own musical creations, and from that point forward we have tried our best to learn as much as possible about everything regarding producing/DJing, utilizing what we learn to better ourselves and please our listeners.
Interview
---
Home Town: Chino Hills/Diamond Bar, CA
Currently Living: Chino Hills, CA
Origin Of Name: We originally began as Audio Sonic, but after releasing our first track on Beatport we realized the name was taken because the song was listed under the other Audio Sonic, so we had to change it. The two of us eventually decided to go with Audio Rock.
Weapon of Choice: Production equipment: Ableton Live, as well as all Ableton native plug-ins like Vengeance Sound packs, Sylenth, Massive, and other plug-ins/VSTs. Live performance equipment: CDJs (preferably Pioneer) CDJ 2000s and a DJM 900 Nexus.
Source of Power: Hardwell, Fedde Le Grand, Nicky Romero, Dash Berlin, Fatboy Slim, Deorro, Dada Life and Dannic.
Was there one particular moment in the recording or mixing process for your Discovery Project entry that made you feel like you were creating something pretty damn special?
Well we started "Pump This" by writing a pretty cool lead and from there we were excited to create the whole track around that. It really started to become something when we found the vocal shot, which was an absolute necessity for a huge party! We had previously entered the Discovery Project a couple of times but never really felt like we were ready until this time around, so we got our entries in as fast as our schedules would allow and had really hopeful feelings for this contest.
Are there any dots to connect with where/how you grew up to your musical output?
We have always been passionate about music. Marc started off on the drums when he was younger and moved onto playing guitar. Taylor also used to play drums and had a love for bass guitar back before our passion for electronic dance music formed. It is really helpful to have these backgrounds because it's great to incorporate music theory in your tracks! I think we can agree that growing up in the Southern California electronic music scene influenced us as well.
What do your parents think of what you are doing?
Both sets of parents really back us up in our career choices. They know we want this more than anything in the world, and both of our moms especially just want us to be happy and follow our dreams. We have to shout out Taylor's mom though because she was there for it all. She is like the Campbell's Soup mom of Audio Rock and takes care of us. Whether allowing us to practice through all hours of the night, acting as the mediator when we are too loud and wake up his sleeping dad one too many times, or any other situation she is always happy to lend both hands to help our project.
What's the strangest part of your job?
The strangest parts of our jobs would probably have to be the hours we usually work. Although it is odd to be working as late as a DJ does, it also feels extremely awesome! The only time we don't quite enjoy it (as much) is when either of us must work our day jobs early in the morning the day after we spin.
What's the biggest misconception about being a DJ?
We were surprised by the amount of people who are trying to make a name in this scene. It is such a struggle trying to grow into something because of the massive amount of DJs. Because of that it is hard to find a valuable experience like the one that is created by the Discovery Project.
How, if at all, does listening to music figure into your creative process?
Listening to other artist's music can definitely influence and help you with the creative flow of your own track. Just like every other artist out there, we get writer's block from time to time and don't really know where to go with a track. Sometimes listening to music from artists that you love can help by giving you ideas for a certain part of the song you are creating. It's especially true for tracks from artists that you truly look up to and get all of your inspiration from.
How important is it for you to experiment and take on the risk of failure?
When trying to do anything where you're striving for success, there will always be a chance of failure, but you can't let that hold you back. In the beginning before diving into this all the way, trying to make this a career concerned us greatly. What would society think? What would our parents think? Would we have time for school? What would we major in? These were all important questions buzzing in our heads until any concerns drifted away as the intense energy and passion took hold.
What gets you excited when you think about the future of electronic music and club culture?
What gets us most excited thinking about the future of EDM culture is how much bigger things will get; things such as the music, the festivals, and live DJ sets. DJs/producers and promoters are breaking boundaries every single day and that pushes other DJs/producers and promoters to do the same. So that is what excites us the most, just seeing who's going to push the limits.
Is success physical or internal?
Success doesn't always have to be something physically seen, it can also be internal. Say if you finish one of the best tracks that you have ever made—the feeling you get from the accomplishment is completely internal. Success is just happily achieving whatever goals you set for yourself.
What do you remember about your first DJ gig?
Our first DJ gig was at this club that one of our friends was putting together. Until this point in our careers all we were doing was producing and didn't really practice mixing. So a couple of days before the gig we started practicing our DJing on CDJs and tried to learn to how to manually beat match. Let's just say that our first gig did not go so smoothly. We train-wrecked through some of our transitions and this gig showed us that we needed to focus on our skills as DJs just as much as our skills as producers.
What's the hardest professional lesson you've learned thus far?
We had to learn the importance of to being able to manage time wisely. Between family, friends, romantic relationships, day jobs, general leisure, and everything else in life it can be hard to find time for the music if you aren't serious about it. Luckily we are able to push everything aside and focus on what is important. We figure it's a pretty useful skill to pick up considering all the distractions you come across once you become successful.
Tell me about your most memorable night out.
Our most memorable night (besides Nocturnal Wonderland Discovery Project) would have to be our first Insomniac event, EDC 2010. That night is the night that changed our lives forever and made us decide to become DJs/producers. Just feeling the energy from the crowd as the DJs played their favorite tracks was something that we both fell in love with. We wanted to be able to make an impact on people like that.
What advice would you offer someone thinking about entering the Discovery Project competition?
Some advice we can offer to anybody considering entering the competition would be to not feel intimidated by the amount of fans or likes that you have as an artist. We definitely felt like we did not have the fan base or recognition to win this project, but we kept pushing for people to listen to our mix and thankfully our hard promo work combined with our production and mixing efforts paid off. We would also like to add that we did get extremely nervous about performing at Nocturnal as any novice performers would, so we encourage any DJs entering into the contest not to let it discourage you from submitting your entries, because once you get up on stage your fears melt away and you connect with the crowd. If you don't win at first be sure not to worry about it, don't get down on yourself! Keep your head up, keep learning and practicing, and try again next time…you never know if it will be the time Insomniac congratulates you.
Last words?
We just want to say thanks to all of our fans, friends, family, and everyone else who made this possible! We have big things planned for the future so hopefully you will keep up with us. Our studio was recently finished in Taylor's house; we are looking into attending a music school, and have many projects being worked on. Until next time Discovery Project!
Soundcloud:
---
Share
---
You might also like