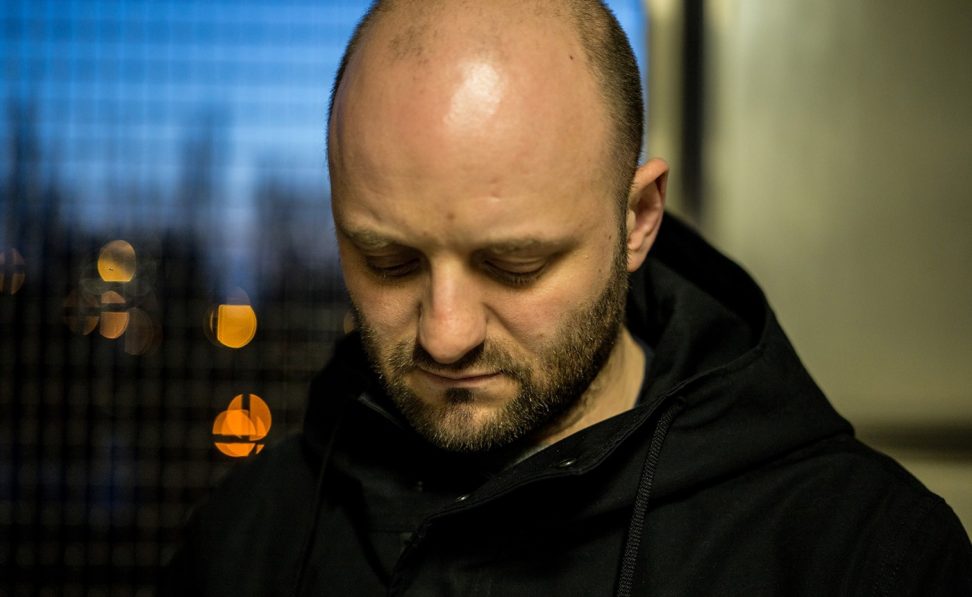 Genre: Electronic
Origin: United Kingdom
Andy Stott has progressed from making high-quality dub techno to exploring singular and more adventurous strains integrating hardcore techno, post-punk, and dream pop — among other inspirations — that have evoked feelings ranging from dread to exhilaration. A few years after he made his full-length debut with Merciless (2006), Stott took a sharp left turn with Passed Me By and We Stay Together (both 2011), grinding mini-albums descriptively (if humorously) termed as "knackered house." That creative breakthrough has helped fuel the British producer's distinctive subsequent albums, from the definitive Luxury Problems (2012) to Never the Right Time (2021), all of which have mixed the atmospheric vocals of Alison Skidmore with a host of sampled and processed voices. Stott has also recorded under the name Andrea and has collaborated under the guises of Millie & Andrea and Hate.
Originally from Oldham, Stott has been based elsewhere around and within Manchester, home to Modern Love, the outlet for all of his original productions. Too young to have experienced rave culture firsthand, he was nonetheless a voracious listener, and in school started playing keyboards, mimicking the sounds he heard on hardcore tapes. In his early teens, at the suggestion of piano teacher Alison Skidmore, Stott ceased formal music training to pursue sound design, starting with studio emulator Reason. In his early twenties, having fallen in with the Modern Love label and its artists, Stott made his 12″ debut with 2005's Replace EP, and by the end of that year, he released two additional EPs. His first album, Merciless, arrived in 2006. Numerous EPs were issued through 2008, the year Stott also released Unknown Exception, a selection of previously 12″-only tracks dating back to Replace. Another handful of EPs followed through 2010, but Stott was more prolific during this period as Andrea, one-half of Millie & Andrea (with Demdike Stare's Miles Whittaker), and one-third of Hate (with Whittaker and Gary Howell, aka G.H.).
Stott made a significant creative advance in 2011 with Passed Me By and We Stay Together, a pair of creep-outs rooted in sludgy, unsettling rhythms and smudged samples. The mini-albums were combined and expanded for double-CD release around the time Wire magazine listed We Stay Together on its year-end Top 50. Whereas many producers renounce sampling to use all-original instrumentation with the intent to further distinguish themselves, Stott had taken the less common approach, and in turn created his most individual music to that point. As he continued to mix played, programmed, and sampled elements, Stott sought Alison Skidmore as a recording collaborator. The opera-trained vocalist added another layer to Stott's sound on the 2012 album Luxury Problems, another year-end Wire favorite and Stott's first release to register on Billboard's Top Dance/Electronic Albums chart in the U.S.
Stott then deviated with Miles Whittaker to release the Millie & Andrea LP Drop the Vowels in early 2014. He returned toward the end of the year with Faith in Strangers, containing some of his harshest and gentlest material, with Skidmore's voice more prominent than before. Two more albums were out by the end of the 2010s. For Too Many Voices, a 2016 release combining some of his most physical rhythms with crystalline keyboard melodies, Stott cited grime mixtapes and David Sylvian and Ryuichi Sakamoto's 1982 avant-pop collaboration as inspirations. Closing out the decade was It Should Be Us, a double EP with a greater emphasis on club-oriented tracks. By that point, Stott's impressive remix discography included tracks by Vladislav Delay, Tricky, Martin Gore, and Sakamoto.
It Should Be Us was surprise-released with the promise of an album due in 2020, but a disruption in Stott's life put a follow-up on hold. After a phase of inactivity, Stott felt reinvigorated and finished Never the Right Time before the end of that year. The album, lighter in touch than Stott's previous LPs, yet just as full of emotion, arrived in 2021. ~ Andy Kellman, Rovi
---
Share
---
You might also like