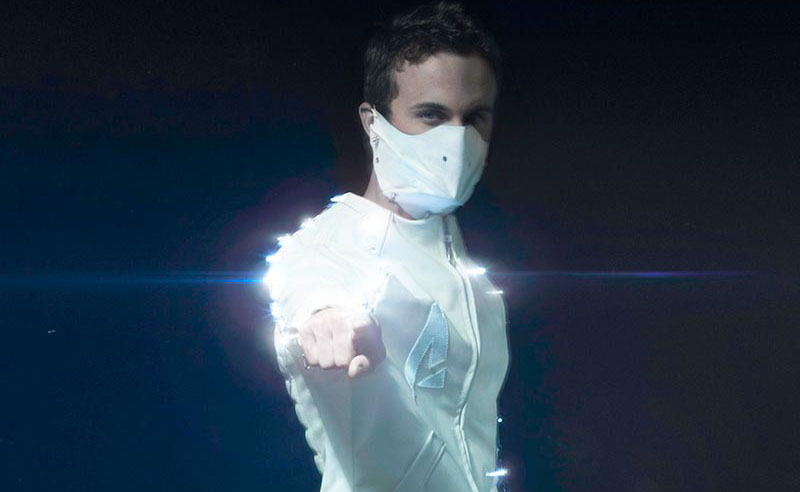 Alpine is a multi-instrumentalist and producer from France who came to Los Angeles to study film. His passion for music led him to score various projects. Yet Alpine wanted to introduce his work to a live audience through performance. Combining orchestral elements and electronic instruments into his DJing: this is how his epic EDM show came to life.
//
Yeah yeah. Thank you. Time for me to be pretentious and show how amazing I am. I show up on stage with my LED suit on, I control the bass filters with infrared sensors, play a drum section, and while all of this is looping, I pick up my electronic accordion and perform an eerie melody to create a whole tune out of nothing. How much more epic can you get? I mean, really? Ahahah. Even if this is actually what I do on stage, I'm pretty low key in real life and I'm perfectly aware that my act is miles away from a regular DJ set and may not be suited for every audience. I'm a composer at heart. I produce pop music, hip-hop beats and write scores for films. DJing was an obvious way to showcase my music. Although with Alpine, I bring a performance and storytelling aspect into the equation. On stage I am not myself, I'm an entertainer, I'm a concept.
Interview
---
Home Town: Tignes, France
Currently Living: Los Angeles, CA
Origin Of Name: I was born and raised in the French Alps. Growing up practicing extreme mountain sports, it shaped the way I see life, and the way I make music. That's why the name Alpine was a perfect fit.
Weapon of Choice: My electronic accordion
Source of Power: In 1997, electronic music pioneer Jean Michel Jarre played the laser harp in front of three million people in Moscow and had a video conference with cosmonauts in space during the show…I want to bring back this kind of spectacle. As far as the current scene, I'd like to cite Eric Prydz for his melodies, Skrillex for his sound design, SHM for their brand and Nero for the high concept and epicenes of their music.
Was there one particular moment in the recording or mixing process for your Discovery Project entry that made you feel like you were creating something pretty damn special?
It definitely forced me to push my boundaries. Especially within the time constraint.
Tell me about your most memorable night out.
When I first played in front of 18K people in my hometown in France. All of my closest friends and family were there. I was extremely nervous, yet I knew it was where I was supposed to be.
Do you have any memorable moments from past EDC's or any other Insomniac party?
EDC Las Vegas 2011 when the skydivers jumped from the plane above the motor speedway and landed near the electric daisy while the air was vibrating to the sound of bass. It blew my mind.
What is your ultimate career dream?
I just hope for longevity. I'd like to be in my 60s and still be a respected producer and composer.
Are you impulsive with your work or do you have a sketch in mind before you start?
The moment I start a track is impulsive in a sense that it can happen anytime and anywhere, but when I get to work, I have a pretty clear vision of what I'm gonna make. Most of the time it comes out quite different than what I had in mind, but I always compose in "tunnel vision" mode…
How, if at all, does listening to music figure into your creative process?
Of course I get inspiration from listening to music. Over the last month, Stromae, Kanye West and Sound Remedy have given me Goosebumps and an urge to push my limits in the studio.
How important is it for you to experiment and take on the risk of failure?
Necessary.
Do you have a list of people you'd like to collaborate with in the future?
I would love to collaborate with a company like Red Bull or the X-Games to compose music for their videos as well as performing at their events. Recording with a philharmonic orchestra is a dream of mine. Also, I would love to get in the studio with Hans Zimmer or Nero.
If we pressed Shuffle on your iPod while you went to the bathroom, what would you be embarrassed to come back to us listening to?
My French toilet-humor album that I recorded a few years ago.
What sound or noise do you love?
The sound of thunder and glaciers cracking.
What should everyone just shut the fuck up about?
"EDM-music"
What gets you excited when you think about the future of electronic music and club culture?
I am soooo impatient to see where this is all going. The technology gets exponentially better with time, new entire continents are embracing this music and its culture. It has become a worldwide phenomenon and I am at the same time nervous, delighted, grateful and proud to be part of this cultural tsunami with all of you guys.
When you look at electronic music and the surrounding culture, what worries you about the future?
I would be sad if the business speculations, branding, and star-system started blocking the way for real talent to get into the scene as well as corrupting the art on a global scale. But I doubt this will happen because big players like Insomniac Events are keeping the gates open and promoting new talents with concepts like the Discovery Project.
What are your weaknesses?
I make all kinds of music and end up spreading myself too thin instead of focusing on one genre.
How would you describe your sound to a deaf person?
It's like skiing extremely fast and still being in control. It's like boxing without feeling the pain. It's like riding the king's horse through the lost land surrounded by dragons. It's like flying your spaceship through the streets of Singapore in the year 2087. This is Alpine.
What advice would you offer someone thinking about entering the Discovery Project competition?
I sounds cliché, but be yourself, and don't try to fit in the mold. The jury at Insomniac is here to move the electronic music scene forward. You'll definitely grab their attention if you showcase a unique style in your original productions and a true artistic direction in your mixes.
Winning Mix:
Winning Track:
Bonus:
---
Share
---
You might also like