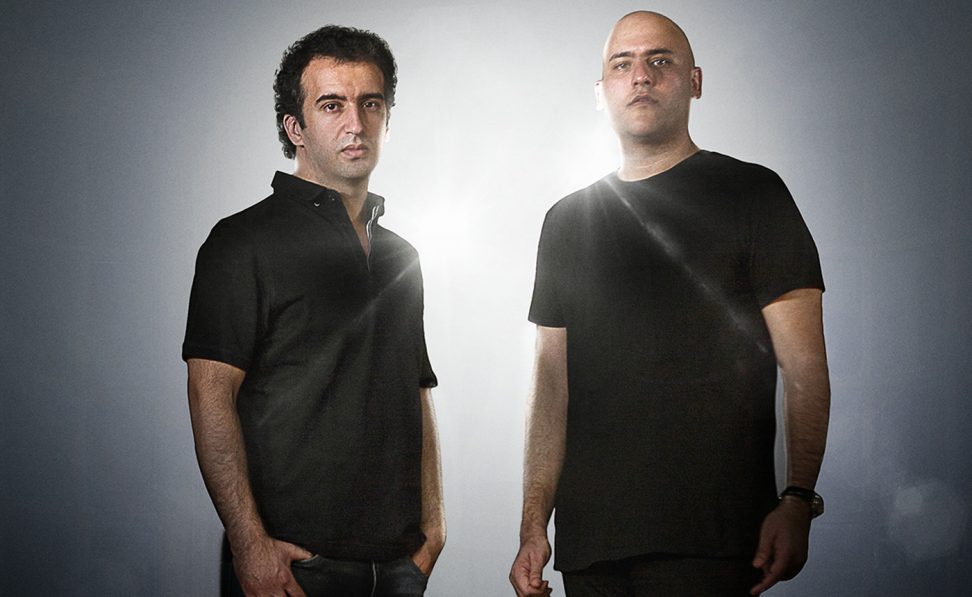 Origin: Egypt
Aly & Fila are now amongst a select elite, legends in music who alongside Sting, Kylie Minogue to name but a few to have performed at one of the Great Wonders of the World – The Great Pyramids of Giza in Egypt. This was undoubtedly their biggest show in their career and they made history by becoming one of the only electronic acts to host their own show their and to perform there.
As hot as the Sahara and standing every bit as tall as pyramids, they're the single most successful group to have emerged from the spiritual lands of Egypt. From the Med to the Red and from up high in Cairo, to down deep in the Sinai, they've built an immense, ultra-loyal in-country following, From that foothold turntable Shamans, Aly Amr Fathalah and Fadi Wassef Naguib went global. For close to a decade their spirited take on the trance sound has captured the hearts, minds and imaginations of planet trance. With their whip-smart productions and sandstorm sonics, their performances have raised the bar at some of the world's most recognized clubs. Comparably they've also ruled at EDM's biggest festivals – EDC – Las Vegas, Tomorrowland, Global Gathering, Dance Valley, Stereosonic, WMC. Continuing in a long tradition of playing the world's most established and respected stages Spreading the A&F message around the globe is their Future Sound of Egypt radio show. Beaming to countless thousands of desktops every week, August 2013 saw its 300th episode hit airwaves. This was marked by the FSOE 350 Worldwide Tour over 5 Cities, which drew fans from all four corners to these events. 2014 saw Aly & Fila reach 350 Episodes of the Radio show and once again marked this celebration by hosting a worldwide FSOE 350 Tour with so far Sharm El Sheikh, New York City, El Salvador, Medellin and Lubiaz in Poland announced with more to be announced. The Future Sound of Egypt marque is further amplified by Aly & Fila's widely respected imprint of the same name.
2013 saw the duo release the follow up to their Rising Sun Album by releasing their second artist album, Quiet Storm with monster hits including Mysteries Unfold and Running Out of Time. 2014 was a very successful year for Aly & Fila. That summer saw the release of their Third Artist Album titled The Other Shore with three singles off the album being released in 2014 including "For All Time feat Jaren", Eye 2 Eye with Roger Shah and Sylvia Tosun and "Running with Sky Patrol and Sue McLaren". Also released in Early 2014 was the the Remix Album of their artist album Quiet Storm. This Year also saw Aly & Fila Mixing the legendary Trance Nation Compilation released by Ministry of Sound. With several Dj Poll Results in 2014 which saw Aly & Fila Voted No.28 in The DJ Mag Top 100, Voted No.1 in the Trance Podium Top 100 DJ Poll, Voted No.1 DJ in the Middle Eastern Music Awards, Nominated in the Best Trance DJ Category in the Ibiza DJ Awards, Voted No.5 in the Magnetic Magazine Top 100 DJ Poll. 2014 also saw the milestone of Aly & Fila reaching 350 Episodes of their weekly radio show Future Sound of Egypt. This milestone saw Aly & Fila celebrate by hosting seven Events broadcasted Live from Egypt, El Salvador, Colombia, USA, Poland, Argentina and England, with over Forty Two Thousand Clubbers attending the events and more listening online and various radio stations worldwide Also end of 2014 saw the release of Aly & Fila collab with Paul Van Dyk feat Sue McLaren – Guardian.
2015 was a busy year with two Albums. Aly & Fila – The Chill Out Album and the second released in summer of 2015 was Future Sound of Egypt Volume 3 Compilation. They also released their the single "Shine" with Roxanne Emery, The Other Shore with Aruna and the FSOE 400 Anthem with Omar Sherif and Jonathan Carvajal. With 10 FSOE 400 Celebrations announced all over the world that year there was exciting times ahead for Aly & Fila and their fans worldwide. The pinnacle of the shows was Aly & Fila proudly hosted FSOE 400 Celebration at the Great Pyramids in Giza, Egypt. Which took place in September 2015. The FSOE 400 Tour also coincided in a FSOE 400 Compilation being released Also announced in July 2015 is that Aly & Fila for the 2nd Year in a Row have been Voted No.1 Trance DJ in the World in the Trance Podium Top 100 DJ Poll of 2015, Aly & Fila were also Voted Number 2 in the 'Best Trance DJ'Category in the DJ Awards in Ibiza. Also in September 2015 Aly & Fila released the highly anticipated second collaboration with Ferry Tayle, this time titled 'Napoleon'. Aly & Fila were Voted Number 1 Trance DJ in the 'Trance Podium Top 100 DJ Awards' for the 2nd year in a row. As we headed into 2016 as the dust settled on the epic FSOE 400 Event Aly & Fila hosted at the Great Pyramids of Giza in Egypt they announced that they would host The 'Essential Mix' on BBC Radio 1 in February of that year 2016 has seen Aly & Fila continue their dominance as the biggest trance brands in the world. Aly & Fila were nominated for 2 IDMA Awards in Miami Winter Music Conference. Also early 2016 saw Aly & Fila Voted No.1 Trance DJ & No.1 Producer at the Trance Podium Awards Aly & Fila has also been Nominated for the 'Best Trance DJ Category' at the 2016 DJ Awards – Ibiza. Aly & Fila hosted x 34 FSOE 450 Celebration shows, July 3rd with Insomniac and Dreamstate @ The Hollywood Palladium in Los Angeles and also October 1st@ Victoria Warehouse in Manchester, UK and also October 7th at the Ancient Temple of Karnak in Luxor, Egypt and finishing off in Taiwan (China) on October 29thEarlier that year saw Aly & Fila remix the classic track by Ferry Corsten – Beautiful
June 2016 saw the first single of the year with the smash hit 'Million Voices' with Luke Bond featuring Audrey Gallagher. Several other singles have been released in 2016 including Aly & Fila with Ahmed Romel – Kingdoms (FSOE 450 Anthem) and also Aly & Fila meets Roger Shah with Susana – Unbreakable . All Singles in 2016 have reached #1 on Beatport Trance ChartAly & Fila were Voted # 1 Trance DJ in the 2016 Trance Podium Top 100 DJ Poll for 3rd Year in a Row and were also Voted #41 in DJ Mag Top 100 Poll 2016 (3rd Highest Trance DJ in the Poll behind Armin Van Buuren and Dash Berlin)The end of 2016 saw Aly & Fila meets Roger Shah & Susana – Unbreakable Voted the Number 1 track of 2016 on Armin Van Buuren's ASOT Radio Show.
The start of 2017 saw Aly & Fila Voted #1 DJ & #1 Producer on the 2016 Trance Podium Awards with FSOE 500 to come in 2017 and new artist album, the future looks bright.
---
Share
Upcoming Event
---
You might also like