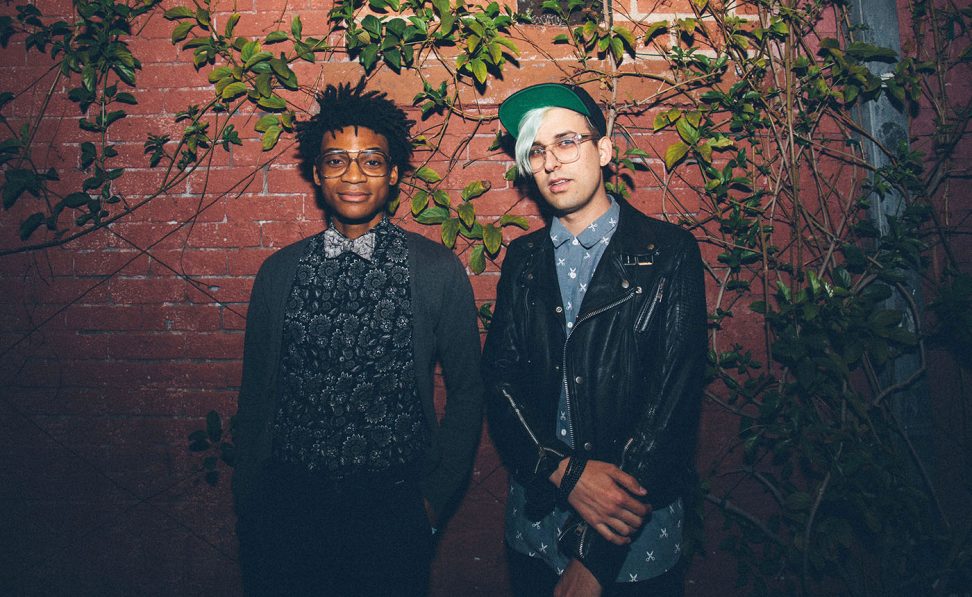 2ToneDisco can be described in almost one word, The Internet. This creative duo strives on the internet world and all the unique, strange and wonderful things it brings. With heavy influences from the gaming industry and the Japanese culture, 2ToneDisco have created an entity of their own that can make anyone feel welcomed and accepted. 2ToneDisco isn't just a production duo, it is a lifestyle; being true to yourself, is something 2ToneDisco lives by. They have a one of a kind style that comes out in everything they do, from their fashion to their custom visuals to their bubbly and synthesized sound.
//
We are 2ToneDisco: two dudes who hang out in arcades, talk about random Japanese stuff and dress up for no apparent reason. The hobbies and daily quirks of our lives seep into our art. We formed 2ToneDisco to express ourselves and bring a melodic and unique influence to the world of dance music.
Home Town: Omni- Phoenix, Arizona; James- Colchester, U.K.
Currently Living: Phoenix, Arizona
Origin Of Name: The name 2ToneDisco originated from the punk origin of the 2Tone movement. We don't take any of the musical influences from this genre, but we do take the broader idea of punk rock and it's attitude.
Weapon of Choice: Pioneer RMX-1000, the secret weapon in our sets.
Source of Power: Pizza, chiptune music and, of course, the arcade.
What advice would you offer someone thinking about entering the Discovery Project competition?
Just do it, even if you think your ideas and brand are "too cool" for competitions. You won't succeed if you don't push your music through every possible outlet and live for every opportunity.
Was there one particular moment in the recording or mixing process for your Discovery Project entry that made you feel like you were creating something pretty damn special?
Both of us felt the material we compiled for our submission was impressive. You really don't know how hard you have been working until all your work is in front of you, ready to be seen by some pretty influential individuals.
Are there any dots to connect with where/how you grew up to your musical output? From people freestyling on the street corner to a grand piano forced down your throat by your Mom.
Omni: I grew up with a lot of videogames in the 90s and developed my first real musical inspiration from their songs and themes. That led to me learning videogame songs on piano, which led to me making chiptunes and ultimately dance music.
James: For myself, it was my dad's record collection and dancing around in the living room when I was a kid. It led to me buying a set of turntables and getting more into playing music for others.
What do your parents think of what you are doing?
Both our parents are pretty proud of us.
What's the strangest part of your job? What makes you shake your head in wonderment about being a DJ and producer?
Omni: I think the "strangest" part about being a producer is the fact that I can make a song, upload it and have it listened to by people all over the world without ever having to leave my bedroom.
James: I definitely agree with Omni, just the fact that you can go to a random club somewhere in the world and someone knows your music is pretty mind-blowing and bizarre.
What's the biggest misconception about being a DJ? Or, what would people be surprised to find out about the profession?
Both of us think the biggest misconception is that a bigger crowd means a better show. We'd rather look out on the dancefloor and see 20 people tearing it up than see 200 people milling around, staring at their phones.
Tell me about your most memorable night out as an artist or as a fan.
Omni: I played a show in Seattle and afterwards the other artists went out to bars for drinks, but I went out with a bunch of the teenage fans (who were too young to get into the bar) and we ate at Denny's and just goofed around until 4am.
James: For me, it was the time some random kid came up to me who was very shy at the beginning. He just really wanting a photo and thanked me endlessly. I could tell he was a huge supporter of what we were trying to do, so as always I asked him about himself. After about an hour, he admits to me that he was going through some rough spots in life and considering suicide. He said that our music helped him in getting out of that slump by listening to it on his way to work and such. Just the fact that something we could make or do could impact somebody's life that much left me speechless.
Do you have any memorable moments from past EDC's or any other Insomniac party?
Escape: All Hallows' Eve will be the first Insomniac party for both of us. We have both been so focused on making music and honing our brand that we have had to resist the temptations of going to big shows. Both of us have so many friends who rave about Insomniac parties and we have both seen the live streams. It's pretty amazing that our first time attending an Insomniac event will be as artists. Even without even meeting any of the Insomniac team face to face, we feel like family. We would definitely say that this will be quite memorable!
How does what you do for a living affect you on a day-today basis? How, if at all, does it affect your friends and family?
Omni: I'm constantly humming ideas for melodies and chord progressions into my phone's voice recorder to revisit later in the studio.
James: I honestly think I've driven my girlfriend and family crazy listening to the same songs over and over to get just the right sound or remember the progression of a song for our sets.
What is your ultimate career dream?
Omni: I'd like to one day be able to write music for a film, TV show or videogame.
James: Probably expand and start a lifestyle brand, clothing brand, label and more based on the core ideas of 2ToneDisco.
Are you impulsive with your work (in the studio and/or DJing) or do you have a sketch in mind before you start?
Omni: It's all pretty impulsive. Sometimes I won't write for two weeks and sometimes I'll start four songs in one day.
James: We're super impulsive with our sets as well. There is never a planned set, it's always around 200 tracks we have on a USB and are feeling out on the crowd.
How, if at all, does listening to music figure into your creative process? What's the last song you heard that made you drop what you were doing and go into the studio?
Omni: Listening to music doesn't figure too much into my creative process, but experiences often do. There are times where I'll be inspired to write music after having a particularly good (or bad) day. My first trip to Disneyland spawned two 2tonedisco songs.
James: Oftentimes we try to take inspiration from life and create our own path.
What's the most important piece of gear in your studio and why?
For both of us it would be the laptop. It sounds lame, but especially for Omni, he is rarely ever home and his laptop allows him to produce whether he is at home, on the train, at the airport or (where he is most frequently) in Starbucks.
How important is it for you to experiment and take on the risk of failure?
It's pretty important for both of us. Failure isn't debilitating.
Do you have a list of people you'd like to collaborate with (from musicians to lighting and visual artists) in the future?
Omni: I'd really love to collaborate with Bemani actually. It's a sub-division of Konami (a videogame publisher) specifically in charge of rhythm and music in videogames. I'd love to write music for them or have music featured in one of their games because they were a huge reason why I got into electronic music in the first place.
James: I would say currently Wave Racer, Trippy Turtle, Lido or even What So Not.
If we pressed Shuffle on your iPod while you went to the bathroom, what would you be embarrassed to come back to us listening to?
Omni: The Les Miserables soundtrack.
James: Imogen Heap.
What sound or noise do you love?
Omni: Wind chimes.
James: Omni nailed it.
What should everyone just shut the fuck up about?
For both of us, everyone should shut the fuck up about what genre is better than another genre and why. It's all about finding what you like and appreciating other genres for what they offer.
What gets you excited when you think about the future of electronic music and club culture?
Both of us are excited about unique and beautiful music getting accepted even though it's not necessarily dance music.
When you look at electronic music and the surrounding culture, what worries you about the future and what do you wish would change or that you could change?
If we could change anything it would be to take the majority of electronic acts out of clubs and put them in all-ages venues. A massive portion of electronic music fans are high school kids and we feel like both them as fans and us as artists are really missing out by holding events they can't get into.
What are your weaknesses?
Omni: I have problems sacrificing my creative freedom in order my make a song more digestible for the listener.
James: Pleasing the crowd with that one song.
How would you describe your sound to a deaf person?
We would probably show them a picture of the Pokémon Psyduck.
Is success physical or internal? What does it mean to you?
Omni: To me, it's physical. It means being financially sustained by your career and passion.
James: I think it is that one moment you look in the mirror and you are not worried about where life is going and you are just in the moment.
What do you remember about your first DJ gig?
Omni: I remember being elated. I'd been producing for years and it was my first time ever being able to represent that as a live set. A lot of long-time friends and fans came out to support and the show had a warm, intimate atmosphere.
James: It was in a basement at a foam party rave. I remember not even being able to tell what song was playing and the DJ after me raving about "Miami Bass". I still don't know what "Miami Bass" is.
What's the hardest professional lesson you've learned thus far? How did it make your life easier—or more difficult?
Omni: Everybody's path is different. The hardest lesson I learned made my life easier because I stopped looking at whoever was in the spotlight and trying to replicate their method of getting there.
James: You have to look at everything as an opportunity and realize it won't always go your way.
Do you have a favorite all-time mixed CD or series?
Omni: Kitsune Maison. It's a compilation series French label Kitsune used to put out and when I was in high school it exposed me to a lot of cool new artists from France and Japan that I would have otherwise never heard of.
James: I have always been a fan of Diplo and Friends. He seems to be very in tune with up and comers.
Have something you'd like to get off your chest that we did ask you about? Go for it, shoot for the hip…
If the hippest cutting edge genre is played in the forest and there's nobody around to hear it, is it still hip?
Winning Track:

Winning Mix:

Discovery Project: Escape: All Hallows' Eve 2014 by 2tonedisco on Mixcloud
---
Share
---
You might also like