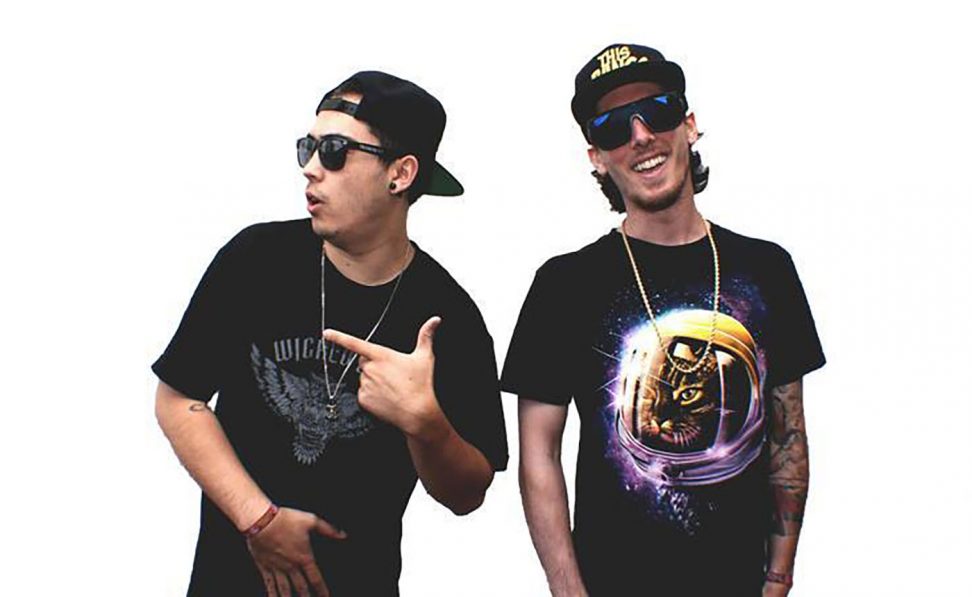 219 Boys are the brainchild of Elric Weibel (AFTERPARTY) and Scott Holland (ScoHolla). Elric and Scott have been good friends since middle school and both have an extensive musical background. Following their passion for music, they started working at their local Guitar Center where they could gain access to all the newest music technology and gear. Both produced music on their own, but they combined efforts and dubbed themselves the "219 Boys" after the store they worked at, Guitar Center Store 219. Keep a close eye on the 219 Boys. Their heavy bass house music is bringing a fresh new sound that you definitely don't want to miss out on!
//
219 Boys isn't our first music project together. It all started back in the sixth grade with our pop punk band "Radical Theory." The band didn't quite work out, but we continued playing music together in grade school and college, where we played in various drumlines throughout California. Aside from that, we like to play Dungeons and Dragons occasionally with our friends when we're not in the studio or at a gig.
Home Town: Union City, California
Currently Living: Union City, California
Origin Of Name: We both worked at our local Guitar Center which happened to be store #219 in the chain. Therefore, we became the 219 Boys!
Weapon of Choice: Longsword with 25% magic resistance.
Source of Power: The One Ring
What advice would you offer someone thinking about entering the Discovery Project competition?
If you don't win the first time, don't let it get you down. Just look at it as honest criticism that will help you improve.
What's the biggest misconception about being a DJ? Or, what would people be surprised to find out about the profession?
Some people think that DJs aren't actual musicians. While this can be true sometimes, if a DJ has a musical background and knows structure, rhythm and basic music theory, they will bring more of that musicality to a basic "DJ set." Also, most professional DJ's produce their own beats.
How does what you do for a living affect you on a day-today basis? How, if at all, does it affect your friends and family?
After DJing weekends (and sometimes weeknights) coming to work the next morning can be exhausting. Thankfully, we both work around DJ and production equipment in our day jobs, which makes being at work a lot more enjoyable. As for our friends and family, they support us 100% and we love them for it!
What is your ultimate career dream?
To be able to live a comfortable life by making and performing music, and to travel to different parts of the world to spread our music.
Are you impulsive with your work (in the studio and/or DJing) or do you have a sketch in mind before you start?
Sometimes if work is slow we hop on the demo computers and start an idea. We might make an intro drum loop or start chopping up a new vocal sample, then we bounce it out and bring it home to our main studio where the real creative juices start flowing. It helps having a solid foundation so we can hop right in and crank out new tunes.
How, if at all, does listening to music figure into your creative process? What's the last song you heard that made you drop what you were doing and go into the studio?
Ideas always come to us at the worst times where we can't be in the studio to apply them. Luckily, we have our phones so we can use our voices to emulate what we hope those ideas will sound like.
What's the most important piece of gear in your studio and why?
Technically the most important piece of gear is our computer because without that we couldn't even make music. But what's really important to us is the sweet LED lighting in our studio. Gotta set that vibe ya know?
How important is it for you to experiment and take on the risk of failure?
Honestly, taking risks is key to success. If you try something and fail, you are getting truly honest criticism that you wouldn't get otherwise It will benefit you in the long run and help you improve.
If we pressed Shuffle on your iPod while you went to the bathroom, what would you be embarrassed to come back to us listening to?
We wouldn't be embarrassed if you found anything on our iPods because all music is inspirational somehow, except Justin Beiber.
What sound or noise do you love?
White noise because in the producing world you can morph it into an awesome-sounding sub bass, or a sweet sounding riser effect for all your build-up needs. Off-beat snares are also pretty cool.
What should everyone just shut the fuck up about?
People should stop worrying about social media trends and rumors. Let's just focus on humanity as a whole and work on getting more people into space already!
What gets you excited when you think about the future of electronic music and club culture?
Music production nowadays is on another level. The technology behind the most popular DAW's is super intuitive and advanced. Just think: all those awesome sounds you hear at big festivals are just 1's and 0's programmed into a computer.
When you look at electronic music and the surrounding culture, what worries you about the future, what do you wish would change or that you could change?
The fact that the term "EDM" (which we actually feel was a good title to describe all the various genres of dance music) is now only associated with the mainstream big room-type tracks that we already hear on the radio. Don't get us wrong, we dig big room house style songs, but they shouldn't represent "EDM" as a whole.
What are your weaknesses?
Cinnamon whiskey Fireball and we're -2 to hit Giant Class creatures in Dungeons and Dragons.
Is success physical or internal? What does it mean to you?
Success can be physical or internal depending on the person, but for us as long as we finish a solid tune at the end of the day, it's a win.
What do you remember about your first DJ gig?
We both DJed solo before we came together as a duo. Our first official gig as the 219 Boys was pretty awesome. Luckily, we got a residency for a brand new weekly deep house and bass music event in San Francisco. After our first show we got great feedback from the crowd and promoters alike, which took us from being opening acts to playing mid and peak hour slots. We are still playing almost every Wednesday night at Go Deep! at the DNA Lounge.
Winning Track:

Winning Mix:

Discovery Project: Escape: All Hallows' Eve 2014 by 219 Boys on Mixcloud
---
Share
---
You might also like