Arctic Moon Heats Up the Holidays With Dreamstate SoCal 2018 Mix
Dreamstate SoCal is coming to you for its fourth edition this weekend, and to get you warmed up—or cooled down, perhaps—Arctic Moon has shared an exclusive mix dripping with trance bangers for your long holiday week. He'll be performing a special back-to-back set with RAM for a Saturday night headlining set, so we took a moment to catch up with Mr. Moon, aka Tomasz Popielarsk, to talk about the state of trance in the never-ending year that is 2018.
For Popielarsk, 2018 has been another strong year. The Polish trance producer and DJ has seen a healthy touring slate and string of remixes and productions come through this year, with notable releases like his recent remix of Paramore, one of the standouts of this mix.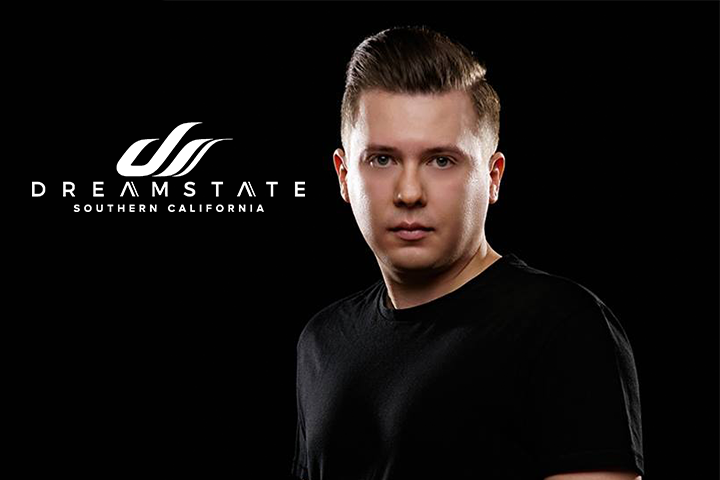 This energetic, hour-long set is a peak-time affair, featuring all manner of (mostly) recent trance bangers—from his own mix of "Crushcrushcrush" by Paramore and original "Nocturnal Horizons," to "Her Dark Eyes" by R.E.L.O.A.D, the throwback Armin van Buuren remix of "Every Other Way" by BT featuring JES, and "Imagarium" by Metta & Glyde.
Popielarsk has been making music since his early teens. Now 30, he's played a lot of trance to a lot of different audiences. According to him, the highlight of his year so far is "playing ASOT 850 in the biggest arena in Poland." Poland is, after all, the motherland.
It's been another strong year for trance—a style many argue will always have broad appeal—in the eyes of Popielarsk. But picking a favorite track is not possible, he says. "This is always a hard question to answer, but looking back at my sets this year, it's probably a tie between JOC ft. Kate Miles' 'Behind the Silence' and James Dymond's 'Stay.'"
He also feels there are plenty of undercard artists out there that you should be paying attention to—like Metta & Glyde, British beatsmiths he hopes will be on the rise soon enough.
"You can hear some inspirations from film/orchestra and rock music… I find it more interesting to remix other genres into trance than just trance into trance."
Everyone who's been in this game for more than a decade has to have a DJ set that changed their life at one point. For Popielarsk, "It was Armin van Buuren's set at ASOT 450 in Poland. Hearing my track live in his set was definitely something special, and it pushed me to make more music and become a full-time DJ/producer."
Something most people don't know about Popielarsk is that he majored in IT. Though he's never actually worked in the field, one can sense a methodical nature in his work ethic that seems to track with the detailed wonkery of IT. He likes staying pretty prepared for his sets, "doing edits, listening to tracks, and thinking what I want to play. The intro track must always be ready."
He also attributes his career and sound to his attention to melody. "I would never release a track with a bad melody," Popielarsk proudly proclaims. "I also like to mix different genres into my tracks. You can hear some inspirations from film/orchestra and rock music. I'm a big fan of rock, and so far I've done a few remixes—for example, my Paramore remix and the Killers' 'Miss Atomic Bomb' or Linkin Park's 'Castle of Glass.' I find it more interesting to remix other genres into trance than just trance into trance."
"All kinds of emotions fit to trance. There are really not that many rules."
In Popielarsk's mind, trance seems limitless in its pliability. "What I like, and what excites me about the trance scene, is that I have so many possibilities with this genre. I can do trance that is 128 BPM or 140 BPM, sad or happy or dark. It can be a melodic, uplifting track, techy banger, or progressive. All kinds of emotions fit trance; There are really not that many rules. In my sets, I've played techno, progressive, uplifting trance, tech trance, psytrance—even some hardstyle, happy hardcore, and drum & bass. I think the trance scene is open to this kind of set—especially OTC (open-to-close)—that include different styles, and that's great."
On the DJ side, Popielarsk prefers a bespoke, prepared set, where everything is mixed in key and he has custom edits, perfectly tailored and trimmed to pack in a dense number of tracks. "It's very important to me that everything fits nicely together, without any clashes. Thanks to that, I can do quicker, more dynamic transitions and fit around 17–20 tracks in a one-hour set."
But it's not just obsession with detail in his preparation and ability to manipulate a crowd with technical prowess. He also still enjoys dancing and partying to other DJs and takes those moments to: a) have fun, of course, and b) learn from other DJs, seeing how they work the room and being exposed to music one might not hear otherwise.
"I go out with friends whenever I have a free weekend. I love DJing, but it's also great to be on the other side of the decks and just enjoy a party, not worrying about mixing." Sometimes, a chef just wants to eat at someone else's restaurant. "I just booked the tickets for a techno New Year's Eve in Berlin," he adds.
As far as this year's Dreamstate set—Arctic Moon's fourth(!) appearance at the SoCal edition—he expects a good one. "The production and music are always top-notch. I love the California and American crowds, so for me, it's like a holiday. I'm sure this year will be special, too."
Since he is playing b2b with RAM, you can expect something special is in the works. "I have new unreleased tracks I will test out that night, and I can't wait to see everybody's reaction. It will definitely be a set full of banging tunes."
Arctic Moon is playing at Dreamstate SoCal 2018, which takes place Thanksgiving weekend—Friday, November 23, and Saturday, November 24—at NOS Events Center in San Bernardino, CA. Tickets are on sale now. For more information, visit the official website.
Follow Arctic Moon on Facebook | Twitter | SoundCloud
Follow Dreamstate on Facebook | Twitter | Instagram
---
Share
---
Tags
---
You might also like