AFK x SVDDEN DEATH's "BZZRK" Gets the Remix Treatment for Bassrush Records
Upcoming Event
It's hard to believe it's been eight months since AFK and SVDDEN DEATH's "BZZRK" steamrolled its way through the streets via Bassrush Records. Since then, not only has Bassrush Records become a force to be reckoned with as a top-tier imprint, but AFK and SVDDEN DEATH continue to prove they're at the top of their game with show after show and hit after hit. Still, their collaborative masterpiece known as "BZZRK" remains one of the hottest tunes of the year—so why not have the squad go in and see if they can give it one last rinse-out before the new year begins?
Heads ranging from Kotori, UBUR, Jekyl & Hyde, AOWL, and ohi2u all represent on the remix project. But what makes this one stand out from the crowd is that it originated as a remix contest, and three of the cuts were hand-selected for release by AFK and SVDDEN DEATH themselves.
"We were super stoked how these remixes turned out," says AFK. "We thought of so many different ideas we could've done with the vocal on this and wanted to give some up-and-comers a chance to showcase their talent."
"Out of all these remixes we received, the ones we picked showcase the artist abilities and skills at mixdowns and song structure," adds SVDDEN DEATH. "I was very impressed by the vast majority I heard, and this whole project was very fun for me. Shouts to Bassrush and everyone involved (except AFK)."
These bone-rattling remixes hit the streets today, so buckle up and get ready to go "BZZRK" on the dancefloor.
AFK x SVDDEN DEATH's BZZRK Remixes EP is available here.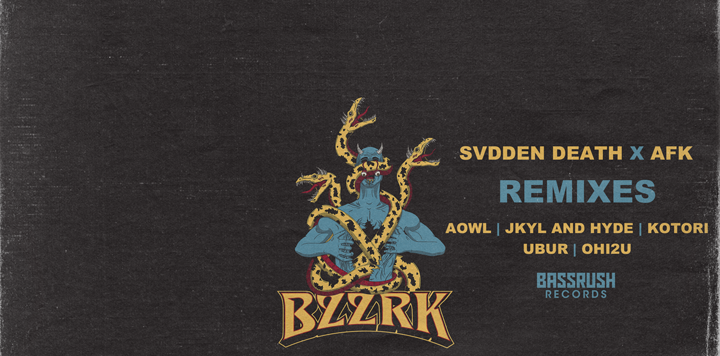 Follow SVDDEN DEATH on Facebook | Twitter | SoundCloud
Follow AFK on Facebook | Twitter | SoundCloud
Follow Bassrush on Facebook | Twitter | SoundCloud
---
Share
---
Tags
---
You might also like