10 Tracks Every Basscon Fan Should Know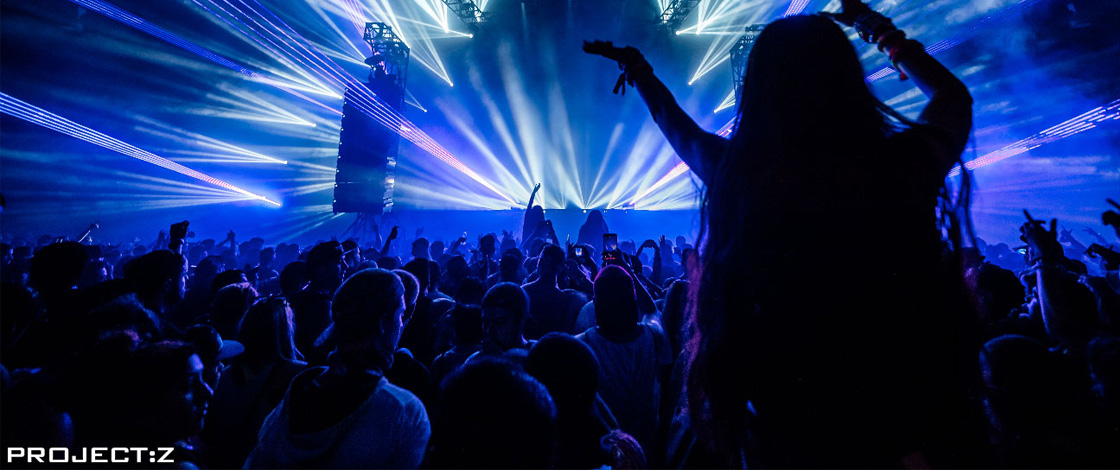 Upcoming Event
Wanna feel the crushing bass and euphoric highs of a hard dance dimension crackling with energy? Go Basscon. Yes, Basscon—the autonomous zone of the hard dance fanatic, where the kicks are bigger and the distortion heavier.
In preparation for the return of the "largest BASS event in North America," PROJECT:Z—which sees Basscon and Bassrush heads come together for all-out dance delirium—we present to you 10 essential tunes every Bassconian should know. Consider this playlist your very own guide map to a pulse-pounding, dystopian wasteland filled with one devastating kick drum after another, in the form of hardstyle, hardcore, happy hardcore, rawstyle, and hard trap.
And for worshipers of the almighty bassline, check out these 10 essential Bassrush-flavored tunes.
May the PLUR be with you.
1. Showtek "FTS"
It's not a matter of if, but when, Showtek's classic "FTS" will scream with passion from the Basscon speakers. I'm too polite to tell you what "FTS" stands for, but this hardstyle classic proclaims with authority all that is sacred to the shuffling Basscon massive. Since releasing a battery of hardstyle classics in their early days, Showtek has since entered the world of popular music. Basscon fans know where Showtek's heart is, though, and faithfully await their return while they hold this track close to their hearts.
2. Technoboy, Tuneboy & Isaac "Digital Nation"
"In my hoooouuuusssse!" Proclaims Technoboy, Tuneboy and DJ Isaac's "Digital Nation." Yep. This is that song. Technoboy, Tuneboy and Isaac are pretty much the reigning hardstyle kings of Basscon, and this track makes sure you know it, because ravers bounce off the walls every time it's played. Another great track that gets a lot of play on the Basscon rig from this trio is "CTRL."
3. Angerfist & Miss K8 "New World Order"
When I say "hardcore techno," you say, "Angerfist!" Worldwide, he's hardcore's number-one champion and a frequent performer on the Basscon stage. Picking one or even a few standout Angerfist tracks is tough, because there are so many great ones. So, I chose one he made with Miss K8, who recently devastated Basscon's Wasteland event, leaving everyone hungry for more. "New World Order" speaks to the "struggle" of the millennial generation as they navigate a world of technology that will either enslave or liberate them. Thus, I deem it required listening for the massive.
4. Darren Styles, Dougal & Gammer "Stay Young"
UK standouts Darren Styles and Gammer have valiantly administered the required dose of happy hardcore that Basscon fans need to keep the good vibes pumping through the maelstrom. Here, they team up with rave legend Dougal and remind us that we'll stay young forever if we keep looking forward to the future. If you doubt this contention, ask an old-school raver about it while they're dancing in the grass at the next festival!
5. Lady Faith "Basic Bitch"
If there is a queen of Basscon, it is Lady Faith. The Iranian-born and US-favorite hardstyle DJ puts on a great show every time and has arguably been more responsible for hardstyle's popularity in the US than any other DJ. On this track, Lady Faith puts all the "Basic Bitches" trying to bite her style on blast, as she hashtags a kick drum right on their…
6. Radical Redemption "Brutal 5.0"
Whispers in the Insomniac offices about a year-and-a-half ago informed me that Radical Redemption, a 20-megaton blast of raw hardstyle, was due to impact Los Angeles at Basscon Sanctuary 2015. What transpired was perhaps the most crushing Basscon performance ever. That night, "Brutal 5.0" hit the crowd like a tsunami with an attitude, driving the packed Hollywood Palladium into a frenzy. I'll never forget this track that night, and now you won't, either. Recently the Radical released "Brutal 6.0," a standout track as well.
7. DJ Mad Dog & AniMe "Ama Shishi"
This hardcore power couple is coming to EDC 2017 to deliver their signature sound of Italian hardcore: amazing production, an eye to the future, and always honoring Italy's legacy of amazing dance music. "Ama Shishi" takes the crowd on a jungle journey and turns them into raving wild beasts every time. You can bet this masterpiece will get played at the high point of the night. Don't be overly alarmed, though, if lycanthropy temporarily takes hold of the dancefloor. Things will eventually return to normal.
8. The Prophet and Rob GEE "Hunt You Down"
The Prophet—legendary hardcore and hardstyle pioneer, as well as the grandmaster of Scantraxx Records (one of hardstyle's most legendary record labels)—tosses a slice of raw hardstyle to the hungry masses! "Hunt You Down" features America's number-one ambassador of the harder styles, Rob Gee, on vocals. The Gee-man has been lighting up all the big European labels lately with his vocal science, and here, he does it again. Hopefully, we'll soon see these maniacs performing this track together onstage!
9. Carnage & Junkie Kid "BTFWD"
Hard trap is a recent mutation of the harder styles, famously unleashed upon Bassconians by Saymyname. Now, Junkie Kid enters the stage to continue the assault of sonic drops and builds. He is assisted by none other than Carnage, who is known to shred the Basscon sound system from time to time and, in my opinion, delivers his best sets there. "BTFWD" means "break the f'ing walls down!" Hopefully, it encourages you to break through the walls standing between you and your destiny.
10. Deadly Buda "King of Style"
A hardcore techno track that benefits a charity? Yep. "King of Style," is a track I made from outtakes of the world's first hip-hop documentary, Style Wars. It benefits the Museum of the City of New York, one of America's only museums with an extensive graffiti art collection. I dropped the rough cut of "King of Style" during the Hard Data Team's ballroom takeover at the sold-out Angerfist/Radical Redemption/Minus Militia Basscon show last December, and the final version was released a couple of months later by the world's first hardcore techno label, Industrial Strength Records. After you've electric-boogalooed to the furious hardcore kicks, if you can, consider giving to the museum by clickety-clicking on the top-right corner of the video!
So, Bassconians, this concludes this "Hitchhikers' Guide to the Harder Styles." This is Deadly Buda signing off, and remember: "The rhythm is life and death!"
PROJECT:Z 2017 takes place Saturday, August 12, at the NOS Events Center in San Bernardino, CA. Tickets go on sale Friday, May 19, at noon PT.
Follow PROJECT:Z on Facebook | Twitter | Instagram
Follow Bassrush on Facebook | Twitter | Instagram | SoundCloud | Spotify
Follow Basscon on Facebook | Twitter | Instagram | SoundCloud | Mixcloud
---
Share
---
Tags
---
You might also like