We Partied for 12 Hours Straight on New Year's Eve
Reporting by:  Kevin Camps, Sam Yu, Anum Khan, Amanda Ross and Emily Diepenbrock
Between White Wonderland in Anaheim, Countdown in San Bernardino, Bassrush in Hollywood and L.A. Loves Techno in Downtown Los Angeles, there were many electronic sonic thrills to be found throughout Southern California on New Year's Eve. Being indefatigable party people, our crew managed to hit up every one of these events to experience the biggest party night of the year from all angles and genres.
This is our minute-by-minute account of what went down as we canvassed SoCal on the last night of 2014.
4:32 pm – Countdown Entrance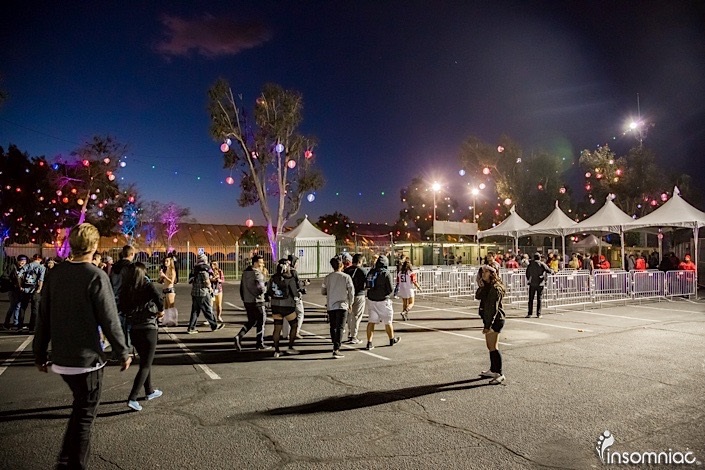 Headliners arrive early to revel in every last second of 2014. We overhear a few scantily clad girls comment about how their choice of attire might have not been the best decision. It's okay, though, because fashion over everything.
5:01 pm – Countdown Lakeside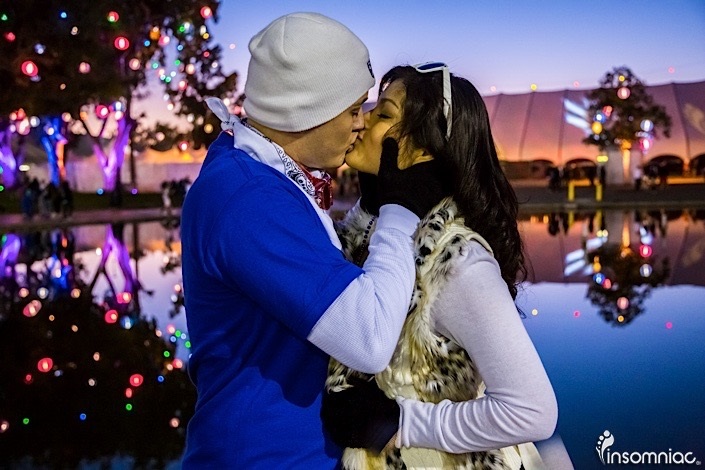 Many couples are in attendance, as people are keen to end the year with their cherished partner. This couple in particular is spotted trying to sneak in a couple last minute smooches before the night gets too crazy.
5:24 pm – White Wonderland VIP Table Service
The stage is set, the decorations are up, and the Anaheim Convention Center has officially been transformed into a White Wonderland. We look out onto the dancefloor, eagerly awaiting the thousands of Headliners who will soon descend upon it. As we stroll through the venue before doors open, we make sure to stop at the VIP tables. Baller.
7:01 pm – Countdown Backstage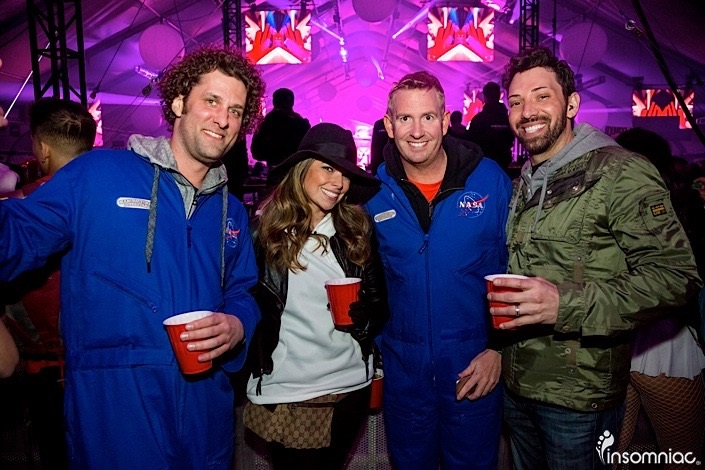 We stumble upon Manufactured Superstars right after they play a set packed with relevant big room cuts. The Denver duo is partying with red Solo cups in hand, and their NASA-themed onesies prove perfect for the chilly night.
7:42 pm – White Wonderland Dancefloor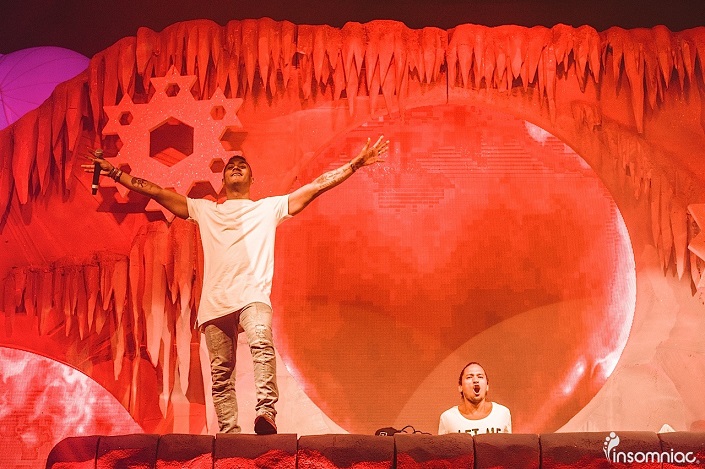 The beats are blaring as Sunnery James & Ryan Marciano officially kick off the musical programming for the night. Eurythmics' "Sweet Dreams" casts a somber mood over the fanfare of the show, and we belt out the chorus as hundreds of people pour into the venue.
7:56 pm – Countdown Guest Viewing Area
Dekku, Discovery Project's winner at Beyond Wonderland Bay Area, takes selfies with Headliners while Bingo Players works the decks in the background.
8:22 pm – Countdown Backstage

It's heartening to see Bingo Players' Maarten Hoogstraten in such high spirits after the tough year he had. The crowd goes nuts after hearing the opening notes of "Rattle," but the highlight of the set comes when he drops "Maga" by newcomers 4B & FIGHT CLVB.
See Also: Meet Bingo Players' Biggest Fan
8:32 pm – Countdown Artist Trailers
We run into two members of the Insomniac video crew. Here with friends on a rare and deserved night off, they're enjoying a two-week holiday break from editing footage of scantily clad ravers.
8:32 pm – White Wonderland Fill R Up Gastro Garage Booth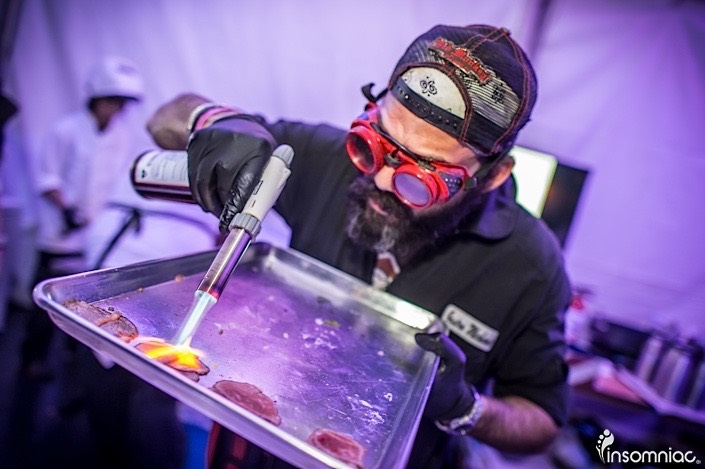 It's time to get our tanks torched. We order one Filly Tank and One Cubano Tank (tanks are brioche-style donuts filled with cheese, onions, meats and other goodness). Making the item requires a blowtorch, goggles, gloves, and lots of precision. Once the food is torched to perfection, we take our first bite. Delicious.
9:24 pm – Countdown Dancefloor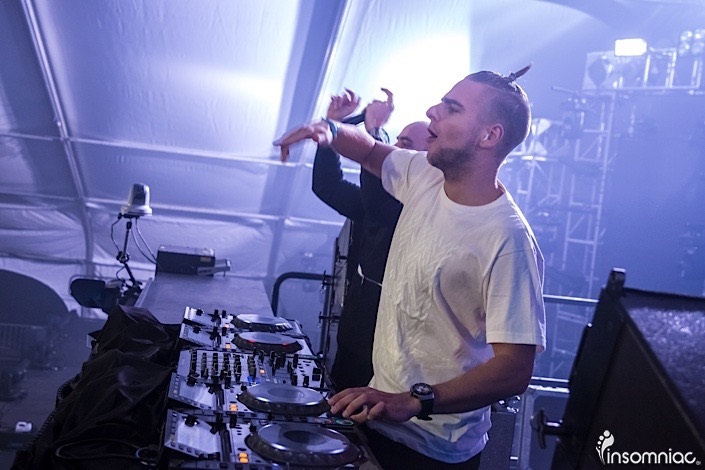 Showtek turns down to engage the crowd in a moment of silence for the mother of Insomniac CEO and Founder Pasquale Rotella, affectionately known as Mama Irene. She's in critical condition at the moment, and Pasquale has asked Headliners to send positive vibes and well wishes her way. "When I say Mama Irene," he instructs, "you say 'fuck, yeah!'"
9:36 pm – Bassrush Dancefloor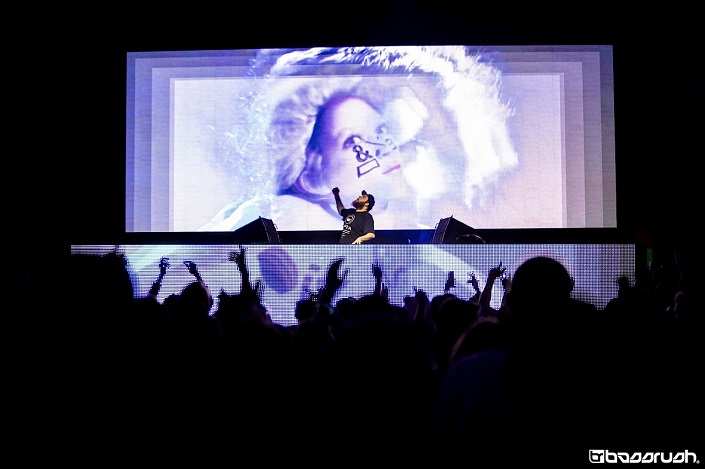 Properly warming up the crowd coming into the Hollywood Palladium from the cold L.A. night  (seriously, it was 30 degrees out), TrollPhace summons the audience closer and closer to the stage with his signature brand of violent bass music. He later grabs the mic and says, "Yo, this is some new shit with my boys JuJu and 12th Planet." Neck-breaking ensues.
See Also: Interview: Rising US Dubstep Star Trollphace
9:55 pm – White Wonderland Wish Resolution Tree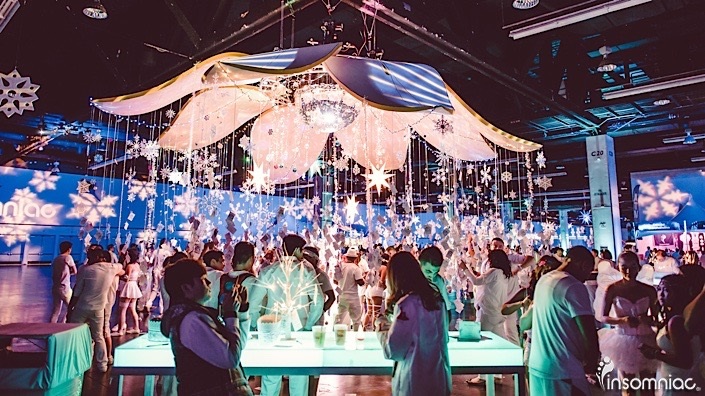 It's 23-year-old Renee Walker's first rave. She's written her own wish, checked it twice, and then tied it to a strand dangling from the Wish Resolution Tree, officially sending the aspiration off into the New Year. Afterward, she starts reading fellow Headliners' cards, stopping at one and asking aloud, "What's 'PLURNT'?"
10:05 pm – White Wonderland Dancefloor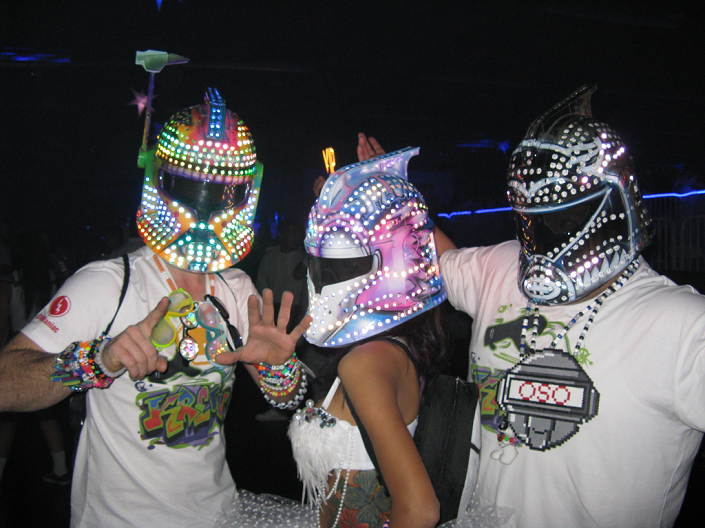 Like a moth to an open flame, we find ourselves gravitating toward Sean and his Gluv Luv Krew. They're sporting some crazy LED helmets that were conceivably crafted after a back-to-back marathon of Star Wars and Tron. An auto mechanic by day and raver by night, Sean clocked roughly 60 hours to create each piece of headgear for himself, his wife and his brother. He's been to every White Wonderland thus far, and he is counting down the minutes until the countdown with Showtek.
10:06 pm – Bassrush Dancefloor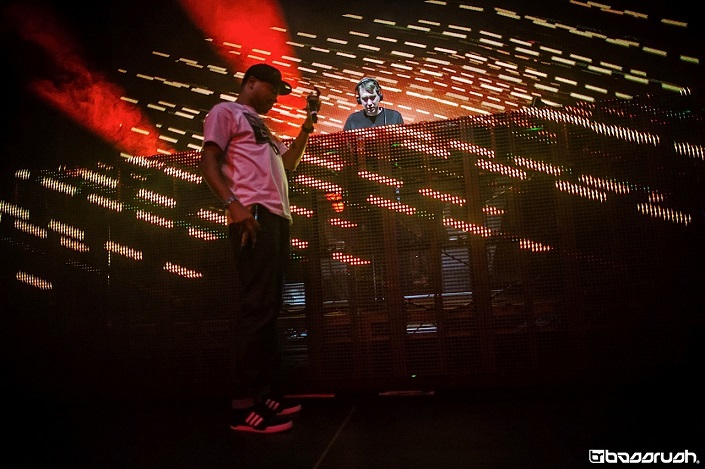 Armanni Reign, the night's MC, introduces the Upbeats, and a man dressed as SpongeBob SquarePants starts skanking on the dancefloor. Yes, this happened.
10:12 pm – Countdown Lakeside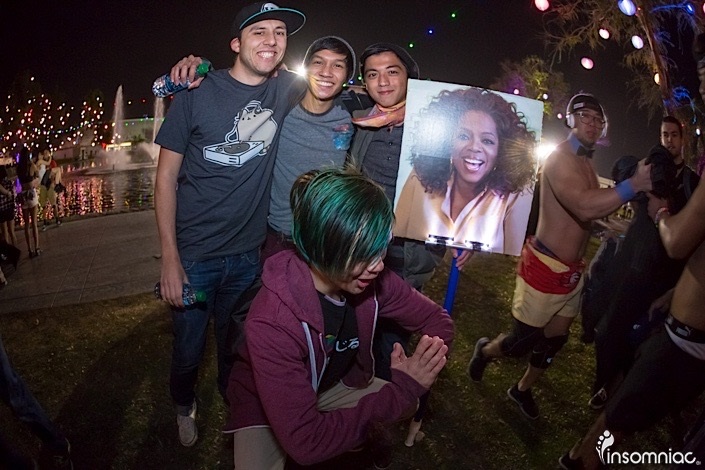 Sometimes you need to take a break from 808s to pray to our one true leader, Oprah Winfrey. This was one of many truly creative totems we saw throughout the night, and if you ask us, 2014 might as well go down as the year of the totem. Along with Oprah, some of our other favorite totems at Countdown include giant Corona bottle, an OMG cat sign, and enough "Turn Down for What" signs to make Lil' John feel historical.
10:13 pm – Bassrush Dancefloor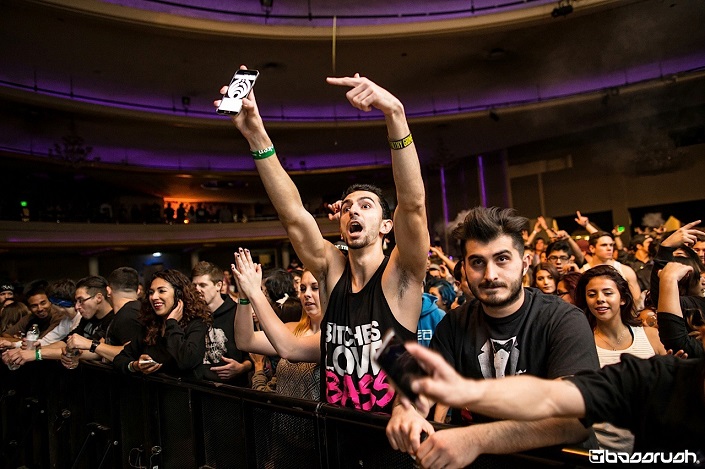 Drum & bass veterans in the audience holler as the Upbeats sneak in a tease of the Bad Company classic "Planet Dust."
10:26 pm – White Wonderland Champagne Bar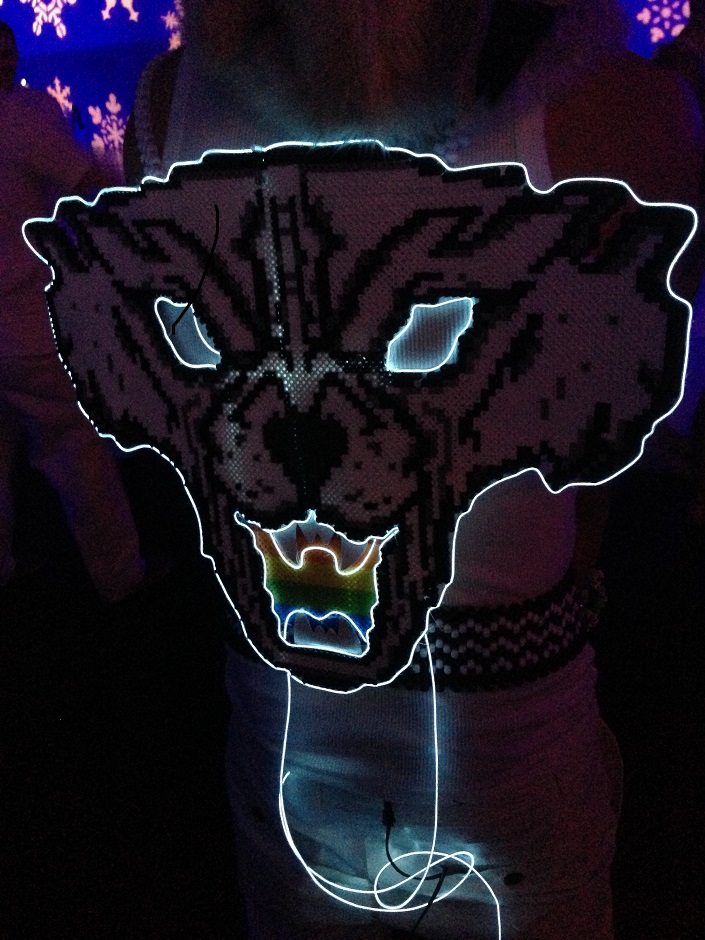 We catch a giant, lit-up wolf perler from the corner of our eye and immediately walk up to the person wearing it. Its owner is 27-year-old Hector Salcido, who based the design on a sketch he saw. The project took 30 hours to make. While perlers are prone to breaking, Salcido made this in one go. What's he most looking forward to next year? EDC Las Vegas, of course.
See Also: DIY: Halloween Perler
10:30 pm – Countdown Stage 
As DJ Snake drops "Turn Down for What," a collective gasp is heard from the crowd. There has been hella anticipation for this moment, and it does not disappoint. DJ Snake's hyphy set is a breath of fresh air in a night otherwise jam-packed with melodic big room anthems. Highlights from his set include "Lunatic" (his collab with Mercer) and teasing O.T. Genasis' infamous "CoCo." Later, DJ Snake heads off to his second set of the night at Create where he'll ring in 2015.
10:56 pm – Countdown Bar
We find respite from the cold weather in the heated bar. Here, Headliners are gathered in circles as they thaw their feels and recharge their batteries while exchanging stories, good vibes and kandi.
10:59 pm – Bassrush Dancefloor
#TeamBassrush, Armanni Reign and the crowd offer positive vibes and well wishes to Mama Irene. Five minutes later, Protohype begins with nothing less than blazing fog cannons. He drops a seemingly endless bag of classic teasers throughout his set, including DJ Kool's ever-thrilling "Let Me Clear My Throat."
11:11 pm – Countdown Merch Booth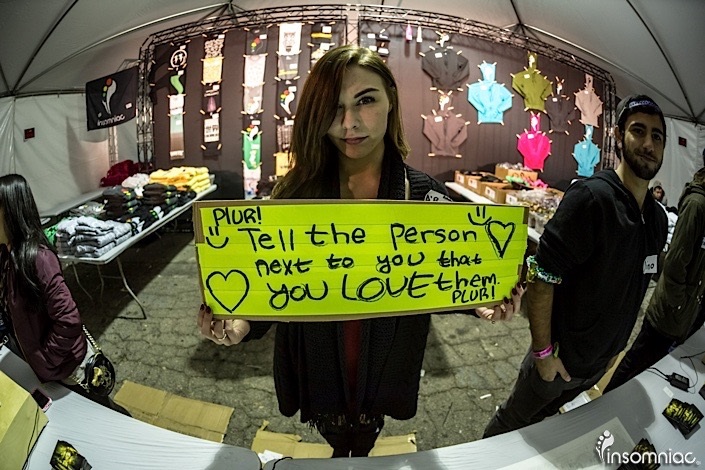 The crew at the merchandise booth is working hard to keep everybody warm by selling the masses new swag. We come upon this sign that really is the mantra for the evening. It is 11:11, and we therefore make a wish, asking that we may see this beautiful lady later in the night for a midnight kiss.
11:23 pm – White Wonderland Wish Resolution Tree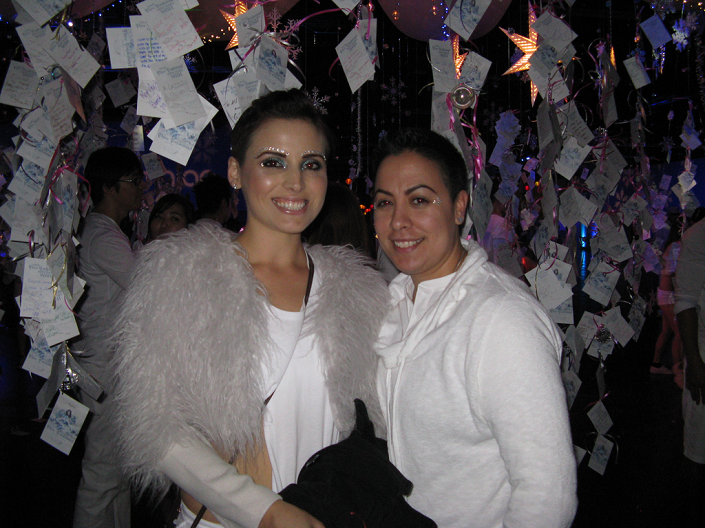 We run into Stephanie—a vet who has been raving for 13 years—while she's penning her New Year's wish. She's standing shoulder-to-shoulder with her girlfriend Ferra, who is being shown the ropes of raving at her first-ever White Wonderland. "I am manifesting happiness and love for my seven-year-old daughter and girlfriend," says Stephanie, sharing her wish. Ferra, on the other hand, just wants to be awesome. She may not know it yet, but she's already there.
See Also: Check out These Wishes From the White Wonderland Wish Resolution Tree
11:43 pm – White Wonderland Barricades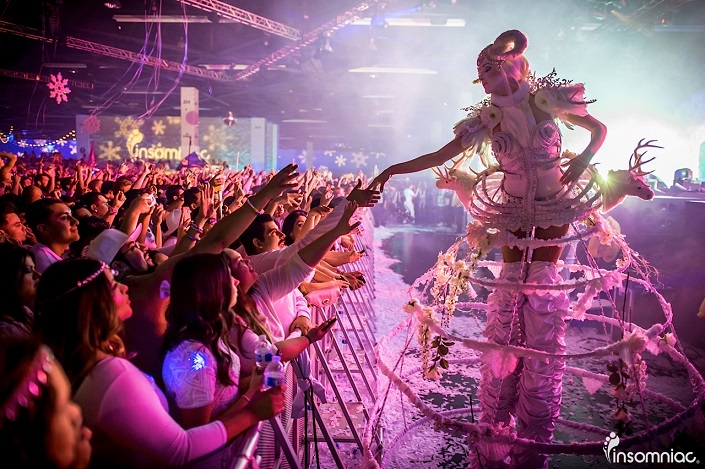 We see a glittering performer on stilts making her way to the stage, just in time for midnight. She's decked out in a deconstructed hoop skirt, sky-high pantaloons, snowflakes, and mystical horns. She leans over the railing, piercing the audience with an ice queen expression that's fiery hot.
11:55 pm – Countdown Backstage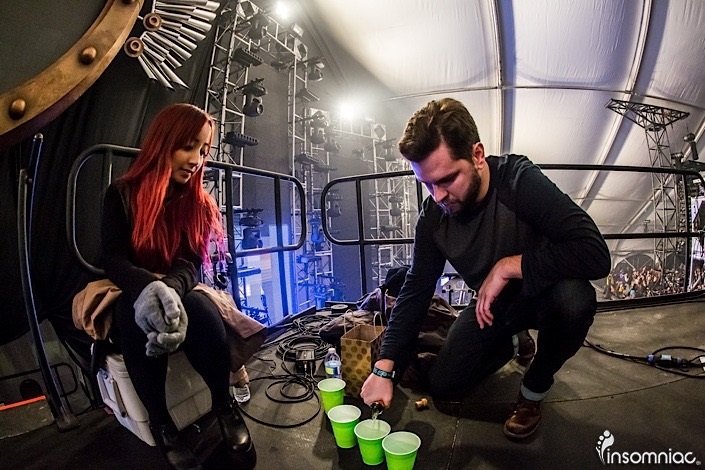 Staff is busily pouring New Year's shots for Porter Robinson, who is slaying with his headlining set five minutes before midnight. Donning fingerless gloves, Robinson starts his set with electro bangers, bringing back a wave of old-school Porter nostalgia.
Midnight – Bassrush Dancefloor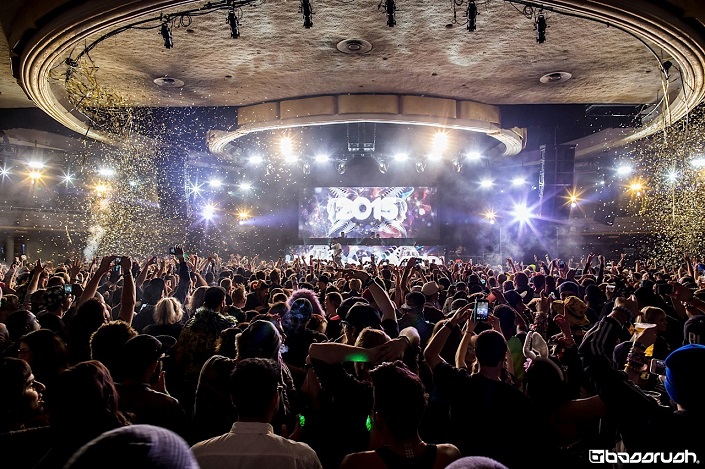 Protohype rings in the New Year with Snoop Dogg's "Gin and Juice." The audience belts along, ringing in 2015 in full-on party mode.
Midnight – Countdown Stage
The time is finally upon us to wish 2014 one last goodbye. Kisses commence between flings both old and new. The choice track for the moment is Porter Robinson vs. Coldplay's "Every Teardrop Is a Waterfall." While in reality it might just be another night out of a year, what this moment symbolizes at its core––transition, celebration, new beginnings––feels profoundly important.
Midnight – White Wonderland Dancefloor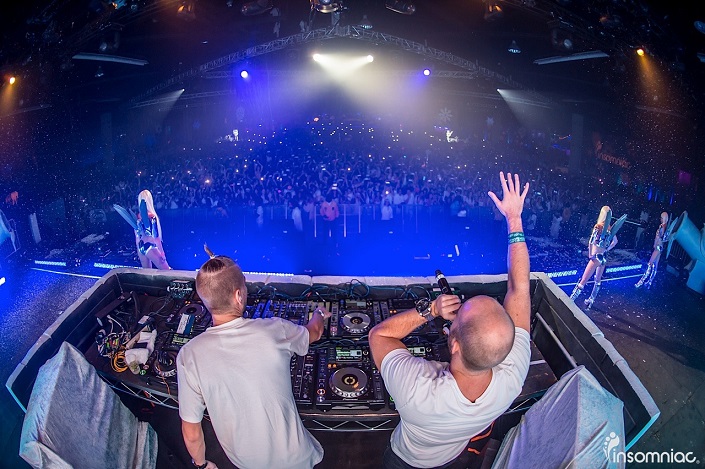 "Five years ago, we came… to California for the first show ever in the United States," announces Showtek to the crowd. "We're very happy to celebrate New Year's together with you guys!" The duo then hits play on their brand-new jam "90s by Nature" just before countdown chaos commences. We're buzzing off the good vibes as they drop hits while a burst of pyro is followed by a stream of sparklers that lights up the stage for a solid 60 seconds. Aerialists dangle from the ceiling, C02 is cranked out at full blast, and the whole damn venue is bubbling in a new-beginnings type of way.
12:03 am – Bassrush Dancefloor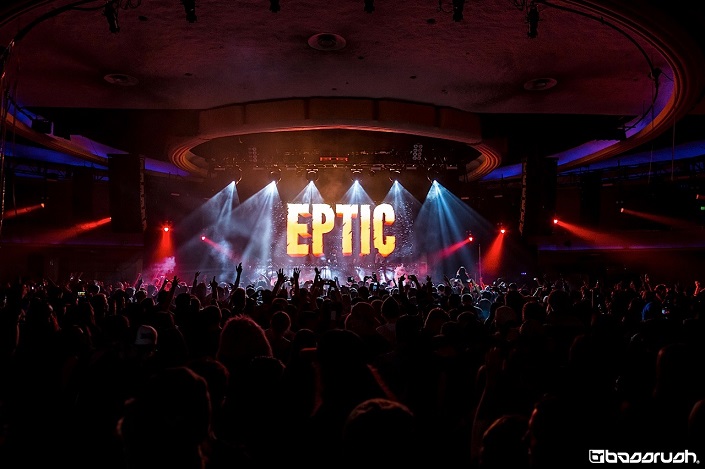 Eptic signals his arrival with an intro tricked out with computer bleeps and bells. His signature three-eyed monster stares down from the video screen, and we enjoy one of the longest builds of the night.
12:22 am – Countdown Water Refill Station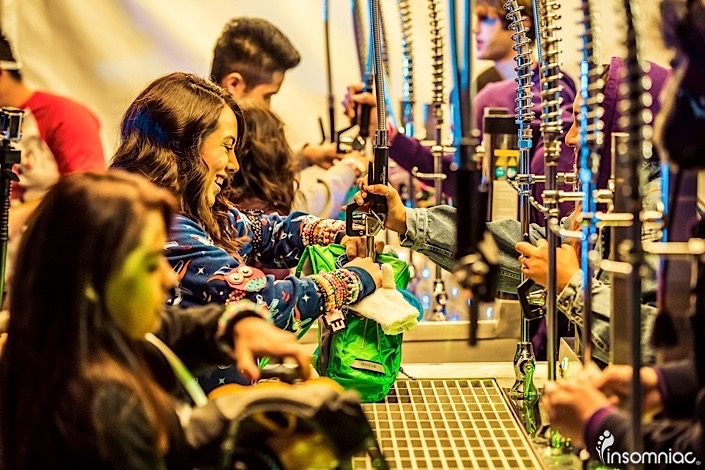 Ground Control volunteers are hard at work making sure everyone is staying hydrated (shout-out to you, Ground Control!). Their constant jubilance is infectious, as can be seen in the smiles of those leaving the station.
12:47 am – Bassrush Dancefloor
Rounding out his set with classic reggae vibes, Eptic plays Pendulum's "Tarantula." Everyone flips, and the entire venue screams out the lyrics.
12:47 am – Countdown Stage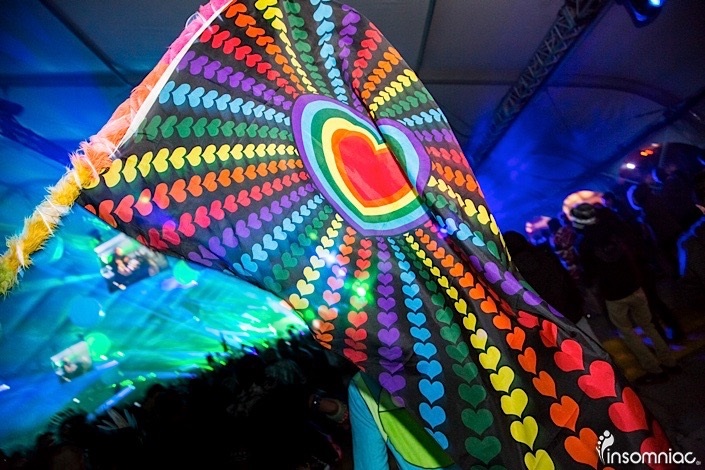 "I feel like I am a rainbow that in life has to pick one color," says Headliner Jonas Anderson. "When I am here, I can be all the colors." He takes a shot, and then we get into a conversation about parallel universes. Yes, such things happen at raves.
12:49 am – White Wonderland Dancefloor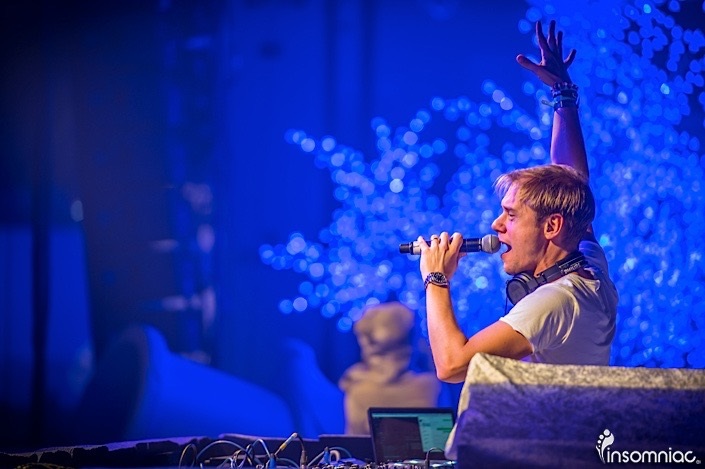 Armin van Buuren takes the stage, greeting his trance family with his charismatic smile. "What's up, White Wonderland?" he inquires. "Who's ready for A State of Trance in 2015? Let me see your hands!" A sea of Headliners cheers in excitement (and uh, puts up their hands) as he drops his first track of 2015, ASOT's "Together."
See Also: 5 Armin van Buuren Tracks You Need to Know Before White Wonderland
1:04 am – Countdown Stage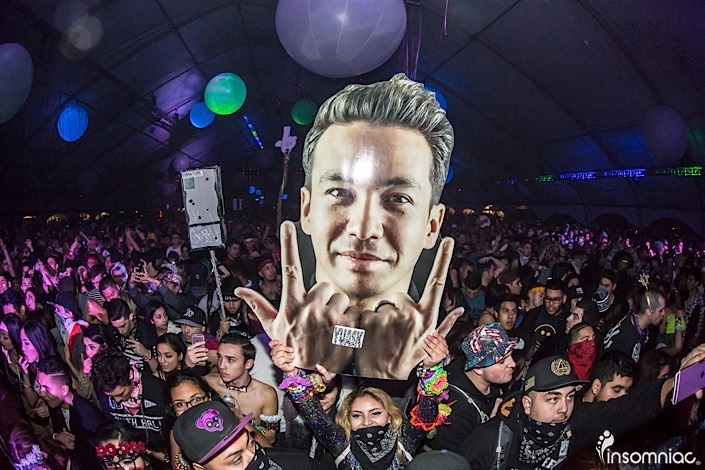 Laidback Luke takes the stage to an interesting edit of Europe's "Final Countdown" and races headstrong in to an hour jam-packed with energy. Already on his second set of the night, Luke knows how timing trumps all, and he uses the energy built up throughout the evening to his thrilling advantage.
See Also: Interview: Laidback Luke Had the Best Year Ever
1:24 am – White Wonderland Exit
It's tough walking away from Armin's set, but there are a lot of good times to be had at L.A. Loves Techno, and even more road to cover before we can jump into the deep end with John Digweed. The trip may sound daunting, but we're ready to head to Exchange L.A.
1:52 am – Countdown Tree
We end the night as we began it: creeping on lovebirds kissing their (possibly new) significant others. And while our 11:11 pm wish never came to fruition (where you at, beautiful lady?!), love is definitely in the air all around us. Headliners bonded, shared hot cocoa, and survived the night as a group—as it should be at such a gathering.
2:01 am – Bassrush Dancefloor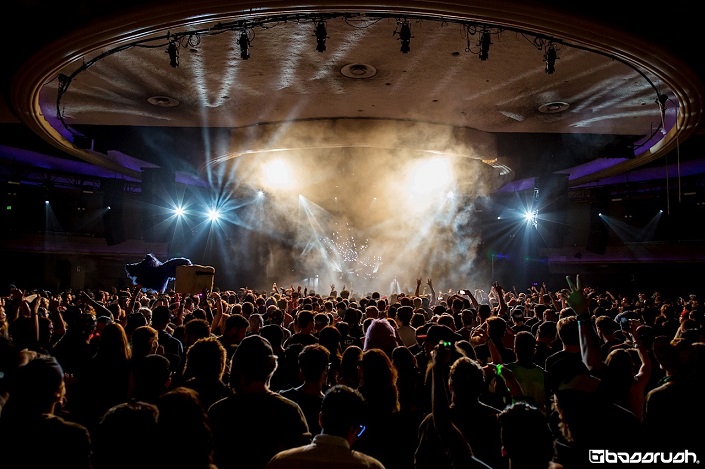 Known for his cinematic intros, Dieselboy unleashes hellish, apocalyptic vibes with epic choruses and doomsday booms. The crowd loses it later when he drops Noisia's remix of Konflict's drum & bass classic "Messiah."
2:36 am – L.A. Loves Techno Entrance
The trek from White Wonderland to Exchange in Downtown L.A. feels like a lifetime, and even though we haven't yet made it to the dancefloor, we already know it was well worth the drive.
2:42 am – L.A. Loves Techno Mezzanine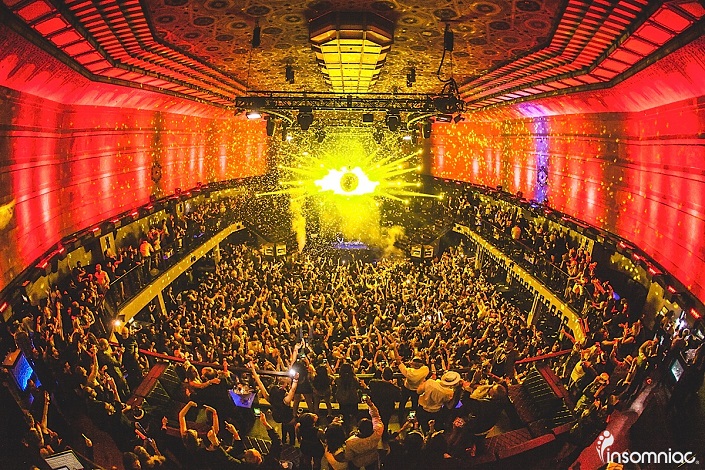 We run into Kyle, the in-house photographer at Exchange, and ask him how the countdown went during Tchami's set. He's giving us the rundown until we get distracted by the on-point transition Digweed is pulling onstage. In this moment, we are totally convinced that every other DJ in the game is doing it all wrong.
3:00 am – Bassrush Doors
Bass-blasted Headliners trudge their way toward the Palladium exits, having officially kicked off the new year in Bassrush style.
3:15 am – An IHOP in San Bernardino
With no pizzeria willing to deliver to our hotel at this late hour, we venture out to an IHOP to fulfill our post-Countdown cravings. Five pancakes deep, we are finally at peace with the world, ready to tackle 2015. We are reminded of a quote from the most famous residents of neighboring town San Dimas, Bill Preston Esquire and Ted Theodore Logan (you know, of Bill and Ted's Excellent Adventure): "Be excellent to each other. Party on, dudes!"
3:43 am – L.A. Loves Techno Soundbooth
We poke our heads in the soundbooth after spotting a few friends inside. Before you know it, we're fiddling with the controls, triggering the strobes, toggling the visuals on the massive LED screen towering behind Digweed, and basically making people lose their minds one light at a time.
3:45 am – L.A. Loves Techno Soundbooth
Glancing down from the soundbooth, we spot a fellow comrade who made the trek from Countdown to Exchange L.A. We thought our journey was far, but his journey from San Bernardino has just outdone us. "Where's the drop?" he jokes. Everyone at L.A. Loves Techno knows that Digweed doesn't need one.
4:17 am – L.A. Loves Techno Stage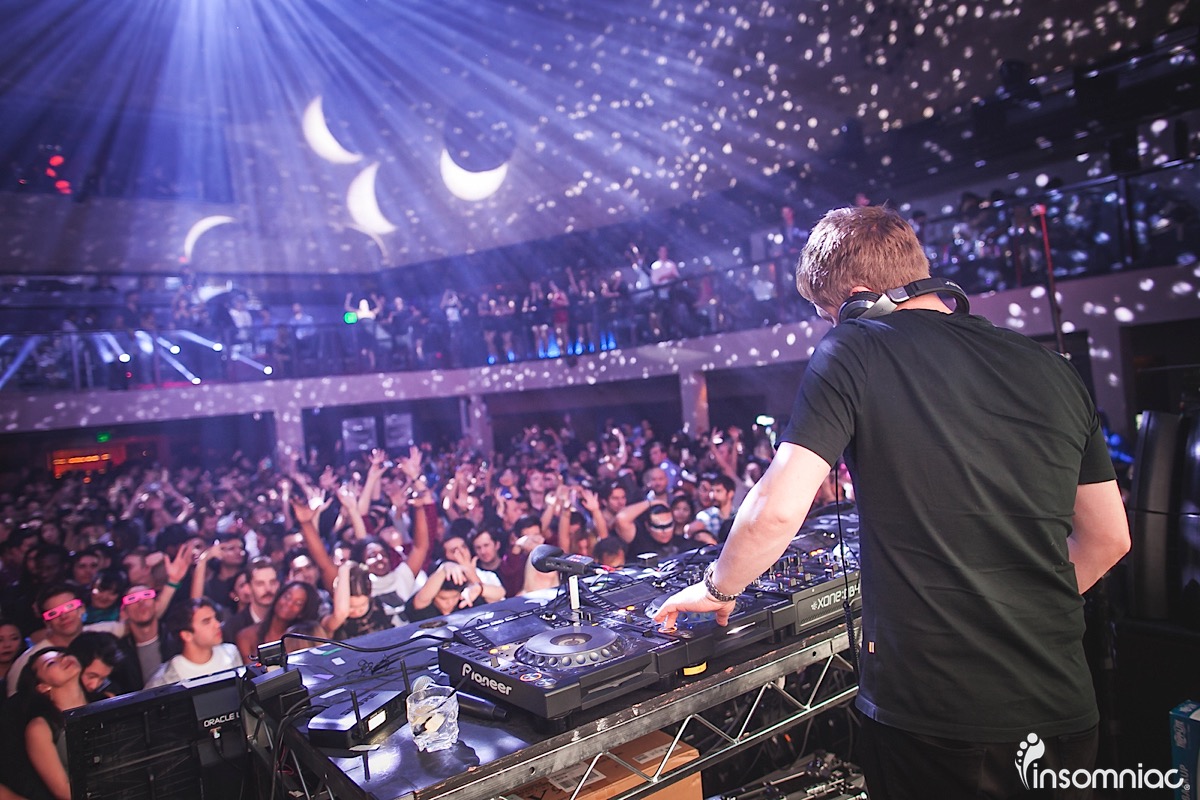 It's a shot in the dark, but we try to Shazam the big choon Digweed is throwing down. He's known for picking hard-to-find tracks, and just as expected, we have no luck. The moment does, however, bring to mind a memorable Digweed quote: "It's easy to play a record everyone knows and get a massive reaction; but to play new music that they don't know, and get the same reaction, takes confidence in what you do as an artist." And that's why he will forever be known as the DJ's DJ.
4:51 am – L.A. Loves Techno Front Row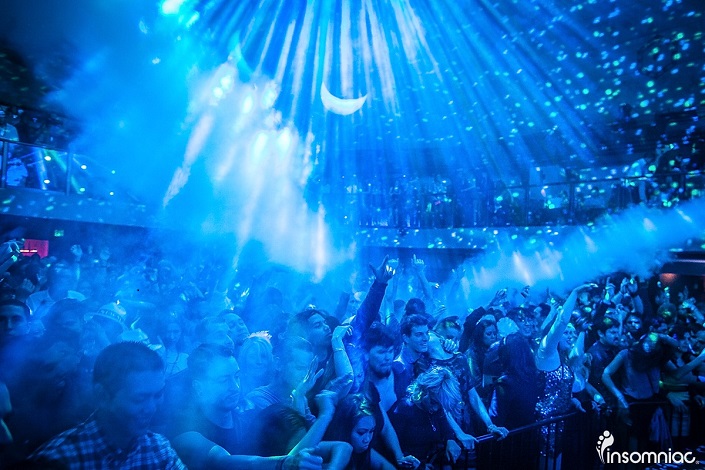 The final beat of the night morning hits, and the 40-odd people left standing on the dancefloor begin to applaud in response to the sonic wizardry we all just experienced. The clapping abruptly turns into joyous singing, as the crowd collectively shouts "Happy Birthday" in perfect harmony (well, mostly) to the man of the hour, who turned 48 at midnight. It is impossible to leave Exchange without feeling like 2015 is going to be a huge year for the underground, as well as for all of dance music. Thanks for taking us on another journey, Diggers!
---
Share
---
Tags
---
You might also like