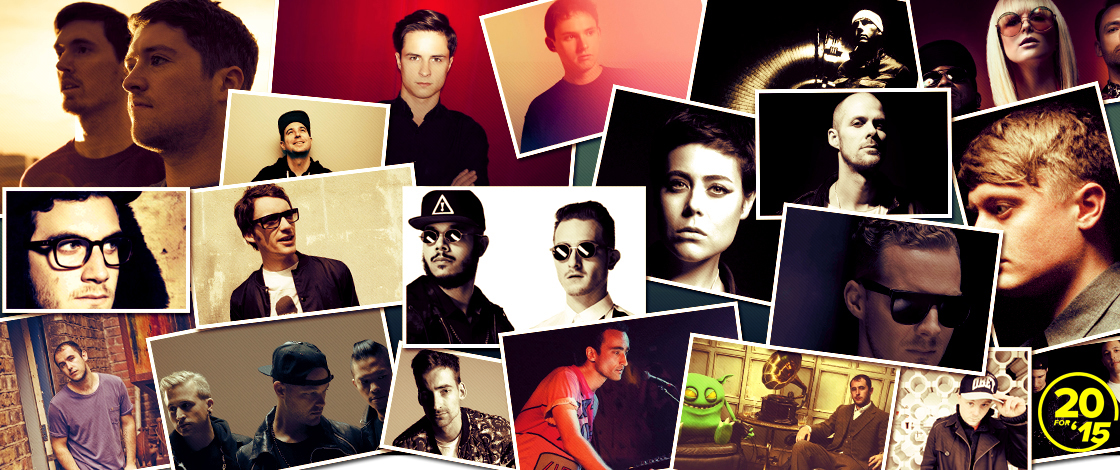 The EP is often a sneak peek into the mind of an artist, a teaser look into the grander scheme of things. Often offering a preview into a larger project, usually an album, a true EP holds the power to stand on its own and deliver on its individual merit. Built on a collection of tracks, EPs operate as individual chapters in the longer storyline of an artist.
This year saw a number of established artists challenge their individual artistic trajectories via impeccable EPs, while a handful of up-and-comers made their voices heard via their EP projects.
These are the top 20 EPs of 2015.
What are you up to on New Year's Eve? Celebrate with the Insomniac family and join us at Countdown.
20. The Glitch Mob – Piece of the Indestructible (Glass Air)
Maybe you weren't looking to have a beautiful, introspective moment while listening to the Glitch Mob, but expect the unexpected with the trio's latest offering, Piece of the Indestructible. Cuts "Head Full of Shadows" and "Better Hide, Better Run" feature the tribal, electro rock, have-you-feeling-like-a-dance-warrior sound we all love so much about the Glitch Mob. But the bow on this amazing electronic gift is the last track, "The Clouds Breathe for You." Although it might be considered the stepchild of the EP, it is actually the ever-after ending that brings the tale of the release full circle. –Kelly Alanbay
Follow the Glitch Mob on Facebook | Twitter
19. Big Grams – Big Grams (Epic Records)
On Big Grams, the self-titled debut EP from the collaborative project composed of Outkast rapper Big Boi and New York electro rock duo Phantogram, rock-infused electro meets laid-back emceeing. On the surface, the hybrid sounds solid, but once Big Boi finds the connective tie between his flow and the group's style, it becomes pure magic. "Fell in the Sun," the lead single beloved by the underground, has a steady kick drum loop and saxophone swatches warping and emerging from the bassline. However, any album also featuring Skrillex (see hyperkinetic trap banger "Drum Machine") and 9th Wonder on production credits (via the left coast-leaning soul track "Put It on Her") is clearly staring into rap and dance's oddly conjoined future, making sense of it, and discovering fun in the progressive grooves. —Marcus K. Dowling
Follow Big Grams on Facebook | Twitter
18. Eptic – Immortal (Never Say Die Records)
After signing with Never Say Die a few years ago, budding Belgian superstar Eptic has continued to absolutely shred on the bass front with each and every new release. While he says the writing process on this one was slow due to his finishing up college, we wouldn't change a thing, as his Immortal EP seemed to find the producer hitting his stride and firing on all cylinders throughout. From his gut-wrenching collab with MUST DIE! on "Ectoplasm" to filthy solo bits like "Jurassic" and "Spellbound," the intricate blend of melodies and unique, often strange details served to keep Eptic in high demand all summer long. With a wicked little edit of "Space Cats" from Trampa, this EP in particular is destined to go down as one of those classics that run it red from top to bottom, hinting that the best is still to come. —Chris Muniz
Follow Eptic on Facebook | Twitter
You can catch Eptic at Countdown this New Year's Eve. http://countdownnye.com/
17. Louisahhh!!! – Shadow Work (Bromance Records)
It's not often you hear Carl Jung associated with the world of dark, EBM-flavored techno. But then, emphatically named singer/producer Louisahhh!!! has often proved an exception. For starters, she's the only American and the only woman on Brodinski and Gesaffelstein's French Bromance label. Drawing on the pioneering Swiss psychotherapist's idea of dark, submerged personalities, Shadow Work is the sound of her own being let loose—and neurosis rarely sounded so compelling. Equally deft at Gui Boratto-esque, bittersweet techno ("Want"), battle-hardened electro ("Ego"), and cold-wave love songs ("Change"), Louisahhh!!! well and truly stepped out of the shadows of anyone for whom she's previously provided vocals. —Joe Roberts
Follow Louisahhh!!! on Facebook | Twitter
16. Wave Racer – Flash Drive (Future Classic)
While the glossy cover design looks like retro bubble-gum pop, Wave Racer's Flash Drive project caught us completely by surprise with its ability to blast past the typical bass music mold and deliver an EP that had even the most battle-hardened ravers among us radiating joy and excitement. Fun and bouncy B-more, hip-hop, trap, footwork and dubstep-influenced beats and basslines drive the floating pads, ethereal melodies, and old-school-meets-new-school sound design with inimitable style. From the very moment the J-pop-styled "Introooo" grabs hold and paves the way for the stuttering hands-in-the-air bits like "World Record" and "Bubble Wrap," you know you've entered some alternative, arcade-like universe where all is not as it seems. If you've got just one quarter left, drop it on the title track, as the vocals from B▲BY are what shook us loose the first time around and let us know we were witnessing the birth of something special. —Chris Muniz
Follow Wave Racer on Facebook | Twitter
15. Chambray – Work That (ULTRAMAJIC)
The Berlin-based Chambray took the techno scene by storm when he delivered his Work That EP early in the year. Centered on intricately crafted grooves and an addictive, almost insidious energy that permeates throughout, this one seemed to be one of those rare spaces where each track seemed to build off the next and hammer home Chambray's ever-growing dominance. From the angelic and ethereal melodies of "Anew" to the lush and relentless "Work That," it isn't until we get midway through "In Effect" that we realize we've been caught up in a slowly evolving dark tension that finds its release in "Those Jawns." It's a masterful display of restrained aggression and reveals the full power Chambray is capable of bringing to the dancefloor. —Chris Muniz
Follow Chambray on Facebook | Twitter | SoundCloud
14. Nicolas Jaar – Nymphs III (Other People)
Nicolas Jaar went release-crazy this summer with two EPs and a full-length album in between. The second of these EPs, Nymphs III, features two tracks—"Swim" and "Mistress"—with an additional track, "Revolver," on the vinyl version. While less than a handful of songs, these were recorded in almost a handful of years. Clocking in at just under 20 minutes, "Swim" and "Mistress" take their time building a moody, introspective sound space. The former brings aquatic washes and soft beats, while the latter escalates the mood with shuffling rhythms that lock into a hypnotic groove and then break down into a thoughtful piano interlude. It doesn't matter how much lapses between Jaar's releases; he makes it worth the wait. —Lily Moayeri
Follow Nicolas Jaar on Facebook | Twitter | SoundCloud
13. Phace – Phace and Friends (Critical Music)
The aptly titled Phace and Friends EP from Critical Music lived up to its name as the ever-impressive Phace rallied a heavyweight crew—including Noisia, Mefjus, Rockwell, Current Value and Culprate—for a series of five monstrous collaborations. It still unfolds like a veritable team for those who like their drum & bass on the techno-driven side of things, as the twisted aggression of Phace and Mefjus' "Bang Bang" set the stage for chest-thumping bits like "Drawback" with Noisia and the glitchy, skittering "Yes!" with Rockwell in the copilot's chair. "Logic Bomb" from Culprate and Phace pushed things to the breaking point with a heavyweight swagger, while Current Value's contribution to the cause brought on the most rolling bit of the bunch, in the form of "Wild Thing." Dirty switchbacks, filthy hooks, and techno-tinged midrange stabs still have this one crackling with synapse-twisting neurofunk. —Chris Muniz
Follow Phace on Facebook | Twitter
12. Huxley – 2.0 (Aus Music)
With its title suggesting a new phase for Michael Dodman, aka UK producer Huxley, 2.0, the producer's only solo release of 2015, showed him leading the charge from deep house into techier territory. The pumping "Sink Hole" might still have nodded expertly to his garage roots via a bulbous bassline, as well as classic US house thanks to a sample from the ever party ready "The Ha Dance," but it was merely the gateway. The thumping "Weapon" instead showed a new techno intent, all dubby chords and serrating hats, while "Voks" unleashed its diva wails accompanied by rough, analog-sounding bleeps, and "Still Love" motored along with a hypnotic arpeggio. If history has shown anything, it's that where Huxley goes, others follow. —Joe Roberts
Follow Huxley on Facebook | Twitter | SoundCloud
11. Slander & NGHTMRE – Nuclear Bonds (Mad Decent)
When Slander and NGHTMRE teamed up on their highly anticipated Nuclear Bonds project earlier this year, it was as if the trap gods had descended from above to bestow anthemic beats upon the masses. With Slander's "heaven trap" meeting NGHTMRE's genre-blurring progressive sound, bits like "You" hinted at the playful, quirky side of the crew, while monster teeth-grinders like "Warning" flexed on the trap-a-licious dancefloor front. Still, it was bits like "Power" and "Gud Vibrations" that made this EP stand above the rest. Both tunes evolved from top to bottom, with "Power" taking things to the electro side of town before flipping it back into trap territory, while "Gud Vibrations" brought on those lifted feels before crashing back down to earth with some quake-worthy bottom end. Listen to this, and glimpse the future. —Chris Muniz
Follow Slander on Facebook | Twitter | SoundCloud
Follow NGHTMRE on Facebook | Twitter | SoundCloud
10. Lxury – Into the Everywhere (Greco-Roman)
Having already introduced the world to the likes of Totally Enormous Extinct Dinosaurs, Berlin/London-based label Greco-Roman has connected the dots between underground dancefloor dynamite and universal pop appeal. It's hardly surprising, though, given that Joe Goddard, from the world-conquering Hot Chip, is one of its founders. Dropping six tracks packed full of lush, rich, ear-worming depth, Lxury—South Londoner Andy Smith—proved he's right at home there and already reaching dizzying heights, too, despite just dropping his debut release in 2013. From the moody rave washes of "Pick You Up" to of-the-moment mentions of "ghosting" in Deptford Goth's guest vocals on the stepping "Square 1," Into the Everywhere envelopes you in an addictive sonic world that's more a necessity than a luxury. —Joe Roberts
Follow Lxury on Facebook | Twitter | SoundCloud
9. Adam Beyer – Time Flies (Truesoul)
Adam Beyer has firmly planted himself as royalty on the techno throne, but that doesn't stop him from exploring the boundaries of the genre. With his four-track Time Flies EP, Beyer takes listeners to a more house-inspired journey via melodic sounds and exploration of new grooves, while keeping intact everything that is to be appreciated about his sound. The EP includes a rework of the title track by Tiger Stripes, amping up the grooviness of the original, while "Waste Land" welcomes the listener back to the techno rhythms, making it an easy favorite for fans. —Kelly Alanbay
Follow Adam Beyer on Facebook | Twitter | SoundCloud
8. Feed Me – A Giant Warrior Descends on Tokyo (Sotto Voce)
Jon Gooch, aka Spor, aka Feed Me, raised the bar this past year as he dropped a massive drum & bass album under his Spor moniker. At the same time, he was delivering this juicy four-tracker under his Feed Me name. While both projects were off the chain, we still can't help but be impressed by Gooch's ability to make a simple EP feel as hefty as albums four times its size. From the cheeky, Godzilla-esque artwork to the haunting yet thrilling intro on "Different World," Gooch once again had us mesmerized by his ability to draw listeners into a dreamlike world before flipping the switch and blowing the doors right off the hinges. The entire EP is a master class in the push-pull of emotions and influences as Gooch squeezes dub, deep house, electro, dubstep, grunge, and old-school tribal feels into a whirlwind, genre-morphing blend of dancefloor illness that still has us hungry for more. —Chris Muniz
Follow Feed Me on Facebook | Twitter | SoundCloud
7. Special Request – Modern Warfare EPs 1-3 (XL Recordings)
The three-part EP Paul Woolford simultaneously dropped via his Special Request guise is not just a nudge at your nostalgic inclinations. Appropriations are apparent throughout, so the first instinct might be to shrink-wrap the nine-track pack as a routine exercise in rave revival. But the XL Recordings release evens the battlefield by throwing just as much present-day appeal into the fold. With Modern Warfare, the UK vet sheds the constraints of time signatures and stylistic boundaries to rehash the past through nods to roof-ripping jungle, white-knuckling hardcore, and permeations of pirate radio. It's almost like stepping onto a dancefloor in the '90s if they had our modern-day tools and technology at their disposal. From the brainwave-scrambling momentum on "Amnesia" to the jarring jolts of sub-bass on "Elegy," Woolford elicits a fight-or-flight response from the listener with undulations of euphoria and epinephrine. These dancefloor weapons might just change the way you perceive breaks and basslines. —Sam Yu
Follow Paul Woolford on Facebook | Twitter | SoundCloud
6. Justin Jay – Momentum (Pets Recordings)
Justin Jay may have just graduated from college, but he's already schooling the world when it comes to quirky, left-of-center house. Released via Polish duo Catz 'N Dogz's fire label Pets Recordings, Momentum showcased his precocious talent. With a touch of the wistful and dreamy at the fore, it came in two flavors for different times of the night. While "How I Knew" was a dark, moody ride filled with minor, melancholic keys, "You Give Me Butterflies" bounced with sunny, carefree joy. And in the middle of this was the title cut, a tracky Kill Frenzy collaboration custom-tweaked for peak moments in big rooms. —Joe Roberts
Follow Justin Jay on Facebook | Twitter
5. Alex Metric – Ammunition Pt. 4 (OWSLA/Atlantic Records)
Alex Metric's music has always been a unique mix of '80s synthpop, French house and rock 'n' roll. On Ammunition Pt. 4, he really comes into his own with five tracks that are far more stripped back, allowing the few present elements to really shine. "Drum Machine" is an ode to the 808, featuring nothing but a throbbing, descending bassline, shuffling beats, a sexy vocal, and a possible nod toward his days as a breakbeat producer. "Always There" feels like an ever-evolving groove made for the disco; there is something very natural about the way it's put together, almost as if you can see this being performed live. He gets down and dirty on "Creeper" and bangs out some serious funk on his collab with the Knocks on "Got Me Up," a funky house number that will put the stank face on your granny. Closing things out, "Elev8," featuring AMTRAC, is a well-orchestrated techno number that evolves from a hauntingly disparate progression of string hits into a relentless beat with an ever-changing cast of eerie vocal samples and techno beeps up top. The aptly named Ammunition series packs a fire within and throughout. —Alexander Dias
Follow Alex Metric on Facebook | Twitter | SoundCloud
4. Flosstradamus – Soundclash (Fool's Gold/Ultra Music)
4/20 was special this past year as Chicago-based duo Flosstradamus dropped their Soundclash EP on the masses. Not content with just unleashing a bunch of cuts for all the hometown DJs looking to get the crowd turnt, Floss flexed it up style-wise on this EP, which helped secure its spot as one of the best of the year. Sure, "Soundclash" and "BYB" have that monster festival trap sound the duo has dialed in so well, but it's when they dip the tempo on "Don't Trip" that you know Floss ain't fucking around. The real juice on this one is on bits like "MFU" and "Prison Riot" with Valentino Khan, GTA and Lil Jon. Who can forget the first time they heard Lil Jon commanding you to put those "middle fingers up if you don't give a fuck" when this one hit the streets? —Chris Muniz
Follow Flosstradamus on Facebook | Twitter | SoundCloud
3. Madame – Perc99 (BNR Trax)
Louis Roche, better known as Madame, is not only Boysnoize Records' man of the hour, but he's quickly emerged as one of the impressive producers to rise from the techno-electro corners of the scene in recent memory. Having dropped jaws across the board with a nonstop onslaught of originals and remixes on imprints as varied as Cherry Pickers, Blood Music, GND Records and La Bombe, Madame's sound has quickly become the go-to weapon for those hoping to work the peak-time crowd into a frenzy. His Perc99 EP for BNR Trax earlier this year seemed to capture the very best elements of his previous work and distilled all of those intoxicating, dizzying, dark and dirty vibes into an all-killer, no-filler three-track EP. With the anxiety-inducing tension of relentless yet complex rhythms, it's the spiraling energy and euphoric interludes that tug and pull at your dancefloor heartstrings. It doesn't get any better than this. —Chris Muniz
Follow Madame on Facebook | Twitter | SoundCloud
2. Pryda – Pryda 10 Vol I, II, III (Pryda Recordings)
The cult following of Pryda, aka Eric Prydz, has reached an insatiable peak recently, as electronic fans clamor for anything and everything the producer offers. Relief came with Pryda 10, an EP trilogy that spanned the course of three glorious months. The releases brought into the world 22 new tracks to feed the soul, with each EP demonstrating a different brand of Pryda, from the heavily tech to the super melodic. But rather than pick and choose from personal preference, it's best for the listener to settle into the complex, enigmatic world created by the master producer and take a journey starting with Vol I until the very end of Vol III. —Kelly Alanbay
Follow Eric Prydz on Facebook | Twitter | SoundCloud
1. Dusky – Ordinary World (17 Steps)
Dusky proved themselves experts on the deep and techy tip with their Ordinary World EP. A journey through the sounds that make them one of the best acts of the last five years, the EP opens with the emotive "Skin Deep," featuring a bassline that takes you straight to your happy place, and lush, ambient chords that totally envelop you. Offering a sharp juxtaposition, "Jilted" presents a little more darkness, opening with some slightly menacing FX before dropping into a heavy beat laced with an evil bassline and some horns to add some dirt. The driving bass of "Parakeet Feet" throws listeners for a loop as the song morphs into a gorgeous, arpeggiated melody mirroring the feeling of "Skin Deep." The wobbling bassline of "Squeezer" grounds the track in the present day, while the floating vocal and airy pads give a nod to a bygone era when progressive house sounded much more like house. —Alexander Dias
Follow Dusky on Facebook | Twitter
---
Share
---
Tags
---
You might also like