These Dazzling Images Are Not Your Standard Festival Photographs
The term "painting with light" may sound trite—until you see the images Reid Godshaw makes.
Using a long-exposure camera setting and his arsenal of custom-made lights and lasers, the Los Angeles-based photographer creates images that look like scenes from a raver's subconscious. The dazzling images, in which subjects are surrounded by waves of light, are produced live, without the use of Photoshop. While the level of technical proficiency required to create these photos is impressive, what's perhaps cooler is the way they seem to capture a sense of each subject's soul.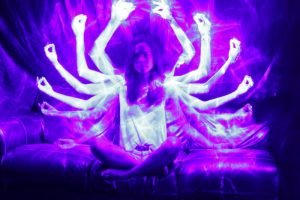 Godshaw's company, Harmonic Light, began essentially by mistake. He and some friends were messing around with a camera, a projector and some lights, and Godshaw noticed the resulting images had cool spiral of light he hadn't intended to create. This happy accident led him to experiment in his spare time, and he had soon figured out how to infuse photographs with what appeared to be waves of light by waving glowing objects around in front of the camera during a long exposure. He began collecting more equipment, and his friends encouraged him to quit his day job as a tech investor and take his hobby full-time, an idea he initially laughed at.
"Eventually," Godshaw says, "I was like, 'Why am I trying to find an excuse not to do it? This is the most fun thing I've ever done, it makes so many people happy, and it would help me justify the purchase of all these lights.'"
Within a year, he had quit his job and made 50,000 photos.
A longtime festivalgoer, Godshaw began doing light paintings at Burning Man parties in L.A., which led him to bring Harmonic Light to West Coast festivals including Lightning in a Bottle, Lucidity, Youtopia and Enchanted Forest. He also photographs weddings, large parties and corporate events.
To make each photo, Godshaw asks his subjects to pose in a way that best represents their personality (he says some people know this pose immediately, and some have to think about it for a while). When the subject is in position, he spends a minute or so chatting with them and getting a sense of their personality, information that informs the type of light he draws around them.
He then turns the camera on, having the subject sit still for 30–60 seconds while he runs around them, waving his lights and lasers. He's perfected the craft to the point where he doesn't appear in any of the images.
The resulting shot, Godshaw says, is more than a photograph, but something that shows "people a version of themselves they have never seen, but is 100 percent real—especially people who don't like pictures and really don't tend to like the way they look. It gives me the opportunity to truly affect that person's self image and make them smile in a truly authentic way."
While his work does indeed seem to highlight subtle aspects of his subjects' personalities, at the same time, one always knows a Harmonic Light image when they see it.
Godshaw gives away his photos for free, asking only that the subjects credit him when posting them online. At this point, he's taken over 175,000 photos, and if the enthusiasm in his voice is any indication, he's just getting started.
Here, Godshaw shares some of his favorite Harmonic Light images: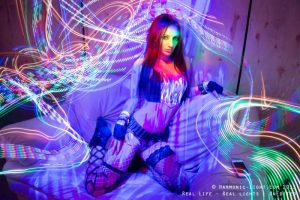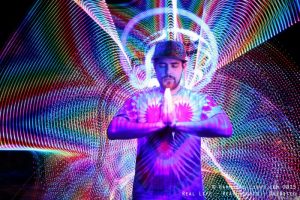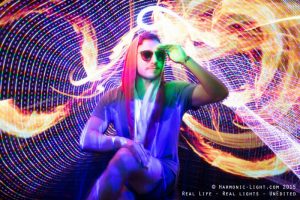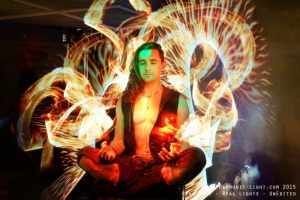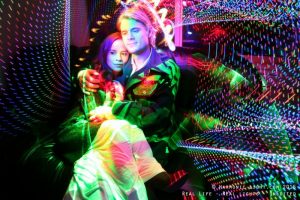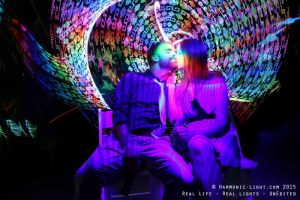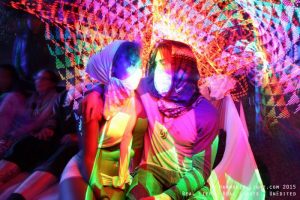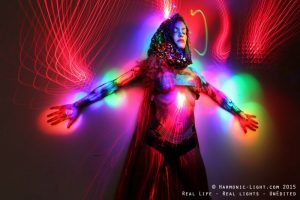 All images courtesy of Reid Godshaw/Harmonic Light

Follow Harmonic Light on Facebook | Twitter 
---
Share
---
Tags
---
You might also like