The Story of How Markus Schulz Re-emerged as Dakota
Fans of progressive trance mainstay Markus Schulz might have noticed the veteran DJ/producer went awfully quiet on his social networks in the second half of last year. Paradoxically, it came immediately after a period when Schulz felt particularly connected—both to his fans and the wider music world—courtesy of his successful Watch the World album project, which saw him collaborating at a series of songwriting camps to craft something with a deeper musicality. Then, in June 2016, everything changed.
The shooting at Orlando's Pulse Nightclub was a tragedy that shocked the world, a terrible hate crime within the traditional "safe space" of a nightclub. The dance community, in particular, deeply felt the fallout. Schulz, a dance culture veteran who's spent more than 25 years working the decks in clubs around the world, says the tragedy weighed heavily on him.
"I was bleeding inside; my soul was hurting," says Schulz.
On top of everything, the turbulent political developments that defined the rest of 2016 were really beginning to set in.
This difficult climate led Schulz to take an introspective retreat, from which came the revival of his darker, tech-focused alias, Dakota. It's part of what Schulz refers to as his "divergent movements." While Watch the World emerged from a desire to explore a more emotive style of songwriting, his New World Punx collaborative project with Ferry Corsten was an energetic response to the EDM boom. Henceforth, the tumultuous year that became of 2016 ultimately inspired the return of Dakota.
"I'm thinking about my legacy and what I want to leave behind. With this project, I want to create something that will endure for many, many years to come." 
Fans will see the culmination of all this when Schulz debuts The Nine Skies audiovisual show at Dreamstate San Francisco this May. We sat down with him to get the full story in his own words:
My fans who follow me on social media will know that I really disappeared for about six months last year. Except for some standard PR stuff, it was very quiet. While I was working on Watch the World, I was writing about what I was seeing, about my fans. I was active and having a great time interacting with people. But all the shit that was going on really changed this, and it all started with the Pulse Nightclub shooting in Orlando. This just devastated me, and it made me retreat and become quite introspective.
I've been elusive on social media, because I've been soul-searching. And through all of it, this new Dakota project came along. I needed a way to vent, to channel that all into something.
The Dakota project was always [representative of] me at my more "introspective" anyway, while I'd say the regular Markus Schulz stuff is more "reflective." Would I have eventually returned to the Dakota alias anyway? Not necessarily, because I had a really good time with Watch the World, connecting with my fans and writing about all of those experiences. But the shooting at Pulse Nightclub shook me to my core.
My approach will be a little different this year. First of all, I'm doing a Dakota show. It's a 90-minute show, and then it'll become an album afterward. What I'm doing with the Dakota show, it's almost like a dark dancefloor musical. It's a whole story about enlightenment, about how we evolve as souls throughout our lives. It's called Nine Skies, and it's the nine steps we go through in our quest for enlightenment. Each "sky" will be explored over the course of around 10 minutes, and then it'll move on. Musically, I'm making the music to fit with each chapter.
The first chapter is called "The Follower," in line with the idea that in order to be a good leader, you need to be a good follower first. I was thinking, "What can I use to represent a good follower?" I was thinking of a soldier, so the first chapter has military cadence to it. The first single is called "Motor Motor," which is a military cadence soldiers use when they're marching and chanting call-and-response-type stuff to each other.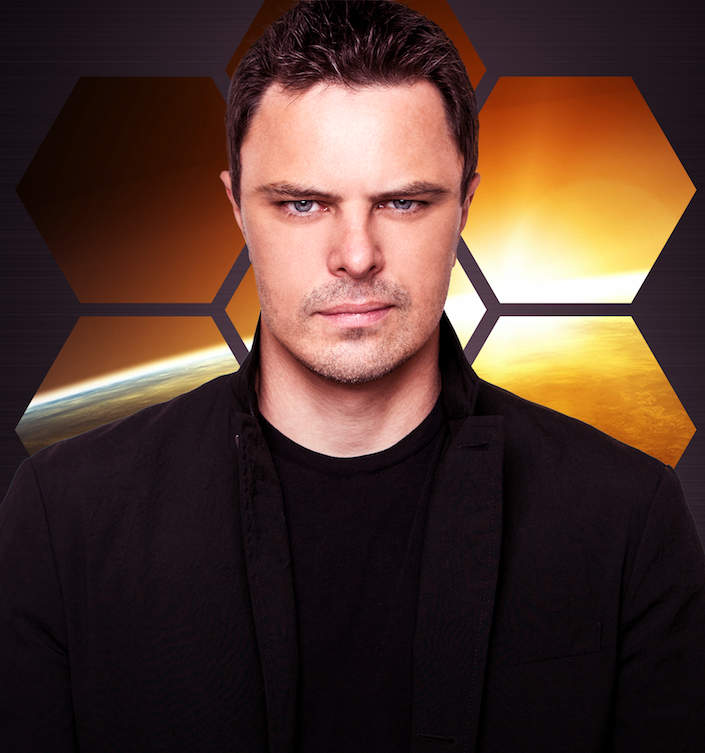 The live show has big moments, and the ninth stage, in particular, represents the ultimate enlightenment of nirvana—so perhaps we'll do something spectacular for that. But it's essentially a deeper, more thoughtful affair, and definitely not one of the shows where we're shooting off fireworks at every drop.
The important thing I've kept in mind when trying to convey more complex themes like this is that there are always people who are there just to rave and have a good time. They just want to hear great music, so I want to make sure they're catered to. But then there are the people who are open to something a little bit more, and hopefully they're gonna hear something that is life-changing.
There's the music and the narration, and it's all tied together. I'm still fine-tuning [the music], but it's finished, and now we're starting work on the visual side of it. The first show is going to be at Dreamstate in San Francisco. It's not just music or a concert; it's a whole audiovisual art show. It's one of the most challenging things I've ever done, but I feel like I need to do something like this right now.
Once I've finished developing the show and we've taken it on tour, I'll turn Nine Skies into an album. It'll be more of a home-listening experience—a headphones-in-a-dark-room kind of vibe.
I'm thinking about my legacy and what I want to leave behind. With this project, I want to create something that will endure for many, many years to come, something that people can look back at whenever they're having hard times—to listen to, watch it, and hopefully be enlightened by it as well.
Catch Markus Schulz Presents Dakota at Dreamstate San Francisco 2017, taking place Memorial Day weekend, Saturday, May 27, and Sunday, May 28, at the Bill Graham Civic Auditorium. For more information, visit the official website.
Angus Thomas Paterson is the real unicorn slayer. Follow him on Twitter.
Follow Dreamstate on Facebook | Twitter | Instagram
Follow Markus Schulz on Facebook | Twitter | SoundCloud
---
Share
---
Tags
---
You might also like