The Night I Fell in Love With Dance Music: Lily Moayeri
Lily Moayeri has been writing about dance music for more than two decades. A true music aficionado with truly incredible hair, Moayeri's work has appeared in and on publications including DJ Mag, DJ Times, Electronic Musician Magazine, URB, and the site you're reading right now.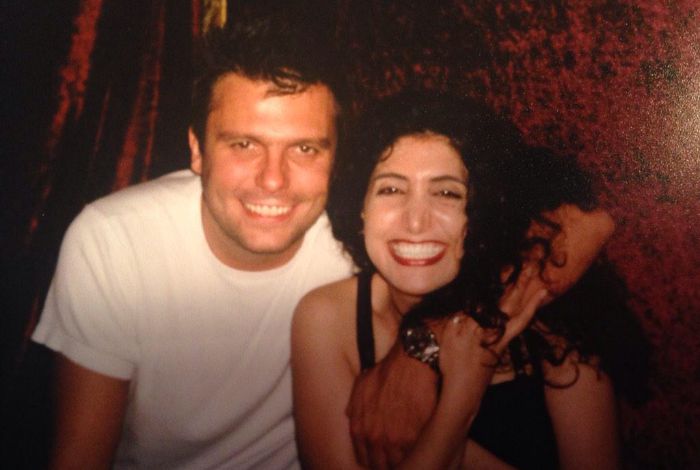 Moayeri grew up in Los Angeles and got into the electronic scene as a 21-year-old in the early '90s. The music, camaraderie, and community she found helped her deal with the passing of her mother and guided the course of her career.
Here, Moayeri tells the story of how she fell in love with dance music.
You were just coming of age in the early '90s in Los Angeles, the same time as the underground rave scene was really taking off in the city. How did you get into the music?
My mom died in 1990, when I was 21, and it was really hard because I was very attached to her. And I was a young 21, like 21 going on 16, so it was really difficult. Going to these parties was a way of dealing with the grief, because I was just getting lost in the experience and completely absorbed in the atmosphere that was getting created by the people that were going out. It was the same people all the time; there weren't that many parties in L.A. I started making friends with those people, and they were super happy, super affectionate. I was so young, and almost everyone was older than me, so it was helping a lot.
Tell me about the parties you were hitting up.
Truth was at the Park Plaza, which is a beautiful, historic building in L.A. The physical space is really exciting. It's gothic, and to get to the hall where they had the main dancefloor, you had to go up these stairs, so you feel like you're in a fairy tale. Then you enter this hall; it was almost like I wanted to suspend going in there for that initial feeling. And we went early. It's not like now, where I'm showing up five minutes before the DJ I want to see is playing. We went when it opened so we could have the maximum hours there. It's not like we knew any of the DJs; we just wanted to hear the music as much as possible.
Who would play?
Mark Lewis and Michael Cook were the resident DJs at Truth, and they had guests. I saw Moby play there; I saw the Shamen play there; I saw Meat Beat Manifesto play there, and Joey Beltram. They had a lot of guests, but it didn't really matter. We were just happy. We enjoyed it more when the residents were playing, because they played the same stuff every week. You were waiting for the song, like "James Brown Is Dead" or Joey Beltram's "Energy Flash" or Moby's "Go." The combination of Moby's "Go" and Joey Beltram's "Energy Flash"—that was the ultimate combination.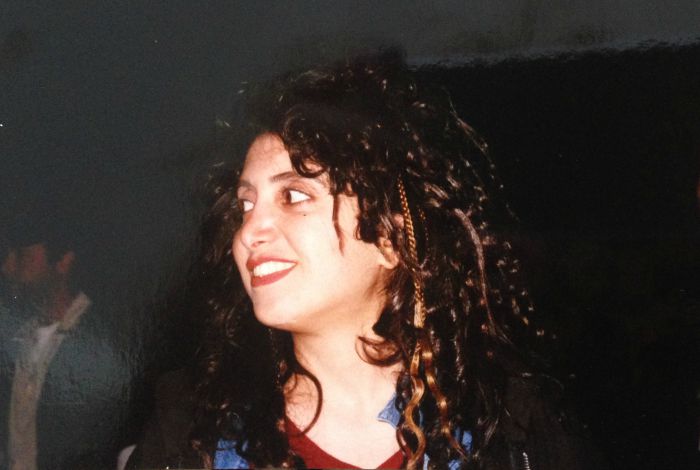 What other parties were you hitting up?
Magic Wednesdays, Sunday Love. I was going out five nights a week, and I was like, "This is not enough. This is not cutting it for me. I need to be going out every night."
So what'd you do?
I went to England for eight weeks in 1991, and went out every night, and if there was a daytime party, I was there too. I didn't do any drugs; I just slept. Whenever I wasn't out, I was sleeping. I'd already been to England before and was really familiar with London, so it was easy for me to go there. The clubs went all night, so I took the train there and took the tube back in the morning.
What kind of music were you hearing in England that you weren't hearing in L.A.?
It wasn't about the kind of music. They didn't play anything that we were playing here. There was no overlap whatsoever. I would go to one club and hear stuff that I wouldn't hear at another club. I went to Subterranea, where Jeremy Healy used to do a club on Saturday nights. And what Jeremy played, only Jeremy played. That was a really great experience and a completely different crowd. Then I went to Rage and Fabio & Grooverider, and Frankie Bones was their special DJ that night, and I became friends with Frankie, and he took me to parties with him that week. Then I went to this place called the Rocket on a Saturday night, and again: totally different. They were playing more techno there, but it isn't like the techno that we play here. I'm telling you that not one song that I heard here I heard in England. Not one.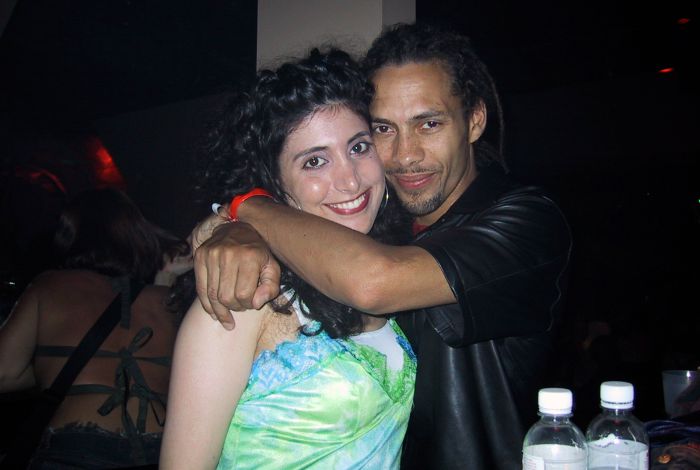 What were the highlights?
In 1992, when I was in Glasgow, there was an all-nighter at a place called the Tunnel, and Sasha was playing. One of my friends [from L.A.], who's Scottish—I bumped into him in Glasgow, and he was like, "Sasha's playing an all-nighter tomorrow night, and I'm going. It's going to be amazing." I didn't know who Sasha was; I was just going becuse it was all night, and that was my thing. So I went, and it was such a life-changing experience. I had never heard anyone play music like that before. I like, catapulted over the DJ booth and onto him when the night was over, because I had to make contact with the person. He had seen me on the dancefloor, and he was like, "If there's one person who understands what I'm doing, it's her." It was like we were already in the middle of a conversation when we came face to face, and he was like, "You need to come to my club next week. You need to come to my residency, because that's where what I do really makes sense, and you need to experience that."
Did you go?
I went all the way from Glasgow back to Nottingham, stayed in a bed & breakfast, and took a cab to where the club was in the middle of nowhere. Huge line. I was like, "I can't do this line," and I went to the front and told the promoter—Geoff Oakes, who's still a friend of mine—that Sasha had told me to come. I was like, the only American person, and he walked me in, and it was amazing. Sasha was right. It was a whole other level. I felt like I wasn't even touching the ground anymore. Essentially it was progressive house, but nobody was playing it yet.
What was your experience of being a young, solo female running around all of these clubs? 
I used the accent to get guys.
I love you.
If I liked a guy that was cute, I just walked up, and I was like, "Hi, do you know what time it is?" And they were just like, "You're American! Who are you with?!" I'd be like, "Oh, I'm on my own," and I would instantly get adopted. Nobody ran away from me. Keep in mind that I was really young, and I was wearing a lot of midriff-baring outfits. I was wearing my overalls with a bandeau top, which nobody would be caught dead in in England. I was a nutty L.A. raver, but to them, I probably looked cute.
Follow Moayeri on Facebook | Twitter 
---
Share
---
Tags
---
You might also like