The Incredible Life of Rob Fernandez
To put it simply, Rob Fernandez was an incredible person. A superhero, really.
Above all, the electronic dance music industry exists to provide people with peak experiences. It is a celebration of life. It's why we throw the parties, champion the music, and stress the values of community, positivity, and respect. Rob embodied all of these values, and he was an example on how to live life to its fullest. Being around him made us all better people.
The list of his professional accomplishments is long. During his 25-year career, he helped define the sound, style and atmosphere of the New York dance scene, working at all the city's important nightclubs and supporting many now-ubiquitous artists early in their careers. "Rob was everywhere, says Eddie Dean, who worked closely with Rob at Pacha New York. "He didn't just go to the most popular parties. He would go to every party.  If he told you he was stopping by to support you or a certain DJ you can be sure he would show. Nobody gave more opportunities to local kids trying to become the next big NYC DJ."
When the scene waned in the late '90s, he stayed true to the sound and was fundamental in the revival of dance music in the early 2000s. He guided the rise of acts like deadmau5 and Swedish House Mafia in the United States, brought massive shows to new venues on the East Coast, and was key in bringing Electric Daisy Carnival to New York. He succeeded because he did what he believed in and what he loved, and his vision helped shape a city, a cultural movement, and music history.
"When most felt defeated after September 11," says WME's Joel Zimmerman, "Rob approached a changed city with positivity and enthusiasm and helped contribute to the healing process. As such, he was so much more than a promoter; he was a man who kept his finger on the pulse of the NYC scene and cared for the city and the music community like family."
Rob and The Martinez Brothers
While there are many more professional accomplishments we could list here, what's more important is that Rob was a good person. While people in the industry don't always agree on everything, the fact is that everyone loved and respected him. Speaking with his friends and colleagues, a portrait emerges of a man who was perpetually enthusiastic, highly creative, deeply funny, relentlessly kind, and a true fan of the music. His joy for what he did was apparent in his work and the way he treated people.
"Rob is the guy that, if he was the first and only person you saw when you arrived somewhere, you wouldn't care if you saw anyone else," says Steve Goodgold of the Windish Agency. "His charisma, charm, and sense of humor were enough to light up a whole building."
A laundry list of key artists—from Avicii to Laidback Luke, the Martinez Brothers, Sasha, Paul Oakenfold, Paul van Dyk, Pete Tong and Steve Angello—echo the fact that Rob not only supported them early in their careers, but treated them as family thereafter. For people who spend a large portion of their lives on the road, the value of this comfort and camaraderie cannot be overstated.
"Rob greeted each of our artists with a warmth and gratitude that made each of them want to continue playing and supporting his events," says AM Only founder Paul Morris. "It was truly impossible not to love the guy after spending five minutes with him. He had such a positive energy, with a smile and a laugh that you couldn't help but love."
His sense of humor was famous, and it was evident in many of the flyers he designed for his club nights—especially Danny Tenaglia's longstanding Be Yourself party at Vinyl. Once, when Benny Soto, his partner at Dance.Here.Now, mentioned that he was about to undergo a colonoscopy, Rob designed a party with that as the theme, even putting together a short film featuring a trip through Soto's colon. "There were DJ friends making cameos, parties, bats flying around! Even my son appeared, dancing around!" Soto says. "On the flyer, he put 'Benny Soto's Colonoscopy on the big screen!'"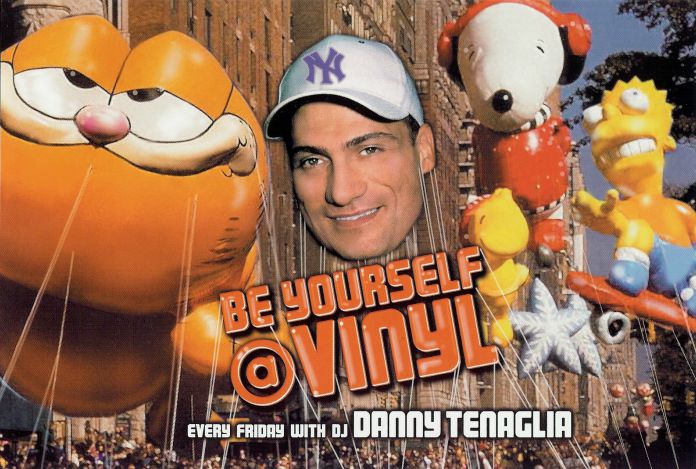 Rob's flyer for Danny Tenaglia's "Be Yourself"
Ultra Records' David Waxman recalls a few nights when Rob booked him to open for David Guetta at Pacha in New York. Says Waxman: "Once he told me, 'Just think, when they start chanting "David! David! David!" you can think they're calling for you.' Hilarious."
As kind as he was funny, Rob's smile lit up any room he entered. And while he was often delightfully goofy, he was also sincere. "He didn't judge anyone, ever," says SFX's Kerri Mason, whom Rob first hired as a cashier at Discotheque in the '90s. "I felt so safe standing next to him in those very awkward, young years—safe and accepted."
He lived to work and to have fun, most often managing to get both things done at once. "I still work hard, every single day, seven days a week, 15 hours a day," he said in a recent interview, "but it's not work to me, because I love it."
That love was apparent in his creations, from his parties to his posters, to all of the people around the world who considered him a friend. He put his heart and creativity into everything he did, and it showed. "He was so charismatic, and we became like brothers after knowing each other for four years," says Meelo Solis, VP of Concerts and Festivals at Insomniac. "Rob was a politician, a marketing machine, a comedian, a celebrity, and a workhorse all in one."
Our thoughts and prayers are with his family, especially his three-year-old son Rian, during this time. The dance music industry, and the world in general, is better and brighter for having had Rob in it. While no one will ever replace him, we will carry his legacy forward by doing our best, by remembering to be kind, and by celebrating our own precious lives.
"I am sure Rob wants us to move and dance on," says artist Chris Liebing. "We will, always remembering him."
Rian's schooling was greatly important to Rob, and a memorial fund for Rian's continuing education is currently accepting donations. A memorial event will happen at Pacha New York on September 16. 
Follow Insomniac.com on Facebook | Twitter 
---
Share
---
Tags