The Best Places in The Bay to Get a BOO! Worthy Costume
San Francisco may very well be the dress-up capital of the world. There aren't many other places where it's perfectly acceptable to wear a Batman costume at 10:30am, while riding a Vespa, simply because it's Tuesday. Every chance the city gets to dress up, it will—whether it's for Bay to Breakers or Burning Man, San Francisco loves a good costume party. Therefore, what better place for Insomniac to be making its final stop of the BOO! Concert tour than at the City by the Bay?
You can always grab a costume on Amazon, or at a big box chain store—but that's not how we do things in SF. If you're really going for that authentic or unique look, check out these highly recommended stores all within a stones throw of the Bill Graham Civic Auditorium.
735 Haight Street, San Francisco
Don't let the size of this one fool you. It's packed to the brim with top quality costumes, make-up, masks and wigs. If you can't find it on the racks, let one of the friendly staff members know because they're bound to have it in their massive back stock.
1653 Haight Street, San Francisco
Decades of Fashion can only be considered an institution in SF. Cicely Hansen, its owner, has been curating vintage fashion pieces for nearly 40 years and came to the Haight in the 60s when the hippie movement was at its height. If you're looking for some serious throwbacks, this is your spot: they sell vintage designer goods from the 80's dating all the way back to the 20's. On top of that, it's also a celebrity stop and a place where designers buy back their own vintage threads.
1275 Folsom Street, San Francisco
If what you're looking for is a bit more esoteric—like an anthropomorphic owl, or maybe just 50 Brian Wilson beards—then this is the spot. Not only are the costumes top quality and often vintage, but the staff is willing to go the extra mile to help you put together something unique. Just don't show up the weekend before Halloween!
939 Post Street, San Francisco
SF Party is not the place to go if you're looking for vintage threads. However, they always have a vast selection of costumes and accessories even close to the big day. And, if you happen to need a popcorn or slushie machine for the afterparty, they've got you covered.
1452 Haight Street, San Francisco
Like most of the stores on Haight, you'll find yourself in close quarters here. However, the sheer volume of things that sparkle and glow here is enough to make the trip alone. They have tons of faux fur, feathers, earrings, hats, wigs—pretty much every accessory you could want, and probably 10 more that you didn't even know you needed.
2570 Bancroft Way, Berkeley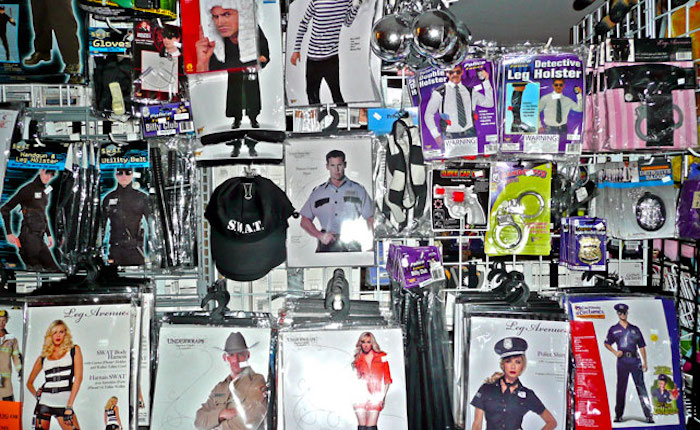 If you're close to UC Berkeley and need to grab a tutu, colored wig or last minute accessory, check this place out. They have everything you could need to cobble together a creative fitter and quite possibly the largest selection of socks on this side of the Bay. On top of that, they offer custom-made buttons!
1238 S Bascom Ave, San Jose
If you happen to be in the South Bay, drop by Natasha's. They've got plenty of options for guys and gals, plus the staff is willing to do whatever they can to make sure your costume looks dope. On top of that, prices are reasonable and they are open later than most of the boutique stores.
321 Linden Street, San Francisco
From what I hear, a good corset is supposed to be comfortable, and having one can be a life changing experience. Corsets at Dark Garden don't come cheap, but they are world-renowned (Dita von Teese was photographed for Playboy wearing a Dark Garden piece) and they will custom fit you for one whether you're a guy or a girl. They also sell premade and do alterations if you find yourself in a corset emergency.
1119 Market Street, San Francisco
The American Conservatory Theatre is San Francisco's premiere non-profit theatre group. Over their 50-year history, actors like Denzel Washington, Winona Ryder and Brie Larsen have performed or participated in the theatres, workshops and classes. Over the years, they've built up a massive arsenal of costumes and they rent them all out at reasonable prices—as long as you promise to treat them nicely! You can check their website, but the only way to really see what they have to offer is to make the trip and look through their catalogues.
---
Share
---
Tags
---
You might also like