The Best of Escape: Psycho Circus 2018
Picking a favorite holiday is almost as tough as trying to stick to a single genre. However, we would be lying if we said Halloween didn't fit snuggly somewhere near the top of the list. Maybe it's the fact that almost single every person shows up to the party fully decked-out in head-turning outfits, ready to make the dancefloor their own personal stage. The self-expression takes on an entirely new level of extreme, and there's honestly nothing more rewarding than seeing all that participation pour out every year at Escape: Psycho Circus. Add in the hair-raising haunted maze, countless killer sets, and an insanely decorated venue to the equation, and you'll understand why we love celebrating the season of screams in the twisted world that is Escape.
There were plenty of priceless moments to go around this past weekend, but below you'll find a few reasons why we can't stop obsessing about the good times that were had.
Swinging Into VIP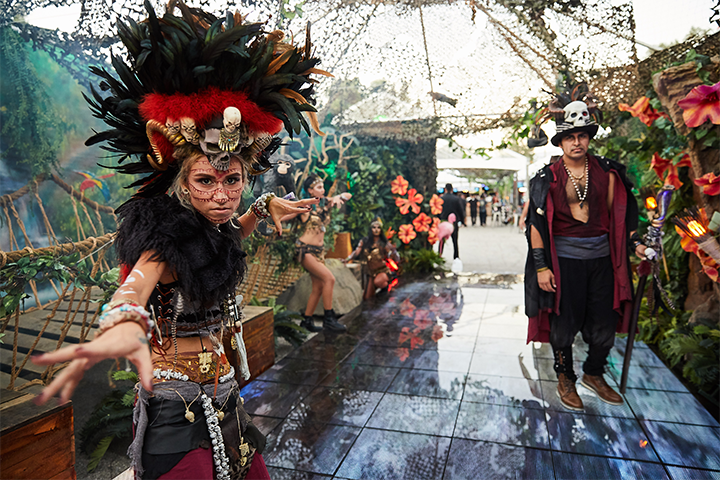 Inspired by the cult classic Jumanji, this year Escape's VIP lounge dripped with tropical foliage and jungle vibes. VIPs were welcomed into the lounge by way of LED floor panels with stream visuals, surrounded by a soundscape of the tropics. If you were in the lounge, which also featured a fully-serviced hookah bar and a tiki hut structure, you could enjoy some downtime at the Bewitched beauty bar, complimentary trick-or-treat station, exclusive food trucks, and unlimited hot chocolate and coffee. —Mindy Chen
Medusa Art Installation Was Straight Flames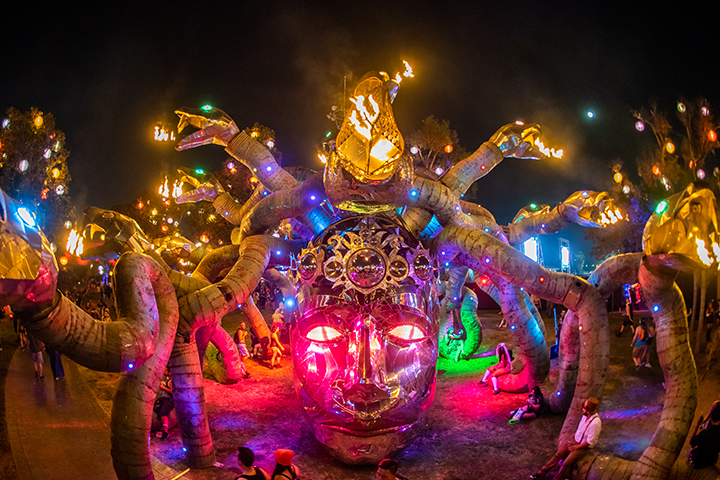 Straight out of a post-apocalyptic barren landscape, the Medusa art installation was a sight to behold. Fashioned out of metal, the larger-than-life sculpture featured fire-breathing serpents stemming from Medusa's cold visage. Complete with pyrotechnics that coordinated between intermittent sparks and a rapid-fire series of flames, the art piece played background to many a headliner's photos. —Mindy Chen
Freaky Photo Op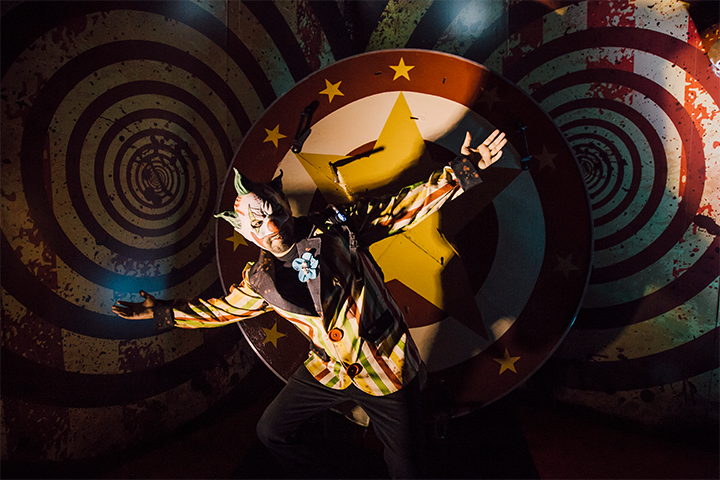 If you were hoping to step up your selfie game at Escape, there was a four quadrant area with your name on it. Located just a small leap away from the Factory 93 stage, this multiple stop photo op had people pulling out their phones on the quickness to cop some quality content. Each section had its own unique prop and backdrop, including an electric chair, a prison cell containing a wooden pillory, a knife-throwing wheel of death, and a cozy vampire coffin. It was a gimme gimme photo (or full-on gallery) that produced the type of pics that could kill the game on the 'Gram. —Sam Yu
Issa Alien Invasion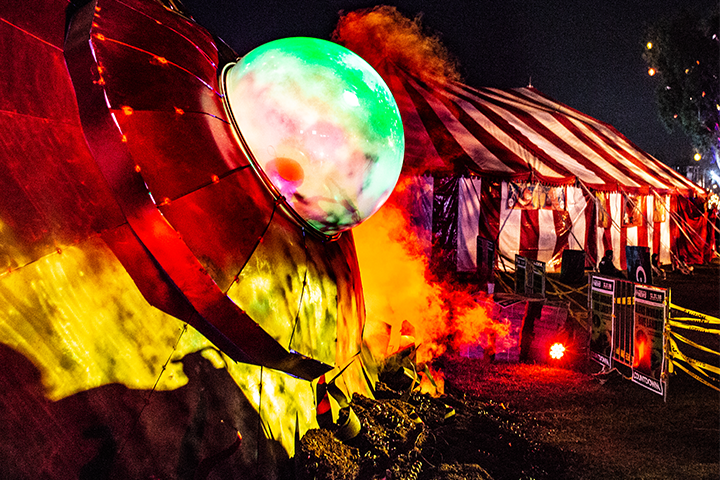 The artwork at Escape: Psycho Circus is always next level, but one installation in particular had Headliners scratching their heads: a UFO crash site just a few yards from the lagoon. Have the aliens finally landed? Only those that have been following the Countdown NYE Instagram know for sure. Need further proof of the impending invasion? Limited edition copies of the Insomniac World News were handed out near the crash site, each one detailing a shocking new story. —Rich Thomas
Bouncing Off the Asylum Walls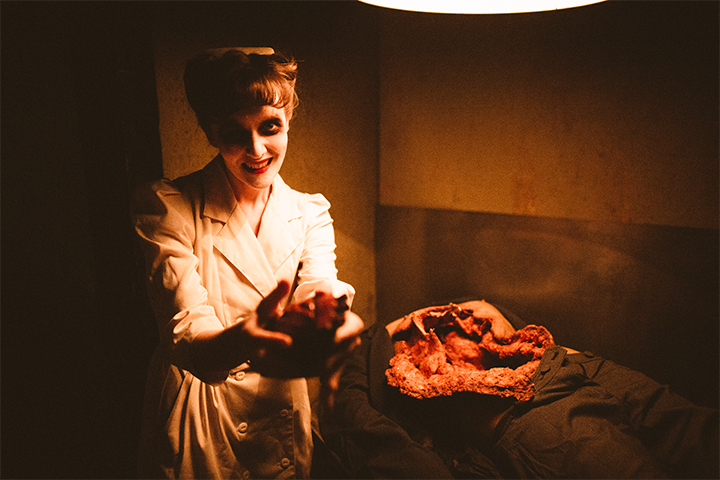 Escape: Psycho Circus' crown jewel, the Wonderland Asylum, brought a new dimension of horror to headliners who dared admit themselves. With 30 distinct rooms in the interactive installation and new frights beyond every dark twist and turn, headliners stumbled through the 20-minute experience in straitjackets and masks. Highlights included the uber-realistic gory bodies and corpses in the operating room, as well as a disorienting walk through a blood-streaked bathroom thanks to strobe lighting and billowing curtains. —Mindy Chen
Shanghai Surprise Speakeasy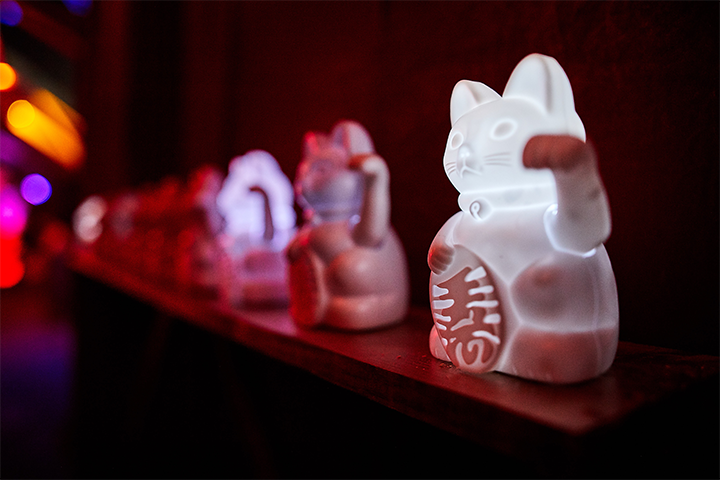 If you were brave enough to tour the Wonderland Asylum—and make it out alive—you strolled past a bloody butcher shop and a nondescript Asian storefront on your way back to the festival. But only those who were alert and adventurous enough to heed the subtle invitation of the geisha posted outside could step inside and through the facade of a fake refrigerator to the Shanghai Surprise, a fully functioning speakeasy featuring rotating DJ sets by member of the Cats & Boots crew. If you needed some respite from the massive crowds but didn't want to be without good music, that was the spot. —Rich Thomas
Getting Spooked by Performers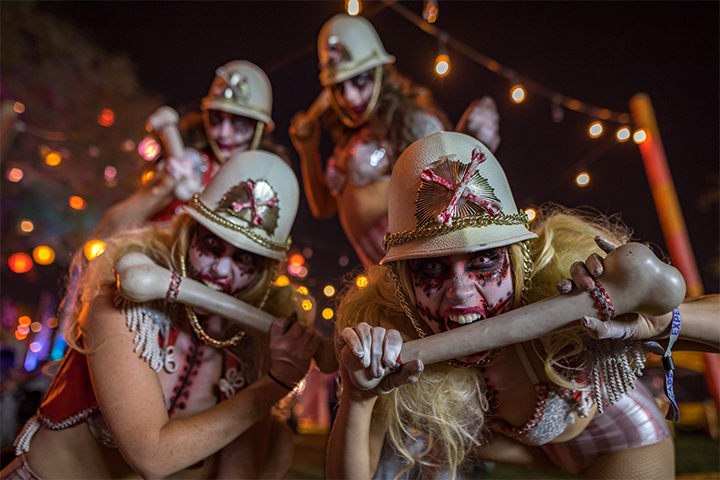 You may have noticed by now that each Insomniac festival has its own dedicated troupes of performers, but MsEasy (the brains behind the performers) always seems to have a field day when it comes to Halloween. Even though every corridor of the Asylum had freaky figures to spare, there were countless others to be found sneaking up on Headliners as they strolled from stage to stage. Scarecrow stiltwalkers, demented clown nurses, zombie marching band members, blood-covered prom court, and a slew of other twisted characters kept things interesting, if not borderline terrifying. —Sam Yu
Not Your Standard Sideshow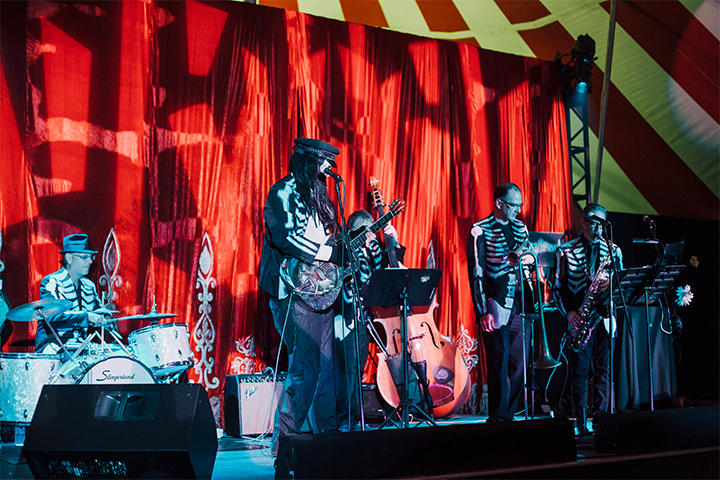 It wouldn't be a proper Circus without a crazy cast of sideshow performers on the itin—and you best believe Escape had plenty of them to go around. Situated adjacent to the NOS lake was a red-and-white striped bigtop tent, housing an assortment of rapidfire performances that either had your gut busting from laughter or your jaw sitting by your shoes from sheer shock. The infamous Super Tall Paul was assigned as the class clown keeping everyone on their edge of their seats in between an array of performances that varied from cringe-inducing contortionists, live bands who were also ironically undead, comedians with a dark sense of humor, and a few of the usual suspects you'd expect to catch at your local freak show. The trickiest part was not getting glued to your seat once you realized a good time like this doesn't come around very often. —Sam Yu
Creeping Through the Circus Attractions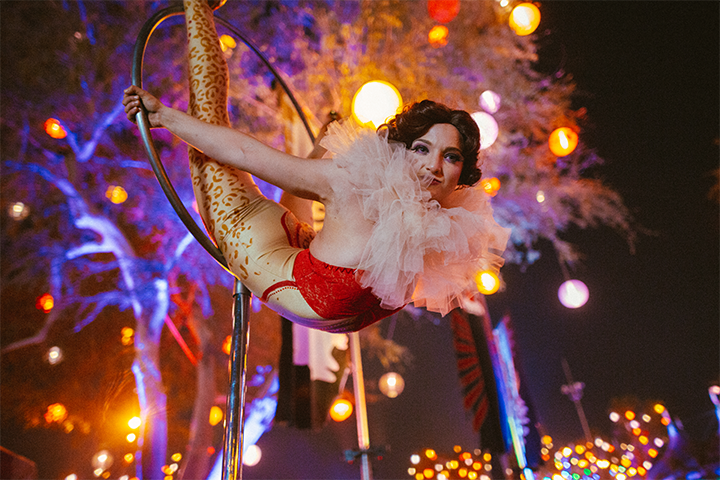 In case sitting down to watch a show is not really your preferred speed, there were also a fistful of various Circus attractions sitting just outside the tent. Interested in testing your strength? Pick up a hammer and try with all your might to ring the bell on the high striker. Curious to know what your future looks like? Grab a private tarot card reading and choose whether or not to believe the forecast. Looking to take a quick spin? Hop on the merry-go-round or the ferris wheel, and the next stop was mile-wide-smile central. —Sam Yu
Soaring With Seven Lions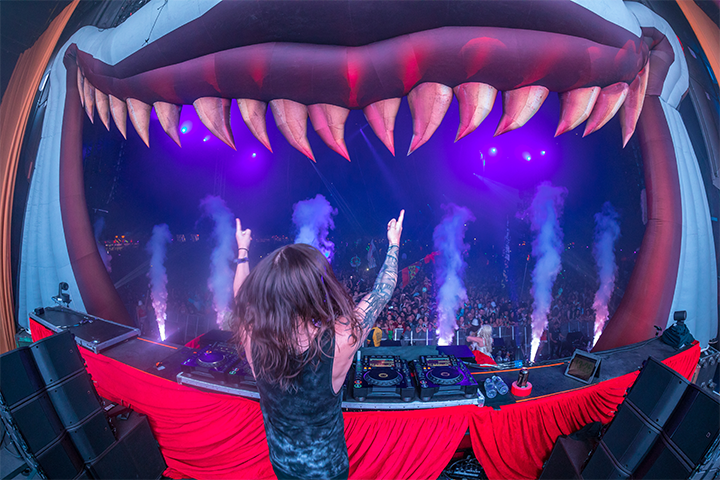 One of the best sets of Friday night was brought to you by Seven Lions. Mixing the perfect amount of cinematic, soaring melodies with ground-shattering drops, his phenomenal production had total control over the enthralled crowd. Coupled with heavenly visuals and omnipresent lasers, his set was truly magical. Not to be forgotten was the close-up footage of different headliners, which showed expressions ranging from pure joy to electrified excitement. —Mindy Chen
With reporting from Rich Thomas, Mindy and Sam Yu.
Follow Escape: Psycho Circus on Facebook | Twitter | Instagram
---
Share
---
Tags
---
You might also like