The Best of Electric Forest 2014

This past weekend, 40,000 hippies, EDM kids, young people, old people, artistic people, nature people, and a few dogs converged on rural Michigan to attend the fourth annual Electric Forest. While the event featured loads of music on five stages, the real star of the weekend was Sherwood Forest, a wooded area packed with art, hammocks, secret saloons, meditation gardens, intimate hangout spaces, and other assorted magic. This is the best of what we experienced.
The Weather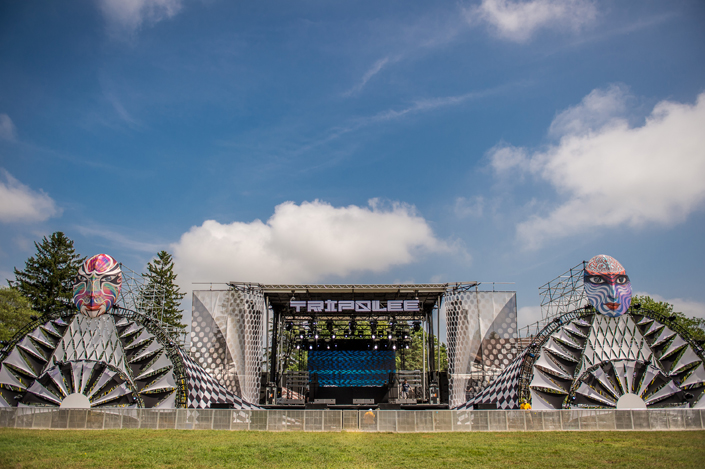 For four days, blue skies and ideal (if slightly hot) daytime temperatures gave way to warm summer nights—complete with shooting stars—that didn't demand a jacket or really much beyond a bathing suit (we definitely spotted a few naked people, too). A thunderstorm and high winds rolled in on Sunday evening, closing the festival 15 minutes early, but the storm largely missed the site and provided an exciting dose of dramatic natural beauty to the festival's climax.
---
Talia Keys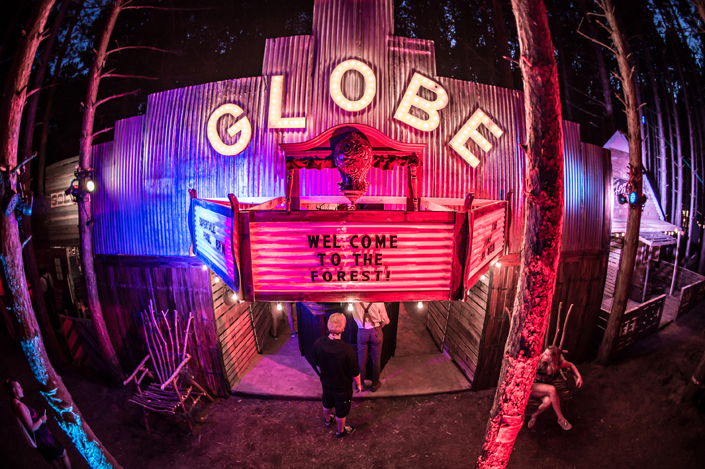 We saw singer/blues guitarist Keys perform in the woods' Globe Theater on Friday night and were struck by her talent, stage presence and refreshing candor ("I was raised Mormon, but then I left Utah and started eating p*ssy"). Her blistering sets weren't even on the official schedule, but with the rapt crowds she pulled in each night, we'll be surprised if she isn't there next year.
---
The String Cheese Incident's Multisensory Spectacular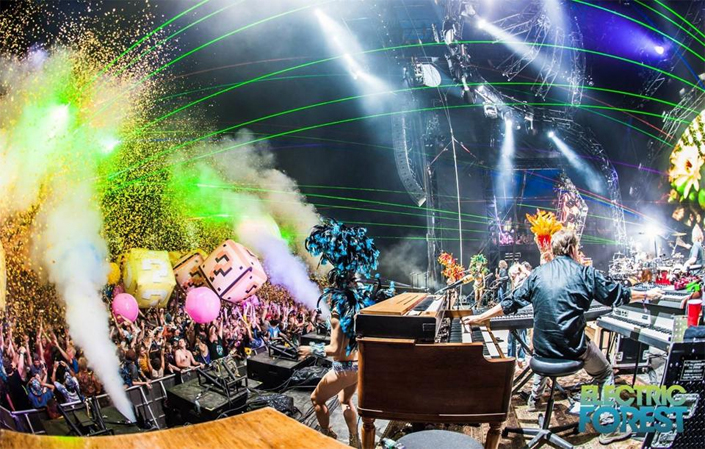 The jam band's Saturday night performance began with a visual production referencing classic video games (Super Mario Brothers, Donkey Kong), to which were added huge Pac-Man puppets weaving through the crowd, to which were added huge inflatable dice, to which were added a woman onstage dressed as Princess Toadstool swinging on a rope, to which was added bursts of butterfly-shaped confetti, flamboyantly dressed Brazilian dancers, fireworks, and the words "plug into nature" flashing on the screen as the music grew progressively jammier. It was a jaw-dropping spectacle of production and pure joy, and while the show was technically a collaboration between String Cheese and Ms. Lauryn Hill, by the time she came onstage after this first song was over, the bar had already been set too high to re-reach.
---
Un-plugging


While cell service was fairly reliable, many people seemed to use the festival as an opportunity to unplug from their devices and reconnect with nature. (One personal highlight involved falling asleep hard on the forest floor at three in the morning, phone completely out of juice.) There were blessedly few phones up in the air during most of the shows, and people seemed to be more interested in connecting with each other and the idyllic surroundings than hanging out on the interwebs.
---
Hammock Hang Time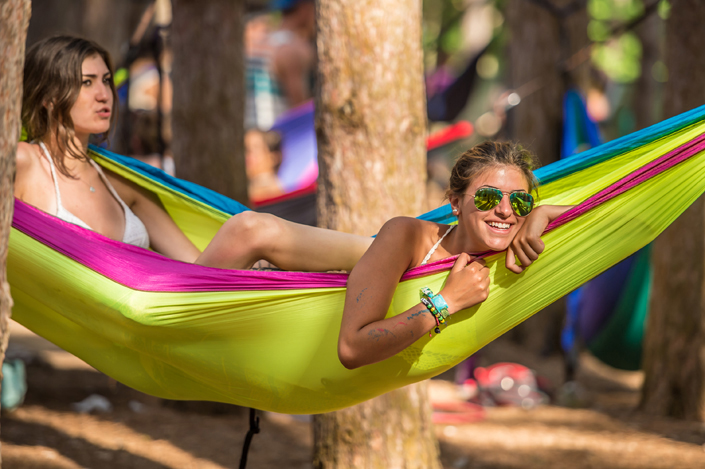 The forest was strung with hammocks that were open for anyone to enjoy, providing opportunities for real rest and relaxation that many other festivals lack. It was not uncommon to see attendees fast asleep in these hammocks, and by the end of the weekend, the forest was so thick with them that crowds could barely pass through some areas (organizers promise that they're working on a solution for this). You could even watch shows from the comfort of your hammock, which we did during the Emancipator Ensemble's Sunday evening set.
---
The Crowd


Electric Forest hosted an eclectic, far-out crowd of free spirits that grew only farther out and freer-spirited throughout the course of the weekend. By the last day, most everyone was wearing face paint, glitter, and three days' worth of sweat. This immersive quality—and the fact that most everyone was absurdly nice, engaged, helpful and courteous—lent to what felt like a true community. If only the whole world could take this lead.
---
Totems Galore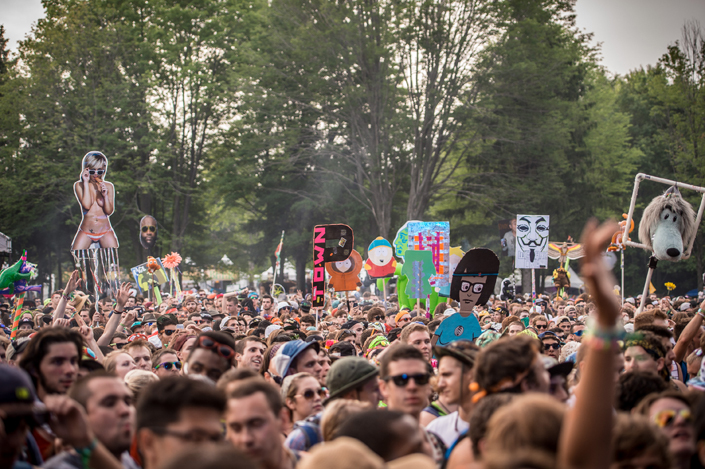 The Electric Forest crowd took their totem game seriously, and we saw loads of hilarious and expertly assembled totems, some of which far surpassed the official height limit. Favorites included Forrest Gump wearing a tie-dyed jacket, Kermit the Frog on a stick, and cardboard heads of several Game of Thrones characters, with Hodor on top, natch.
---
No Lines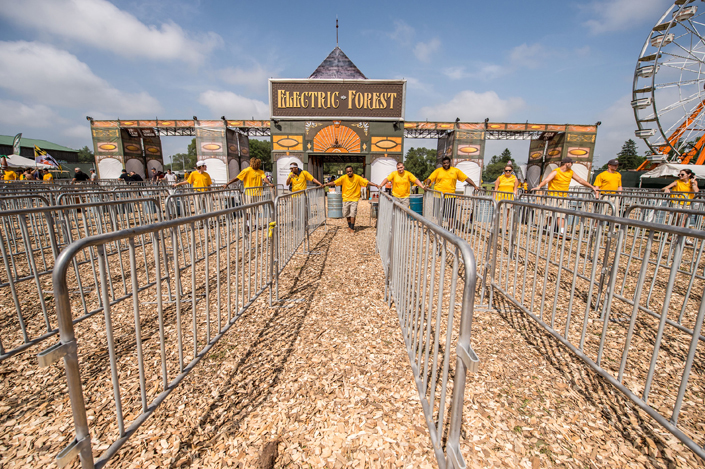 Despite the fact that there were 40,000 people on-site, the festival never felt overcrowded, and the lines for food, beer and bathrooms were rarely more than a few minutes long. Furthermore, it wasn't difficult to get a good spot at a show, as the crowds remained largely dispersed at the stages due to some highly methodical schedule coordinating on the part of the organizers.
---
The Healing Sound Bath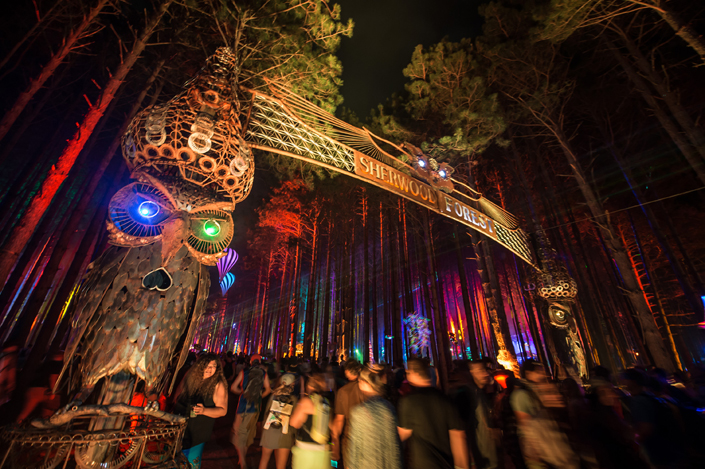 This in-the-woods experience involved sitting in the center of a ring of gongs, which the workers then hit, creating a vibey wave of sound coming straight at your third eye. Organizers emphasized that the sound bath promoted astral travel and connection to interdimensional forms of intelligence. What we know for sure is that it was useful for soothing late night, drink-induced headaches.
---
Sonic Balance


On one end of the forest, you had the Tripolee Stage, which pumped out electronic music by greats including Justin Martin, Bro Safari and Art Department all weekend long. On the other side of the grounds was the jam band-oriented Sherwood Forest Stage. The stages in the middle offered a healthy balance of both. What was remarkable is that the crowd didn't segregate by genres, but seemed largely into exploring both sounds, proving that while music made with traditional instruments and music made with laptops may sound different, the spirit of each genre's fanbase is more similar than many might assume.
---
The Camp Scene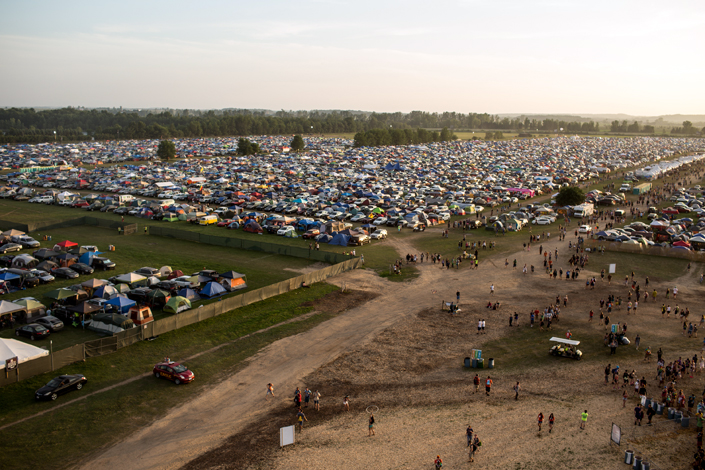 While there was loads of fun to be had inside the festival, the camping area was also a go-to party scene, with attendees hosting big dance parties, cookouts, meditation groups, drum circles and cuddle puddles to infinity.
---
Psychedelic Friendship Bingo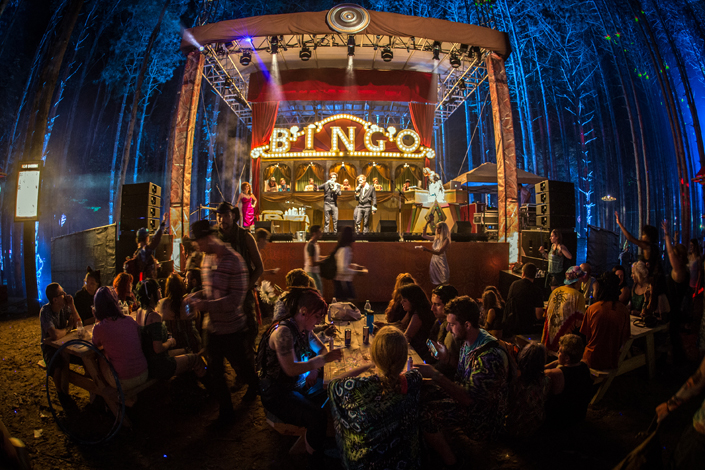 This late-night theatrical performance/bingo game show included dance sessions, improv theater, candy giveaways, many dirty jokes, singing, and a man in the crowd getting painted with mustard for falsely calling out "bingo." It was an appropriately trippy end to each night.
---
Manic Menert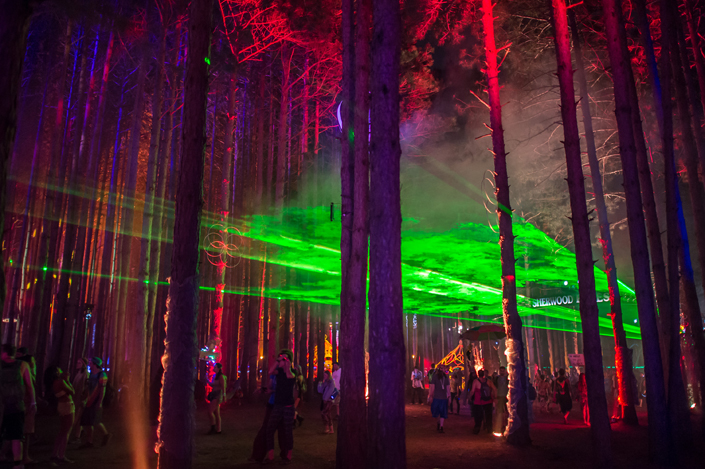 Pretty Lights protégé Michal Menert and producer Manic Focus performed together as Manic Menert on Sunday night, putting on one of the deepest, trippiest, glitch-hoppiest performances of the festival. The crowd was thrilled (and sweaty!), but no one looked happier (or sweatier!) than Menert, who knelt down on the edge of the stage to shake hands with fans after the show, smiling widely the entire time.
---
Effective Garbage and Recycling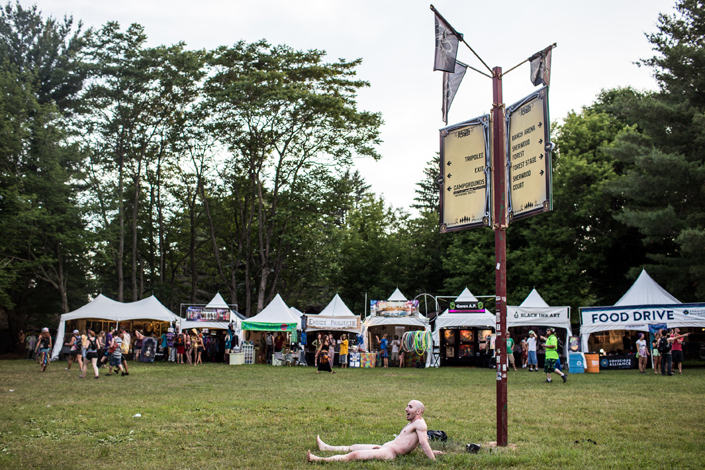 There were plentiful bins for garbage, recycling and compost spread throughout the forest, making this festival far cleaner than most. While not all of this trash was properly sorted, a festival organizer assured us that all refuse would be taken to a backwoods sorting facility, where volunteers would go through it and make sure everything ended up in its proper place. Bless those people.
---
The Art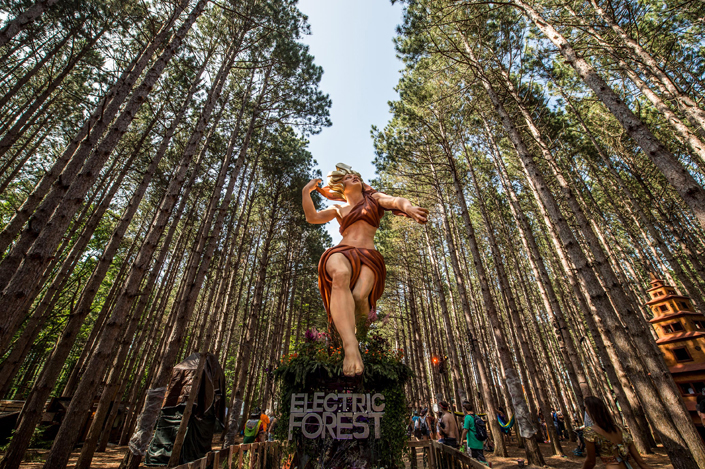 The artistic centerpiece of Electric Forest was The Queen, a massive statue located in Sherwood Forest and created by a Brazilian artist especially for the event. The woods were loaded with tons of other artistic installations, from jellyfish hanging from the treetops, to a huge bird's nest that attendees could relax in, to a DIY art bar, a talent show, and all of the artisan wares being sold by vendors. A garden served as the site for at least one wedding, and an interactive stand allowed festivalgoers to dip their arms and legs in paint, creating a tie-dye effect on the skin. The cost for this wearable art was a mere $10, although the booth's organizer enthusiastically informed us that "boobs are free." Thanks, but no thanks.
---
Kyle Lindemann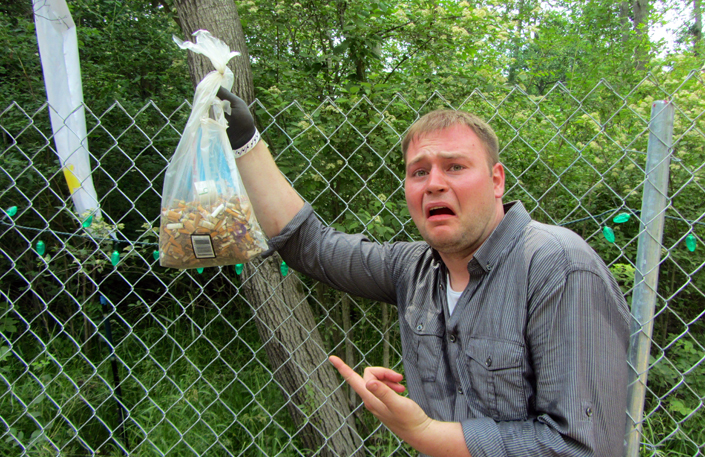 We met this guy on the trail in the forest on Saturday afternoon while he was methodically picking up cigarette butts off the ground. Turns out that he didn't work for the festival, but was just regular a guy doing a solid for the earth. "I'm just trying to be a better person, because the last few years of my life, I was kind of a shitty person," he told us. "The reason that I'm doing this specifically is because I feel like this festival has given me so much, and this is the least I can do to give back."
---
The Fungineers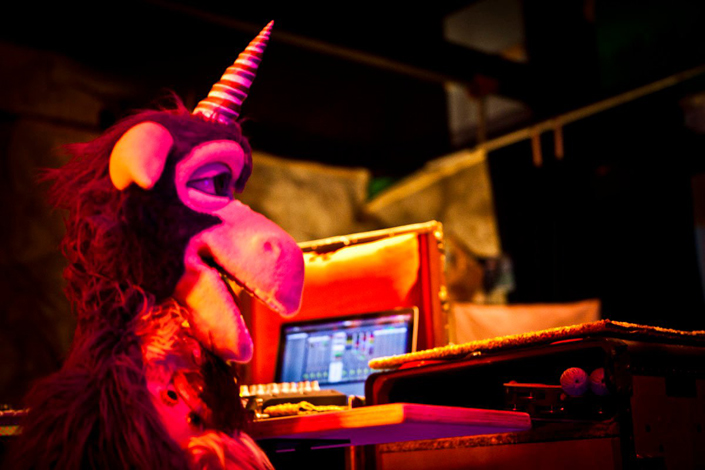 This musical performance/puppet show featured a woman dressed as a dinosaur attempting to have sex with a tree, a sexy R&B crooning platypus, and two rapping monkey puppets with horns (their best lyric: "Have you ever had sex with a unicorn? You will!"). Altogether it was a loopy, whimsical, hilarious and danceable happening in the heart of the woods. You just kind of had to be there.
---
Where's Carl?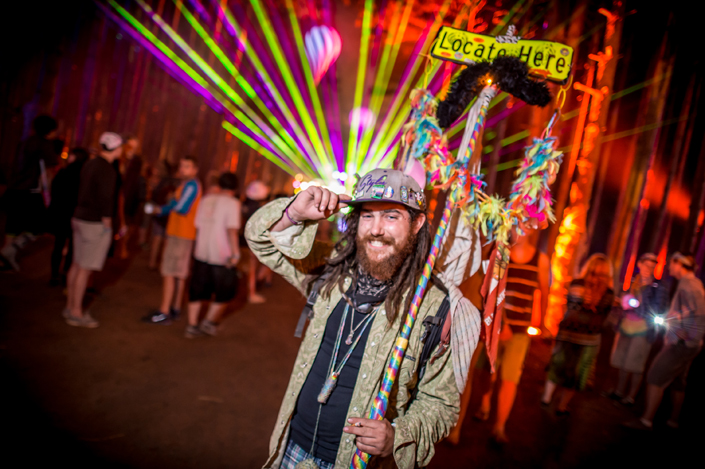 It was the best inside joke of the festival, as seen on many a T-shirt and totem, and as heard being shouted intermittently in the woods throughout the weekend. If you know, you know.
---
Share
---
Tags
---
You might also like