The Best of EDC Orlando 2017
Upcoming Event
Out of all the places we like to get our boogie on, Orlando definitely holds a special place in our hearts. The city itself is one giant tourist attraction, a one-stop shop for families hopping from one top-tier theme park to the next. But for one weekend a year, our own fam of festival-loving freaks gets its moment in the sun, as we chase the kind of thrills that those other spots down the road don't offer.
EDC Orlando is a popup playground of sorts, and this year's edition turned out to be one of the most exhilarating ones to date. While we could easily spend an entire week chatting about what made it so freakin' unforgettable, we're just going to drop off a few cliff notes style highlights instead.
First Timers Getting in on the Action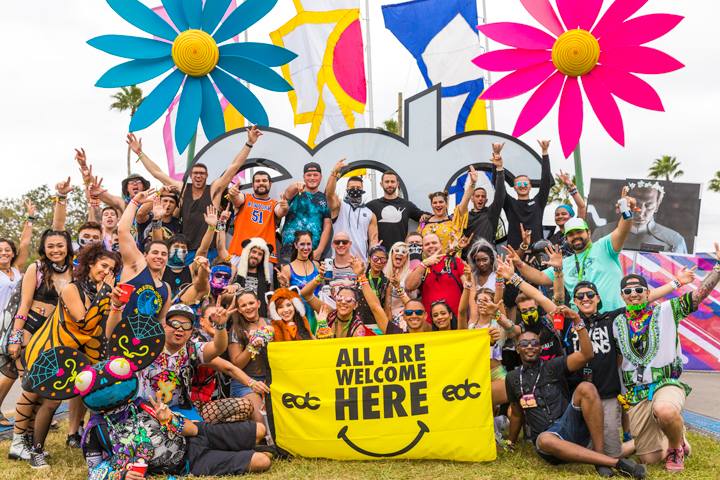 One of the deciding factors for opening up more venue area was driven by the fact that, year after year, more new bodies have been passing through the figurative turnstiles. First-timers were in full force, and it seemed as though every other person we ran into was handing in his or her V-card. The best part about this job is being able to roll out the red carpet for the newbies, and seeing a new generation of party people latching onto a lifestyle that means the world to us.
Stretching Out the Festival Grounds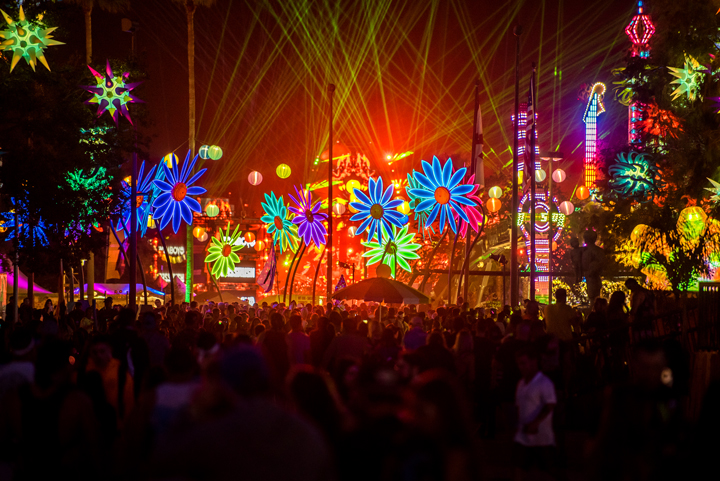 No one can hate on a the idea of having a little extra breathing room, and that is exactly what we got with the expanded layout this year. All three stages were granted a generous amount of square footage to call its own, with circuitGROUNDS settling in across the street where the eastside perimeter got pushed back a few hundred feet. The new floor plan made it so sound bleeds were even more of a nonexistent issue than before, and ultimately gave each dancefloor more than space to stretch their legs.
GAIA Opening Up Her Arms to Orlando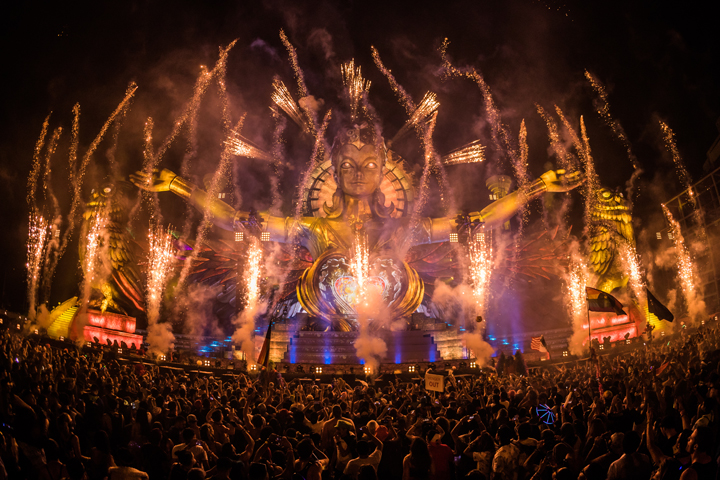 After debuting earlier in the year at EDC Las Vegas, our kineticGAIA stage was put into shipping containers and hauled across the country. As you might have guessed, Orlando was the destination on the shipping label, where the life-giving matriarch would get built back up again in all of her breathtaking glory. She was not the only transport on the list, either. There were also a shit-ton of fireworks, LEDs, c02 blasters and pyro for days trucked into town, so those over-the-top intermezzos and opening/closing ceremonies could let you feel the full effect of the mother of all stages.
Giving New Art a Spin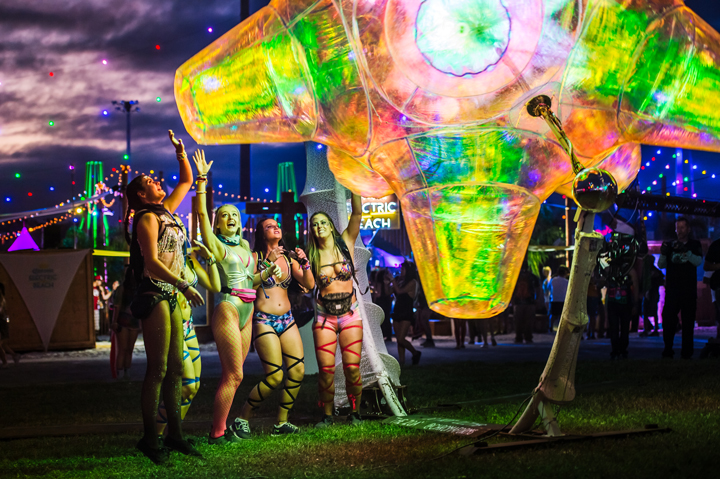 Anyone with some spare time to kill hopefully used it to check out the handful of art pieces that were scattered around the outskirts of the stadium. They were hard to miss. Most of the installations have become regulars at this specific stop of the Carnival, including the row of illuminated daise and the towering bamboo structure that doubled as shade in the day and a landmark to reconvene with the squad. A new addition to the roster this year was a huge hit, a crazy colored, translucent tumbler that sat by the bank of the lake. Day and night, people crowded it, waiting for a chance to spin the object on its axis as their friends posted about it on Insta.
Having a Ball at VIP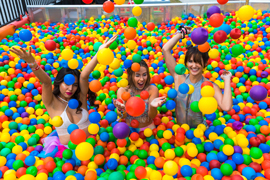 There were two fully tricked-out sections—one at kinetic and the other at circuit—where those who threw down a few extra dollars could live the festival life in style. Flashing a VIP wristband at the designated entrances got you a whole host of perks including tasty food trucks, a plush af Skydeck, DIY kandi making station, and special viewing areas by the front of both stages. The most outrageous amenity of all, though, was an adult-sized ball pit that you can flop around inside while a friend babysat your drink.
Balloon Aeralists Taking Things Up a Notch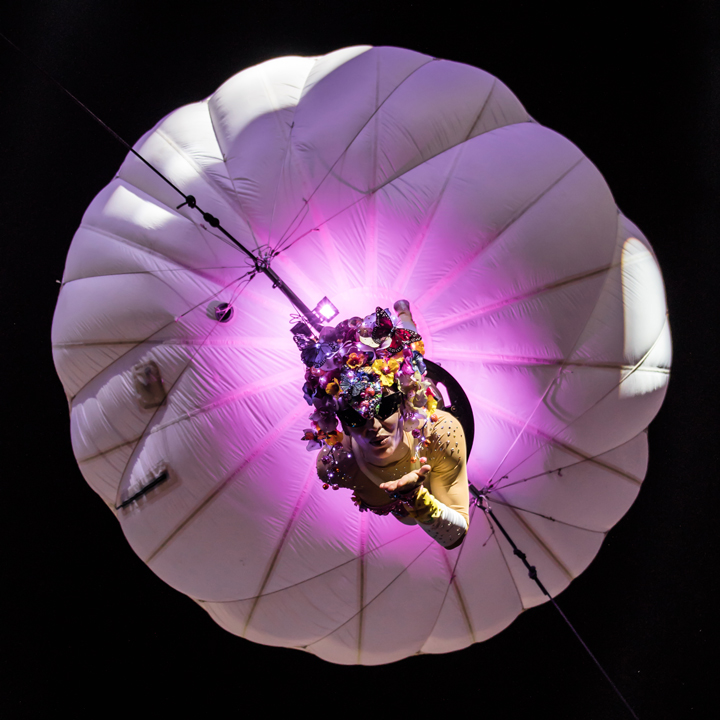 High-flying feats are impressive on their own, yet the brains behind our performers department devised a way to up the aerialist game even further. A large white balloon was filled up with what one would assume is helium, and then towed it through the crowd while an acrobatic female dangled in the most insane inverted poses. Scoring a selfie with her as she floated a few dozen feet overhead was the kind of content that earned you more than a few replays on Snapchat.
Airbrush Tattoo Seshes
Flash tattoos are cool and all, but they don't get you nearly as many cool points as their airbrushed counterparts. Smirnoff Forever was a must, if you wanted a professional to turn your body into a walking gallery. An in-and-out stencil job meant adding some personality to your festival look on the quickness, the process being shorter than the amount of time it took to knock back one of their signature cocktails.
Diplo and A-Trak Had Each Other's Back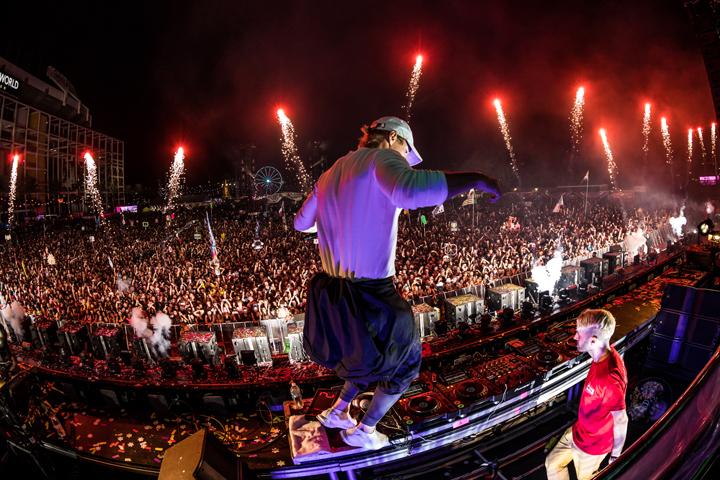 Rather than putting on a normal routine, two of the highest profile acts from the festival split a single kinetic slot on Friday. Diplo and A-trak went in on a back-to-back set that unsurprisingly pulled a wall-to-wall turnout. On their own, they're known to champion a level of eclecticism that could stump Shazam in an ID challenge. Put them side-by-side and anything becomes fair game. They tore through the usual suspects—because an anthem is an anthem—but the mash-ups and fast-paced mix-ins made all of the difference.
Kaskade Guided the Golden Hour
Although he's one of the most seasoned closers the scene has ever seen, Kaskade humbly took an earlier set time just so he could carry the crowd through the golden hour. Someone of his stature is rarely ever scheduled at dusk—this fact did not go unnoticed by the swarms of fans that showed up extra early to watch him work the sunset shift. A discog like his couldn't be any more perfect for dusk, and he had all the right records dropping at all the right times to make you really appreciate those soft orange and pink hues slowly fading in the sky behind him. Naturally, Ryan went the Redux route, and we don't blame him for it whatsoever. Tracks such as "Love Song" and "Nobody Like You" (and, of course, the king of all classics, "I Remember") felt like they were written with this exact moment in mind.
Carnival Rides and Zip Lines Is Where the Party's At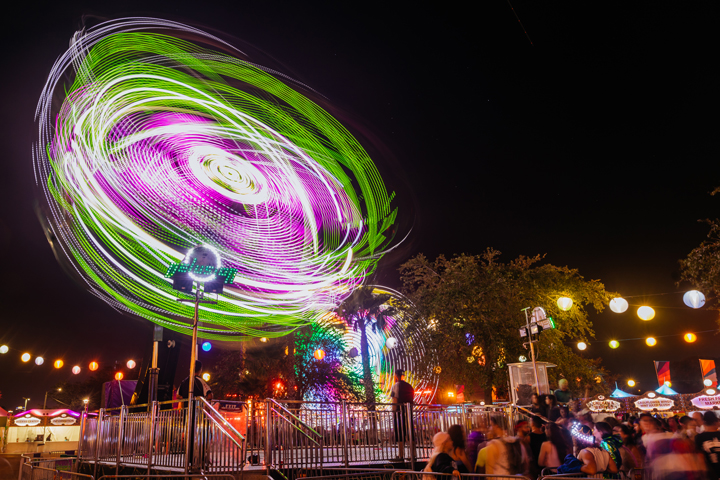 Exhilaration is lurking around every corner at EDC, but perhaps the most pragmatic approach to piling it on was to queue up for a ride and let the g-force take care of the rest. Headliners had their pick of carnival staples, which ranged from the low intensity swings to the scream-your-face-off orbiter. Not in the adventurous mood? The Ferris wheel was an easy way to go for a spin without potentially losing your lunch. Those who wanted something a little less conventional could stream down the zip line under the guise of taking a shortcut from one side of the lake to the other.
With reporting from Sam Yu.
Follow EDC Orlando on Facebook | Twitter | Instagram
---
Share
---
You might also like