The Best of EDC Las Vegas 2019
Now that the confetti has settled and most of us have retreated from the desert and made our best attempt to normalize back into society, it's likely those post-EDC Las Vegas blues are starting to sink in. It's natural. The three-day festival—weeklong, if you're taking into account the dozens of EDC Week events and the ever-growing Camp EDC experience—becomes your home-away-from-home, in which you're surrounded by a family of festival-goers, life-affirming vibrations, and an endless list of surprises scattered throughout the Speedway. It was an EDC for the history books, and there are many reasons why we will never forget it. And since we still can't stop talking about it, we figured it would be fun to do so in our sizzle reel style that we like to call the Best of EDC Las Vegas.
Record-Breaking Year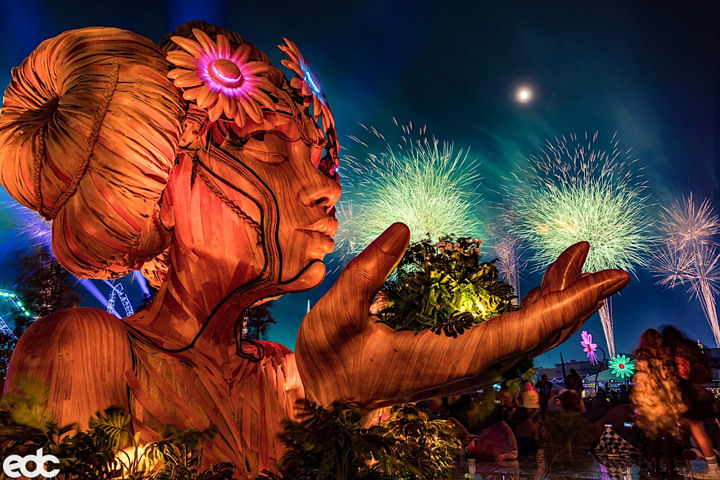 Nothing is more rewarding than that feeling when you bring in a new member into your inner circle. Our rave family is now a global phenom, as EDC Las Vegas drew in its biggest attendance in history as we officially took the title of being the largest dance music festival on the face of the Earth. Wow. And with that record-breaking headcount, the footprint opened up even more inside of the Speedway to welcome all of the wonderful new members of our international community.
Camp EDC Kicks Off the Festivities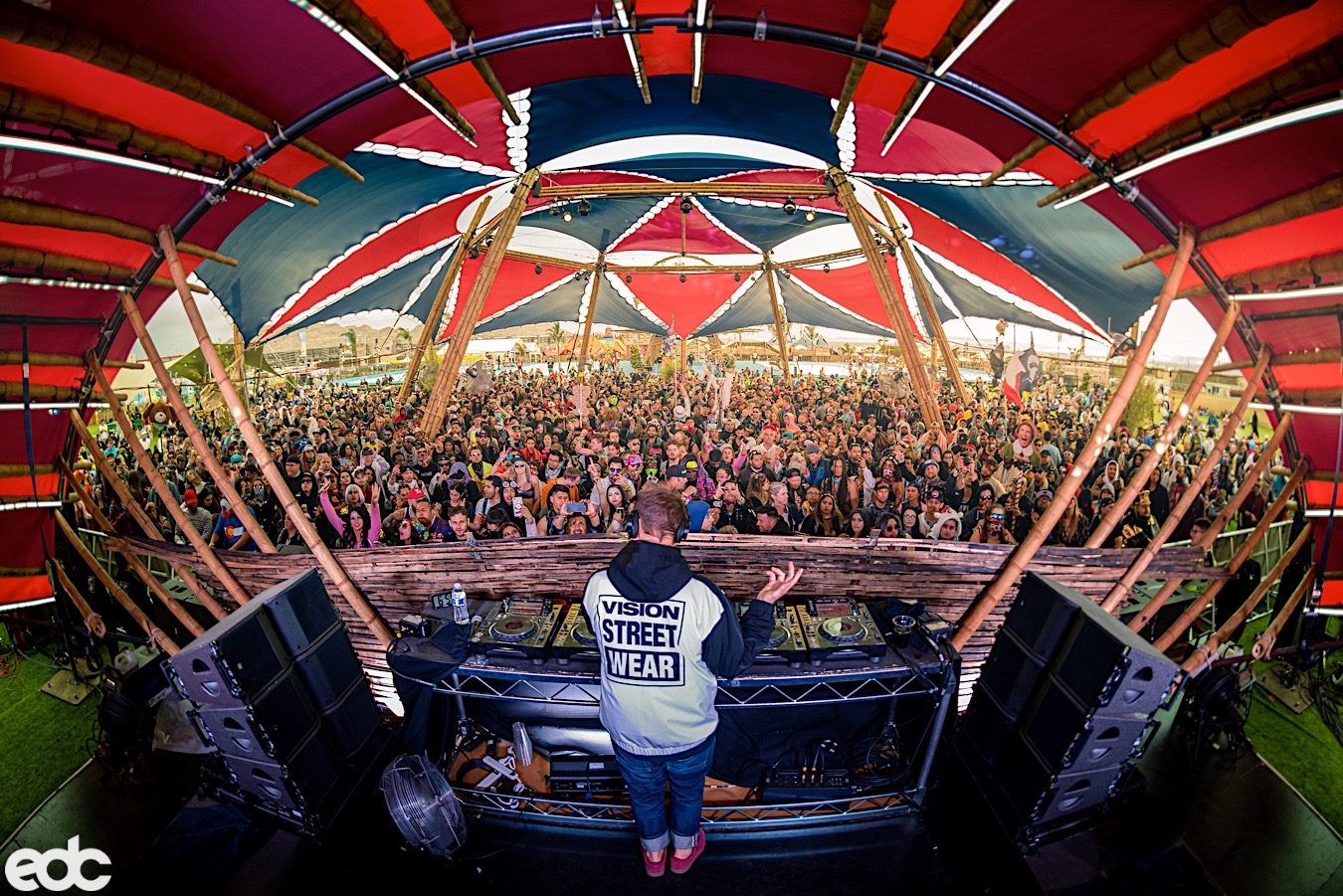 Most people might claim the fun starts on Friday, but that's only if you're not lumping yourself in with the thousands of eager-eyed revelers who made the right call to secure a spot at Camp EDC. With an expanded layout and upgrades implemented from top-to-bottom. To say version 2.0 was a step up from last year's inaugural campground would be an understatement, and nearly double the amount of people came through this time to tack on a gang of extracurricular to their EDC experience. Three shaded structures had rotating programming that ranged from goat yoga, slack-lining tutorials, appointment-based salon seshes. Just a quick hop away were three giant pools side-by-side in case the mood called for a quick dip. And to top it all off, campers had their own personal pre- and post-parties each day, with the host honors going to Fisher's Catch & Release imprint, HARD, Insomniac Records, and Bassrush who were all tapped to program their own day of poolside slappers.
Bill Nye Dropping Knowledge During Opening Ceremony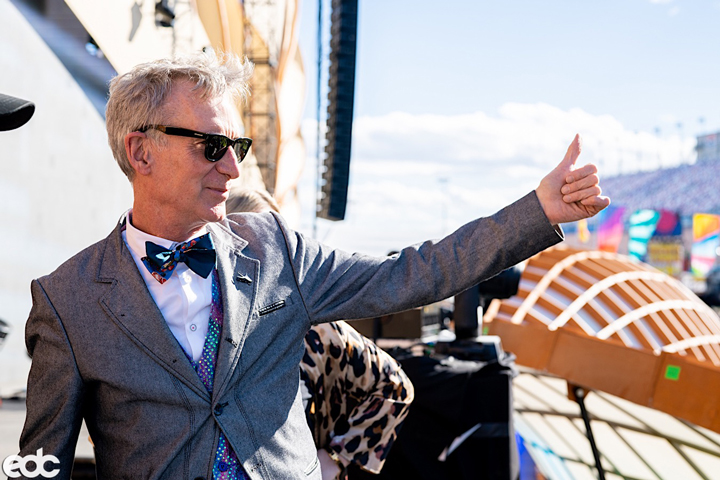 You remember that super nice and smart dude from your childhood who made science class more fun than it should have ever been, right. Bill Nye was kind enough to help us roll out the kineticENERGY theme this year alongside Pasquale as they broke down the scientific meaning of energy and how it relates to our world. Well, he also helped the early birds of EDC get their nerd on during the opening ceremony, where he not only MCed like the boss he is, but also dropped just much needed knowledge about the dangers of climate change and reminded us that not keeping ourselves in check is certainly not the move here. Props to Bill Nye for keeping it real while urging everyone to smarten up.
Plugging Into the kineticENERGY Theme
The theme we mentioned up above truly came to life with this year's kineticFIELD stage design, a futuristic mindfuckery that plugged into a fantasyland where man has melded with machine. Two adjacent cyborg faces watched over the dancefllor in opposing directions, meanwhile the circuitboard backdrops behind them housed sleek LEDs, gushing waterfalls, a grip of lasers, and enough pyro to level a mountain. Boom.
Strolling Through the Scenes of Downtown EDC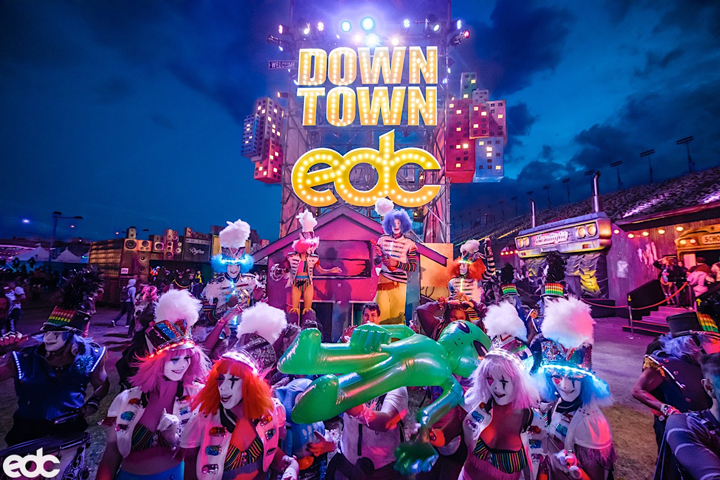 Propped over on the patch of grass near cosmicMEADOW used to be the wacky word of EDC Town. The immersive area was transformed into a hip metropolitan hangout, with a whole new look and feel that Yelpers would have checked into all weekend long. The neon-lit facades of its buildings piqued the curiosity of passerby to pop their heads inside to indulge in a slew of left-of-center spectacles including a throwback hip-hop club, a fully fab drag queen show, a cool karaoke club and a mini-bar shelling out tiny refreshments on the house.
Crushing Cars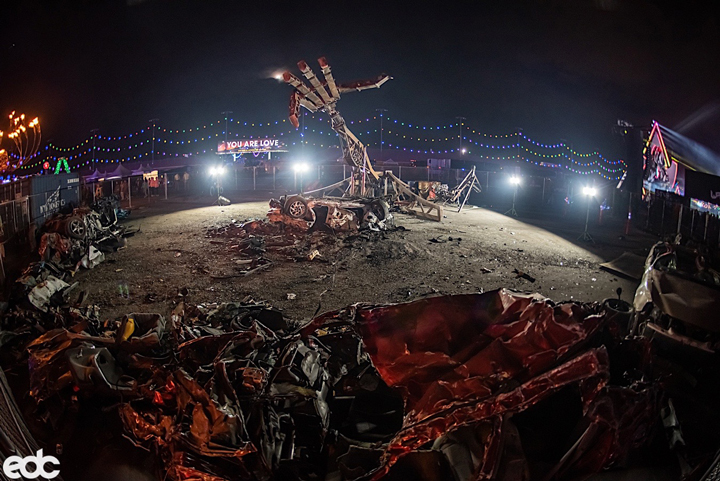 Causing destruction might be the last thing on your mind when walking through the gates at EDC, but your tune might have changed if you wandered near wasteLAND and stumbled upon an art installation that invited you to crush cars with a robotic arm. Sign us up. One at a time, Headliners took turns climbing into a command post and put on a glove that was linked to a giant hand. This hand game them full control of a Hulk-sized robotic five-fingered appendage mirroring their every move. Within its reach was a small lot of abandoned cars that were rolled out and ready to get smashed to pieces. Seeing people throw out small gestures like a thumbs up and hand-horns was oddly just as satisfying of a sight.
Frolicking Through Pixel Forest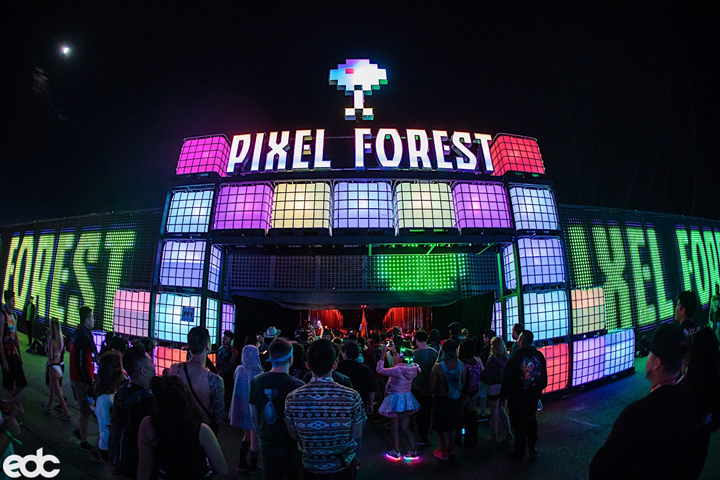 A few LED panels can really go a long way. Ask anyone who spent some time wandering around the Pixel Forest, a new immersive art exhibit that brought the potential of 8-bit lighting and design to life with an art installation that was essentially a mesmerizing lightshow that everyone was raving about all weekend long. Headliners were invited to enter a long, dark corridor where a mind-altering pattern of lights zoomed by in time with a score that sounded like you were zipping around the galaxy at lightspeed inside your own personal psychedelic spaceship. On top of this audiovisual trip, there were also the Icarus art decked out with video gaming consoles loaded with games like Super Smash Bros and other titles that made that corner of EDC feel like a true gamer's getaway.
Skrillex Sneaks Up on circuitGROUNDS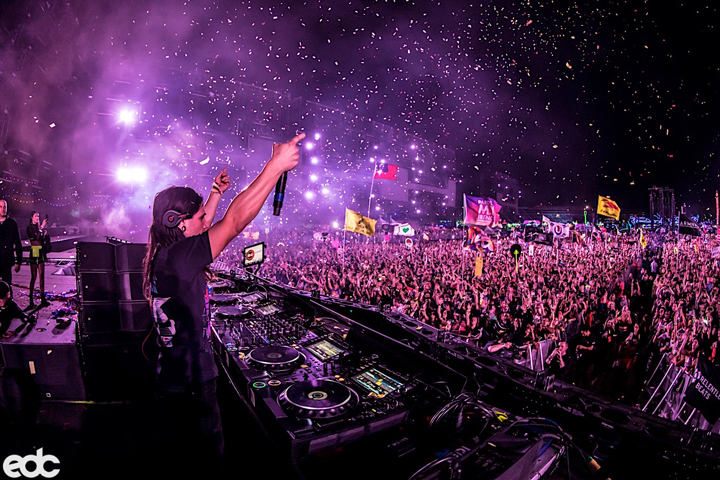 One of the most asked questions we get from Headliners is "when is Skrillex going to come out of hiding." Providing an answer has been damn near impossible, considering the OWSLA head honcho was adamant about keeping a low profile from the domestic festival circuit. He had been MIA from any EDC action for a hot minute, not counting the international appearances he made in Mexico and Japan. But after a sneaky Tweet from Pasquale on Saturday, speculation that Sonny would be one of the surprise guests for the night began to spread like wildfire. Those suspicions were confirmed at 10:30 pm when Skrill went ninja mode and hopped on the decks at circuitGROUNDS, in which he gave the dancefloor exactly what they've been begging for by banging out his latest bits like his remix of "Sicko Mode," his JOYRYDE collab "Agen Wida,"and the VIP of "Face My Fears." The secret must have gotten out quickly, because midway through his set, the turnout of the crowd was practically the size of a small city.
Snuggling With the Newest Performer Troupe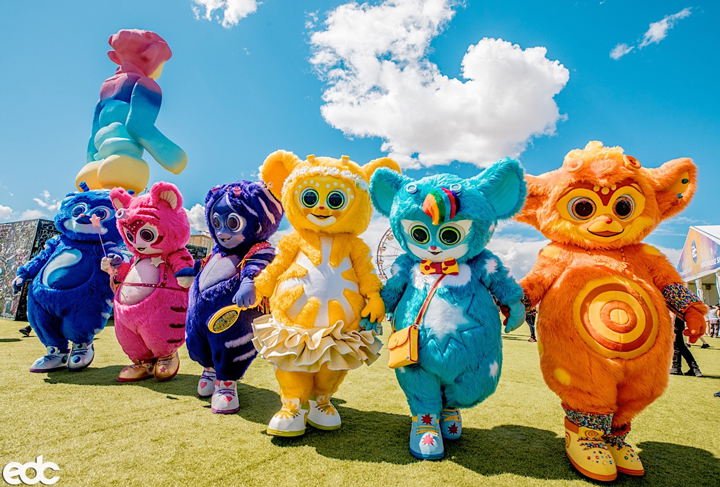 Interacting with the many troupes roving around the grounds of EDC could easily be a festival in and of itself. The colorful cast of characters on call throughout the weekend is the size of a small nation's army, as hundreds of over-the-top performers dance, twirl, roleplay, summersault, jaunt, joke, and do all that is in their power to ensure every smiling soul they encounter is greeted with a good time. Almost any talent you can think of is being showcased with extreme skill, from tesla coil combat to high-flying trampoline stunts. Plopping around in the far less dangerous department of showmanship were the newest editions to the performer family this year were the Rainbow Rascals, a sleuth of wide-eyed, furry friends who paraded around offering snuggles to strangers in no short supply. Because who doesn't like long and fuzzy hugs?
Mobbing With A$AP Rocky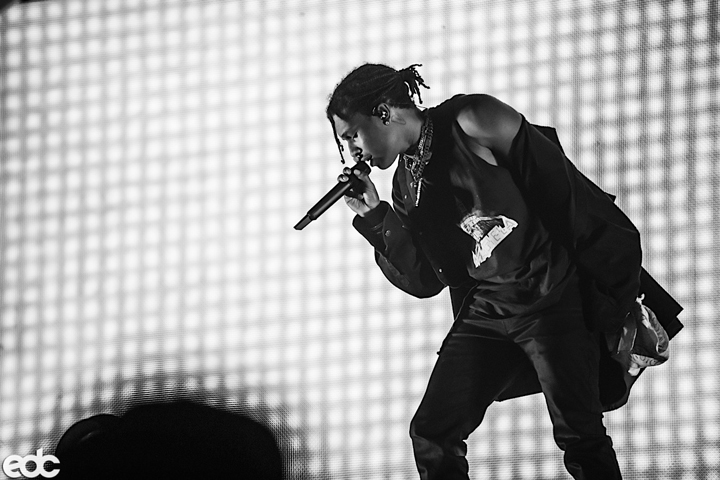 If you've ever found yourself at any of the HARD parties, you would know that the crew gets a kick out of bridging the gap between the worlds of dance music and hip-hop. They've spent the last decade or so putting heads up on the dopest names from both of those communities combined, and they're roster at cosmicMEADOW was all the proof you need that they have their ear glued to the ground. Repping for the rap side of the spectrum this year was a riled-up appearance by ASAP Rocky, who didn't waste any time ripping through his radio-ready hits like "Plain Jane," "Praise the Lord," and "Pick It Up" without skipping a beat. In a time where hip-hop is enjoying a massive resurgence, his set couldn't have come at a better time. 
Skream and Rusko Take It Back at bassPOD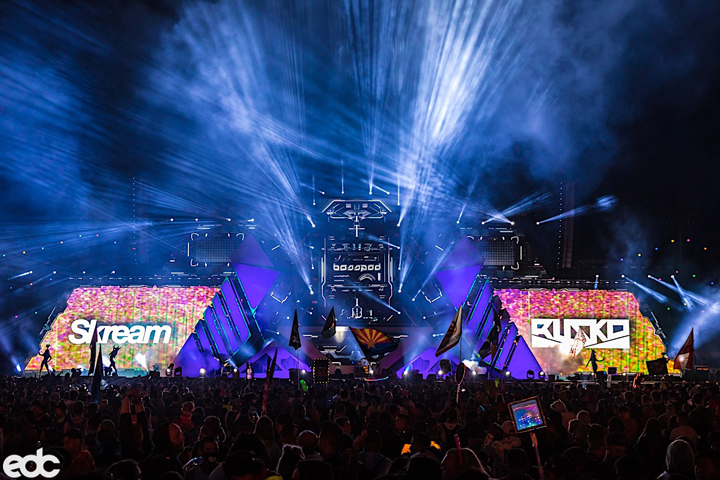 Bassheads nowadays are always clamoring about how riddim is life, but that movement would have never been possible if it weren't for the trailblazing efforts put in by the founding fathers of dubstep. Skream and Rusko were the original bricklayers of the genre back before the sounds splintered off into what we now know was rail-riding dubstep, and the pioneers agreed to host a history lesson for the young-ins by putting the b2b between their names and handle business on the old-school tip. It's a move that has laid dormant for Skream, since the UK artist has been devoting his time to the house and techno streams. However, he rebooted the old project with his pal Rusko for an exclusive one-off that saw the pair kicking out classics such as "Midnight Request Line," "Where's My Money," the bone-chilling remix of La Roux's "In for the Kill" and more iconic cuts from their catalogs that put dubstep on the map in the first place. 
ZHU Unleashes Both Aliases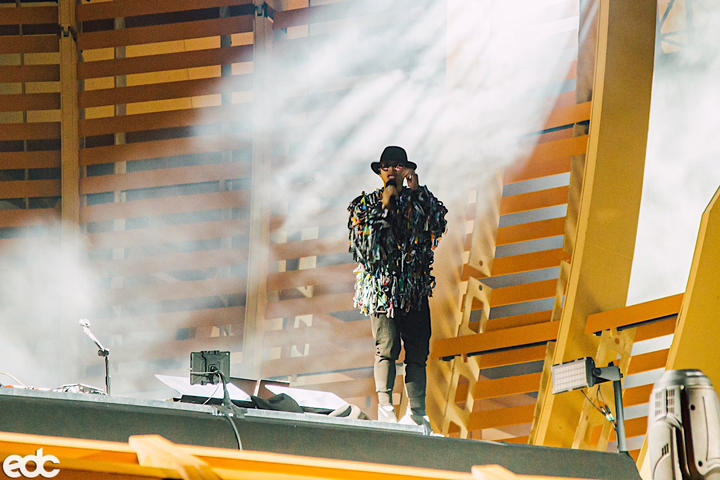 Nailing down your sound with one project is a challenge in itself, but juggling successful monikers at once is a job only few people can pull off. And it pays dividends when it does. Case in point: the smooth crooner known as ZHU, who touched down at EDC with two separate appearances spread across two nights. On Friday, he whipped out his Blacklizt alias at circuitGROUNDS with an hourlong performance that touched on the deeper, darker shades of his genius. He flipped the flavor back to what most of his fans are used to on Saturday at cosmicMEADOW, dressed in a custom outfit made from wristbands of his followers around the world while hammering out the sing-along staples such as "My Life" with Tame Impala, "In the Morning" and, naturally, the record responsible for blowing his profile up in the first place: "Faded."
 Synchronized Fireworks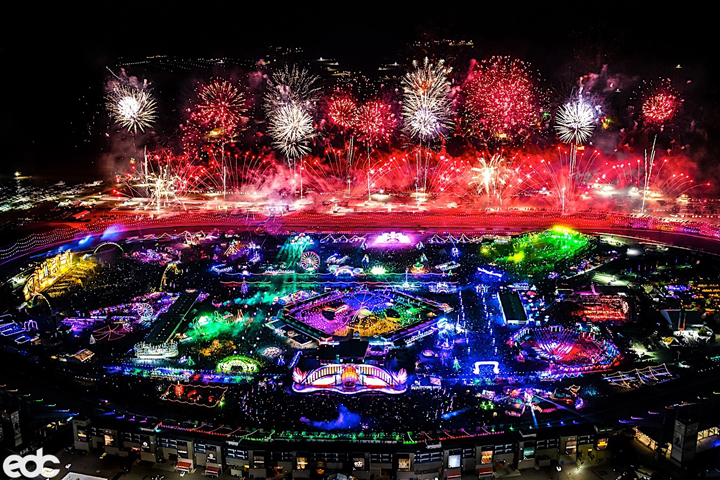 While the fireworks show at EDC puts every other one on the planet to shame—including the one happening nightly at the king of the theme parks—what it was lacking in comparison to the amusement park versions was the story being told by way of synching the explosions to a soundtrack. This year, we forwent the shock-and-awe approach to try our hand at a more unified version, which involved some crazy time-coding and pyrotechnic programming that is far more complicated than we have time to dive into here. What we can say, though, is there was a seven-minute set planned that used tracks like Chemical Brothers' "We've Got to Try," Moby's "Thousand," Charlotte de Witte's remix of "Space Raiders," Habstrakt's "All Night" and many more blood-rushing records to create a story arc that played across every stage of the festival while the sequence of painstakingly timed fireworks lit up the sky in unison for the first time in EDC's history. A technicolor milestone that took one of the most anticipated moments of the weekend to new heights.
Crashing Art Cars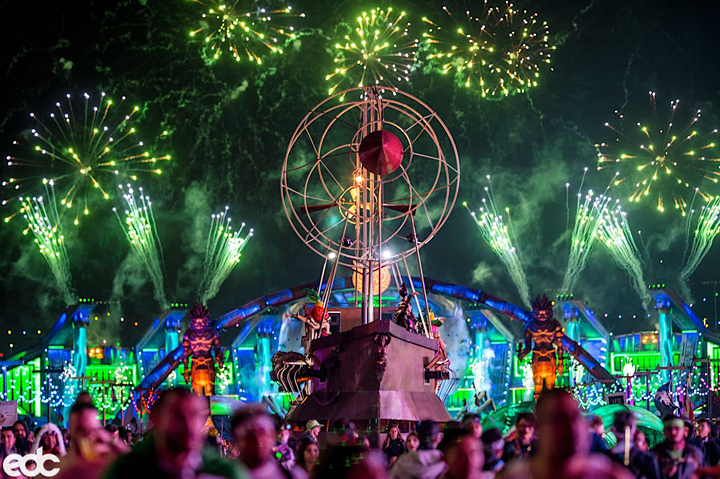 Although smaller in stature compared to the official stages situated throughout the Speedway, the side parties popping off at Art Cars should never be overshadowed. These massive vehicles are not only a mini-rave on wheels, but they are also a strong source for people to dive into music discovery. There were virtually as many art cars as there were stages, and they were parked around the corner from any which point you might find yourself at the event. Insomniac Radio, mau5trap, UKR and Brownies & Lemonade were a few of the hosts who curated their own respective nights, and when all was said and done, helped double the roster from EDC's already stacked lineup. Some of the artists booked on one stage also trickled over to pop up for surprise sets, including Deorro, Kayzo, and Salvatore Ganacci. The beauty of these bonus appearances is the artists have the freedom to play an entirely different performance, like Alison Wonderland crashing the Parliament Art Car to throw down an all-house set that had heads jamming to an unexpected tempo.
Cooling Off During the Closing Party at Camp EDC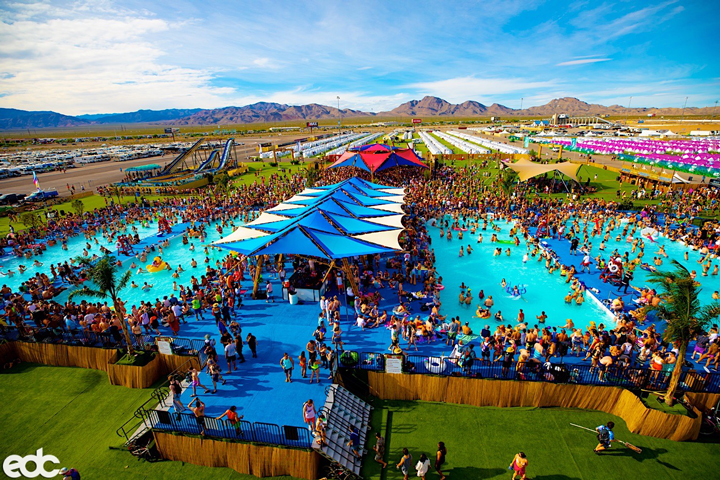 As the sun began to creep up over the horizon on the final day, the Meza was barely warming up for a closing party that allowed the campers to squeeze in some extra boogying before they had to head home. Solardo warmed up the space first, donning their signature floral button-up shirts as they gave the crowd a solid sunrise sendoff. Artbat and then Eli Brown took control, as the energy increasingly crept towards an afternoon delight. It was a nice way to cap off the biggest EDC Las Vegas to date, and presumably even more heads are doing to opt in for camping to help us close out the weekend next year.
Follow EDC Las Vegas on Facebook | Twitter | Instagram
---
Share
---
Tags
---
You might also like