The Best of EDC Las Vegas 2017
With reporting from John Ochoa, Rich Thomas, Ross Gardiner and Sarah Purkrabek.
Every year we return to EDC Las Vegas, we discover something new, and this year's run was no different. We spent another three days dancing together with our friends, family and loved ones as an air of positive vibes and love washed over us all weekend long.
This year, we celebrated 21 years Under the Electric Sky, which means we're a little bit older and a little bit wiser, but still the same colorful world of imagination. And to celebrate our 21st milestone, we went B-I-G: new stages, massive surprise guests, epic fireworks displays, hours of nonstop music and much, much more.
With so much to see and do at EDC Las Vegas, it's impossible to experience it all in only three days, which is why we come back year after year—and we hope you can join us every time.
After one full weekend Under the Electric Sky, here are a few of our favorite things and moments from EDC Las Vegas 2017.
Trance Gets a New Home at quantumVALLEY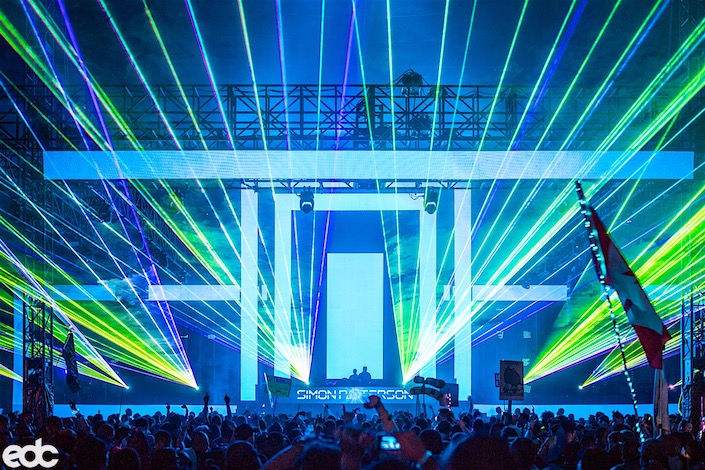 Last year, team Dreamstate treated Headliners to a full day of trance bliss when they took over circuitGROUNDS on the final night of EDC Las Vegas for the first time ever. This year, they took it to the next level with the debut of quantumVALLEY, a brand-new stage that featured three full days of all trance, all the time. Within the purple-tented heaven, trance-heads found a new home within a home and experienced every flavor within the genre's widely diverse sounds, from Will Atkinson's brand of tech trance, progressive and psytrance from Ace Ventura, and classic trance from the king himself, Paul van Dyk. Dreamers, welcome to paradise. —John Ochoa
Parliament Art Car Comes to Life
While our eight fully produced stages offer a distinct musical world all their own, our fleet of roaming art cars can also bring the jams. Ask these Headliners for proof! This year, we debuted an all-new art car: Parliament. Featuring a 55-foot mobile dancefloor, four RGB lasers, four flame cannons, and a massive Funktion-One sound system, Parliament quickly built a dedicated following throughout the weekend. Night one saw the homies Brownies & Lemonade take over the stage, while Bonnie X Clyde, Alan Walker, Autograf, and a handful of surprise guests threw down massive sets. What's best, the interactive, headbanging 16-foot owl guardian, housed in a 360-degree LED "nest," instantly became the unofficial festival mascot for the whole art car crew. —John Ochoa
The EDC Parade of Lights, Music and Magic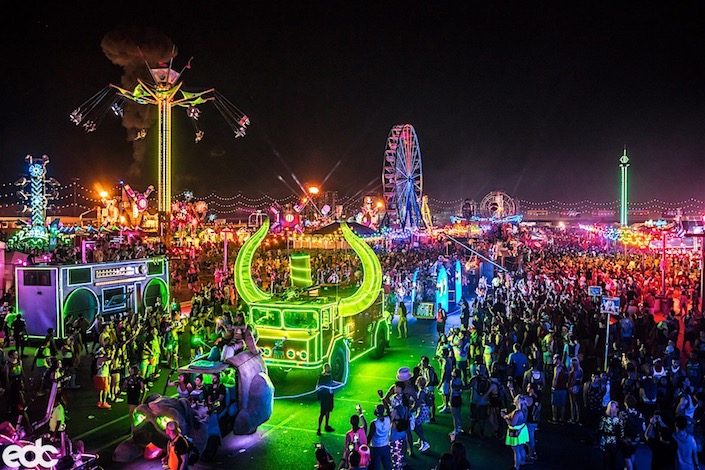 Every year, the EDC Parade gets bigger, brighter and way more badass. During each night of EDC Las Vegas, an army of clowns, stilt walkers, and all sorts of performers gathers together to create a massive display of lights, music, and magic as a crew of art cars leads the way through the festival grounds. What results is a living, breathing, moving art piece that takes the wonder of EDC on a mobile adventure of the senses. Make room for it on your nightly schedule at least once during your EDC experience; you won't regret it. —John Ochoa
Wedded Bliss at EDC Town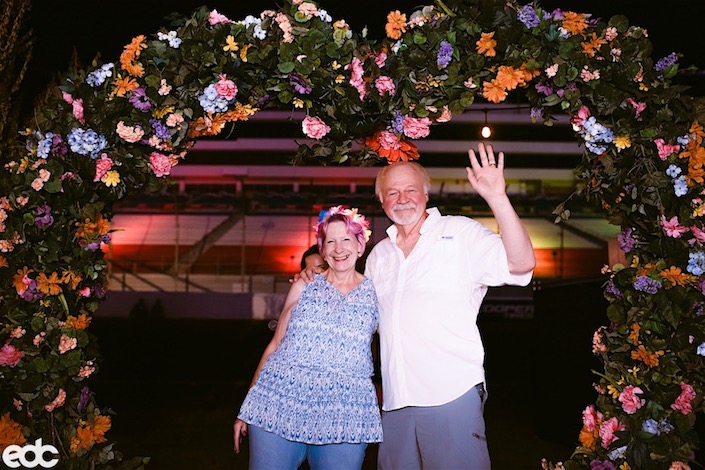 EDC Town was a hotbed of activity during EDC Las Vegas, featuring everything from a theatre and a schoolhouse to a working post office. The biggest draw, though, belonged to the many chapels wherein Headliners could get both informally and legally married. You could also renew your vows if you wanted, like Jim (67) and Linda (64) from Oregon. The two tied the knot in a small chapel in Vegas 34 years ago, and they reaffirmed their love for one another Under the Electric Sky before a rapt audience of young Headliners. —Rich Thomas
Clairol's World of Color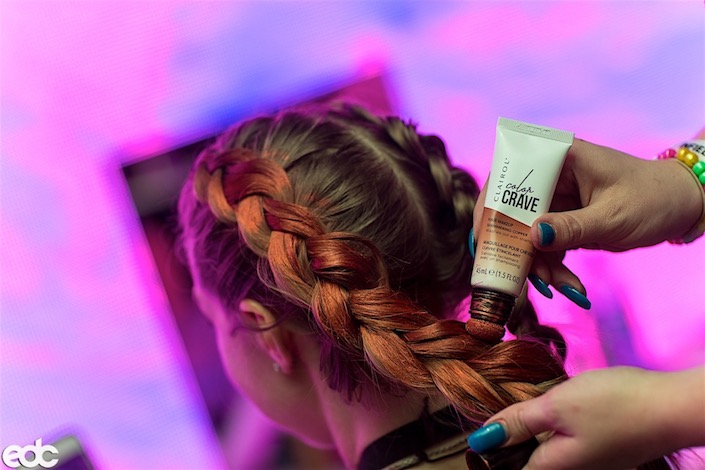 EDC is awash with colorful characters, but if you didn't come with a fabulous outfit or amazing makeup, you could still get a makeover from Clairol in their Color Crave booth. With three stylist chairs operating all night long, goddesses could put a little luxe in their locks by having their hair braided, colored, and bespeckled with glitter. Guys and girls could also opt for airbrushed ink on their face and body, giving them a full festival look. —Rich Thomas
drakePOD Takeover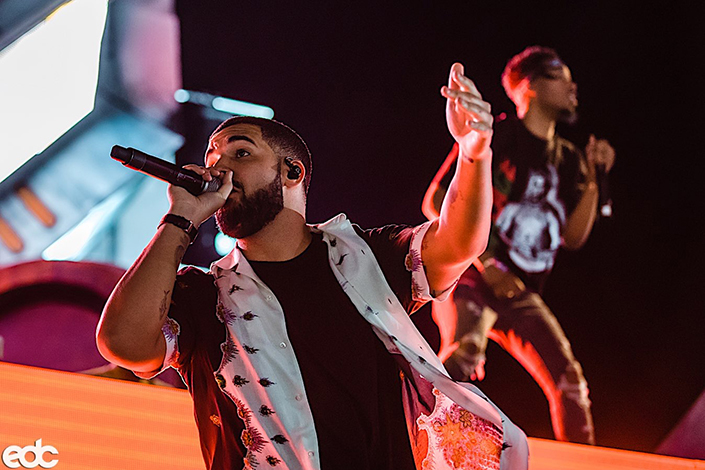 On a stage with the most pound for pound drops per night, the biggest drop of the weekend belonged to Metro Boomin, who brought out the one and only Drizzy Drake for 10 minutes of pure cameo bliss. The pair ran through a medley of hits, including "Jumpman" and "Fake Love," while the PK Sound System unloaded copious amounts of bass on the rail riders who had posted up hours earlier to check out Flux Pavilion. Drake wasn't the only hip-hopper to crash EDC. Too $hort came out during Paz's set at the upside-downHOUSE, and Lil Jon flossed during Flosstradamus' set at cosmicMEADOW. —Rich Thomas
Living Room Livestream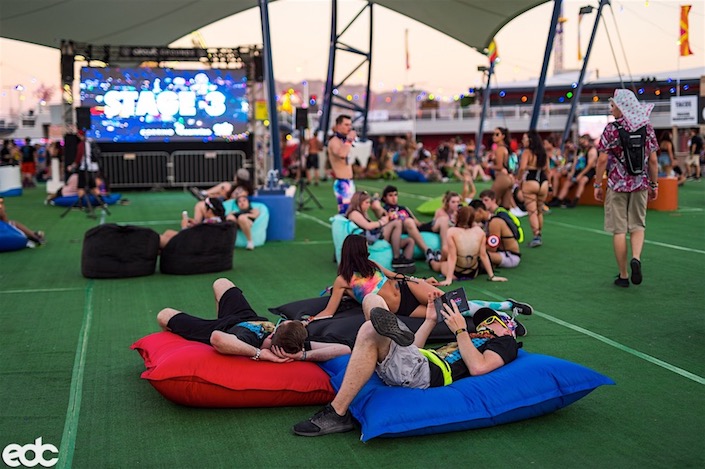 Last year, the EDC livestream was broadcast from Carnival Square on a massive screen for all to see. This year, each stage had its own feed, which meant bassPOD warriors could nod their heads whilst relaxing on the field turf, then walk 10 paces to the cosmicMEADOW screen and hear some big room EDM (just kidding—bass heads would never do that). The intimate "living room" setting also boasted surprisingly little sound bleed, which made for a pleasant experience. —Rich Thomas
Fireworks With Sublime Timing
The fireworks each night of EDC are legendary, but they were even more impressive when seen from cosmicMEADOW on Day 2, when the grand finale popped off right as Porter Robinson was closing a massive set. Robinson bumped "Language" and his own pyrotechnics in front of a backdrop of 7.5 minutes of explosions. —Sarah Purkrabek
How to Take EDC Home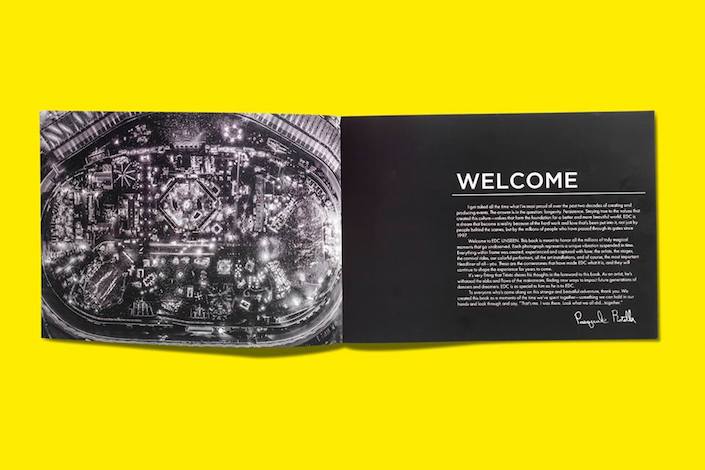 Keep EDC on your coffee table with this year's limited-edition souvenir book, EDC Unseen. Inside, you'll find high-def photos and mini versions of EDC's 21st anniversary posters and stickers. Introduced by Pasquale Rotella with a foreword written by veteran EDC artist Tiësto, the book highlights the music, performers, stages, art exhibits, and of course, the Headliners who made EDC what it is today. —Sarah Purkrabek
#LoveWins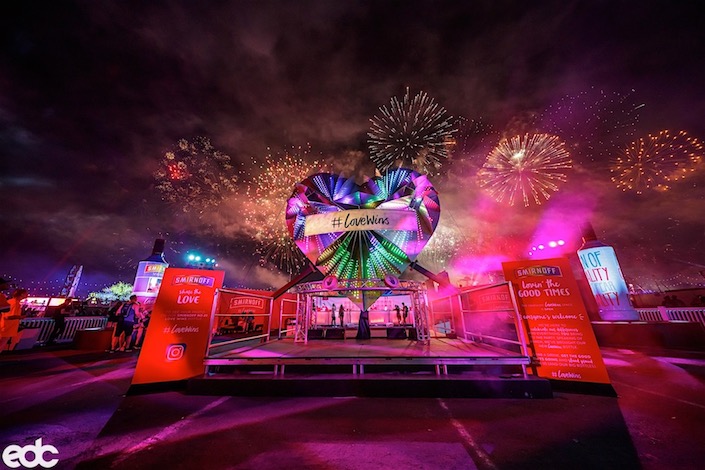 Smirnoff celebrated love at a dedicated space on the festival grounds. A photo booth, bar, and giant interactive heart art installation anchored the area, which showcased Smirnoff's limited-edition No. 21 bottle. For every bottle made, Smirnoff donates $1 to the Human Rights Campaign, a nonprofit organization that fights for equality for all people, especially the LGBTQ+ community. —Sarah Purkrabek
Elders Are Welcome Here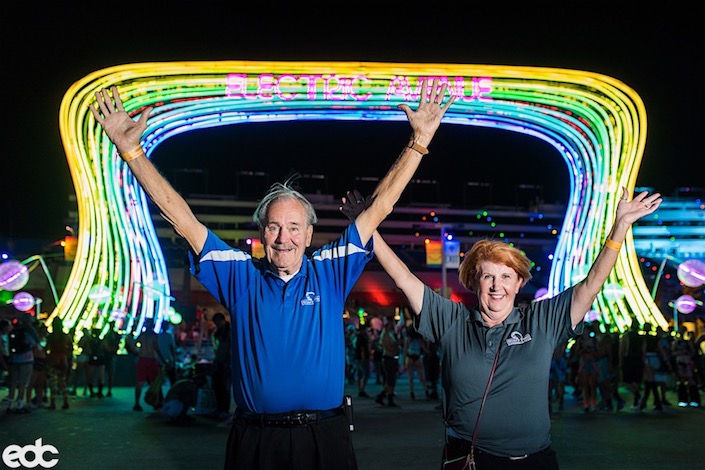 EDC is a diverse festival. In addition to people of all races, colors and creeds, the old team was out in force. Captained by longstanding EDC security guards Jim (80) and Pat (67), many rave elders were seen over the weekend, and they consistently spoke of being loved and respected for coming to the party. All are welcome here. —Ross Gardiner
The Vibes on the Grass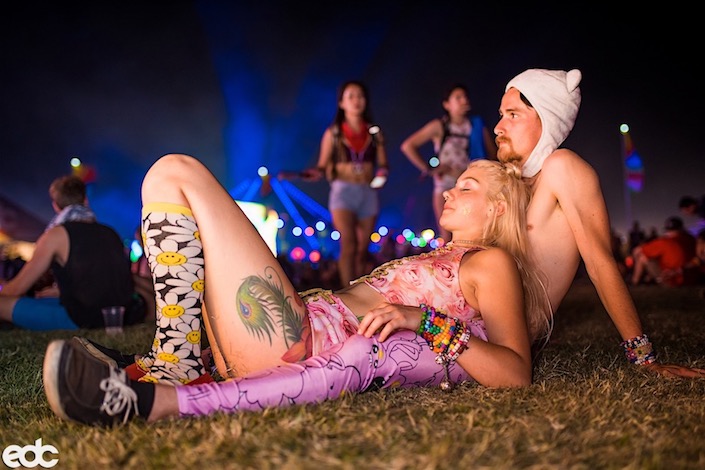 Being a constant source of chill all weekend, the grassy knoll at cosmicMEADOW was where the festival came to spread out, chat shit, and bring the intensity down a notch or two. Sunday was a 30,000-person cuddle puddle that spread across the finish line of the racetrack, and the vibe was on point. —Ross Gardiner
Sounds of the Underground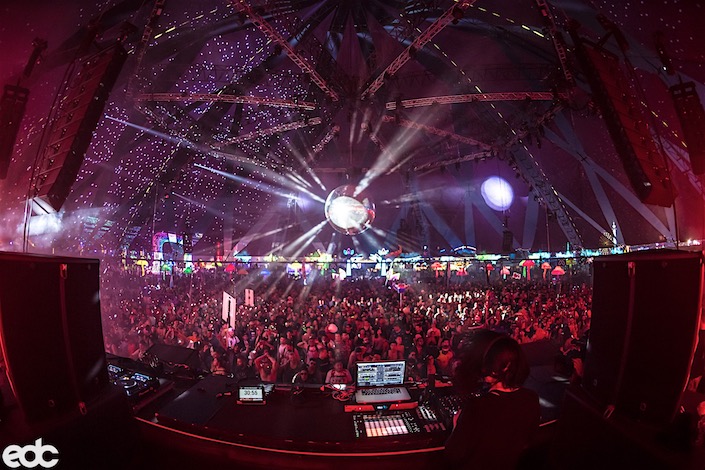 While we're well known for the biggest rooms and the gnarliest drops, every year, EDC's increasingly dominant underground scene takes new prisoners and converts ravers to the dark side. This year, our DTLA Factory93 warehouse series was transported to neonGARDEN, with Jamie Jones, Adam Beyer and Nicole Moudaber bringing their legendary party concepts to the Speedway. —Ross Gardiner
Follow EDC Las Vegas on Facebook | Twitter | Instagram
---
Share
---
Tags
---
You might also like