The Best of Dada Land: The Voyage 2015
Now in its second year, Dada Land: The Voyage once again featured camping and campground activities, a water park, a hot air balloon, and more banana suits than, umm, a Chiquita convention. It was a sight to behold, indeed.
Equally impressive was the dedication, energy and enthusiasm of our Headliners. Despite its rather wet beginning, the Voyage raged from the time the gates opened until Olle and Stefan dropped their very last track. If you missed the festivities, here are 10 reasons why this year's incarnation was one we won't soon forget.
Sam Hiller
Don't recognize Hiller's name from the lineup? That's because he was never on it. Sam Hiller made a last-minute jump into the 5–6pm slot once we heard that Wuki was going to be too late, but nobody seemed to mind once he got the crowd moving, and moving hard. Arguably my favorite set of the entire festival, Hiller wove between funky house favorites such as Style of Eye's "More Than a Lover," Chromeo's "Come Alive," and Don Diablo & CID's remix of "Make You Feel Better" by Alex Adair. Was it those late-afternoon temperatures, or did Sam really bring the heat?
Squadding Up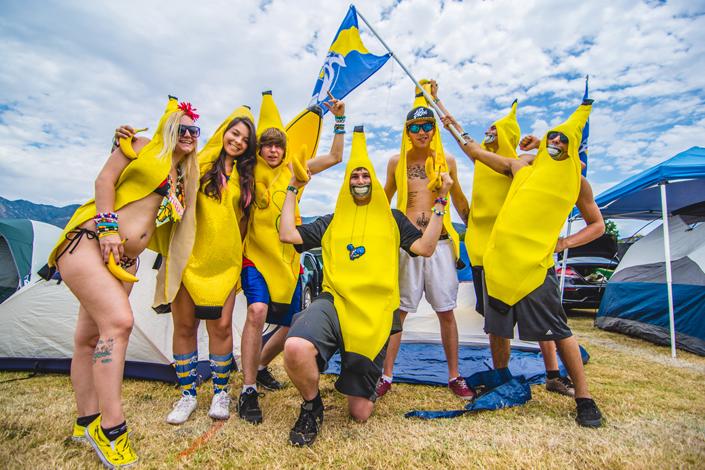 One thing I really love about Dada Land is the group participation. I ran into dozens of Headliner squads over the course of the day and night, all dressed up in matching outfits (usually of the banana variety) and looking sharp. Mad props to the lot of you.
Stefan's Face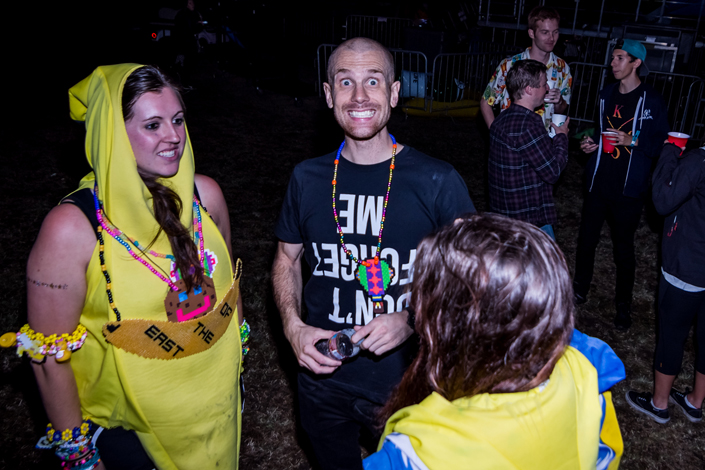 I legitimately don't think I've seen a posed photo in which Stefan's not making this expression. It's something along the lines of a deer caught in headlights—somewhat frightened and yet simultaneously extremely overexcited. So, there was no way it wasn't going to make this list.
The Incredible Creativity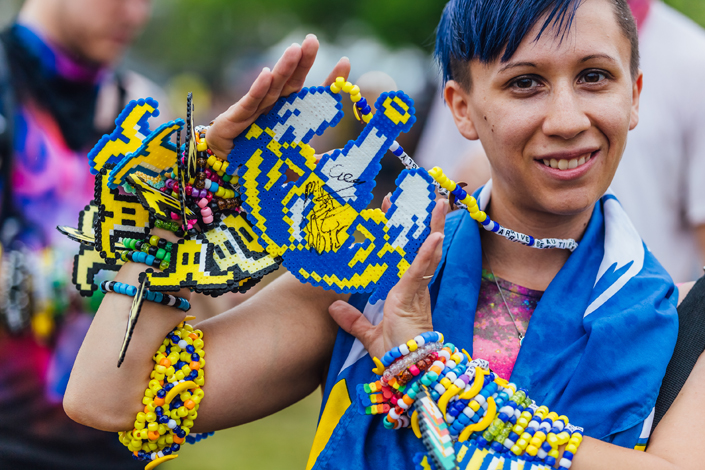 Headliners, you've once again outdone yourselves. From amazing totems and kandi to intricate costume designs and accessories, you impressed the hell out of us with your passion and artistic abilities this weekend. Even those that didn't come prepared with a costume had no problem; the campground arts & crafts booths made sure that everyone who swung by were soon bedazzled with beads and tie-dye paint.
Breaking the World Record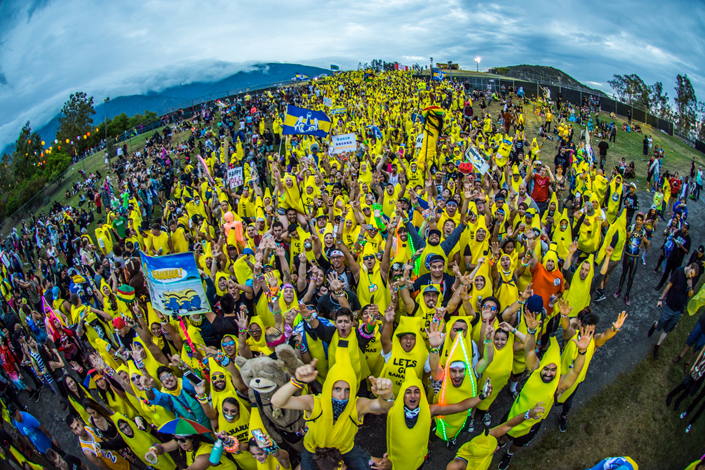 In case you hadn't heard: Dada Life broke the Guinness world record for the highest number of banana suits in a contained area. Having individually counted more than 700 banana suits, our posh British Guinness rep instructed the banana masses to stay put for five minutes so the record could officially be broken. It wasn't long before a countdown chant began in the crowd, and a sea of cheers soon erupted as the record was then announced. Congrats, boys!
The Smiles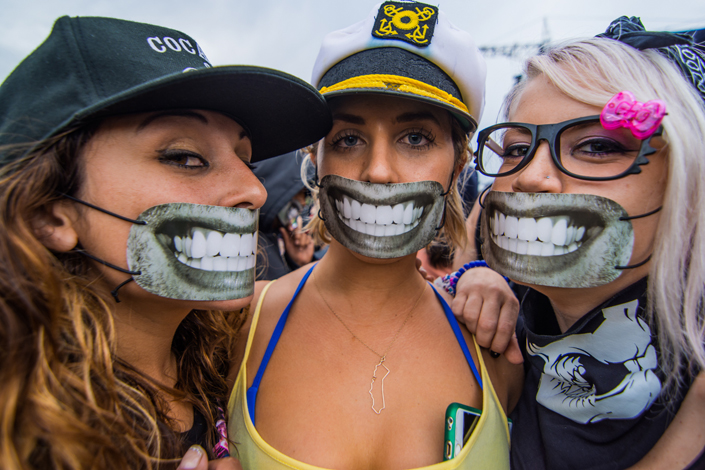 With good vibes and great music abounding, the Voyage contained no shortage of reasons to turn that frown upside down. Of course, Dada Life had an extra solution for any unhappiness with an endless supply of smile masks that Headliners were instructed to wear during their set. Looking out onto a sea of smiling mouths may have been just as creepy as it was satisfying, but one thing was for certain: Dada Land was a place to be happy.
The New Layout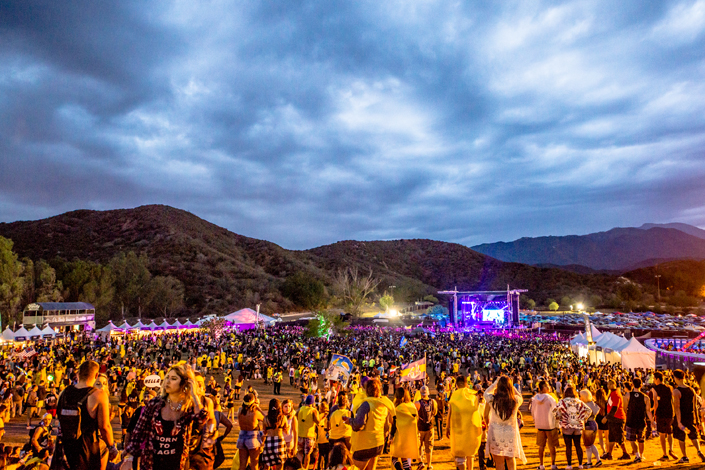 There's something about watching a show from above that leaves me breathless. This year's Voyage layout did a complete 180, placing the stage on the side closest to the campsite, with its back to the mountains and facing the hillside. Thankfully, the hill itself was kept open, allowing hundreds of Headliners to watch the performances from the best vantage point in the house.
The Nighttime Drizzle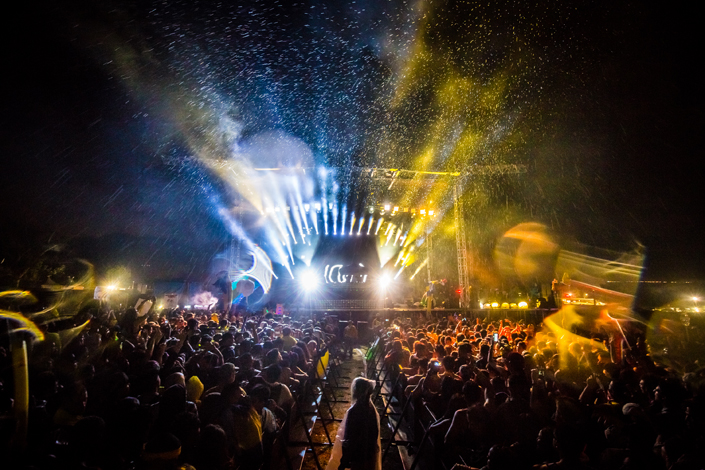 Once the daytime downpour had eased up, it wasn't long before we were once again greeted by a bit of a light drizzle. This time, it created an amazing visual effect as the lights and lasers refracted off the miniature water droplets; it resembled a rippling, multicolored wall.
Goin' Bananas on Stage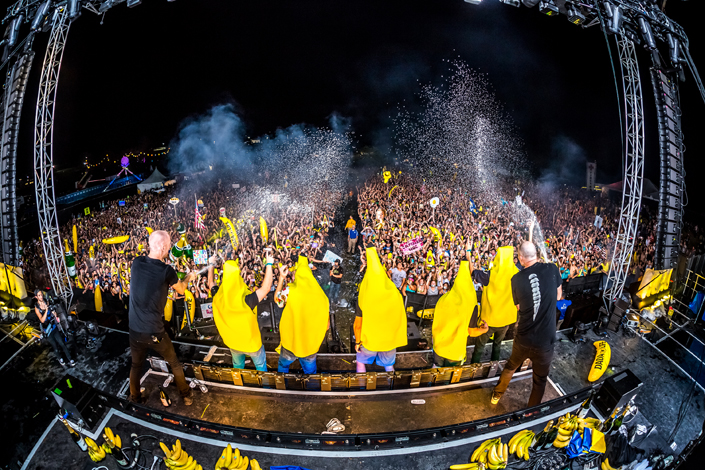 The beat to "Boing Clash Boom" drops, a wave of champagne spritz falls over the crowd, and five bananas dance onstage with Dada Life. It was one of the best moments that happened at Dada Land, and quite possibly one of the best moments to happened in, like, ever.
Silent Disco Surprise Set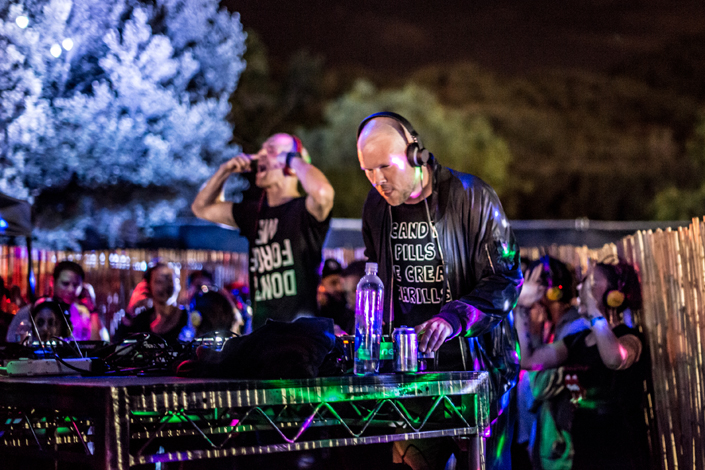 There was no way I wasn't going to end with this one. Those who attended the Voyage last year may fondly remember Dada Life's surprise performance as "very special guests" at the silent disco; this year continued the tradition by bringing the duo back to the disco for a much-talked-about 3am set. Split between two channels, Olle and Stefan performed different sets that attendees could choose between on their headphones. It goes without saying that both performances kept the crowd rockin' from start to finish.
---
Share
---
Tags
---
You might also like