The Best of Countdown 2016
With reporting from Sam Yu and Layla Marino.
Our emotions are still running wild after the astonishing experience we shared this past weekend at Countdown. Thanks for giving us the time of our lives, Headliners. The two-day soirée left us feeling like anything is possible in 2017, and there's no greater feeling in the world. But before we reach top speed with our New Year's resolutions, let's take a second to share some of the snapshots that made our NYE festival so damn special.
Rain AND Shine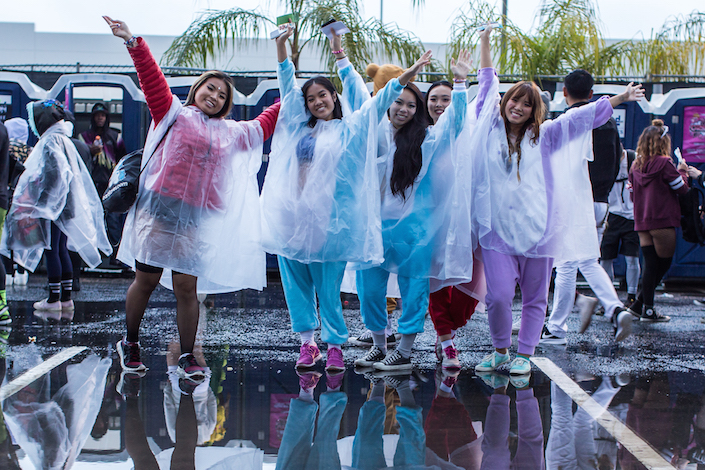 The weekend may have been slightly wetter than anticipated, but the sporadic showers did little to harsh the vibe of the party. Headliners made the most of the slight downpour, treating the rain like it was no big deal. Sure, it may have derailed a few festival fashion plans here or there, but the entire lot seemed to have fully embraced the touch of mother Gaia's big wet kiss (besides, splashing around can be loads of fun). We loved seeing everyone smile in the face of some stormy weather. In the end, isn't that what life is all about? I'd sure as hell say so. —Sam Yu
Rezz Keeping It Trippy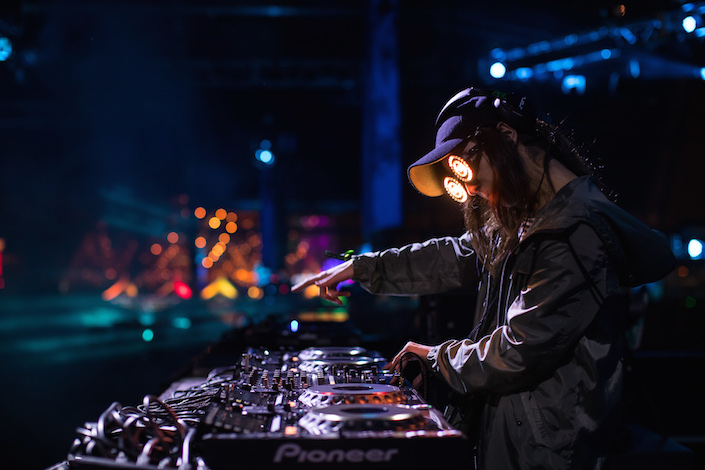 This firecracker of a female producer was one of the surprise hits of this year's Countdown. Known for her blaring beats and dystopian stage presence, Rezz didn't compromise on her playlist, rolling out just as many strange, experimental trap and dubstep tracks as banging crowd-pleasers. Though Rezz is a visual spectacle in her own right—with her trademark hat, ponytail, and eerily glowing eyeglasses—her show visuals on the Infinity Stage added an extra layer of wild to her crazy beats. Rezz was definitely an early pick for one of Friday's biggest highlights. —Layla Marino
The Chainsmokers Creating Mayhem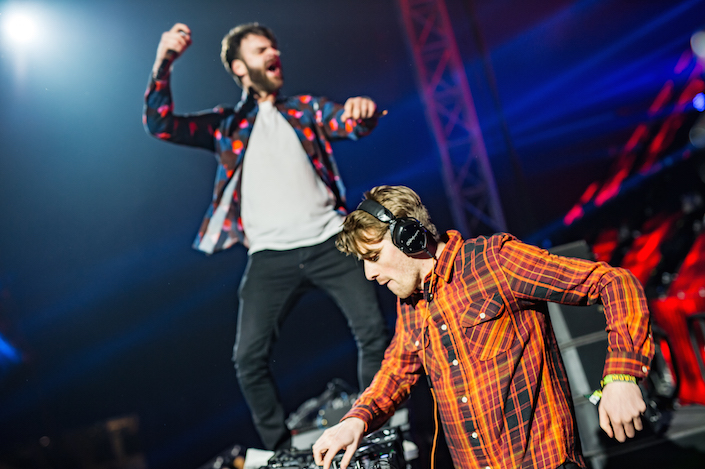 At Resolution, DJs can get lost within the visuals and the huge buildout, but the Chainsmokers—composed of Andrew Taggart and Alex Pall—made sure they stood out and that their fans could see them. The duo took turns jumping up on the ledge above the decks, amping up the crowd on the mic, and generally creating mayhem during their pop-infused dub and house set. Of all the acts on Friday, these two seemed like they were having the most fun by far, and that feeling resonated with the crowd. —Layla Marino
Playtime With Steampunk Performers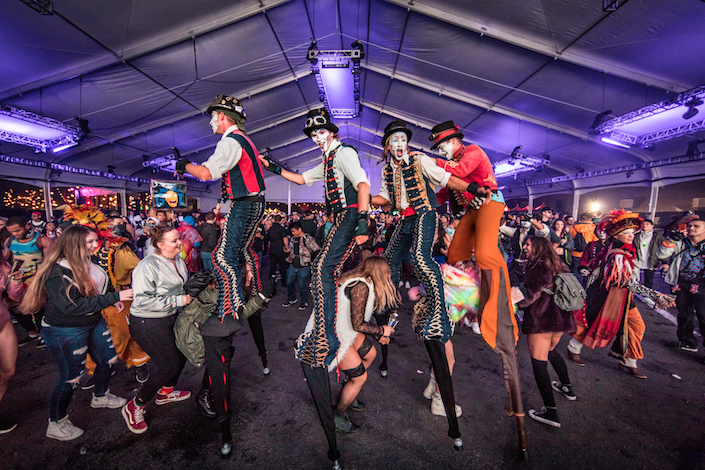 I always trip out on how much fun the performers seem to be having at our festivals. Countdown featured a troupe of steampunk-inspired stilt walkers and dancers who looked like they would have paid for a ticket in order to romp around and interact with the crowd. They were fairly easy to spot throughout the weekend, riding around in wacky, white mobiles that looked fit for sailing through the sky. Sometimes, they would even pull over and rush the throngs of the crowd to form a conga line, get a dance circle going, or goofily pose for a group pic. All I know is, they sure know how to bring my inner child to life. —Sam Yu
Kill the Noise Slayin'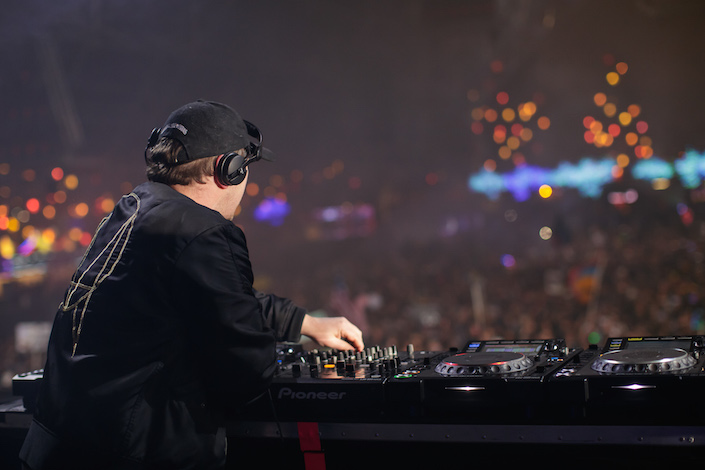 Known to older drum & bass fans as EWUN, Kill the Noise is now lauded as one of the most technically strong dubstep and trap artists today. Bass-heavy, hyper-techy, and deadly serious bass are just a few of the descriptors that could be used to describe Kill the Noise's Friday set on the Infinity Stage. Like his produced music, the performance was intense and colored with hip-hop, likely scratching every bass-lover's itch for the heaviest bass. —Layla Marino
Cats and Boots Ruling the Oasis
This little house tent served as an oasis of funky, fun vibes in the middle of Big Beat Land. With a huge, club-style bar in the middle, this area also featured funky, chill house DJs and picnic tables for partiers to hang out and catch some chill grooves. —Layla Marino
Celebrating in Style at VIP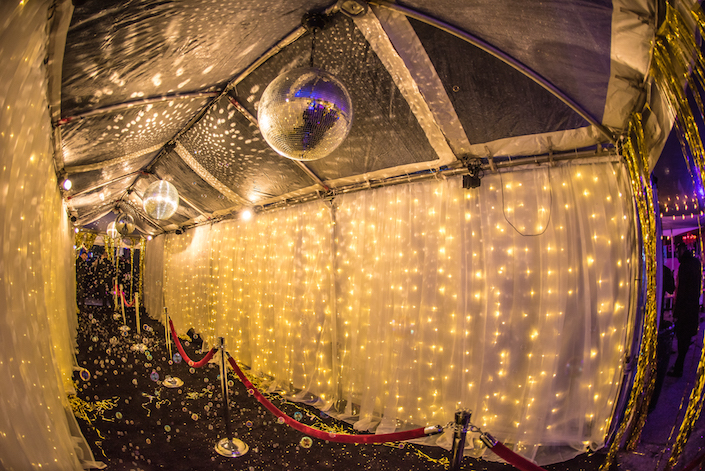 If there's ever a time to dig deeper into your pockets and treat yourself to a little something-something extra, it should obviously be for one of the biggest occasions of the year. The VIP area at Countdown was a sure-fire way to make your NYE feel that much more special. From the second you stepped through the glitzy entrance—a welcoming walkway through shiny disco balls, bubble machines and razzle-dazzle lighting—it was hard not to feel like you'd made the right choice. Once inside, the long list of amenities (for starters, try signature cocktails, hot cocoa station, kandi-making corner, and exclusive food trucks) made me exhale slowly as I proceeded to take advantage of the VIP perks for a long, long while. —Sam Yu
Seven Lions and His Roaring Visuals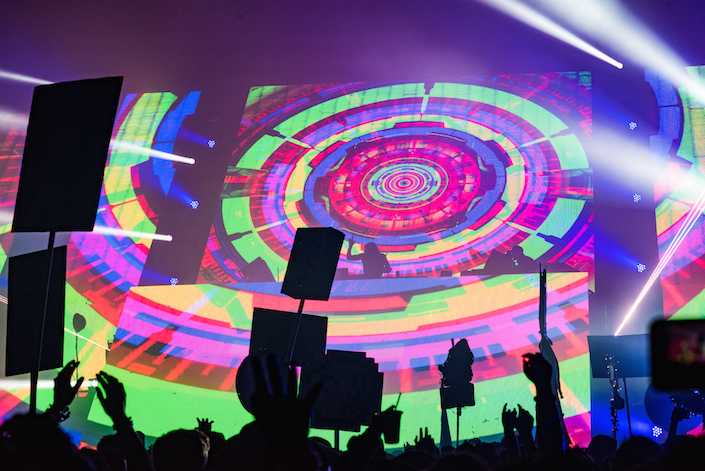 We featured Seven Lions and his tech team earlier this year for their incredible and unique visual show, and their performance closing out Resolution's lineup on Friday did not disappoint. Robust, theatrical pieces were spliced in real time with more fractal, psychedelic images based on the type of music Seven Lions was playing. It was an evocative way to close out day one of the Countdown weekend. —Layla Marino
Diplo Doing What He Does Best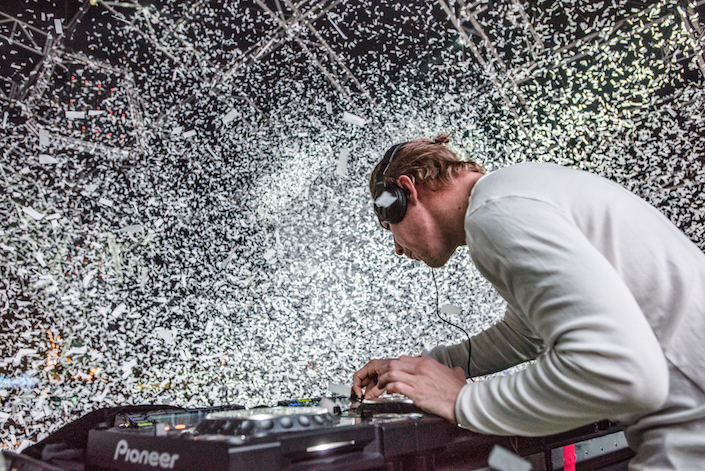 Diverse beatmaker and hyper-popular techno badboy Diplo had a relatively early set on Saturday at Infinity, but his set was probably the most crowded of the night. Fans spilled out of the tented area to watch the awesome visuals while singing along with every tune. Per usual, this perennial festival highlight delivered a powerful show. —Layla Marino
Lit Art Installations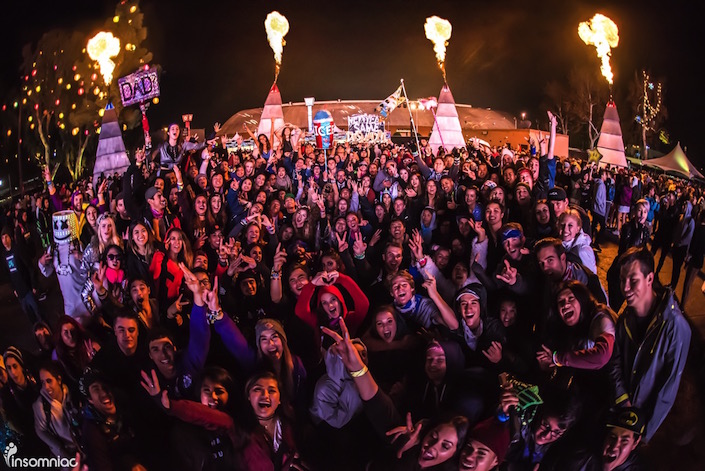 Even though it was out of commission during the rainier moments of the festival, the art installation nearest Infinity was still very much lit. The four flame-tipped pillars served as the perfect meet-up point for plenty of partygoers who wanted to stay warm and toasty while waiting for the rest of the squad to roll through. Then there was the cluster of LED poles, only a hop, skip and jump away from Resolution, which attracted a lot of foot traffic and served as a hotspot for mingling. It's always great to see Headliners huddled together away from the stages, engaging in actual conversation. (Bonus tip: Talking about the art itself is a great icebreaker.) —Sam Yu
TC Holding It Down on the D&B Tip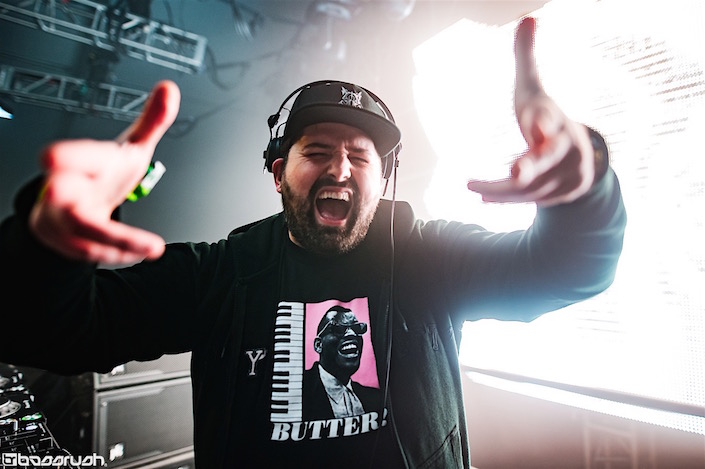 For New Year's Eve proper, Quantum was taken over by Bassrush, so obviously, UK producer TC was a perfect choice to represent drum & bass. TC's set was quite diverse, beginning with old-school, snare-based jungle and raga and then merging into deeper, heavier, techy bass. When drum & bass is on the stage, it's always a highlight for Bassrush. —Layla Marino
PK Sound Knockin' Faces Off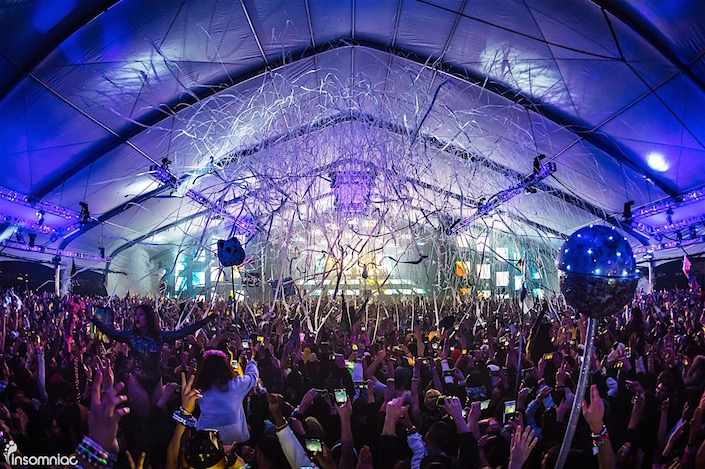 Since we're bringing up Bassrush, the crew has been hitting all the right spots with the sound systems they lug around into every hosted night. They've been hooking up with PK Sound on the regular, bringing out the best high-fidelity and filthy low-end in the business. I overheard more than a few people praising the sound at Quantum, where savage selectors like JOYRYDE, Ghastly, and Valentino Khan used the speaker stacks to make the crowd squirm from the crisp and thick bass. —Sam Yu
Ringing in the New Year With a New Ring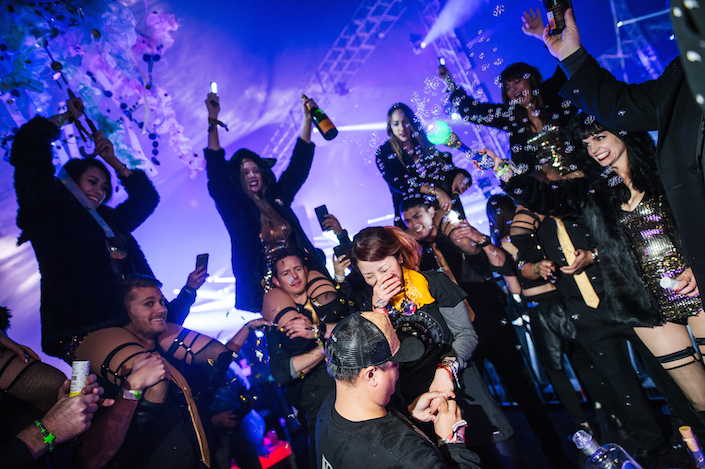 One of the most touching moments from the weekend has to be when we witnessed a smitten Headliner pop the question. While we were too caught up in the moment to catch their names (or our breath), we are happy to report that she hit him back with a big ol' "yes!" —Sam Yu
Rabbit in the Moon's Stage Presence Is Second to None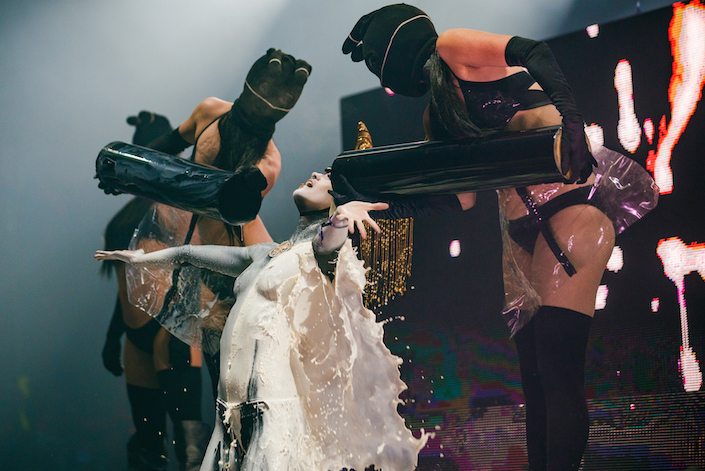 Most EDM fans today wouldn't know that Rabbit in the Moon have been around since trance's inception in the US, forming around 1991. While their music has changed, their flair for theatrics and shocking shows has not. While playing a heavy, almost eerie selection of modern tracks, actors and singers paraded across the stage with an equally eerie pantomime of theatre. Some highlights within this highlight: a graphic review of 2016 to pair with the song "Fuck You 2016," an emotional tribute to the late great David Bowie, a parade of bikini-clad girls pouring milk on a nude and behorned "priestess" figure, and a close that saw a simple, lone figure screaming "I am the Rabbit King! I can do anything!" before the stage went dark. —Layla Marino
Midnight Hugs, Kisses, and Confetti-Covered Selfies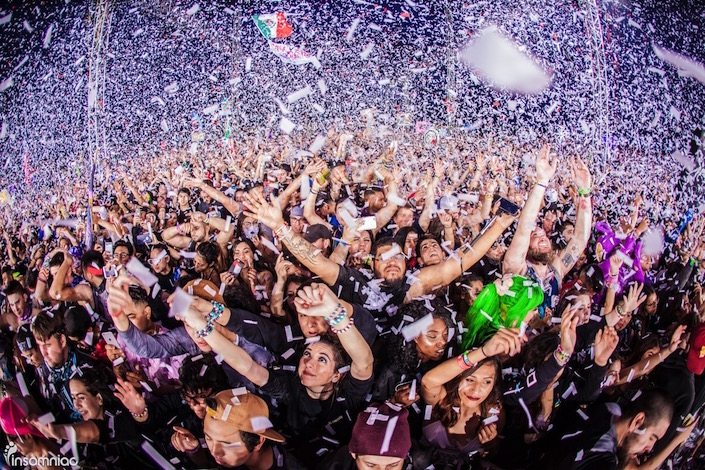 The biggest challenge of Countdown was making the ultimate decision of which stage to actually spend the countdown at. With Alesso, NGHTMRE and Zomboy leading the charge into midnight, choosing between the three was essentially a toss-up. In the end, the deciding factor for me, as presumably it was with most attendees, was to squad up with those closest in my life. The Insomniac fam scrambled from their posts and converged at the SkyDeck, where we were treated to an elevated view of the sea of smiling Headliners waiting for the clock to strike midnight. Swedish sensation Alesso hit the pause button on his banger-blasting set to assume the MC role and count it down into 2017 proper. When the moment hit, every single production element at Infinity was triggered, the air was littered with echoing cheers, hugs and kisses spread faster than a wild rumor, and it felt like the entire festival collectively saw the promise of what a New Year can bring. In that moment, we were our best selves, looking proudly into a bright, technicolor future together. —Sam Yu
Follow Countdown on Facebook | Twitter | Instagram
---
Share
---
Tags
---
You might also like