The 5 Most Entertaining DJs on Twitter

Facebook can be kinda like riding the bus with your mom: It's a slow trip where all your news comes second-hand and you hear a whole lot about your cousin's new job. If your news feed is starting to feel a little sluggish, getting hyper-current news via Twitter can feel like zipping around on a bullet train by comparison. Plus, all of your favorite DJs and producers are along for the ride, dropping constant updates on their tour schedules, new projects, and whatever deep thoughts pop up while they're traversing the globe. While some artists' tweets are about as much fun as reading the arrivals at the airport, others are turning Twitter into an art form, an endlessly compelling hailstorm of information and insanity. Here are five DJs that make clicking the "follow" button a very easy choice.
1. Deadmau5 (@deadmau5)
Why follow: If you try to bite an animal, chances are they'll bite you back. Twitter is a direct line into the smartphones of our heroes and haters, and deadmau5 isn't afraid to use it to mix it up with, well, anyone. The superstar DJ/producer is notorious for rattling cages and leaving them clanging while he bounces away to work on something else—tracks and wonderfully snarky tweets apply in equal measure.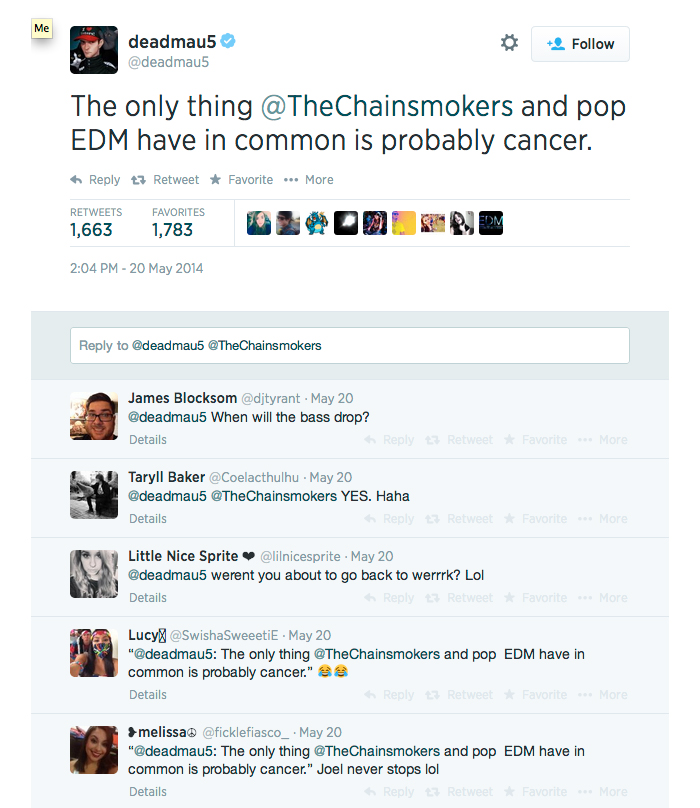 2. Skrillex (@skrillex)
Why follow: Skrillex is having more fun than you. How do we know? He's a social media lunatic, sharing gonzo concert footage, music videos, and the songs he's obsessed with at any given moment. His Twitter feed also acts as a pipeline into his Instagram, which features the king of kaleidoscope dubstep dressed up as a fuzzy bear, among other amazing sights.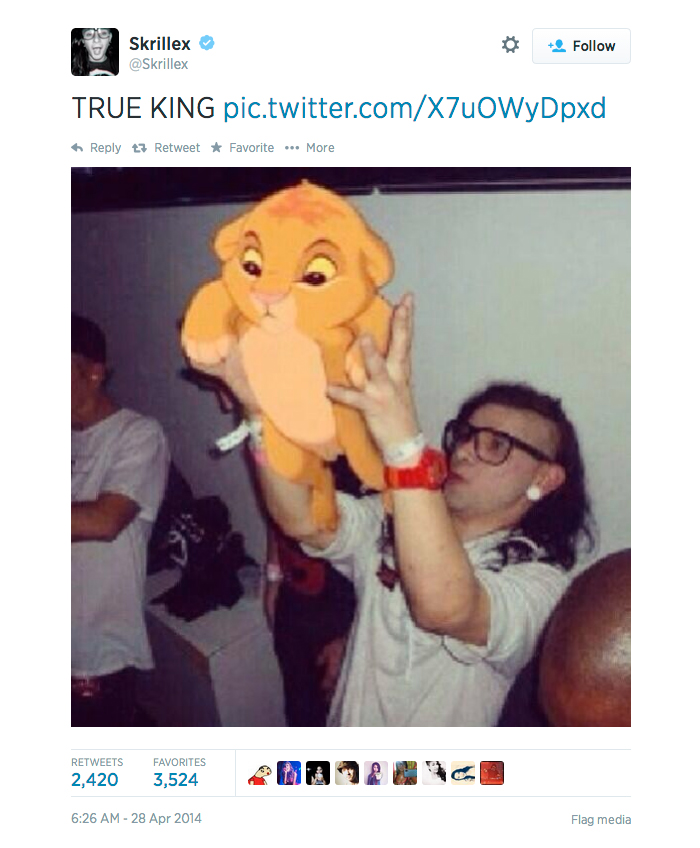 3. Knife Party (@knifepartyinc)
Why follow: Random, irreverent, and frequently hilarious, Gareth and Rob of Knife Party refuse to take the internet seriously. They do the bare minimum of promotional messaging, with most of their tweets stemming from inside jokes that caused a giggle fit and consequently have to be shared with the world. Truly, we are all the richer for it.
4. Just Blaze (@JustBlaze)
Why follow: If you're looking for sheer volume, hip-hop mogul and comic book geek Just Blaze has you covered. His fingers are surgically attached to his phone (probably), and he's unafraid to sound off on everything from music production to whatever movie he's watching while he's waiting for his next flight. Luckily, he's got enough charm to make the deluge of comments feel like you're getting to know your next best friend.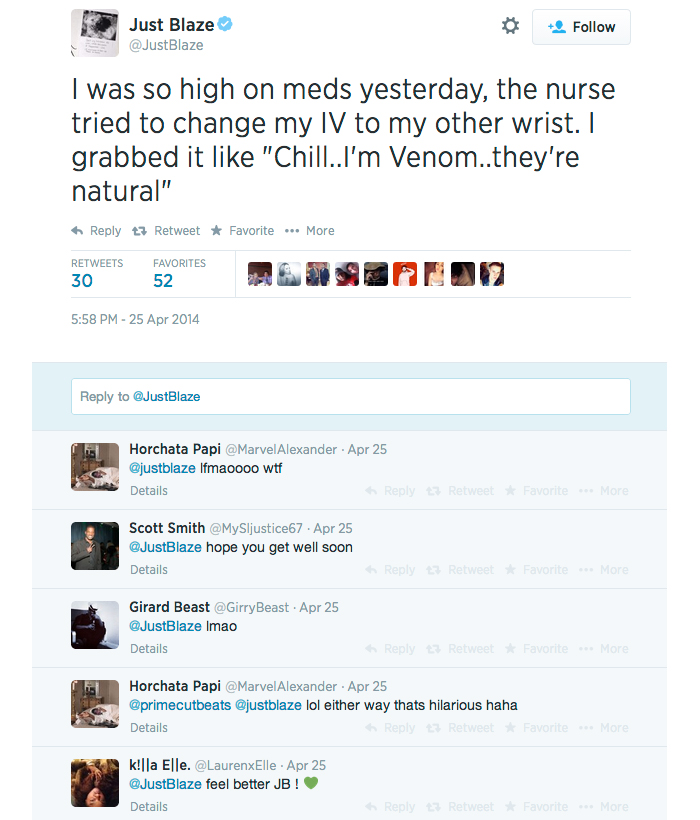 5. Derrick Carter (@blucu)
Why follow: Derrick has such an outpouring of personality that it's hard for any social media platform to contain it all, but Twitter does an admirable job. He's a DJ's DJ, a real veteran, and his "been there, done that" attitude has inspired memorable posts about food, furniture, and bathroom etiquette around the world. But the real treat is in watching Mr. Carter play with words and unleash quotable bons mots in rapid sequence.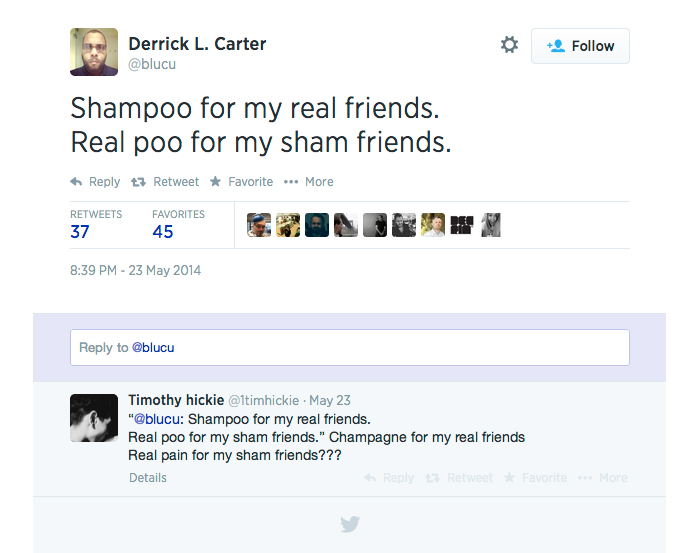 Honorable mentions:
Klever (@KLEVERSWORLD)
Flosstradamus (@FLOSSTRADAMUS)
Treasure Fingers (@treasurefingers)
Dustin Zahn (@dustinzahn)
Tiga (@ciaotiga)
---
Share
---
Tags
---
You might also like