The 18-Year-Old's Guide to EDC Week 2017
It's almost that time of year again, when we race to Las Vegas Motor Speedway in search of peace, love, and happiness Under the Electric Sky with our closest friends. As we inch closer to EDC Las Vegas 2017, EDC Week—our weeklong takeover of the Las Vegas Strip—returns Monday, June 12, through Monday, June 19. And since most events and parties during EDC Week cater to the 21+ crowd, we've created a quick party guide for our younger Headliners who are 18+ and making their pilgrimage to Las Vegas this June.
We get it: Vegas can be tough when you're under 21, so we've called on the Bassrush and Basscon crews for two very special shows for our younger Headliners. On Thursday, June 15, #TeamBasscon presents the hardstyle-heavy Basscon Pool Party, where Headliners can cool off from the hot desert sun at the Stratosphere Pool at Stratosphere Las Vegas. This headbanging day party is taking Headliners on a ride through the harder styles of dance music with a stacked lineup featuring Audiofreq, Code Black, Da Tweekaz, DJ Isaac, Gammer, TNT and Wasted Penguinz.
The hype continues later that night at the annual Bassrush Massive, presented by the bass-loving Bassrush crew, which takes over the Joint at the Hard Rock Hotel & Casino. Starting off a weekend of dancing and debauchery the night before EDC Las Vegas begins, Bassrush Massive is hosting bass-in-your-face masters Andy C, Datsik, Ed Rush & Optical, Flux Pavilion, Kai Wachi, Riot and Zomboy.
Don't miss out on a face-melting EDC kickoff as good as this. Snag tickets now for the Basscon Pool Party and Bassrush Massive, and get ready for the onslaught.
Check out the full lineup and complete event schedule for EDC Week 2017 via the official website.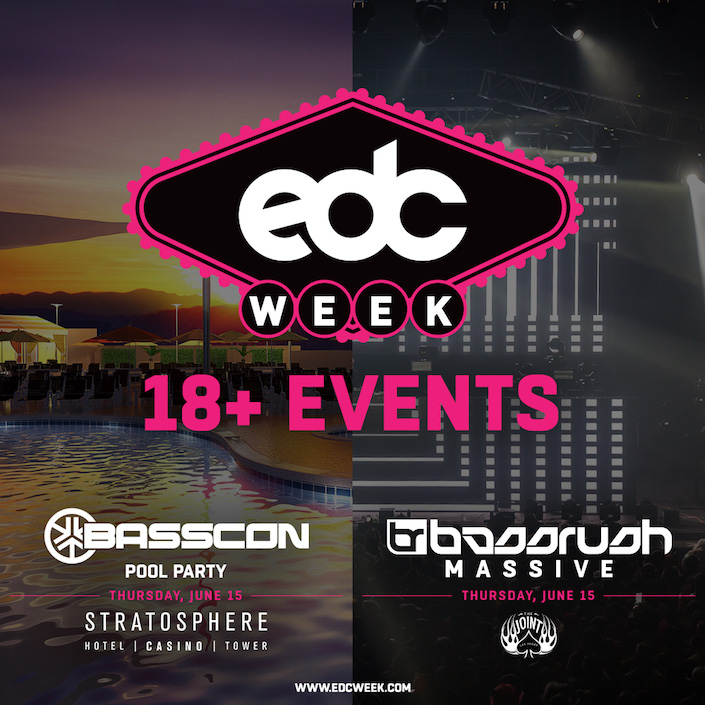 ---
You might also like