Technoboy 'N Tuneboy Land 15-Year Milestone as TNT
Known for their explosive innovation as pioneers of hardstyle, Technoboy and Tuneboy have constantly shattered the notion of what the genre should be through their collaborative project, TNT. The duo have blown past the competition virtually every step of the way, while simultaneously keeping one foot grounded in their roots. It's astonishing to consider much they have done for the scene, which is why we're fully honored to celebrate their 15-year milestone at the Belasco when they haul in the most menacing beats for the Basscon-presented show next week.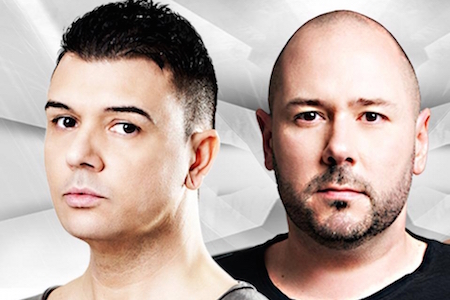 As the anticipation tops out leading up to the massive event, we invited the guys onto this week's Night Owl Radio episode. While we had them, we took the opportunity to connect on the topics of their longstanding relationship, the scene as a whole, and where the genre is headed moving forward.
How does it feel to hit the 15-year milestone with this collaborative project?
It feels like it was yesterday when we started it. It may sound generic, but when you do something with the passion that we have, it translates through our music; time really flies. We actually can't believe that 15 years have really passed.
Besides the headlining Basscon show, how else have both of you been celebrating the huge achievement?
The best celebration that we can have is making music, and 2017 started with a new track together with Fabian Bohn, aka Brennan Heart!
Fifteen years is a long time to keep any relationship going. What's the secret to making it work?
The "secret" is just being who we are. Arguing, fighting, slamming doors, finding "in between" solutions, etc. That's the best way to keep a relationship, even if it sounds controversial. Being genuine to each other was and still is the key.
What has been the hardest struggle about keeping the creative spark for nearly two decades?
We never had any real struggles, to be honest, as we have always been (and still are) very open-minded on exploring different styles when we felt we could get bored with what we were doing. Detaching from your own reality pays off. At least, it did and still does for us.
What have been some of your fondest memories together? Why?
Every success we achieved together can be considered memorable because, indeed, we achieved it TOGETHER.
There has been a lot of talk in the hardstyle scene of artists stealing kicks and the top listings being rigged. What are your thoughts on these touchy subjects?
We are not interested in these subjects, to be honest. We are too busy with making our own things. But if you really want to know what we'd say to someone who would use sounds of ours, we'd be like, "Hey, if it helps you on making your track better, be our guest! And let us have the track, 'cause if it's good, we wanna play it!"
Where do you see hardstyle growing and headed in the future?
The US and Asia are looking very promising at the moment. Time will tell…
Hardstyle is notorious for having a large following of traditionalist individuals that want the sound to go back to the early- to mid-2000s sounds. As pioneers of the genre, how do you find a balance between staying new and innovative, but true to your roots as well?
Being in this scene since day one makes us never forget about how everything started and sounded. The real challenge with producing this sound is basically summed up in the title of the most memorable hardstyle podcast (to us): Hard With Style. [It's] more than just a title; it's a motto.
You have been teasing an unreleased psy-hardstyle track on Facebook. What details can you share with us about the track?
We got passionate about psytrance, and we wondered how a psy track would sound if we were the producers. First off, 150-BPM, please! The rest, well, it is about to be revealed!
15 Years of TNT with Technoboy and Tuneboy takes place Saturday, January 21, 2017, at the Belasco Theater in Downtown Los Angeles. Tickets are available now. For more information, visit the official event page.
Follow TNT on Facebook | Twitter
Follow Technoboy on Facebook | Twitter | SoundCloud
Follow Tuneboy on Facebook | Twitter | SoundCloud
Follow Basscon on Facebook | Twitter | SoundCloud
---
Share
---
Tags
---
You might also like