Teaching Kids Life, Leadership, and Business Skills Through the Art of DJing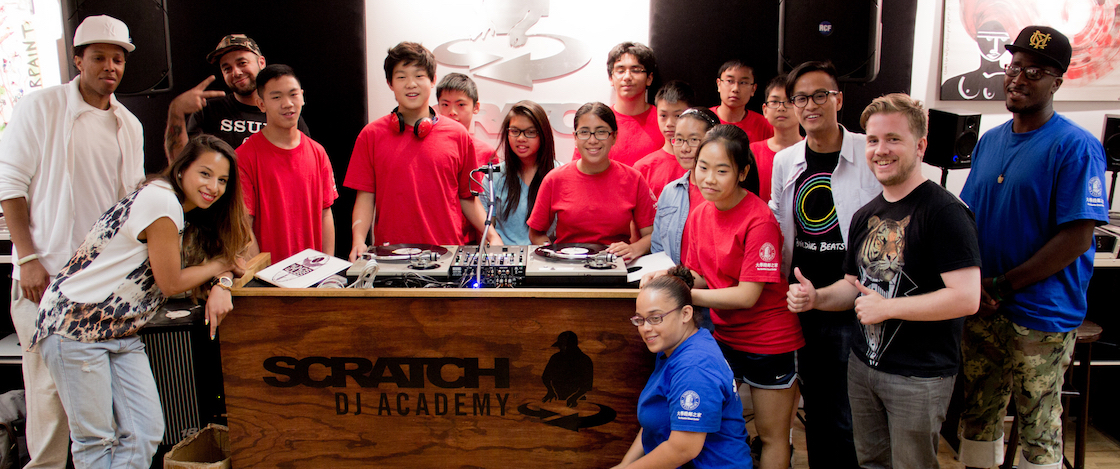 On the heels of winter storm Jonas, I boarded an iron worm in Manhattan and trekked out to East Williamsburg to meet up with Phi Pham, aka DJ/producer Phi Unit, the executive director and cofounder of Building Beats. From the organization's polished web presence and sterling reputation, I expected a buttoned-up, name-dropping corporate type. To my pleasant surprise, he answered the door in a pair of colorful board shorts, sporting a topknot, tank top, and a welcoming grin. We sat down for a chat in the living room of his modest apartment (and Building Beats HQ), where he gave me the lowdown on the incredible work he and his colleagues are doing with Building Beats, a true labor of love, throughout the Big Apple.
What is Building Beats, in a nutshell?
We are a nonprofit. We develop and expand DJ and music production programs and workshops throughout the city, working with youth, teaching them life, leadership, and business skills.
Where do you hold these workshops?
Mostly public schools, but some charter schools have approached us. The majority are middle schools; there is one elementary school, and two high school programs. These are schools in low-resource communities in New York City. The Bronx is where we started; the majority of our work is here and far-out Brooklyn, east New York, Brownsville. One program we have is with the Horizon Juvenile Detention Center in the Bronx.
What are you teaching these kids?
We teach them the basics of sampling, looping, drum making, using (soft) synthesizers, sound engineering… The fundamental skill is building their creative confidence. We believe that a little creative confidence builds a lot of confidence in everything else. The main tool for this is having the kids share their music. They must present their work to the rest of the class; it helps build self-esteem. They are proud to showcase their work, once they have the mentality that they are producers or makers of things. Our goal is to show these kids that they can use the computer and technology to produce whatever, share it, and get feedback.
Our goal of developing the life leadership/entrepreneurial skills is via the aspect of the music business. We have taken kids to the offices of Serato, to Scratch DJ Academy, to work with volunteer DJs and learn what it's like to work in the music industry. We have had SoundCloud come to some of our workshops to speak about the music tech world, too. We continue to engage with the NYC music community, the tech world, and the professional music world to provide a pipeline for kids to opportunities they might not have had otherwise.
What type of equipment are the students using? Who is providing it?
Right now, we try to operate on very minimal equipment. If the school supplies laptops and headphones, that's all we need right now. We use a cloud-based music production software called Audiotool.com, completely free. We have been able to learn it and teach it, as long as the kids have internet access. At Horizon, we do music making on iPads with apps, since the kids are not allowed to have internet access. A goal right now is for each of our teaching artists to have a MIDI controller to show kids the different types of equipment that can be incorporated. Schools have Smart Boards (high-tech projectors) these days that we can plug a laptop into to give the sample lessons.
Who handles these workshops? Do you have a big staff?
We have teaching artists that we assign to go to specific schools on a weekly or biweekly basis. Right now we have a team of eight teaching artists, and our plan is to grow that to 20+ throughout the next few years.
Who funds Building Beats?
We are always raising money, but our main source of revenue is from after-school program grants. Schools have budgets from the New York Department of Education—more specifically, the Department of Youth and Community Development (DYCD). Mayor de Blasio has raised the funding for a lot of these, so a lot of middle schools get funding for after-school programs. This past summer, the Department of Youth and Community Development reached out to us. We were at one of their expos, and they saw that a lot of providers wanted to work with us. They facilitated a deal where we would work with a number of these providers (community-based programs that run after-school programs) to put on these workshops.
What kind of feedback have you gotten from the parents of your students?
Some are so thankful we are there, so it really inspires us to keep doing the work. They know their kids have some sort of passion for music. But growing up, they assume you need some sort of traditional instrument training, so they are unable to teach their kids. We are going the opposite way. We want to teach these kids that anyone can make music, and it can be completely free with technology. We hope to inspire these kids, to show them that if you make the best of your resources, you can at least get started on the steps to making music your career.
How did Building Beats get started?
2009, the year I graduated college, was the original formation of Building Beats as an idea. I started working for a nonprofit, the American India Foundation, doing public health and education in India. I handled earning fundraising and social media, where I learned a lot of the skills I needed to set up and run Building Beats. I originally wanted to start music studios around the world and have kids collaborate online in some way. In 2013, we officially incorporated as a nonprofit in New York City. That year, I threw a party for my birthday and raised about $2K in funding. We did our first four summer workshops at a community center in the Bronx called the Point, and at the elementary school PS2 in Chinatown. In 2013–14, we had one with the 14th street YMCA for eight weeks. In the fall 2014–2015, we had a few after-school workshops.
I quit my job in June of 2014, and that summer we started partnering with Scratch DJ Academy, providing free workshops for students. We would work with local public schools to bring kids around to Scratch for these workshops, to get our name out there. This past summer was our large scale-up; we did around 120 workshops. Building Beats is seven years in the making, but the last two years, it has really taken on a life of its own.
Have you collaborated with any other musical institutions?
From the fall of 2014 until this past spring, we had a school-year-long pilot program with Carnegie Hall to do the first digital music production workshops at their education center, the Weill Music Institute, funded by the New York Community Trust. This really helped us build our curriculum out and learn how Carnegie Hall works with music and education. Carnegie Hall now runs their own digital music workshops for kids, but we are still collaborating with them on an 18-month grant.
You're a DJ and a producer? Why not pursue your own music career?
I grew up knowing that I wanted to give back to the community in some way. My parents are immigrants from Vietnam, so every time I visit Vietnam, I see how life is so much different than [how] I was able to grow up in America. I feel very fortunate to have been able to grow up in this country. I have always had that strong attitude of being grateful, of being able to exist in this world. Coming into DJing in my first year of high school really inspired me. I was very passionate about it, but I never thought it was something I could make a living off of. Throughout college, I learned so many business skills, ways of marketing myself, to connect with people, to throw events, and use the internet to really get my name out there. These skillsets are things that people need in the 21st century. My goal was to tie together DJing and the entrepreneurial side… teaching kids to become DJs and other skills they can use.
What is your ultimate goal with Building Beats?
There are 1,700 schools in NYC, so we want to be in 1,700 schools. We have had a lot of interest nationally and internationally. We have our eye on that, so we are working on building our curriculum to be scalable. Right now we are working to keep the costs low and build it out so we can have financial stability. Ultimately, we want to affect every single school in America.
Follow Building Beats on Facebook | Twitter
---
Share
---
Tags