Sub Bass: Drum & Bass Subgenre Roulette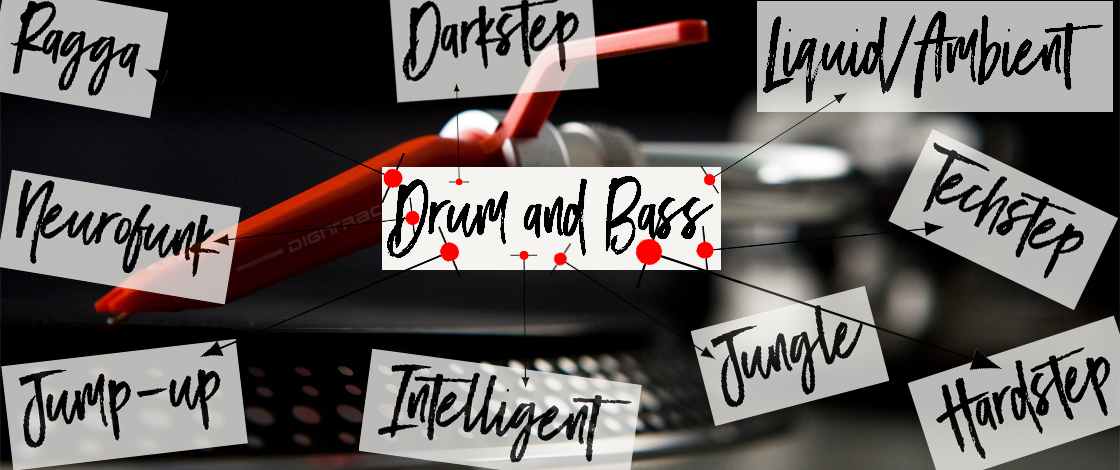 As the new, gently used and totally cornholed (I'm looking at you, brostep) genres of bass music soldier their way through modern EDM culture and drag their grandpappy drum & bass along for the ride, sometimes it's nice to look at where we've come from, where we are right now, and where we might be going. Think of this little list as D&B flashcards for new ravers and argument clickbait for grumpy old-schoolers. In 1,000 words or fewer, here are the subgenres of drum & bass—past, present and future.
Jungle
Jungle came out of the burgeoning UK rave scene in 1991. Along with its slightly slower cousin, garage, jungle was created to be a faster, less monotonous form of electronic music. It combined elements of jazz, hip-hop and reggae. Jungle has taken some twists and turns over the years, somehow morphed with D&B into one big 170-BPM conglomo, and was confused with ragga for a while. Today, older heads use it to denote loyalty to the original sound and are proudly wearing "junglist" as a label. Army/Navy stores once again can't keep camo in stock.
Early Examples: Q Project "Champion Sound" (Bad Company Remix)
Modern Examples: Logistics "Jungle Music"
Drum & Bass
The term "drum & bass" became more ubiquitous over the years, encompassing any syncopated bass music over 140 BPM. Originally, it was a more syncopated version of jungle and blossomed in the mid-'90s. Musical legend and MBE badass Goldie is credited with making drum & bass famous worldwide, but it's D&B's flexibility to change and encompass many other subgenres that gave it its status as a blanket term for fast bass music. Early D&B was snare-and-amen-break-heavy and would be seen as a bit softer than jungle. Not anymore.
Early Examples: Goldie "Timeless"
Modern: Jubei (ft. Goldie) "The Prayer"
Ragga
Heavy on the reggae, ragga has always been considered a subgenre of jungle—hence, the many "RAGGA FUCKING JUNGLE" T-shirts seen at drum & bass parties and even festivals. Ragga is characterized by more complex bass rhythms and tends to have dancehall-style vocals with MCs amping up the crowd. Legends like Congo Natty in the UK, and RAW/N2O Stateside, have continued to push ragga over the years. Thus just like jungle, it has made a resurgence in recent years but doesn't get a lot of mainstage play at parties and festivals. Nonetheless, it's considered a cornerstone of the whole scene.
Early Examples: Congo Natty "Junglist"
Modern: Run Tingz Cru & Serial Killaz ft. Tenor Fly and Blackout JA "Murder Ya Sound"
Jump-up
Originally, jump-up was a permutation of jungle that started around '94. It became more drum & bass-y at the turn of the millennium. Either way, jump-up has always been characterized by sharp, uptempo beats and hip-hop samples, if not actual hip-hop MCs accompanying. Nowadays, jump-up is more diverse, with its sharp beats becoming more aggressive and darker. The likes of Need for Mirrors, Phace and even Noisia have embraced the choppy, hip-hoppy fun of jump-up.
Early Examples: DJ Hype "Ready or Not" Jungle Remix
Modern: Heist "The Verdict"
Liquid/Ambient
One of the few relaxing choices in D&B, liquid was originally considered to be part of jungle, with amen breaks, heavy snares, and jungle's distinct brand of syncopation. As it grew, liquid and ambient became more drum & bass-y. Lots of female vocals, R&B kicks, and nature sounds make liquid and ambient drum & bass popular even now, as it's the subgenre most easy for first-timers to swallow.
Early Examples: Seba & Lotek "Sonic Winds"
Modern: Calculon and Dave Owen ft. Christina Tamayo "Ben Carlos" (Lenzman Remix)
Hardstep
This was a less-known version of drum & bass, even during its own time. Ray Keith put out a legendary hardstep box set in 1996, and before that, he and John B were known as some of the most influential producers of the time—subgenre notwithstanding. Despite this name fading into the background, hardstep is still one of the building blocks of modern D&B. It is NOT to be confused with modern hardstyle, nu-ravers. No. Not at all.
Example: Ray Keith "The Chopper" (Shy FX Remix)
Darkstep
Another mid-'90s subgenre that was absorbed into the swirling maw of drum & bass, darkstep was characterized by even heavier bass than average, and progressions of said bass often sounded like helicopters or other instruments of war. With very minimal vox and lots of aggressive samples, darkstep is still a backbone to neurofunk and heavier permutations of dubstep.
Example: John B "1st Judgement"
Intelligent
Another much-lauded and much-missed mid-'90s subgenre, intelligent drum & bass could easily be mistaken for darkstep. The difference is in the bass, quite literally. Though the basslines in intelligent D&B were dark and heavy like darkstep, the progressions were meant to spell out words or phrases. Do not combine with hallucinogens, unless you know what you're getting into.
Example: 1.8.7. "Cross the Line"
Techstep
Techstep is another major component of modern neurofunk. This little gem from the mid 1990s has the snappy, fast drumlines of jump-up with the heavy, aggressive basslines of darkstep—the best of both worlds for those of us who like our beats fast and our bass down low.
Example: Usual Suspects "Killer Bees"
Neurofunk
Need more cowbell in your techstep? Neurofunk is here! Started in '97-'98 by the likes of Dom & Roland and the Usual Suspects, neurofunk has exploded and is probably one of the most recognizable drum & bass subgenres today. Noisia, Black Sun Empire and even Ivy Lab have put this funky lovechild of darkstep and techstep on the map.
Early Examples: Black Sun Empire "Arrakis" (Noisia Remix)
Modern: Noisia, Mefjus and Hybris "Reptilians"
Younger heads will likely be surprised that there were/are so many subgenres of that which also gave us dubstep and other, newer bass music. Older D&B aficionados will likely feel that we missed a few categories. Bring it on! We welcome the debate. While the particulars of D&B's past and present are up for discussion, the future is a bit more muddled—and rightfully so. In a climate where anyone can produce the next electronic hit, more attention will be paid to individual styles of producers than genre classification, and that's a great climate for any type of music. That said, it's always good to know where we came from and where we're going in this newly saturated and exploded genre.
---
Share
---
Tags
---
You might also like