stereoBLOOM, Insomniac Records, and the Evolution of Sound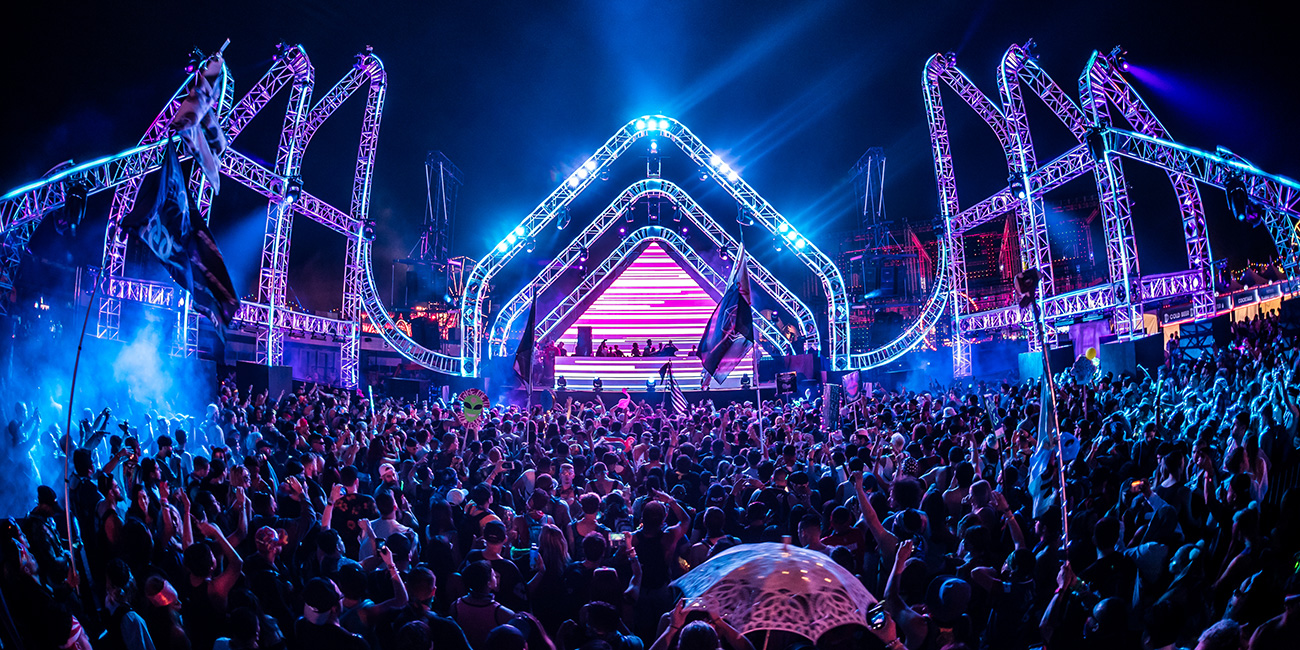 Of the many notable differences between EDC Las Vegas 2017 and 2018 (ahem, the temperature and a damn campground!?), one of the more subtle ones was the stereoBLOOM stage. Having been one of the most memorable (and weird) stages at EDC 2016 and 2017, the beloved art sculpture dubbed the upside-downHOUSE was no more. In its place stood an immersive yet contextually conventional stage stacked with a novel blend of emerging, established, and legendary artists that traversed the broad gamut of dance music.
The idea was simple: stereoBLOOM is all about the music—specifically, Insomniac Records.
"We wanted to reel it back and make music the focus," starts Joe Wiseman, co-general manager of Insomniac Records. "We were like, 'This is the label stage, and when you get here, you'll know it's the label stage.'"
"The first day was mostly bassline house stuff; Saturday was a little more mixed-genre. And then Sunday was all Bassrush Records artists, so the vibe was a little bit more left-field, weird bass music," he continues. "We really came into it with our main objective being to give an eclectic mix of dance music in an intimate setting."
"We always look at what else is being booked on the other stages and try and do something a little bit different," adds Greg Mateo, who joined Insomniac Records as a distributor in 2016 and is now co-GM alongside Wiseman.
We're in the cramped corner office on the third floor of Insomniac HQ. A whiteboard on the wall holds the secrets to what will be coming next for the imprint. The release schedule is packed across all the labels, an expectedly deft blend of familiar, established names and some upstart wildcards.
"It's a delicate kind of dance," replies Wiseman when asked about how these unfamiliar names will be nurtured by Insomniac, as both a record label and a concert promoter. "We discover a lot of new artists, but we can't just spring them on the label or a festival stage right away, because people ask questions. There's got to be a rhyme or reason about why, all of a sudden, someone no one has never heard of is onstage."
"We often do that through Discovery Project or IN / ROTATION," says Mateo, referring to Insomniac's emerging artist platform and their deeper, house-ier sublabel. "Then we try to get every department behind it—from the social side to the video side to the brand side—and if everything works well and the audience is really vibing with it, the track becomes a success. Then it's onto the next stage."
Therein lies what makes the label different. While the fledgling imprint might not yet carry the same clout as a Spinnin' Records or an Anjunabeats, who else in the famously flexible world of dance music record labels boasts this kind of 360 support?
"Every label has this kind of 'carrot on the stick,' right? If it's an artist-run label like OWSLA, the incentive is that Skrillex will play your music in his sets," explains Greg. "With us, it's that we have some of the biggest festivals in the world."
"To me, there is no other company—no, family—like this in the industry," starts L.A.-based producer Dr. Fresch, a product of Discovery Project and an Insomniac Records veteran, with six releases under his belt. "Not only do you really feel the love they put into everything they do, but the promotional platform is giant. To be able to release music, do interviews, publicize the records, distribute it, and get social media behind it, it's incredible. It provides bedroom DJs and producers with the infrastructure they need to become major artists."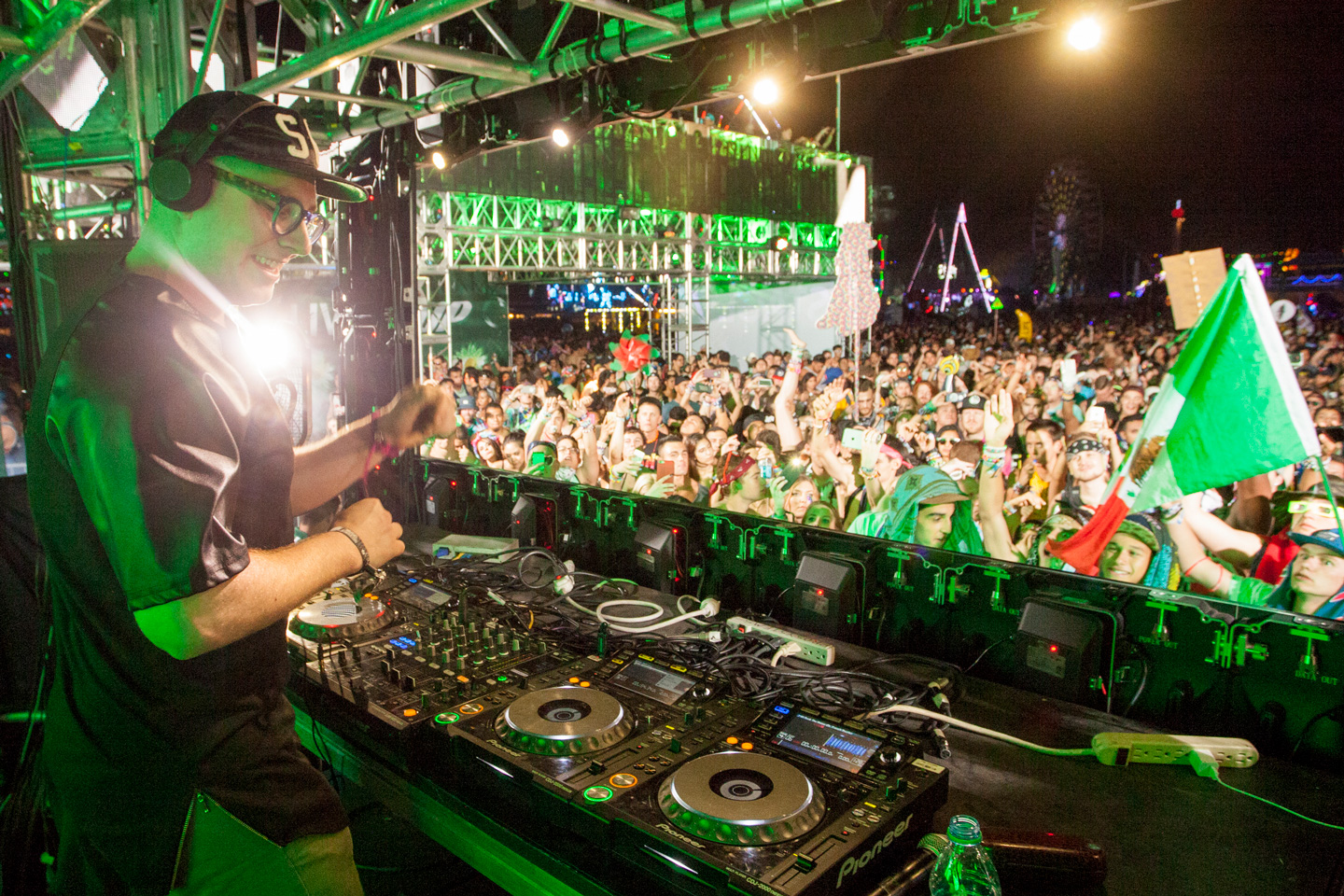 Dr. Fresch (real name actually Tony Fresch) started making making music a decade ago, after moving to Los Angeles. A formative internship with Steve Aoki's Dim Mak imprint threw him into the deep end of the city's burgeoning proto-EDM scene, while Insomniac was preemptively resurging in stature as a new generation of young people found catharsis on the dancefloor.
"I was surrounded by Insomniac at that time—the festivals, club shows, DJing in Hollywood—I was getting to know a lot of the people who worked with Insomniac," explains Fresch. "I was immersed in the scene that revolved around EDC and Escape."
Fresch actually entered the Discovery Project contest twice before he won in 2013, entering with an EP's worth of gold that would become his debut release, the Dr. Fresch EP. The impact was immediate. He went on to perform at Nocturnal Wonderland in 2013, and by 2015, he was a fully fledged touring act, represented by an agent and releasing music on Skrillex's influential OWSLA imprint.
Shortly after that, Insomniac decided to untangle the record label from its partner, Interscope. This breathed new life into the project. Wiseman, Mateo, and their team built out a strict release schedule and a pipeline of emerging local talent.
While there isn't a Head of A&R per se, the pair insist the labels represent the collective taste of Insomniac's staff. From the headier psytrance production goblins to the minimal goths of Factory 93, the company's music listening habits run the gamut of dance music, and nowhere is this better represented than by Insomniac Records.
In all, there are five imprints: Insomniac Records, Bassrush Records, Dreamstate Records, IN / ROTATION, and Discovery Project. Bassrush, Dreamstate, and IN / ROTATION each have their own sound and vibe (bass, trance, and deep-house-adjacent), with Insomniac Records and Discovery Project more indicative of the level of the artist's career.
"We get hundreds and hundreds of entries for each show; one, two, or three acts are selected, depending on how many slots there are," explains Wiseman. The winners get to play at the corresponding festival and release via the most fitting imprint. "It's a nice entry point into the building for a lot of these artists and gives them a lot of initial exposure."
"I wouldn't have the career I have if it weren't for Insomniac and Discovery Project," admits Fresch. "And word is starting to really spread among the bigger artists, because the incentives to work with Insomniac Records is huge. You just don't have that synergy with other labels or festival promoters."
With acts like Fresch and Bonnie x Clyde charging through the ranks, established house players Chris Lake, Chris Lorenzo, Sacha Robotti, and Redlight all dropping huge releases on the imprint, and the scorching hot HARD Recs gearing up for its full launch, the roster is diverse and deep.
As our conversation draws to a close, I find myself glancing back at those strange, as-yet-unknown DJ names written on the whiteboard, thinking about the white-knuckled trajectory they are about to embark upon. A little over a year into its rebirth, Insomniac Records has truly found its stride, and the timing couldn't be better. As the parent company adds new festival concepts—like the stacked underground party Secret Project, HARD Summer and Day of the Dead, and the psy-transformational wook-out Sacred Valley—the possibilities are limitless for emerging and established acts looking for the biggest platform out there.
Follow Insomniac Records on SoundCloud | Facebook | Twitter | Spotify | Instagram
---
Share
---
Tags
---
You might also like